One characteristic of a mind that constantly flits about and over-analyses is that it requires stimulation and inspiration (or is prone to over-stimulation, listlessness and boredom). I've inherited some intense need to "collect" (and hoard somewhat…), to catalogue, and to display.
As a kid I filled cassette tapes with '90s music and recorded all the tracks in a book, created at least three magazines series (usually a satire on popular teen girl mags but full of cuttings from Family Circle), filled diaries cover to cover, kept scrapbooks full of whatever I was obsessed with, and stored paraphernalia from exhibitions or holidays in manila folders. We don't use cassettes any more, but I enjoy creating playlists to suit various occasions, moods or car trips. With the digital age my drive to make magazines shifted to compiling websites instead, at about age 13, and I still keep scrapbooks and folders (and now a blog) to record all the things I am constantly nostalgic about.
First up I'm plugging Illamasqua, purveyors of the left-of-field makeup that goths (goths with money, anyway) are happy to get their hands on after so many years of using greasepaint, ManicPanic, and the most "ivory" shade to be found in Priceline. Actually, Illamasqua stocks shades for almost any occasion, but the emphasis is on dark contrast, punky glamour, burlesque, and particularly the early 20th century Berlin club scene.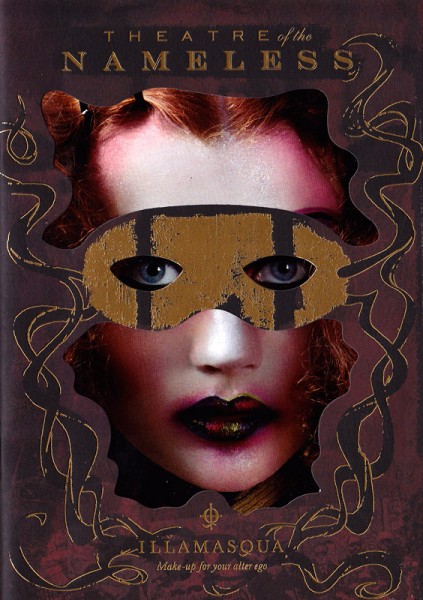 I have been really happy with the liquid foundation (very pale) and powder (white) I purchased, which have even proven too pale for days I want to look "natural". At last, somewhere that stocks truly pale makeup for those of us not wanting to look like a carrot or a Guidette! I can blend it with my other makeup in any case, but what makes me happy is that it goes on quite thick and a little goes a loooong way. I was given a quality booklet and found their Theatre of the Nameless concept quite striking: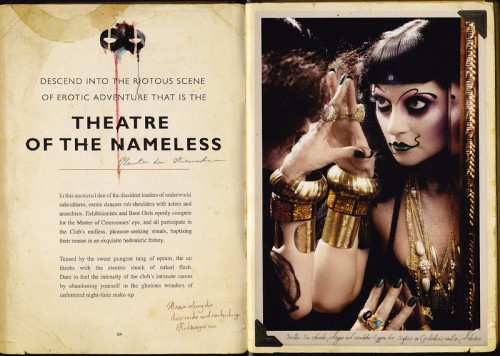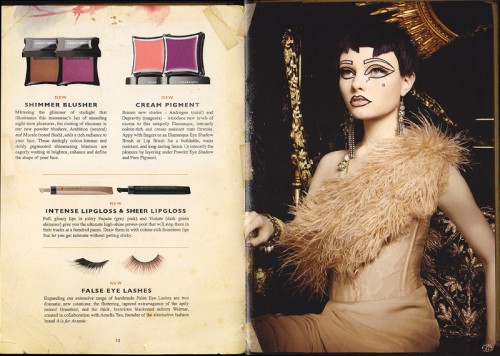 Onward. The following are a number of websites that have left an impression on me, or that I turn to for a bit of inspiration when I seek to create something myself:
And now for my own bits and pieces!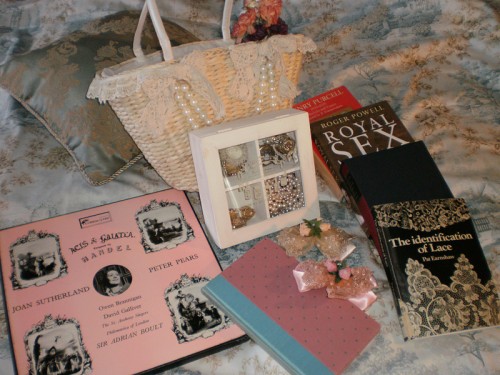 My latest collection of little treasures above. A 1m² piece of pretty upholstery fabric (laid out), a straw bag, an old Sutherland LP, a white tea box from an op shop I thought should house my accessories, some hairclips from Bodyline, The "Memoirs of Madame du Barry", a Purcell biography, and another few titles to add to my growing collection of books on "historical ribaldry"…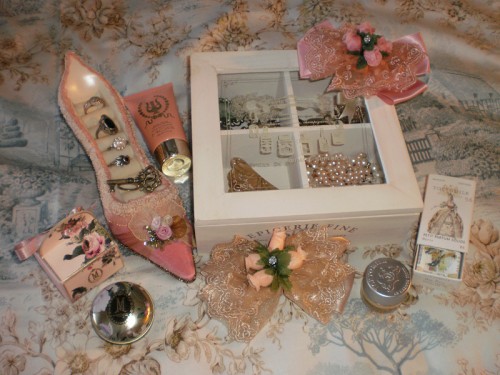 Various pretties from my dressing table.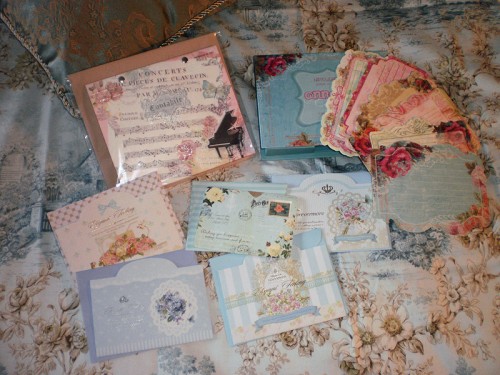 I love collecting darling pieces of stationary – the only problem is that I can't bear to write letters and part with them.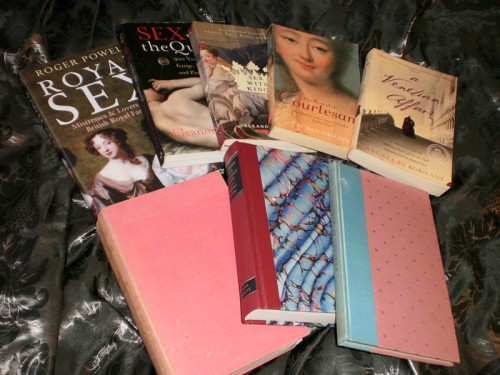 A raunchy pile, includes titles like "Treasury of Ribaldry" and "Memoirs of a Georgian Rake"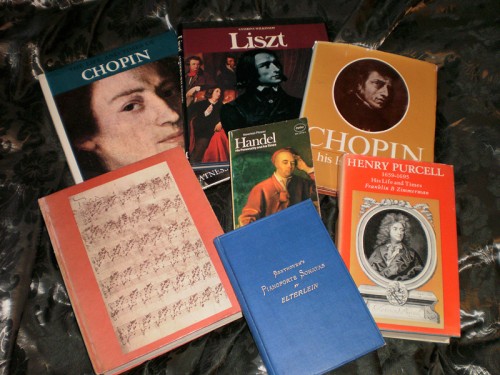 My books on some of my favourite composers. Some of the older books are really just whimsical commentaries full of speculation.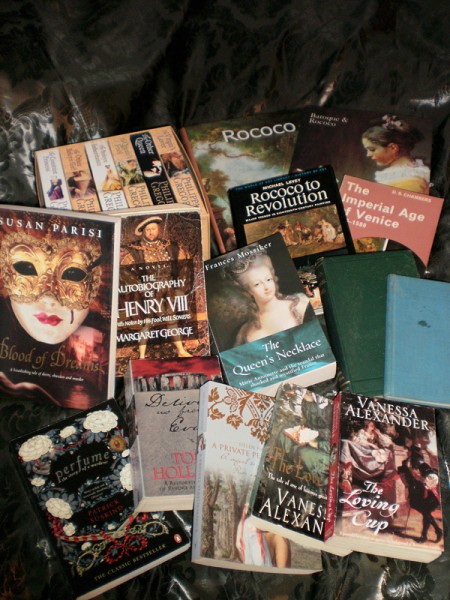 Historical history books, novels and fantasy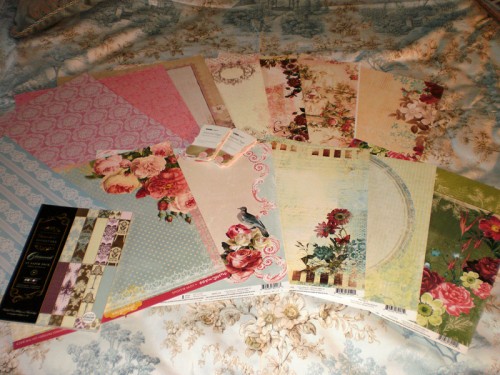 A beautiful selection of my floral scrapbooking papers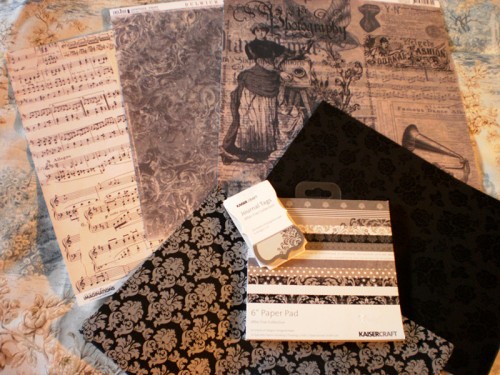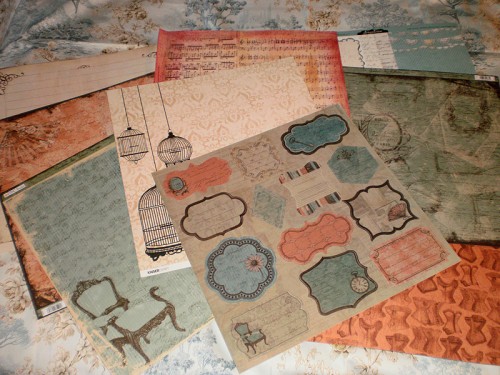 Victorian themed papers – with Steampunk and "Shabby Chic" and "French Provincial" themes becoming popular, a lot of  awesome decorative pieces are being made. But they're so nice I don't want to chop them up!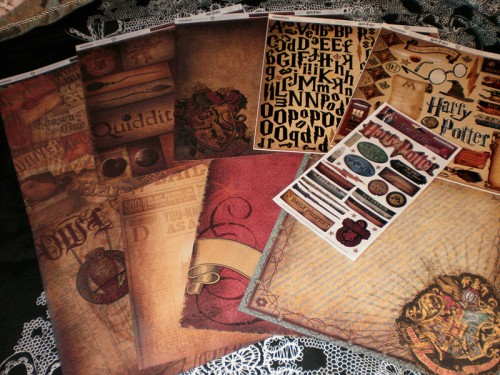 I even found an official Harry Potter set!
Thanks for reading – or scrolling, whichever you bothered to do!