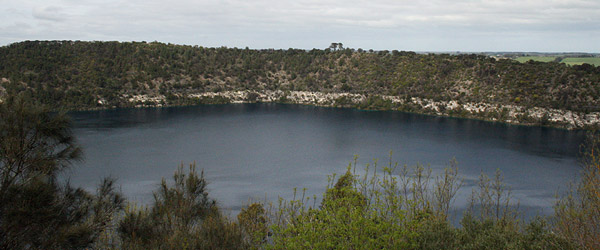 For my Great Aunt's 100th birthday at the end of August my family and I took a short holiday to South Australia. Though I really looked forward to the trip, my aunt is under high care and not particularly alert most of the time, so the event held by the family was more of a commemoration of her and her life – a life which has seen so many changes, and which seems to have had a significant positive impact on many people. The week was a bit of an emotional rollercoaster because I had to accept that it was probably the last time I will see her. She was a very generous, sweet and thoughtful person who has been tremendously dear to us all.
 The brushing of the hair (sunlight/glass is doing weird things to my clothes), and my sister with celebratory fairy bread.
We sang, ate, chatted, viewed a slideshow, and were read the well-earned letters from the Queen, the Prime Minister, Governor General, and a few other figures of note.
 We had dinner afterwards at an RSL which was coincidentally having its first Military tattoo that night! An interesting but rather noisy affair…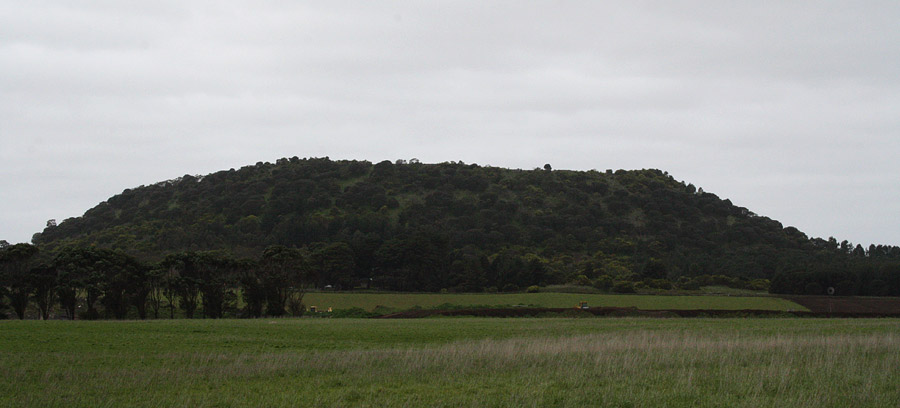 The next day, beginning our expedition of local attractions, Adam and I climbed Mount Schank, an extinct volcano.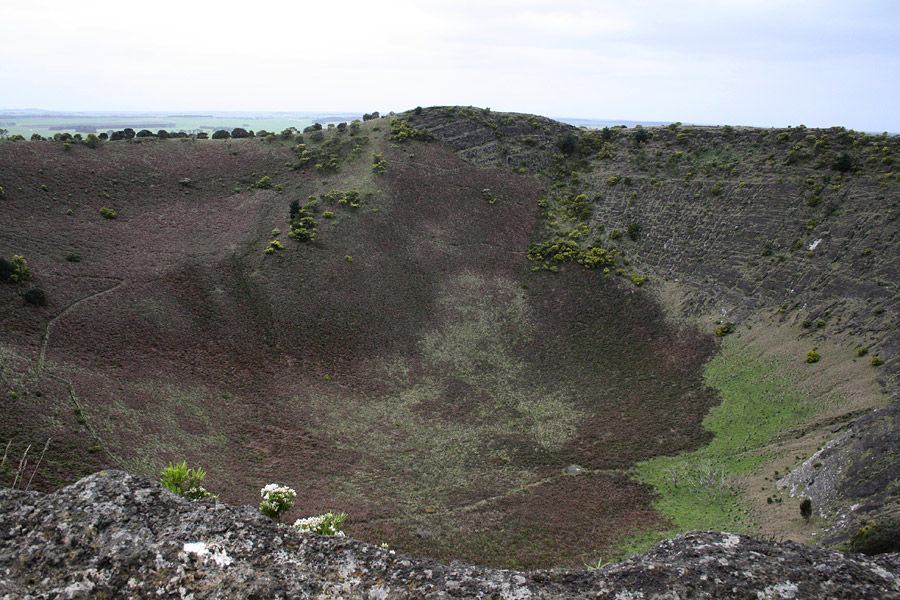 I gave up for a little while but persevered and reached the top once my breath had returned. Years ago (the energy of childhood!) I made it about halfway into the middle.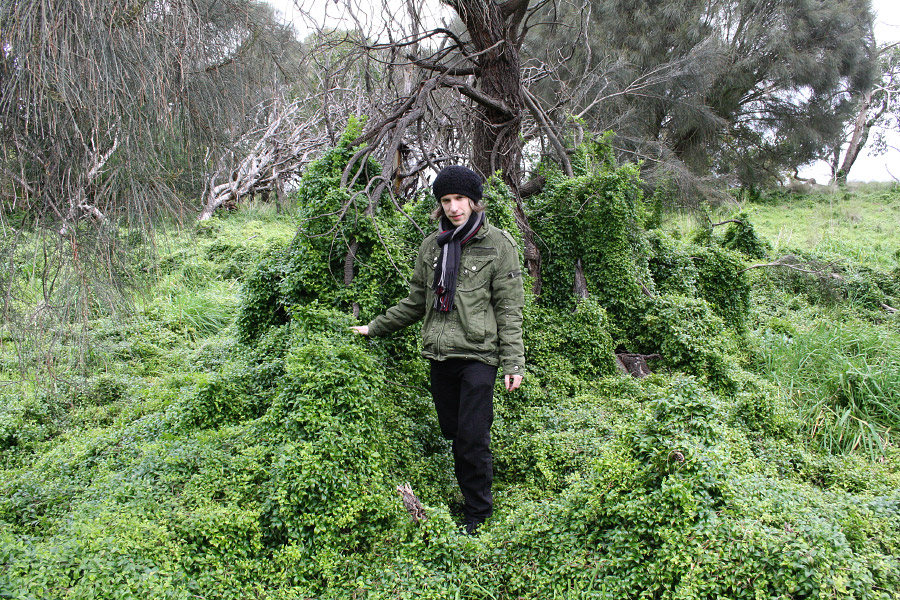 Adam found an interestingly overgrown nook on the way back down.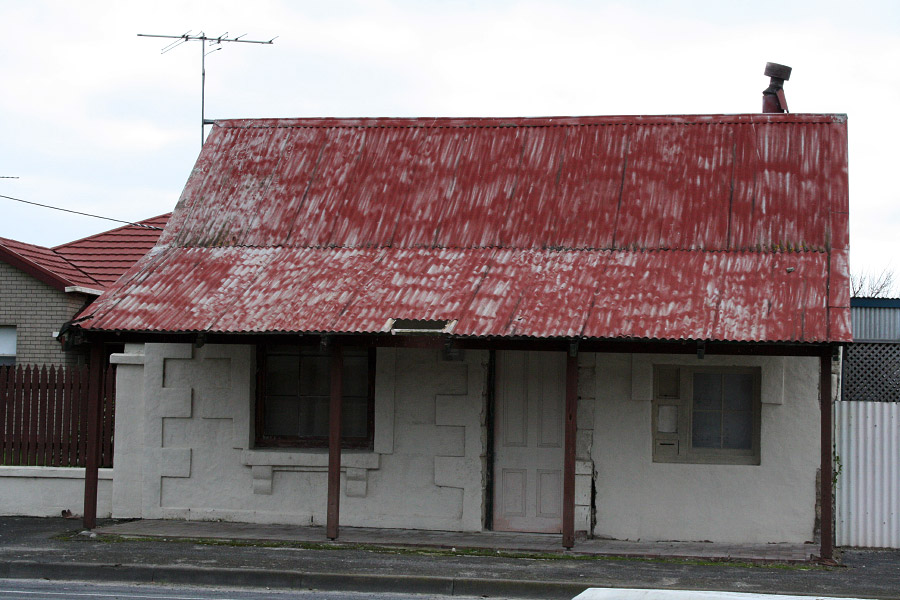 We visited what used to be a Post Office that my family operated. It became a tea room later on but seems derelict and in disrepair now.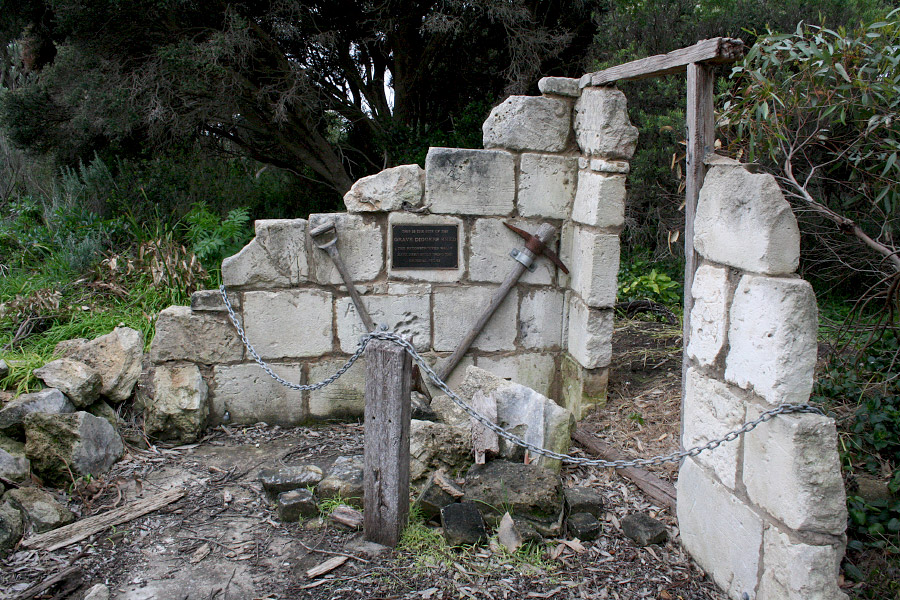 Further on we visited the site of a historic cemetery. This was the site of the gravedigger's hut.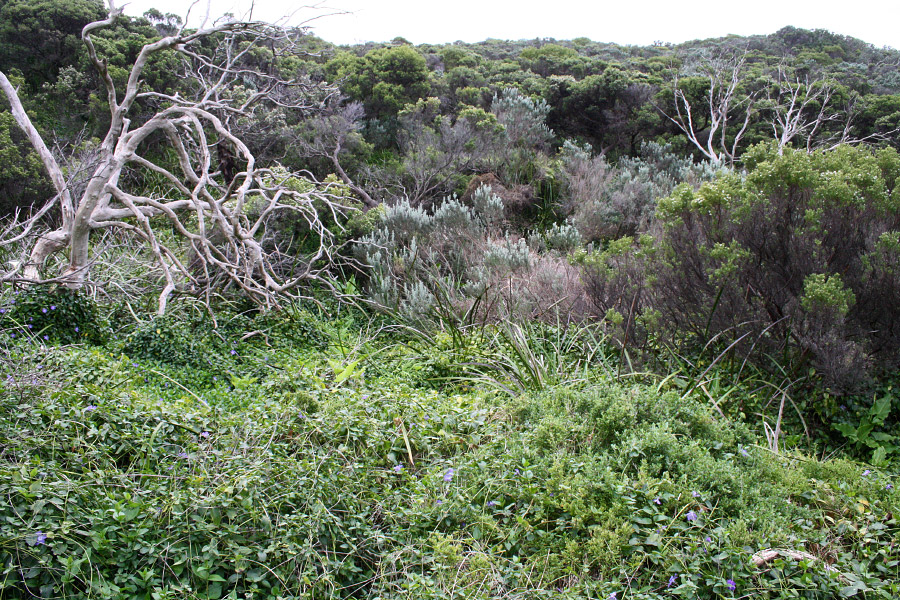 The sand drifts and shrubs covered up most of the cemetery over time so a cemetery just nearby is used now – heaps of relatives (gone long before I was born :P) are buried there.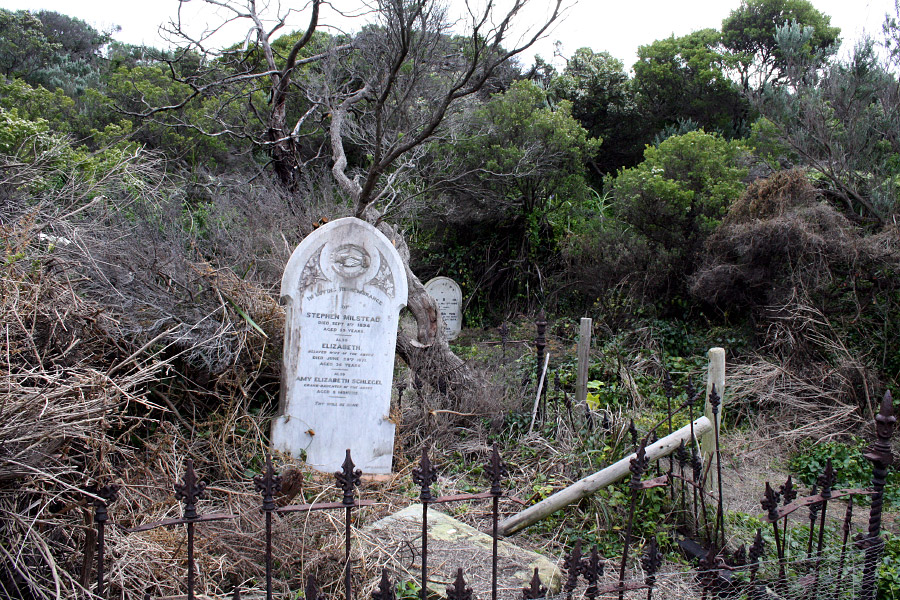 There are apparently only half a dozen grave sites left visible but I don't think we even found them all!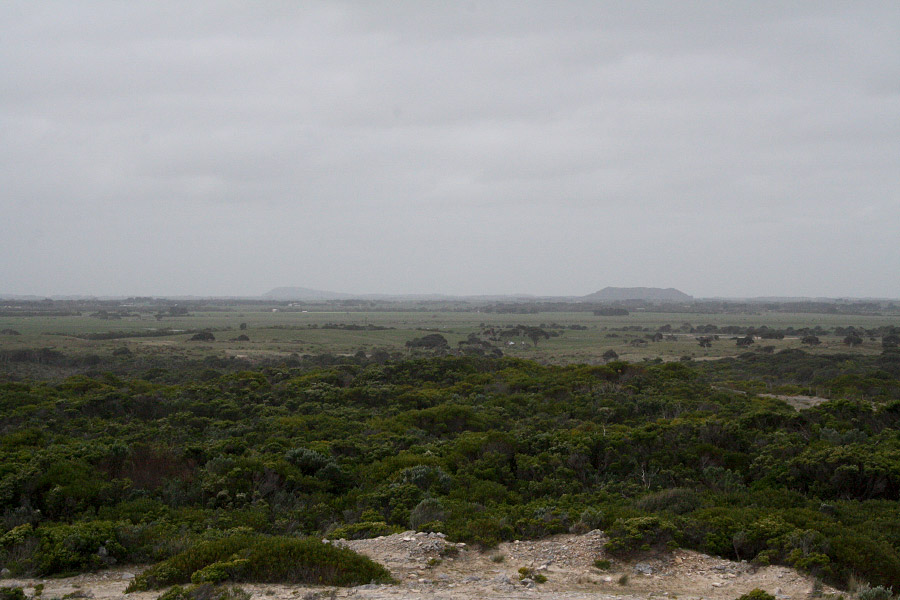 Mount Gambier and Mount Schank viewed from a lookout at the coast. Neither are technically mountains though.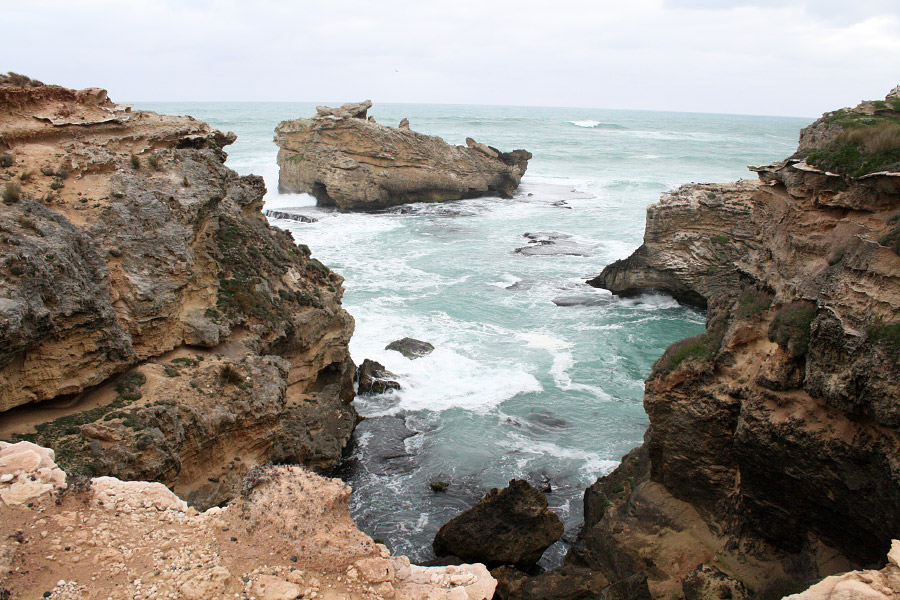 One of my favourite places to visit. "Rhino Rock" is visible at the back.
Heaps of birds visible on a huge rock out to sea, and a signpost indicating this spot as the most Southerly Point of South Australia. You can usually feel a strong Arctic wind there!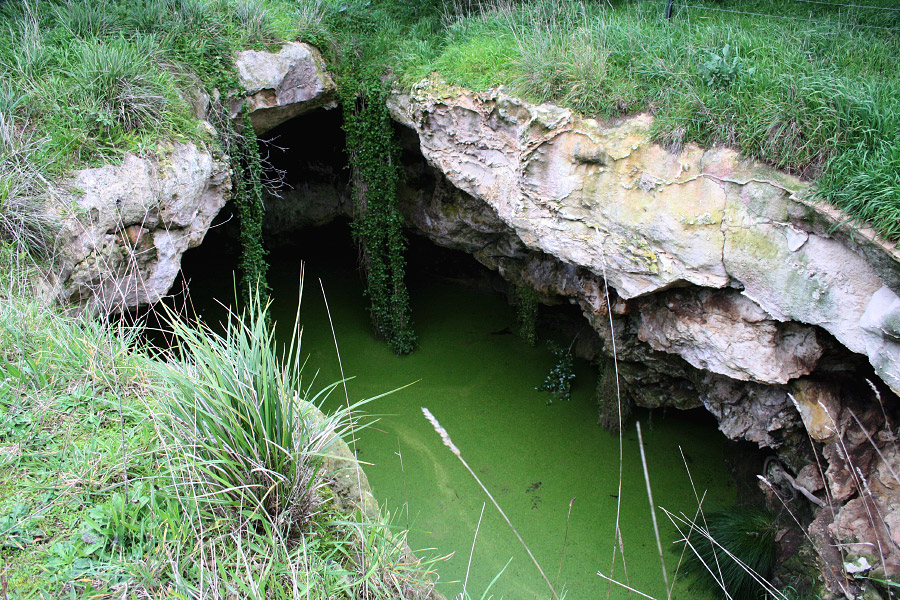 Our last stop that day was Earl's Cave, a water-filled sinkhole. I'm sure some of this is frightfully boring, dear readers, if you normally visit for lolita content, but I suppose I get nostalgic about all these places with family ties! Anyway, the cave was so-named after Charles Earl, the rumour is whose horses met an unfortunate demise when, in revenge, another local drove them into the hole to drown. It was also used for dumping dead livestock for a while but was cleared out and gets occasional divers.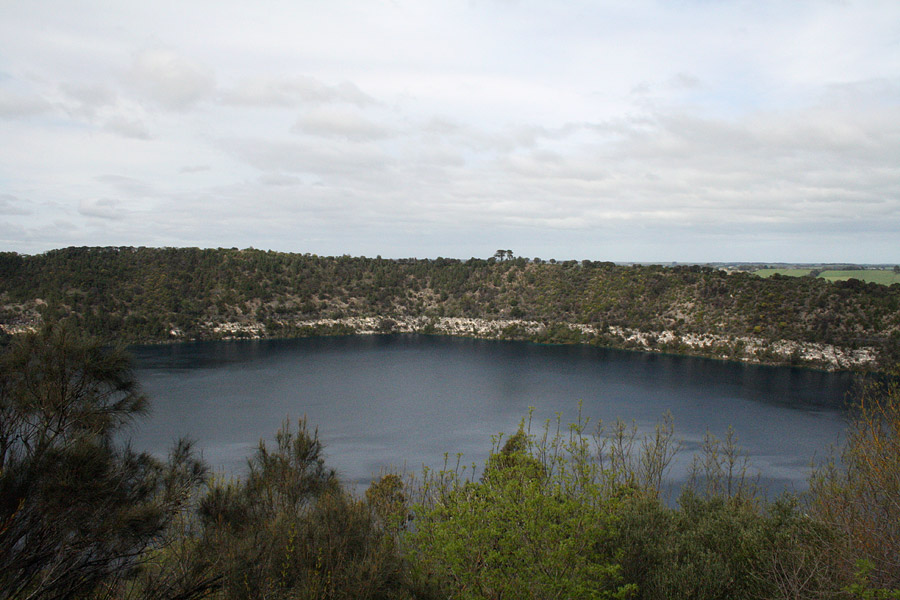 The next day I took Adam around town. Another extinct volcano, the Blue Lake (or steel-blue at this time of year) contains all the drinking water (which isn't very nice).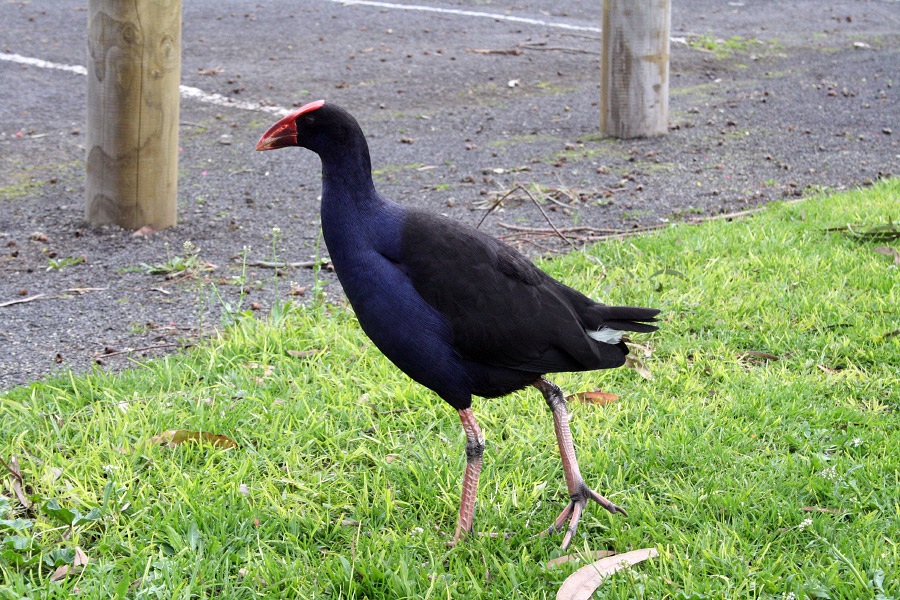 At the nearby Valley Lake we wandered about and found a bit of wildlife (a water hen).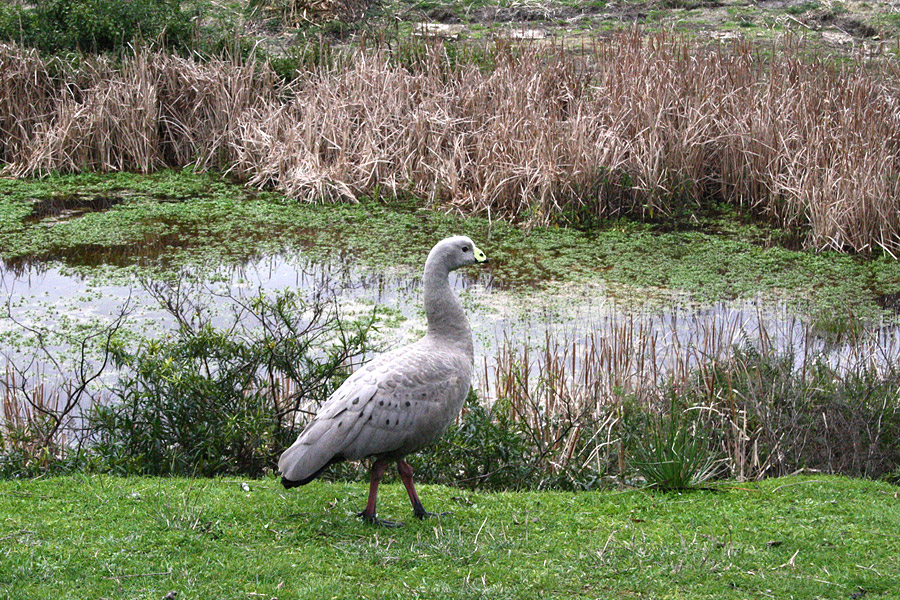 A Cape Barren goose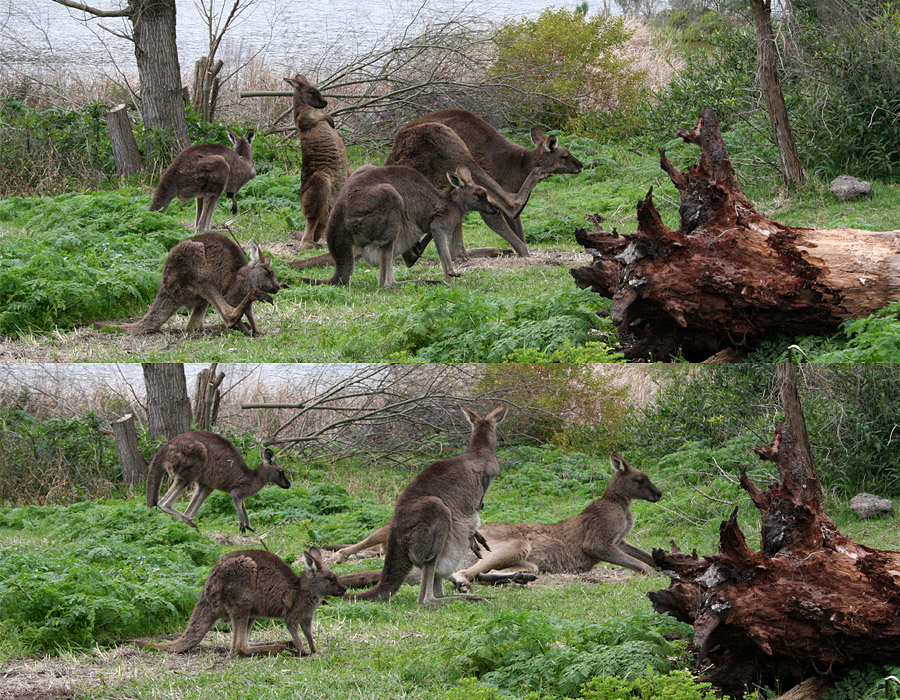 And some aloof kangaroos (Adam was worried the male would come over and kill me?) – you can see a joey's legs hanging out of the female in the middle. 😀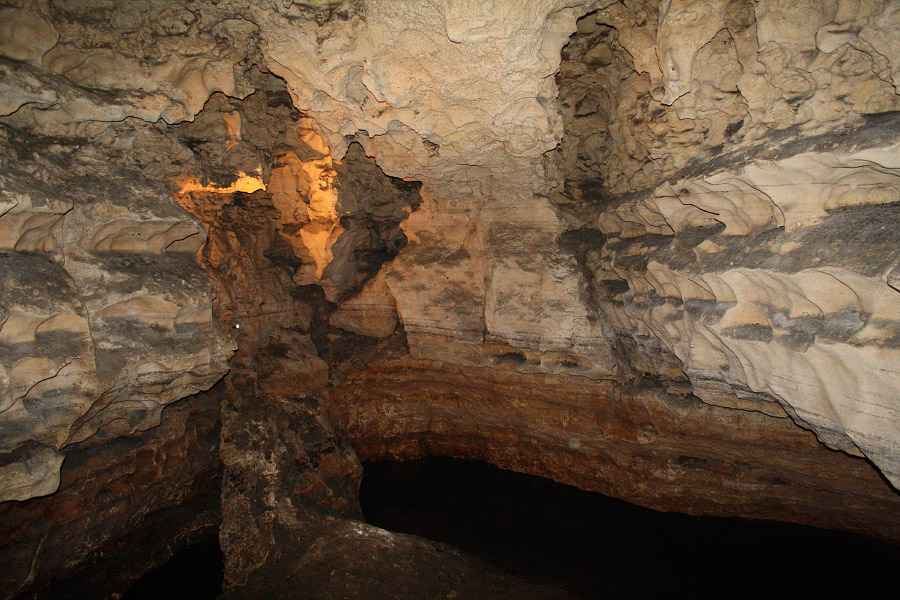 We then took a tour through Engelbrecht Cave. This is a dry cave so no stalactites and stalagmites.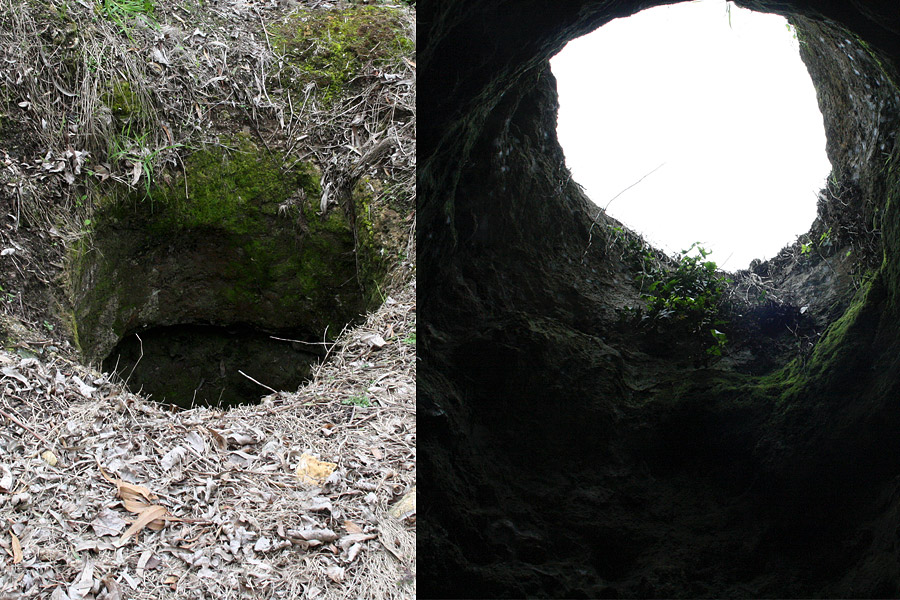 These well-like orifices are smaller versions of sinkholes called solution holes. They occur naturally and once in the cave you can look out of them.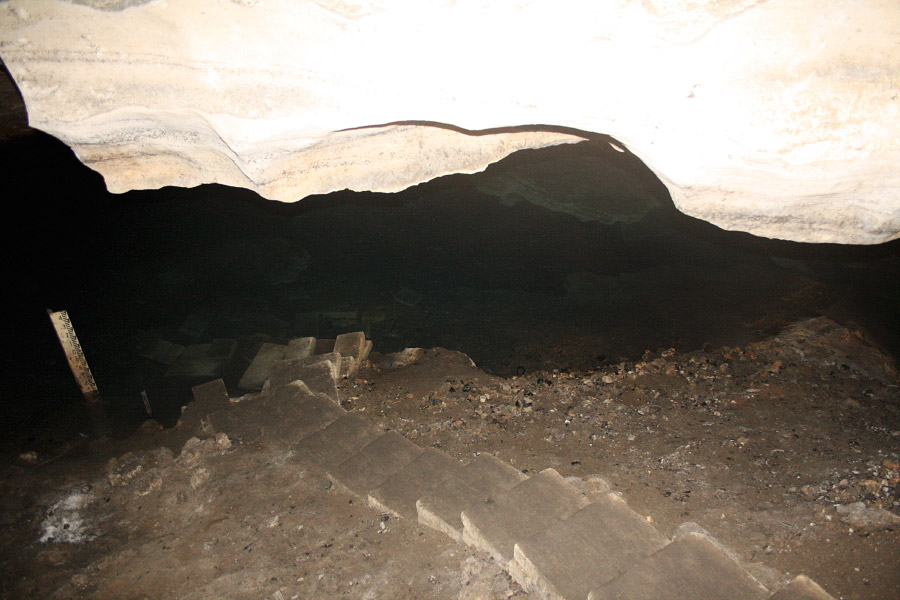 Very experienced divers are able to further explore the extensive caves, which spread out under the city.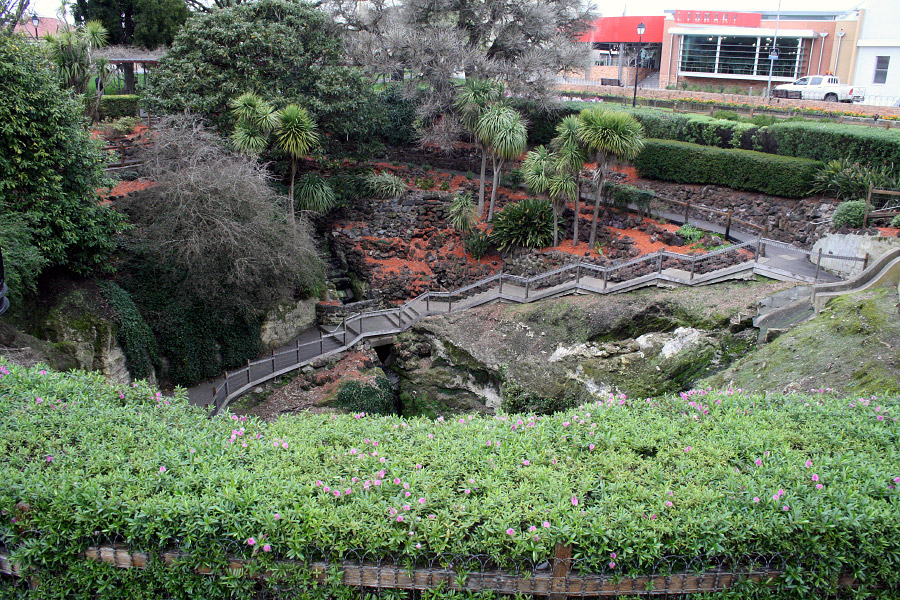 Another spot in town, the Cave Gardens …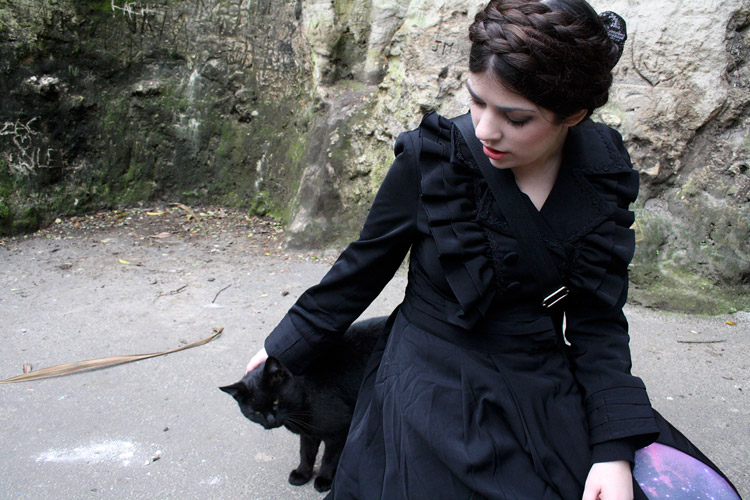 … In which I met a very friendly cat who was hanging around in there!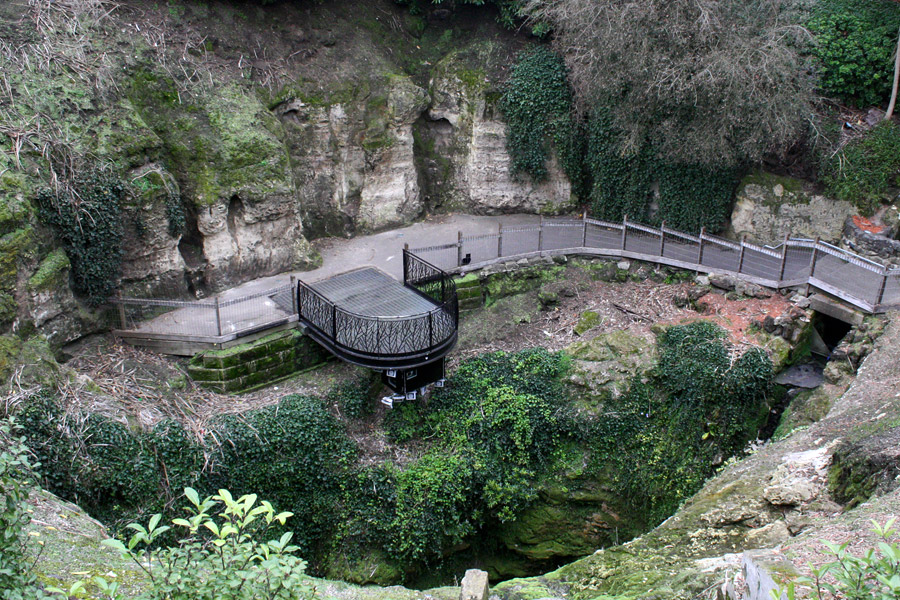 You can see him waiting down there. 😛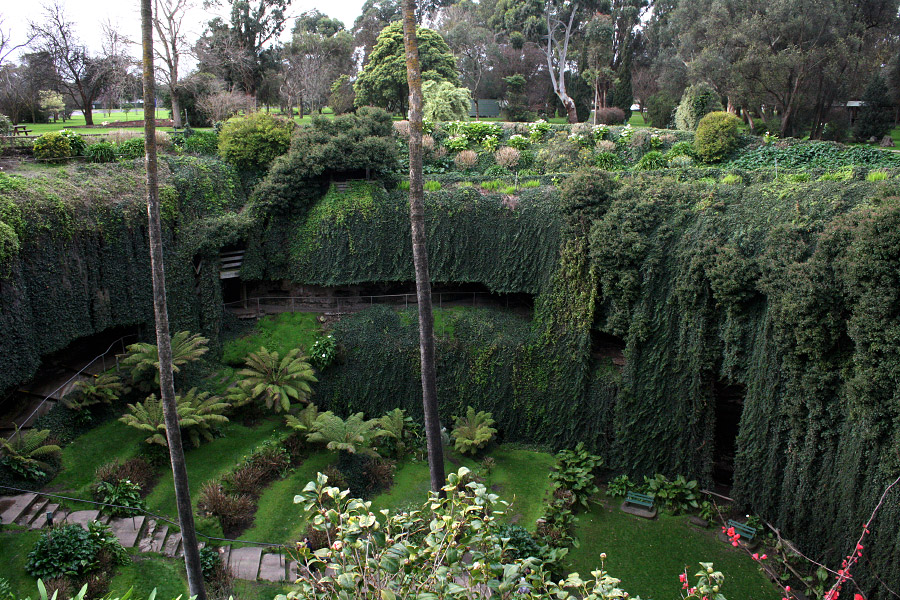 And finally, Umpherston sinkhole. These sinkholes are created when the limestone chambers collapse, but this one is by far the prettiest. That ivy must be hanging about 20 metres down!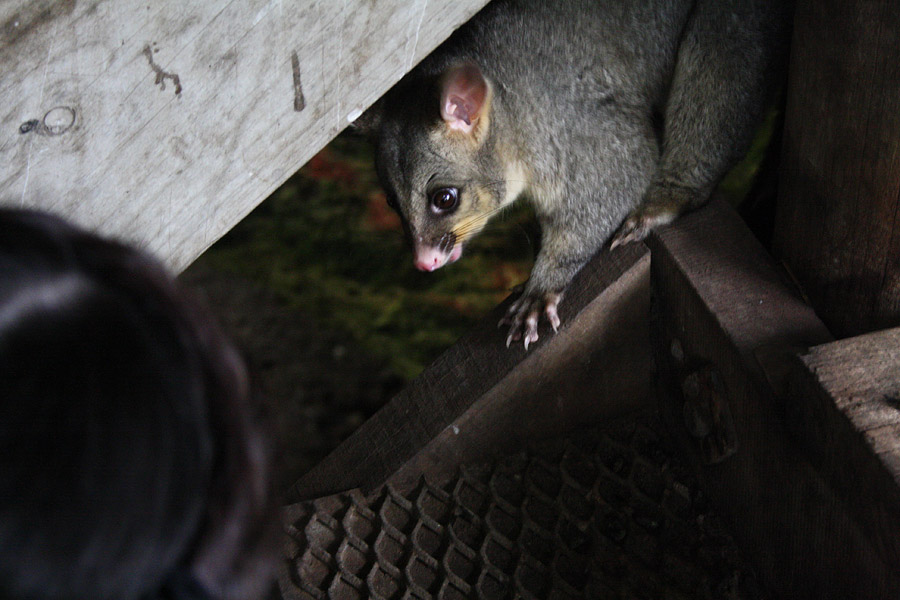 Another creature surprised us on the way out. 😛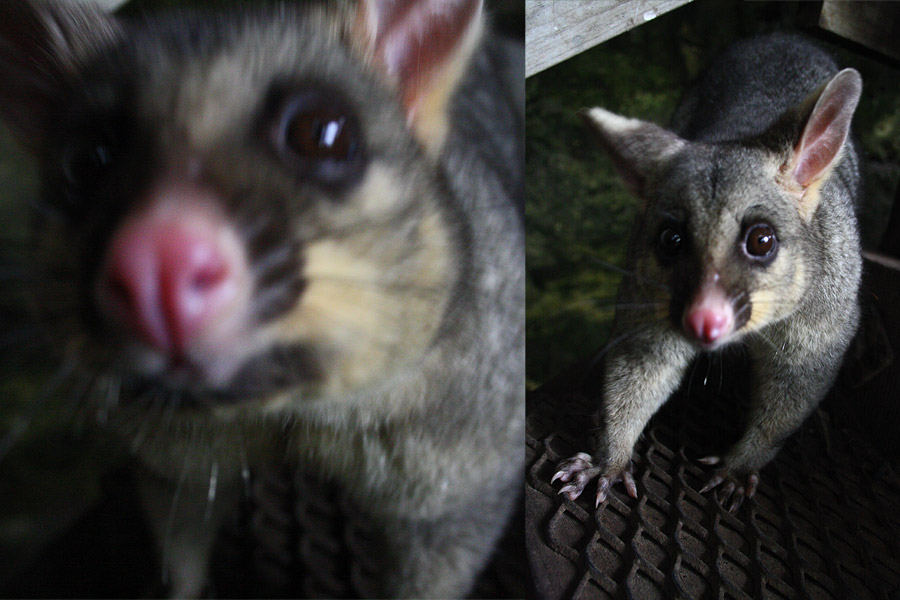 He was a complete stickybeak, checking out the camera and biting my coat. Which is pretty normal for ringtails. 😛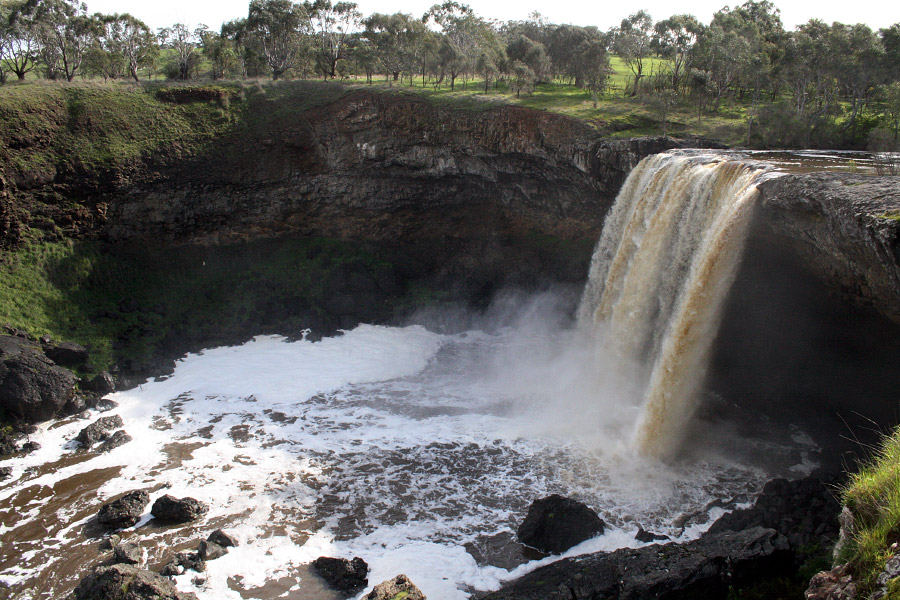 We left the day after, stopping at Wannon Falls. Post-holiday blues hit and I didn't want to leave, but we had spent the whole weekend exhausted and somewhat unwell, and I'm still recovering. 🙁