I was lucky enough to get to my second Yann Tiersen concert a few weeks ago. I say lucky because both times were a sellout, but I am not so enthusiastic about the direction he's taken since Les Retrouvailles. This concert mainly featured pieces from his newest album, Skyline. I understand why he doesn't want to be pigeon-holed as just the-Amélie-soundtrack-dude, but there is little left of the signature whimsy and charm of his earlier albums – the major presence of electric guitars brought his current sound more into the realm of minimalist ambient rock.
There were some good moments, especially getting to hear Rue des Cascades, but I guess you could describe a lot of the rest as … noise. That probably sounds harsh, because I did enjoy it, but I guess my personal music taste diverged from his music journey.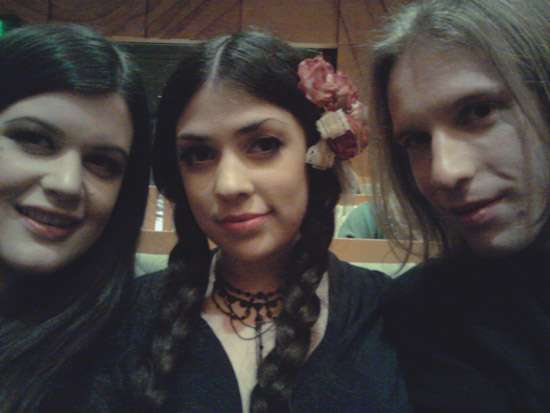 There was a signing afterwards, and the other current band members came out a little later. Lowana grabbed the set list (look at song 3 :P).
I also brought my old book along and finally got the set list from the last gig in 2006 signed! I asked if any of the other members had been at that particular concert, but I think only one had. He proceeded to hand the paper to Yann, and they started reminiscing about it, which held the queue up…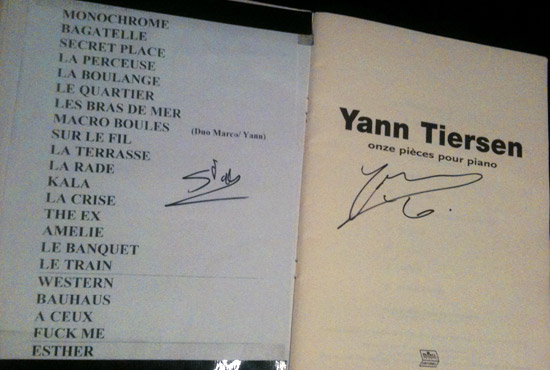 Though the gig 6 years ago was sold out, I managed to convince someone to sell me a ticket with a sob story ("I've come so far and he's my favourite modern composer!" which was true at the time), and by wearing an attractive corset.