Goodness gracious, I have been occupied!
I had nothing to post about for a few weeks but all the fun things happening lately have been concentrated into the past week. I shall take it day by day, blow by blow…
Oh, gratuitous photo time: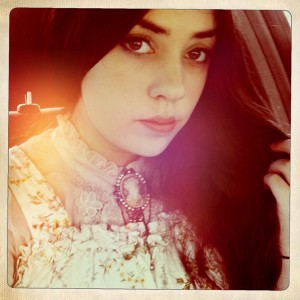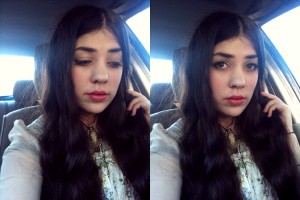 Saturday 2nd
One of my nieces just turned 15 so she had a Harry Potter party to celebrate. It was actually warm enough to spend the whole day outside! Almost everybody dressed up, but I think everyone was in agreeance upon the fact that Kimmy, my sister, made the best effort with her Hagrid ensemble. She even had the walk down pat.
Guests were all sorted and we played little games ("degnoming the garden", trivia, etc.) throughout the afternoon to earn house points. There was no shortage of cheating, though Hufflepuff won the House Cup at the end of the day by a large margin. I don't have any photos yet…
After the guests had left I set up a computer for my niece (her birthday present :P) and then picked up our friend Martin from the station, who would be staying with us for a little while.
Sunday 3rd
Adam, Martin and I headed into the city for a much-anticipated (by us…) performance by the Australian Chamber Orchestra. The program for the day was "Baroque Virtuosi" and the ACO's new little star, a 280-year-old Stradivarius, would be debuting with Tartini's Devil's Trill Sonata, a particular favourite of Adam's.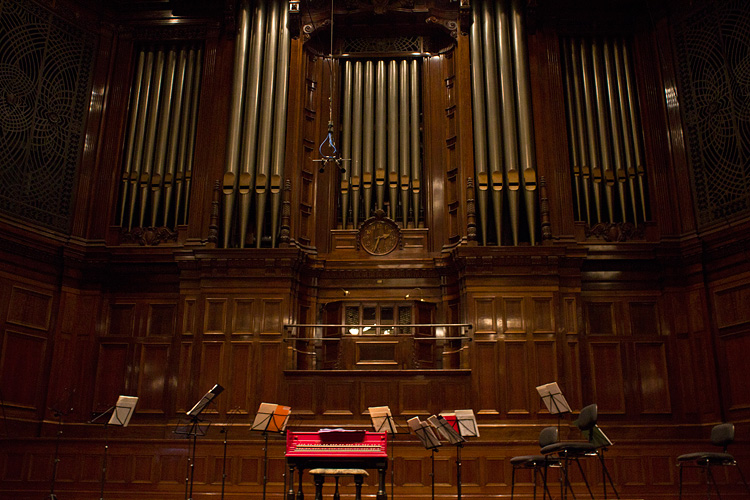 We met up with my sister and her friend, had some lunch, and then all took our seats in the Town Hall. The ACO, as vibrant and energetic and lovely (to my ears) as ever gave us the following:
HANDEL – Concerto Grosso, Op.6 No.12
GREENBAUM – Moments of Falling
BRUMBY – The Phoenix and the Turtle I and III
LEDGER – Johann has left the building (World Premiere)
VIVALDI – Concerto for four violins, RV580
TELEMANN – Viola Concerto
SCULTHORPE – Port Essington
TARTINI (arr. Kreisler) – Violin Sonata, Op.1 No.4, "Devil's Trill"
CORELLI – Concerto Grosso, Op.6 No.2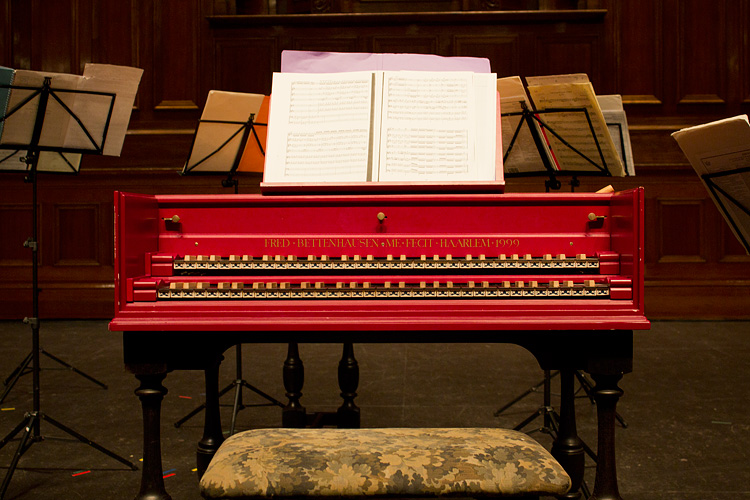 The Handel was transporting. Our seats were close enough to really hear and delight in the music this time. Stuart Greenbaum's Moments of Falling, dedicated to (and somewhat evocative of) Arvo Pärt did not impress Adam, who is not so partial to modern Australian composers, but is ironically partial to minimalism and Pärt. I enjoyed all the pieces interspersed between the baroque concerti. Greenbaum, who is a professor of music at Melbourne University, came out to applaud the performance. In the composer's own words, "Moments of Falling is constructed around a cascading 16-note motif in the Aeolian mode. It features a high degree of repetition, but as the motif is overlaid at different speeds in different octaves, no bar is ever exactly the same."
Brumby made me think of butterflies, swans, the languor of Spring… the work would not have been out of place as a film score, in my opinion. Ledger's work was turbulent and exciting, but I wonder if the piece would've actually made Johann leave the building upon hearing it. I couldn't decide whether I loved it or was uncomfortable! A rather familiar Vivaldi concluded the first half of the program.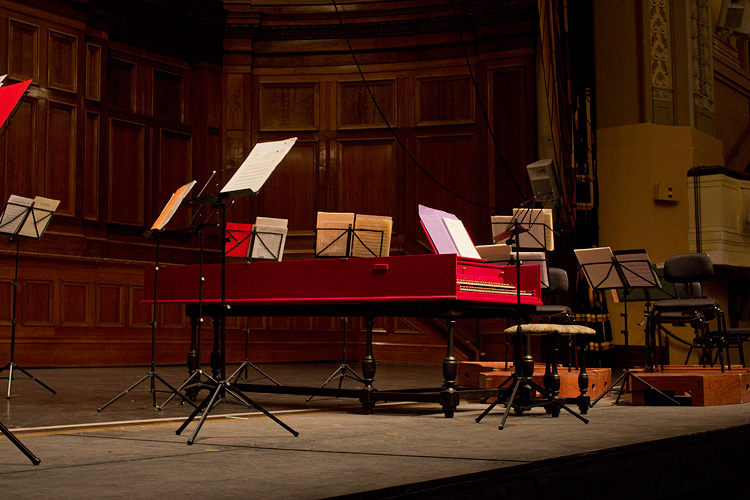 The Herald Sun said, "Principal violist Christopher Moore gave a rich-timbred, if low-key, reading of Telemann's Viola Concerto In G." Moore is animated and produces a beautiful sound. Sculthorpe's Djilile was instantly recognisable in his dynamic six-part Port Essington. I was quite mesmerised by the journey through this work. The Age describes the ACO's performance of this as "near-reverent".
And then, at last, the Devil's Trill. Adam said he considered everything prior as obstacles he had to sit through to get to this. Satu Vanska's performance was grand and literally left me wanting for breath. The work is not simply 'virtuosic' or at all facile in nature — it's a masterpiece! I thought we'd never get a reprieve from the temptatious solo, it was as if someone was holding a bar of the best chocolate in the world in front of [me] in the throes of a chocolate craving, and constantly pulling it back. Or something. The refined Corelli concerto provided a nice wholesome chord for us to leave happily on.
Afterwards we met up with some of the Melbourne Lolitas, who are becoming our good friends, and ate Chinese for dinner.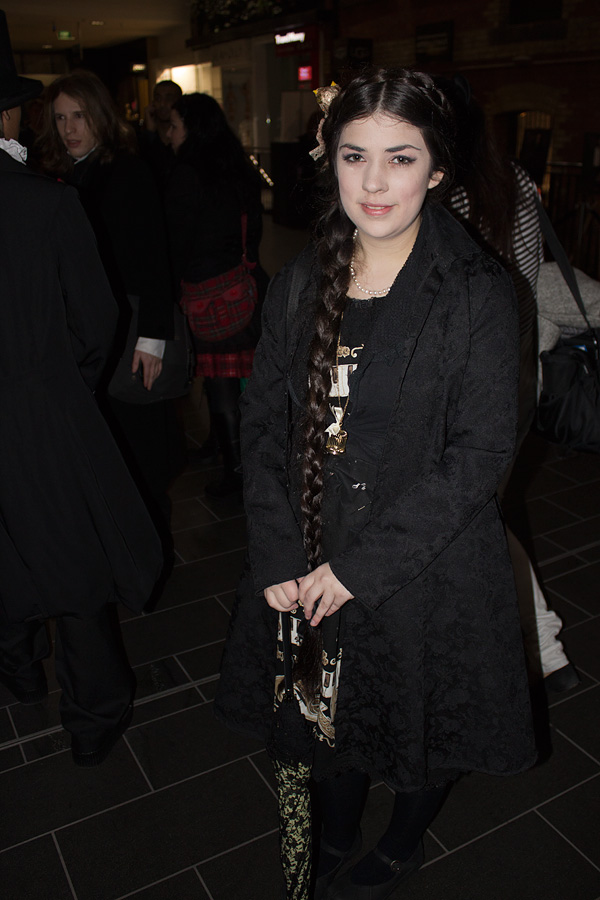 Me looking supremely awkward in BTSSB and Adam's coat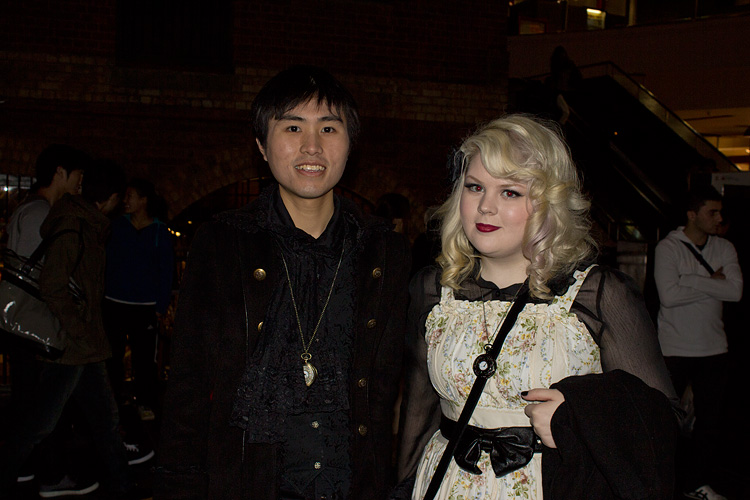 Martin and beautiful Kimberley
I had a piano lesson on Monday and rested on Tuesday while the boys went for walks!
Wednesday 6th
I'm sure this has been my favourite day so far because I LOVE SNOW. The night before, I dreamt of a misty, alpine forest with a single deer in it. We drove up to our nearest mountain and were happily met by enough snow to play in and toboggan down for a few hours. It didn't actually snow while we were there, we just got facefuls of icy rain. I would like to go back soon, before it melts. I was warm the whole time but we forgot to bring good gloves!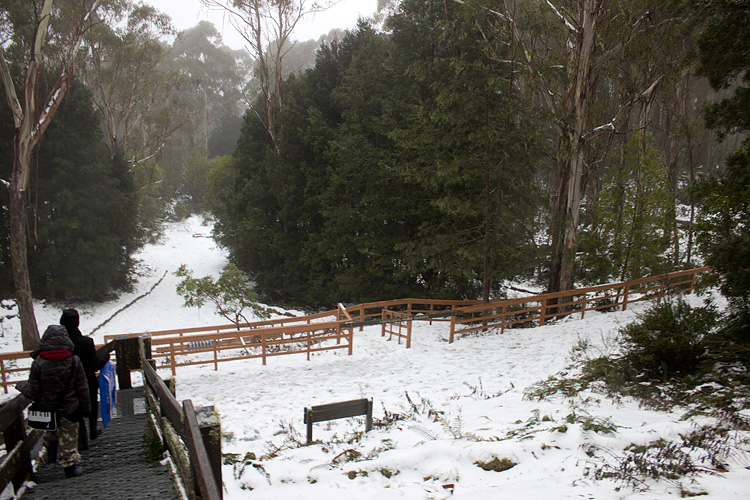 Down to the slopes…
Sliding down is the easy part, climbing back is exhausting!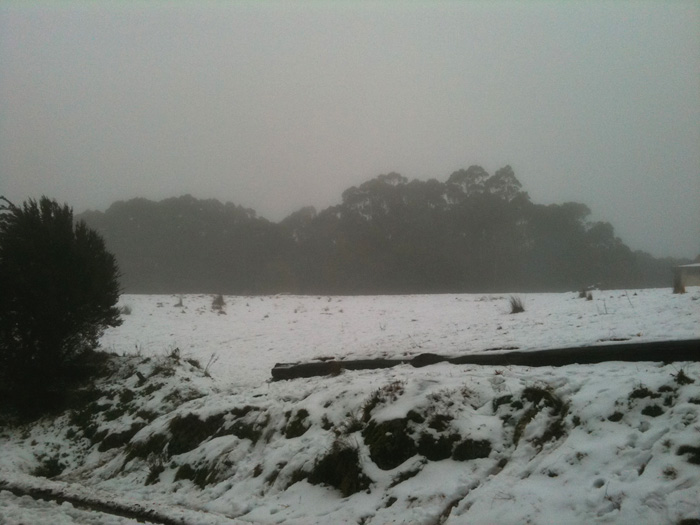 Thursday 7th
We stopped at a nearby town for spare teacups and second-hand books the following day, and headed up the mountain to visit Adam's family.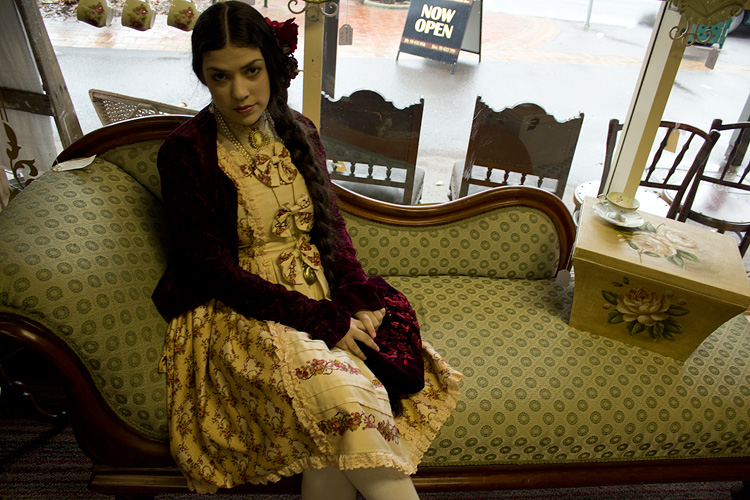 A nice antique store, and reminder of how not to pose if you are me. Oh well.
Adam's aunt runs a tearoom and gardens on the property where Australian poet C. J. Dennis moved to and lived until the end of his life. He named the propertly "Arden" but it's now called "The Singing Gardens" and features magnificent gardens, hidden paths and is beautiful in every season. We enjoyed afternoon tea there and a tranquil walk in the fine rain. My head looks stupid, aargh!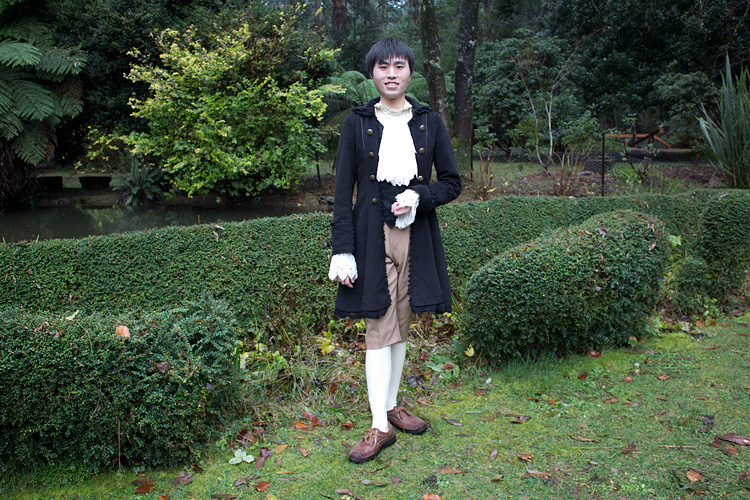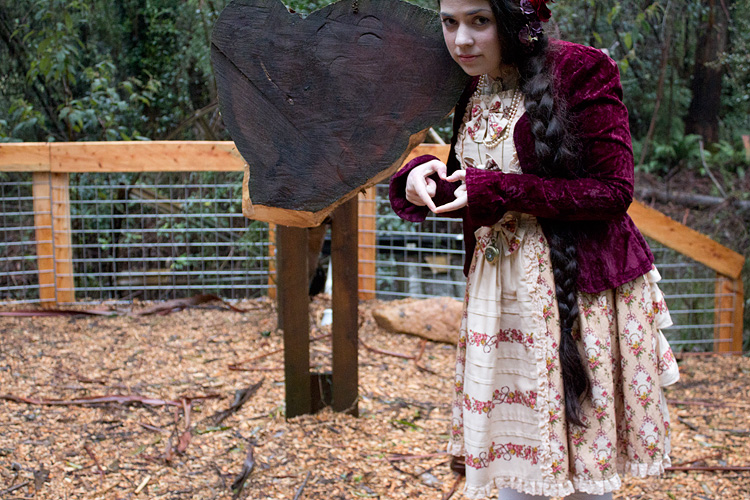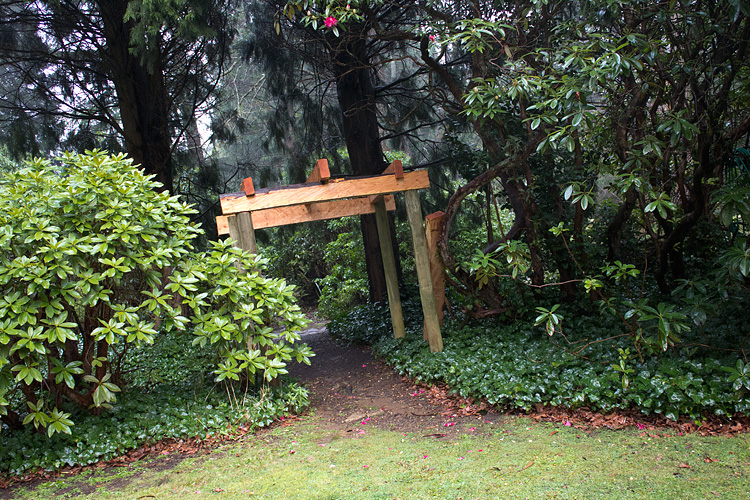 After this we drove down to the city again, showing Martin many areas along the way that were burnt out in Black Saturday's fires. The bush has of course regenerated marvellously. Our evening consisted of another recital – this time it was a candelit programme of the complete Chopin Nocturnes, played by Australian pianist Piers Lane. My piano teacher invited many of his students and friends, as it was bound to be quite an enriching experience for pupils and non-musicians alike!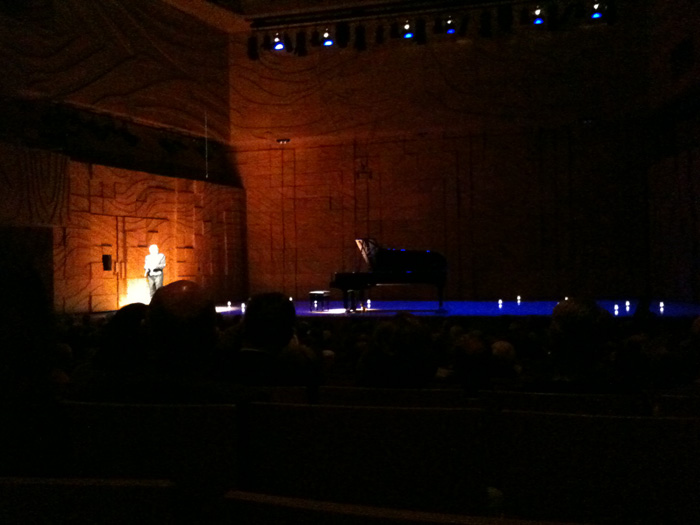 The moment his finger hit the first key (a B-flat) Piers lulled us into a dreamy state, taking us through an almost ethereal journey of peace, passion, drama, thoughtfulness and depth. His melodies sang out beautifully across the hall, Chopin's love of bel canto evident especially in the F-minor, Op. 55 No. 1. Piers' tenderness at the end of the C-sharp (no. 20) nocturne was particularly touching. He would pause intermittently to give us a little commentary and background, expressing that Chopin had come such a long way from the early nocturnes into the final, matured works. It was an experience I won't soon forget. I even got to meet him briefly and tell him how very fine (and at times unexpected) his playing was! The only downside to these concerts is that we always seem to be seated next to fidgeters, throat-clearers, whifflers, whistlers, and assorted flibbertigibbets and sundry. Maybe I need to live for another few decades before I understand why one must cough through every concert.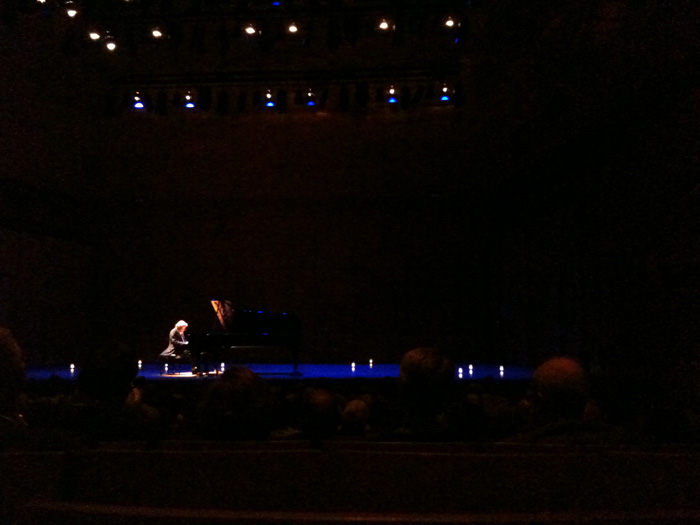 I'll cover the rest in the next post!