The announcement and post series I've been hoping to make on this blog (and even before I began it, if anyone the remembers the late "Nienor.net" days!) is finally here!
Nope, I'm not getting married (sorry, don't hold out for that one) – I've at last got a harpsichord! Well, almost got one, because it's sitting at a relative's a thousand miles away in another state for at least few weeks, until I'm able to get them safely to my humble, waiting music room. But what's more, it's not just a harpsichord, if you'll continue reading!
Scanned photos
---
A bit of history…
After fully falling into a sort of baroque obsession, I started posting around 7 years ago about desperately wanting any sort of harpsichord. I was so drawn to their sound, their fantastic aesthetic (gold leaf, cabriole legs, finely painted lids and soundboards), and the tone and action that would make the repertoire I so loved really authentically shine. While others associated their sound with horror films and Bach toccatas, or even found the plucked sound irritating, my mind conjured up images of court dances in candle-lit halls, magnificent concertos, and longed to compose or be able to play things like the Goldberg Variations on something other than a piano! I was fascinated by the ways that the culture of the time influenced the development of early instruments and music ensembles, which also overlapped into things like historical fashion and fine art:
Lowana and I at Labassa mansion, in her bespoke pieces for Vanyanis
Knowing the average cost of early keyboard instruments, I eventually decided to start saving specifically for a kit (the plan being to document its construction and decoration over time). To scope out which model might be best, two years ago I went on a little pilgrimage to an Australian maker in Sydney – the beauty I was surrounded with in his workshop was nearly obscene! I loved playing the Flemish double there, but decided that to begin with, the Delin Spinet kit would be more appropriate for the size of the room it would be in, for my budget, and for the skill level needed in building it. I played My Lady Carey's Dompe on it and loved the quality of sound.
Fast forward a few years: saving every scrap of my pitiful disposable income alongside other hobbies wasn't getting me there very quickly, and I replaced the goals above (for the time being), with the idea to just purchase a basic second-hand spinet – something for a beginner. This would hopefully ensure that I could develop some good technique specific to the instrument and repertoire, instead of waiting a lifetime for "the best", or spending another few years putting one together. I regularly scoured advertised listings and auction sites for second-hand instruments — and that brings me to this week!
Acquisition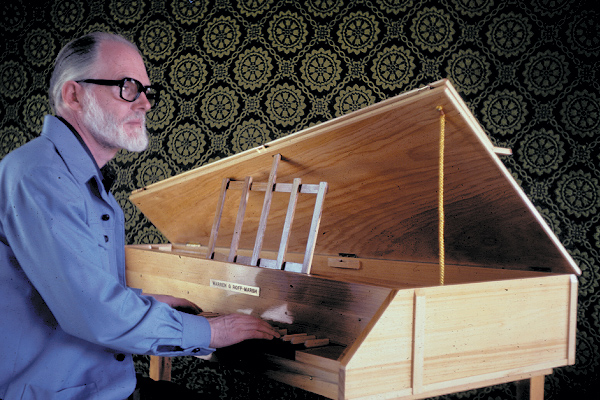 I came across a listing for a harpsichord and clavichord, both made by Warren G. Roff-Marsh, who had a career as an organist/choirmaster/harpsichordist and dabbled in woodwork. He developed a range for sale in Queensland using locally-sourced materials. Warren passed away a few years ago but the family had been looking for a new home for his collection, his personal instruments, somewhere they would be valued and used.
I wanted to find out more and nervously decided (whether or not it would be well-received :P) that it would be best to present a picture of my life by introducing myself, sharing my ambitions and goals for music over the coming years, and why it would mean so much to be able to take this generous opportunity. Instruments carry special memories, and their sounds evoke memories of those who have played them – but perhaps even more so for those who have seen the construction of them. I wanted to assure the family that the pieces would be treasured and well-used in my care.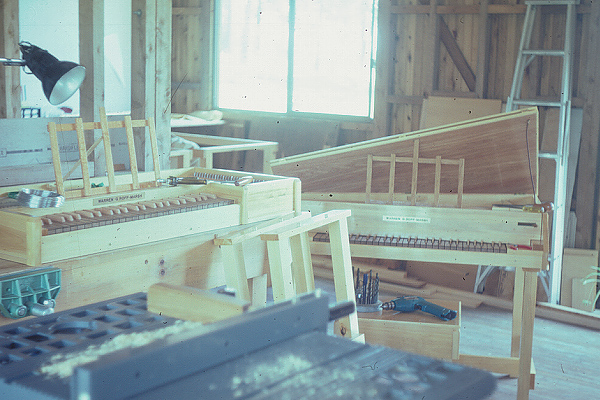 Warren's workshop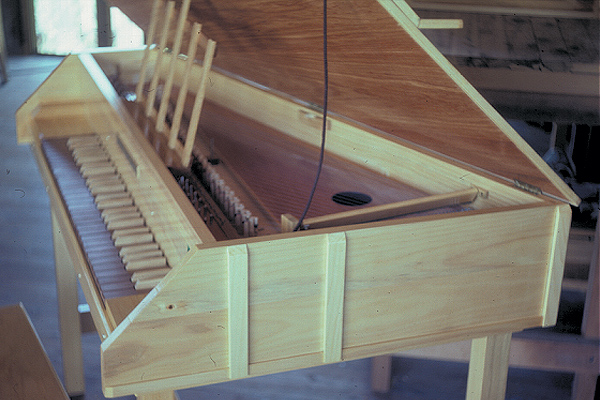 Though it resembles a spinet in size, the model is colloquially known more as a traverso style harpsichord. The term was probably used to set it apart from other makers or revivalists at the time who may have had a more purist or traditional building style.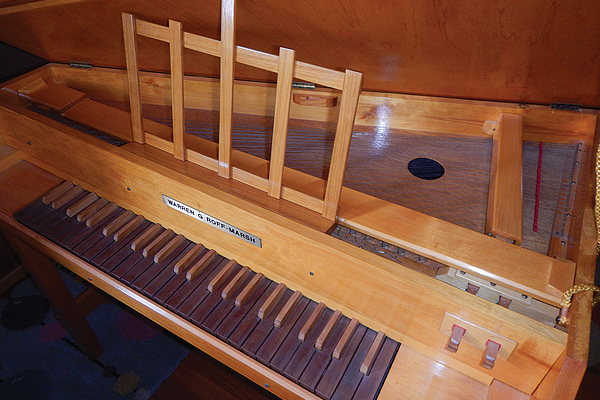 Anyway, my spiel evidently pleased them, because the next day I received a lovely message back from Benedict (Warren's son) and his mother Sylvia. Benedict is a music producer and electronic music composer, and Sylvia had been a ballet teacher. They appreciated the way I'd presented my little story, and after a few more hours of working out how to transport them, and ascertaining whether my great mate Alex was still up for helping get them back in good working order, it was decided! They had a preference for the instruments to stay together, too, which brings me to the clavichord:
A clavichord is the oldest stringed keyboard instrument we know of, used throughout the 15th-18th centuries, and differs from a harpsichord in that its usually-fretted strings were struck rather than plucked. The model here is unfretted, but a fretted construction meant that some notes couldn't be played simultaneously which, logically, determined the type of music composed on them at the time – it would've been difficult (but not impossible) to practise music with chords of adjacent tones or semitones. They're very quiet to play, and were used for private practise, or perhaps entertaining a couple of guests with.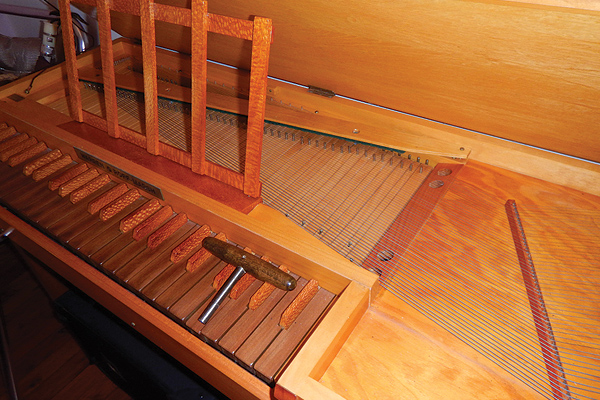 If that didn't sound too good to be true, it didn't quite end there! The collection also included a number of woodwind instruments – mostly vintage Johannes Adler recorders (tenor, alto, soprano etc.), but you can also see what looks like a wooden Irish flute and tin whistle. I absolutely can't wait to hear each one's tone and accompany them, or see how each tone lends itself (over time) to different Renaissance and Baroque repertoire, or even future compositions.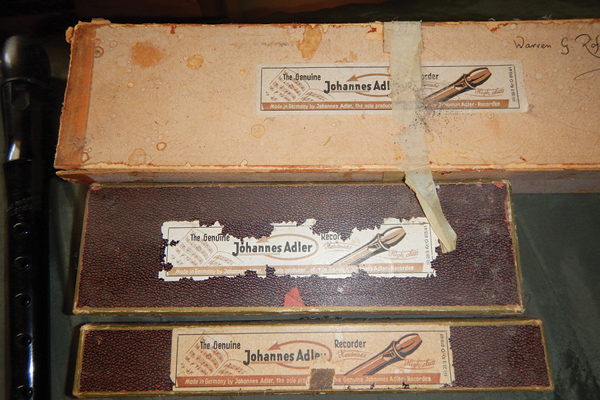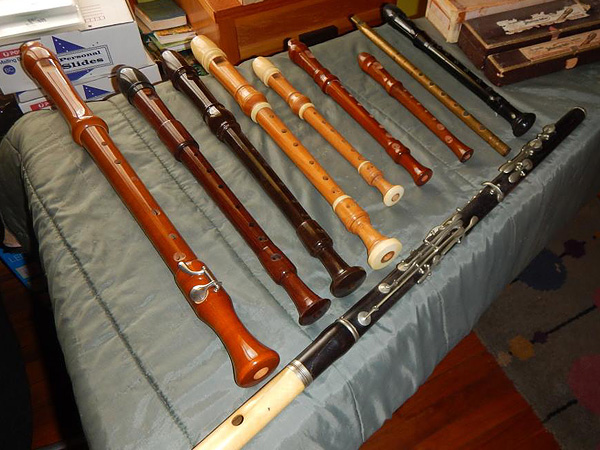 I'm not sure what I've done to deserve such opportunities in the past year or so, because honestly, everything has been coming together so eerily well. We have a beautiful cottage to look after, I won the best trip ever, my music teaching and study goals are progressing just as I'd hoped (which gives a lot of purpose in life), and now, not only the piece I've wanted most for my playing, but a collection of things, has been bequeathed to me. Other than travel goals, I don't know how I've had the luck to be able to say that my mental checklist of dreams has actually been fulfilled!
This is so exciting! I really look forward to the adventure, and will be providing future updates about their restoration, or any projects that use them.