I'll open this post by teasing you with a tasty strawberry & white chocolate cheesecake from the kitchen of Kimmy. I visited her just so I could eat it, excellent sister that I am. I spent the middle of July in bed with the flu and as soon as I was recovering I just wanted to get out of the house and eat something other than soup. Mmm.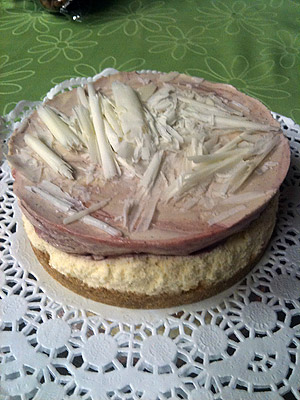 Adam and I house-sat for our friends during the last week of July and had a relatively peaceful time. We relaxed, read, and levelled up a trio of vulgar dwarves on The Lord of the Rings Online. I experimented with a new way of wearing a Bodyline dress which I've become more fond of since!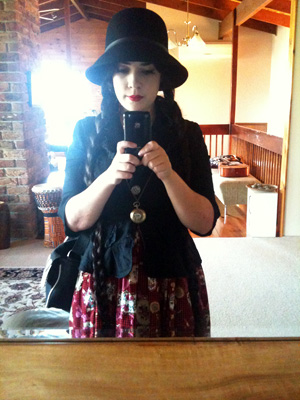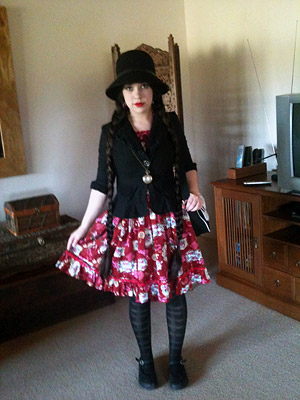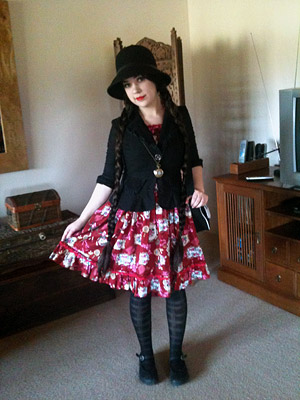 We went to an Indian restaurant one night, Paramparaa, which turned out to be really lovely, quality food. I tried a rose lassi that was absolutely delightful! The service was excellent, and the chairs were beautiful. 😛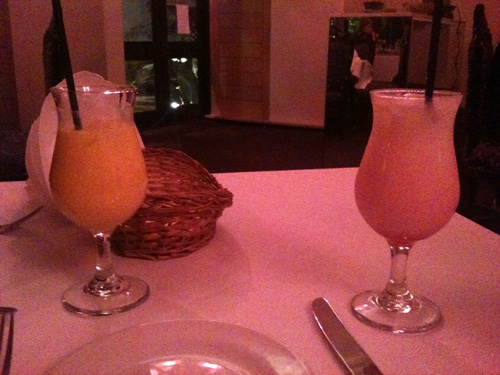 On the 4th we caught one of our favourite local groups, the quintet Cosmo Cosmolino. They are launching their new album, Bel Air. When I call them "romantic" I'm not just being facile. The first time we saw them Adam and I weren't actually an item yet, but I think Cosmo could be called the catalyst to our relationship. Or maybe it was the entire bottle of vodka we consumed afterwards? The plan was to take a drink each time Bela Lugosi raised his eyebrows. And The Bride of Frankenstein passed in a blur as we set sail on the living room couch (mast and pirate get-up included). We used Arnott's Savoy biscuits to chase down the shots as the sun was rising. Adam fell in the river, but he had become cryptic and incomprehensible by then. I got kissed! I left the next day heavily bruised and delighted. I'm not sure if all that actually constitutes romance, but Adam becomes very flamboyant after a few drinks, gesticulates wildly everywhere, recites poems…
Er, anyway, they played the following:
La Mort de Jezebel
Gnossienne No. 3 – Erik Satie
Ma Voiture
Eternal Longing – Dilermando Reis
Hungarian Rhapsody No.2 – Franz Lizst
Black Pearl
On the Sunny Side of the Street – Jimmy McHugh
Klezmer Cry
Nostalgias – Cobian/Cadicamo
Alice & the Blue Whale
Of
Don Nicanor – Ástor Piazzolla
Bel Air
Truly
Boat of Faith
To Be
Libertango – Ástor Piazzolla
Odessa Bulgarish – Trad.
We really enjoyed it and can't wait to see them again in a few weeks! Cosmo are delectable, passionate, they work together seamlessly and make you want to just dance to their gypsy strains. Here are a few sound clips. And now for some more crummy iPhone pictures: