Back in June I was pleased to attend the theatrical adaptation of Piano Lessons, by Australian concert pianist and writer Anna Goldsworthy. For pianists and musicians hoping to deepen their understanding and appreciation of classical repertoire, or just to share in her reminiscences of childhood lessons and the special bonds of mentorship, I do recommend her book.
In Piano Lessons' stage form, Anna, ever serious, narrates and plays out the highlights of her story in an abridged fashion, with the role of her formidable but passionate teacher (Mrs. Sivan) artfully and commandingly played by Helen Howard. Afterwards we met both ladies – Helen was particularly gorgeous and enthusiastic to speak with and told us that Eleonora Sivan had seen and "approved" her performance at an earlier concert.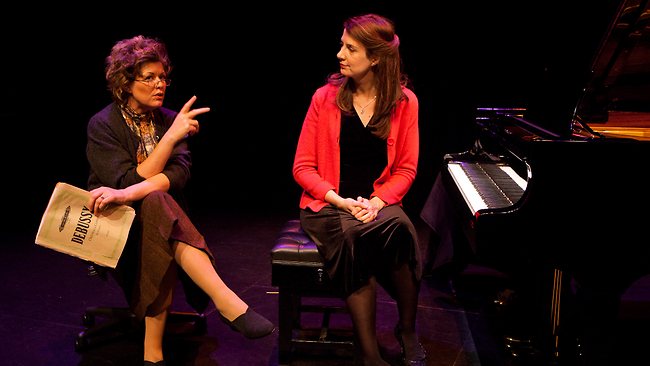 In an intimate salon setting we were treated to two hours of Anna's music and memories, set against a minimalist set of the piano, a stool (to represent her father), and an armchair, where her teacher sits when not lecturing from her swivel chair. The passage of time was demonstrated simply, with Anna removing a pink cardigan and arranging her hair more elegantly as she matured.
I have no skill in reviewing or analysing experiences like this, but I enjoyed this paragraph from The Monthly. It talks about the book, but is actually no less relevant to the play:
…What Goldsworthy manages to pull off in Piano Lessons is far richer than a mere catalogue of achievements or self-congratulatory reminiscence. With eloquent flair and deft insight, she manages to convey the magical effects of fine teaching, an often-mysterious process that can easily turn attempts at translation into utter cliché. Here, however, the student matches the teacher: the memoir can be read as a product of their shared labours. Goldsworthy's writing, like Mrs Sivan's pedagogic style, is both disciplined and impassioned – and sometimes cleverly revealing – with just the right amount of self-mockery. Recalling the response of her adolescent self to a virtuoso performance, Goldsworthy writes: "The fact that I was moved moved me further, and I sobbed once, out loud."
I found that while Anna's restrained elegance and poise gave off little warmth, it was compensated for by what she communicated through her playing, which was moving.