I haven't had much to post about or dress up for lately (comfort is taking precedence with almost every day for the last few weeks being so dismal) but Adam and I had a nice – albeit sleepy – time out today. We were invited to see the Star Chorale and Orchestra perform Brahms' A German Requiem, a large sacred choral work in seven movements. A friend and her mother sing in the choir of over a hundred. The Requiem was first performed in 1868 and "Brahms chose its non-denominational text himself to focus on faith in the resurrection rather than on fear of the day of judgement". I enjoyed the constant rise and fall of voices, the soprano Siobhan Stagg's clear voice and tone, and the fugal sections.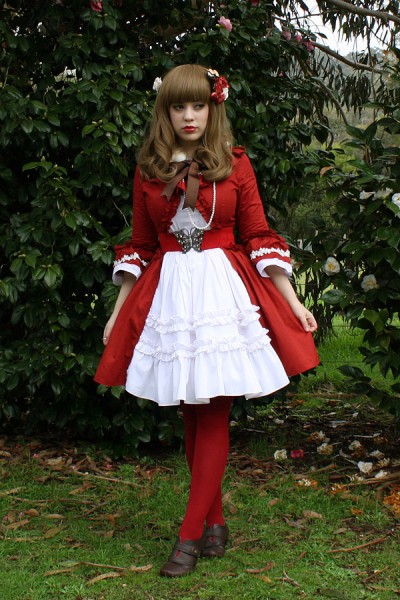 I didn't mean to look so unimpressed but we literally only had time for about three photos before dashing out… it was just "snap and hope for the best".
My outfit is a little inadvertently Christmassy but I wanted to try something new. The dress arrived a few days ago – it's a random replica from here and it was so cheap I just decided to give it a go, as something I can wear without worrying about wear and tear. I am quite happy with the general look, because for $30 I didn't know what to expect in the way of comfort or flattering shape!
It's made of a soft, light-to-medium weight cotton so creases very easily. The bell sleeves and skirt aren't layered, and the finishing is a bit lazy with a few unserged areas. There were a lot of loose threads and some areas I may go over to strengthen. The skirt is a little on the shorter side and could've been a couple of inches longer to allow for petticoats. The biggest problem however was that the red was not colour-fast at all and I don't think the red thread they'd used against the white was either because things looked a bit pink around the seams. I hand-washed and then machine-washed it to get the excess dye out which seemed to work, but the colour still bled along some edges. It's only noticeable up close, but it would save trouble if the fabric was washed and ironed before turned into garments. There was a small stained area on the white which didn't really come out either, but it's not particularly obvious. The bows are rather on the flaccid side but essentially the same nice shape as my other Mary Magdalene bows. Finally, I wish the stark white had been a cream or off-white, perhaps to avoid such a candy cane look and match better with what I already own.
I would happily pay twice as much for the dress to have been colour-fast and those hidden edges finished properly, and I can't see how for $30 there can even be a profit made, so I'm pleased with it as a piece that can be dressed up quite well with accessories and perhaps worn to parties where one would otherwise worry about a stain or a spilt drink. 😛 I have received items of much worse quality and paid more.