I need to post about my picnic (which was a beautiful success) but I'm waiting on some photos because I want to do justice to it, so I have a few other things to regale you with until then!
And now for Wednesday, March 9, Cecilia Bartoli! I had a piano lesson in the afternoon, then spent some time with my mother and sister. I had my hair out for a rare couple of minutes while getting ready and got her to take a photo (I don't often see it myself, heh). It still seems healthy but it's time for a tiny trim of those rough ends.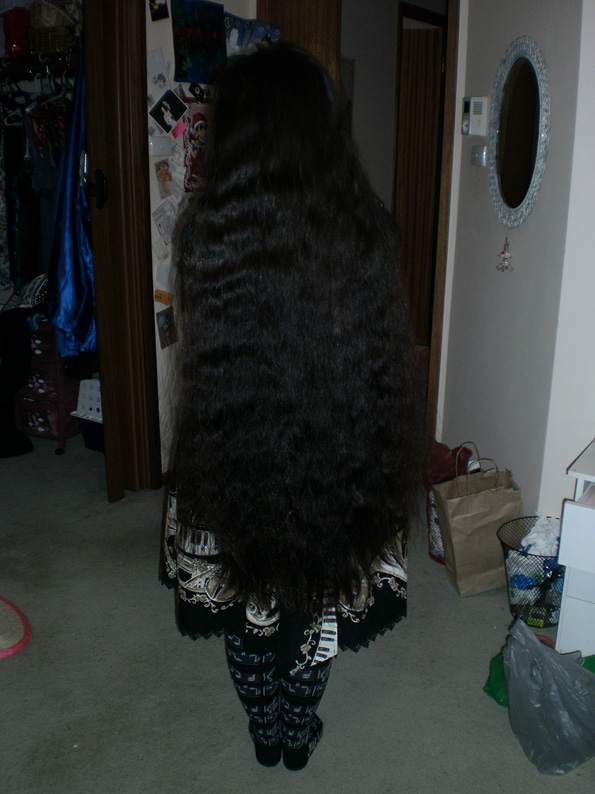 I drove across the mountains, stopped for macarons and bought some flowering teas for my lovely friend Juliette, and finally ended up at my other good friend's Alice's house. Along with her parents, she is appearing in Melbourne Opera's Merry Widow currently, and as they were rehearsing that night I went into the city with them. Unfortunately they had to pass on their Bartoli tickets because it clashed with the rehearsal. I trotted over to the Hall nice and early, standing conspicuously outside in clothing and accessories covered in musical motifs! I became acquainted with a friendly lady called Cara outside, and helped a random older lady reply to a text message. Once the doors opened I purchased a programme only – and finally one not featuring advertisements on every other page – and sat in my lowly second-to-last-row seat. The Town Hall is quite beautiful inside, and I believe had the Hamer Hall been operational Cecilia would've performed there.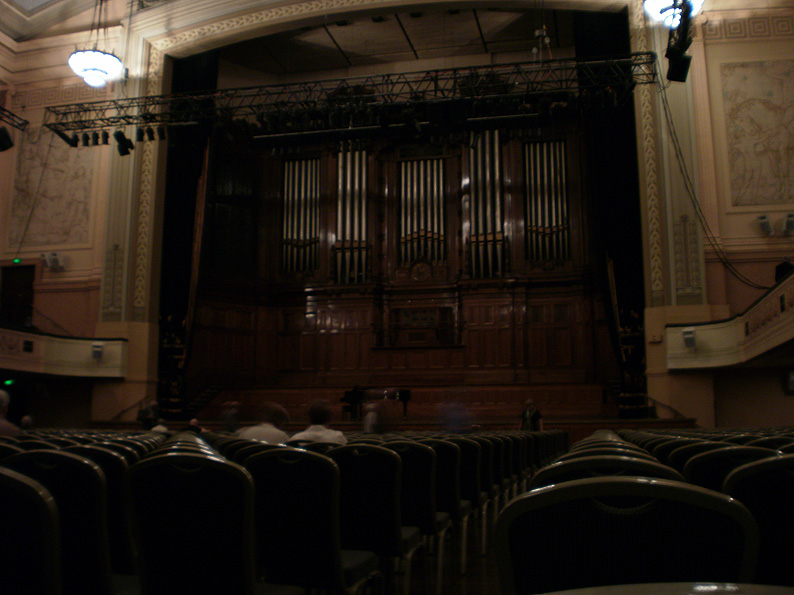 Cecilia came on-stage looking voluptuous and beautiful in a red gown. She was accompanied the entire time only by pianist Sergio Ciomei which allowed her voice to carry through the hall quite well – and she certainly held our attention and caused us to fall in love with her instantly (at least I hope someone agrees with this, but I couldn't hear any complaints). This quote from Pianomania sums up the pieces better than I can:
O mia Cecilia! Whatever you have heard on disc or seen on TV, Cecilia Bartoli is exactly that plus some more. Larger than life and donning a stunning red gown, she looks every bit the diva, artist and entertainer all rolled up in one. The programme was straight forward – Italian and French songs accompanied by Sergio Ciomei's piano. No opera, just art songs from the pens of Rossini, Bellini and Donizetti. Love lost and found, flora and fauna, and the pleasures of a simple peasant life, were all encompassed in these numbers. Bartoli sounded fresh and each song sparkled with life. Her vividness of articulation, which ranged from the most quiet and intimate of moments to full-blooded roars, was just as impressive.
Cecilia gave us an exciting Rataplan, then four encores, ending on Broschi's Son Qual Nave which simply made my night! It would take a miracle to find someone with a spare Sydney ticket to see the Sacrificium programme, the only Australian concert dedicated to the castrato pieces from her album of the same name. I kept planning how I could take a flight up in the day, go to the concert, then come back to Melbourne afterwards, but there are a dozen other things that must take financial priority! Anyway, straight after she finished I joined the queue to meet her. Cara from earlier joined me and we chatted to another older lady next to us while waiting – they helped me get a photo with Cecilia! She is smaller in real life than people expect, though she has a large presence on stage, and very beautiful. When I reached the front after a long while I briefly thanked Ms. Bartoli and told her how beautiful she (and her music) was that night. She kindly agreed to a photo (our camera always makes my skin and proportion look stupid, but I'm sure it could've been worse!) and signed my programme, and I left feeling ecstatic. I know she doesn't like to fly so if she doesn't come back to Australia one day, I really hope to see her sing again! What fun!