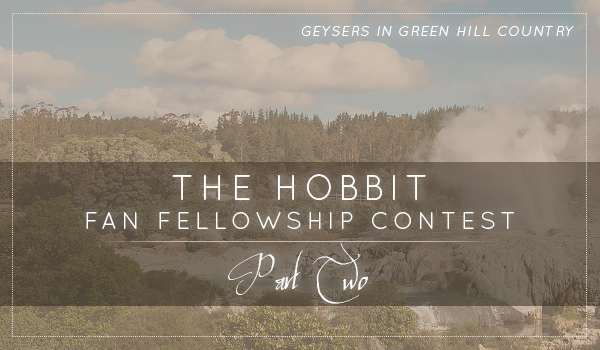 This is part two of a series of posts about my Hobbit Fan Contest experience, where I got to spend a week in New Zealand (Middle-earth!) with a group of some of the biggest Hobbit fans in the world. This was an absolute dream come true, one I was able to share with my elf-partner, Adam. You can also read more about the contest and how I won here.
Accreditation
Our first full day in New Zealand was a big one! After a comfortable night we made our way downstairs to join all the fans – some of whom had arrived that very morning after long, overnight flights with multiple stopovers – poor souls! But the first thing we needed to do was "check in" and go through an accreditation process. We were given a bag of goodies each (containing snacks, water, some free samples, a bit of merchandise etc.), screening passes on coloured lanyards, and some tshirts, a cap and a waterproof poncho with the official logos.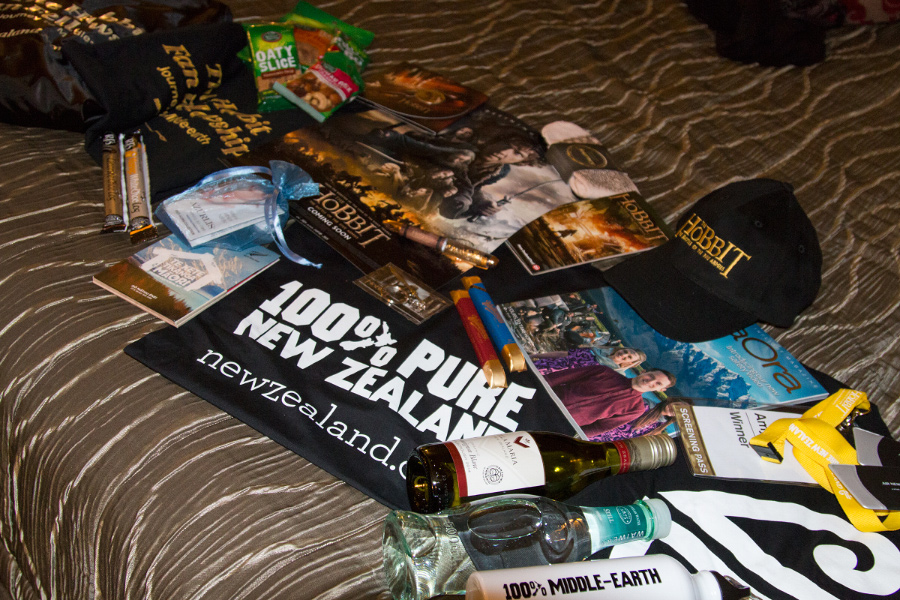 Loot from day one! New Zealand water is SO NICE. Couldn't bear to lug around the wine in our already-weighty luggage though, so that was left behind… sorry!
Fans were sorted into four groups, mostly by region – Americas, Asia, Europe, and "The Rest of the World", which included winners from Australia (us), New Zealand, Scandinavia and Central Europe. Our "colour" was yellow and our "race" Wizards, which helped keep our group together and provided a bit of friendly rivalry throughout the trip. I also want to mention how cool it was to actually be with such a varied group, because that way we got to meet fans from so many places!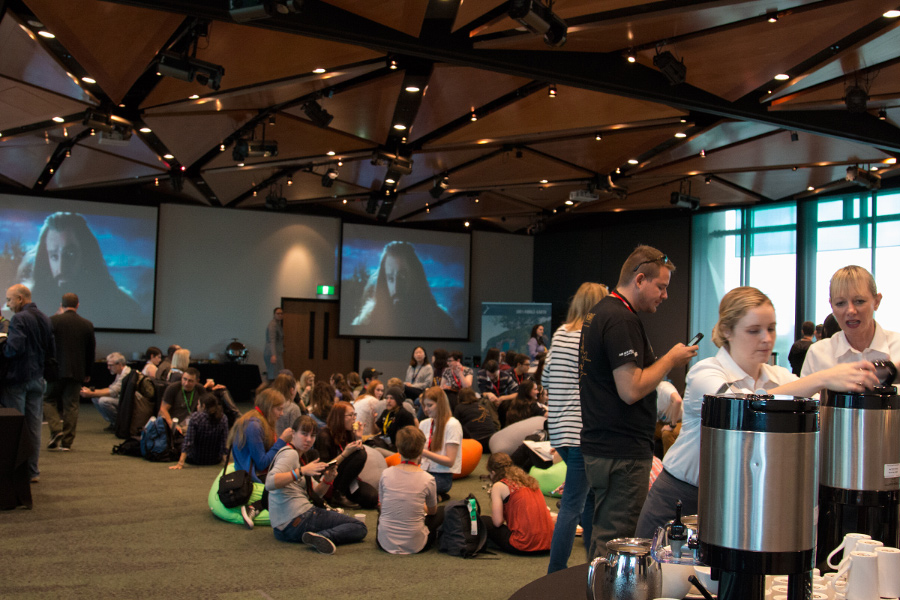 Walking into the large conference room for breakfast (a banquet-like spread, oh my gosh) was somewhat overwhelming. For some reason we always find ourselves "on the outer" in new social settings, and despite wanting to create a rapport with many, it just seemed too intimidating at first. While attempting to find a corner to ourselves we spied another yellow lanyard, so decided to sit down and introduce ourselves to a lady who turned out to be the Swedish winner, Maria. I think Maria is actually the person I am closest to after the whole trip, and we even hope to visit her and her family next year!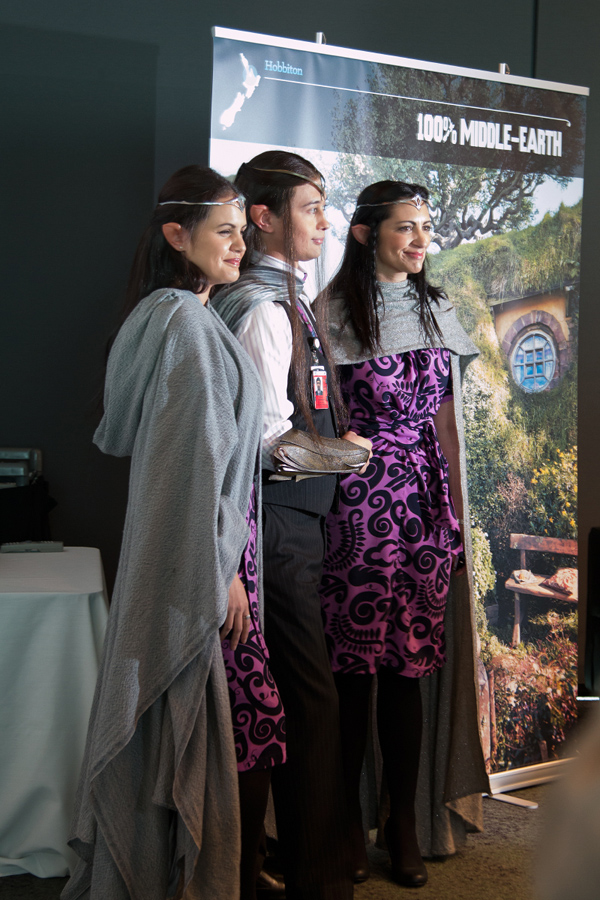 Elves of Air New Zealand – Erina, Marshall and Natasha accompanied us on most of the trip.
The Hobbit Plane
Once breakfasted, full of anticipation, we 150 winners and our guests, media and staff were addressed by Christopher Luxon, Air New Zealand's CEO. After this welcome and introduction, the room erupted in cheering – it was time to begin the activities and hit the road! Each group was directed to a separate coaches, and once everyone had boarded and was accounted for, our buses left the hotel. Our first "destination" was a mere five minutes' drive away: the airport tarmac…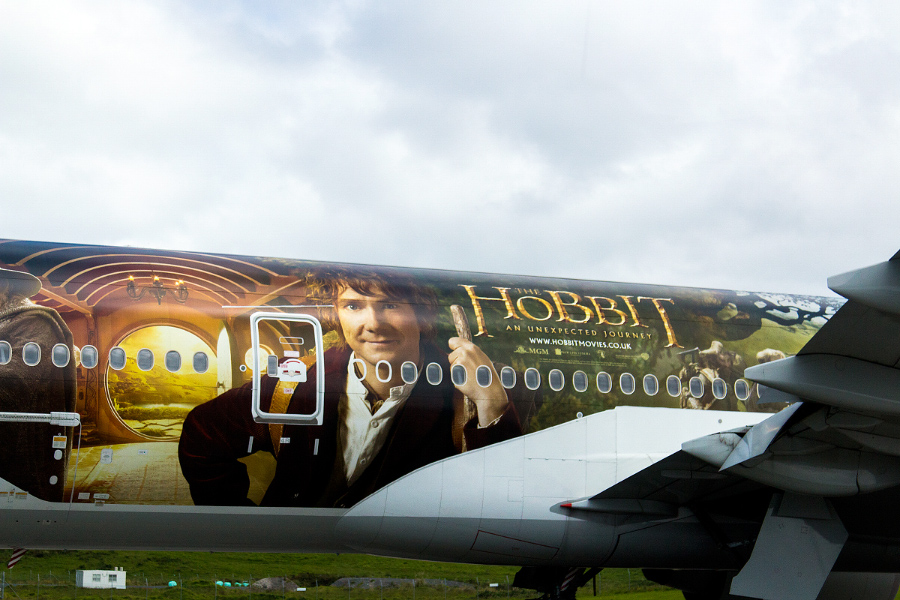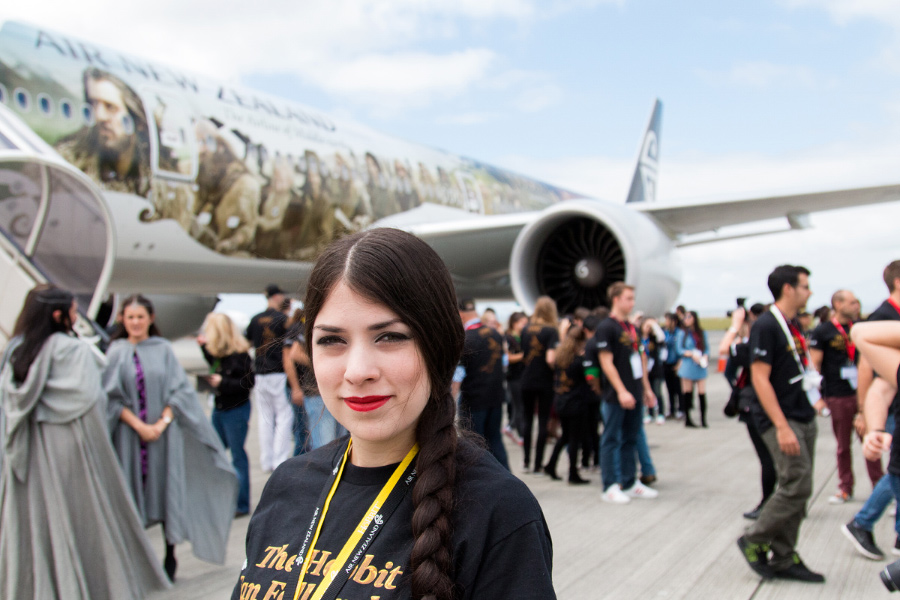 … where we got to view one of Air New Zealand's Hobbit-themed planes up close! The 73 meter-long Boeing 777-300 features the world's largest graphic to have been applied to an aircraft. It was only a quick stop though, for the purpose of press photos. They had us jump in the air in unison about ten times, but I don't think those shots were featured anywhere. I think it's supposed to give the impression that we've all come off the plane, but I'm not sure if any of the fans got to fly in or out on it!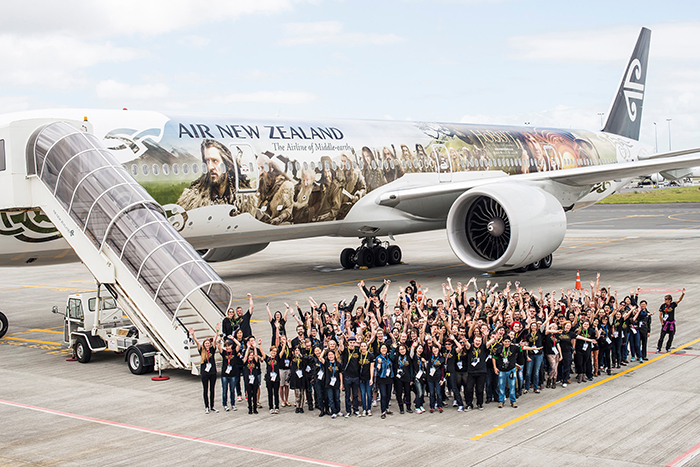 We are about 5th from the left

And what it looked like from the other side: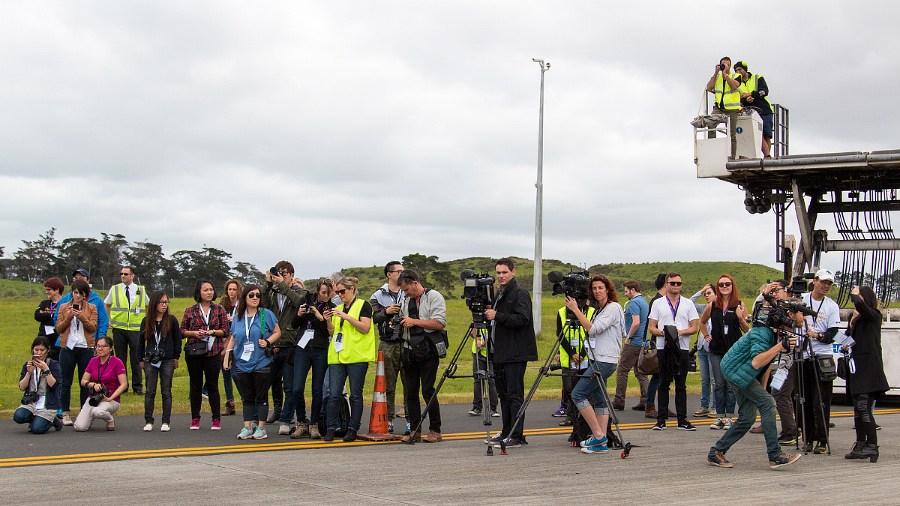 Road to Rotorua
Back in the bus, our next stop was Rotorua, a city about 3 hours south-east of Auckland. The ride was amazing. The landscape was too impressive to succumb to any temptation to curl up and sleep or hibernate! Up and down we went though endless green hills that could've easily been part of the Shire, occasionally looking across to pine tree-sided hills, passing through sudden dense rainforests, and peering into huge long gorges.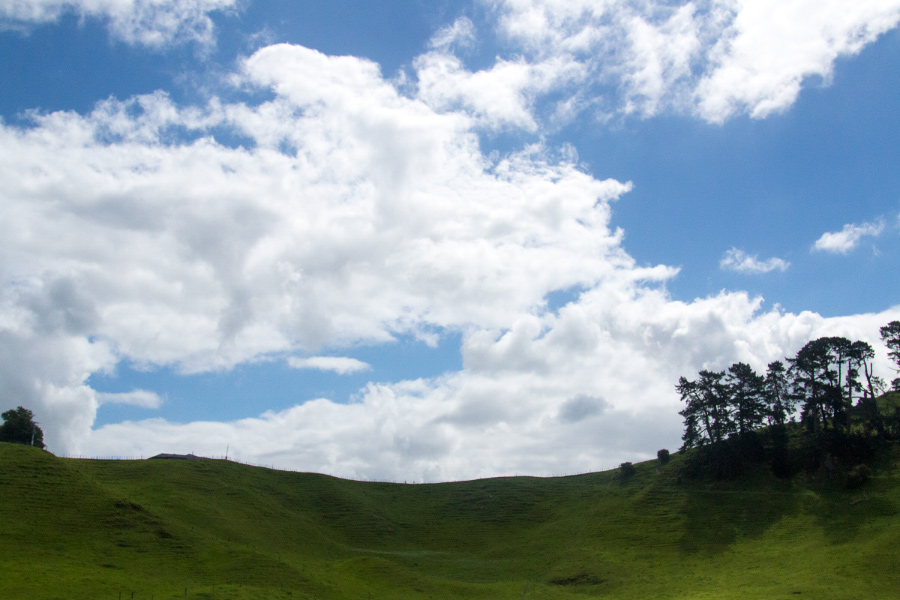 It looks like Windows XP's default desktop background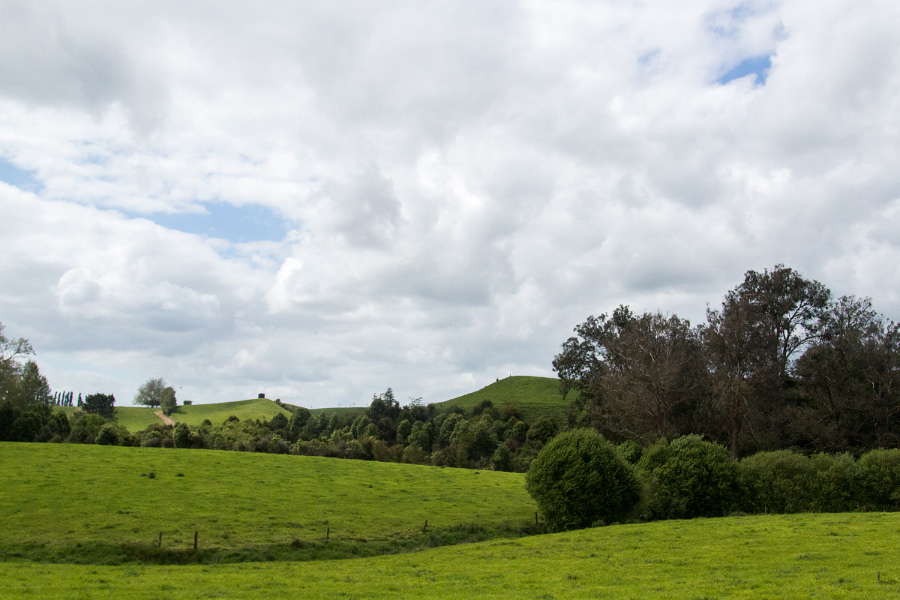 Periodically on bus trips we were also shown little videos with a greeting from Peter Jackson talking about what would be in store each day for us!
Te Puia and the Pohutu Geyser
Once in Rotorua, we only had a little while to unload and get changed in our hotel before we were taken out for the rest of the afternoon and evening's activities: a cultural experience at Te Puia geothermal park. This sums up the location:
"Te Whakarewarewa geothermal valley is a special place – home to Te Arawa people for generations. The environment alone is of enormous geological significance, with thermal activity ranging from boiling mud to the world famous 30-metre (100-foot) Pohutu geyser, erupting up to 20 times each day. Hot springs, boiling sulphurous pools, silica terraces and bubbling mud pools are among the natural wonders at Te Whakarewarewa."
Carla, our tour guide, took us around the park explaining local Māori history and cultural practises, and the importance of the area to the tribal groups that lived there. The park (and others like it across the country) exists to preserve those customs, teach traditional crafts (like carving and weaving), and extend hospitality to visitors who want to learn more.
As a white foreigner from a country which has a pretty disgusting history in the treatment of our indigenous people (and presently still does through insidious, pervasive racism, widespread poverty, and many problems through the nation's unwillingness to invest in reconciliation efforts), I had this notion that somehow New Zealand, despite our similar histories of British Colonialism, was "better" than us in this respect, whether because of its Treaty or numerous other cultural reasons. But while on the surface it may appear that "white" and indigenous New Zealanders integrate well, and Māori culture is a lot more prominent in their society, they are by no means free from racial discrimination or issues of land rights and so forth. Our time there was too short to actually get more than a fleeting glimpse into that culture, but I appreciate that it was one of the first major experiences we had on the tour.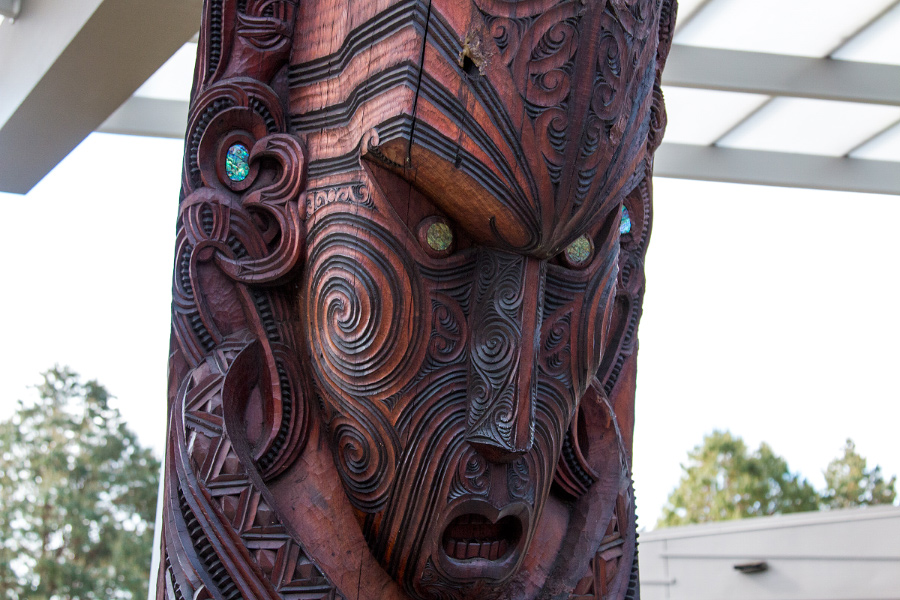 Māori wood carving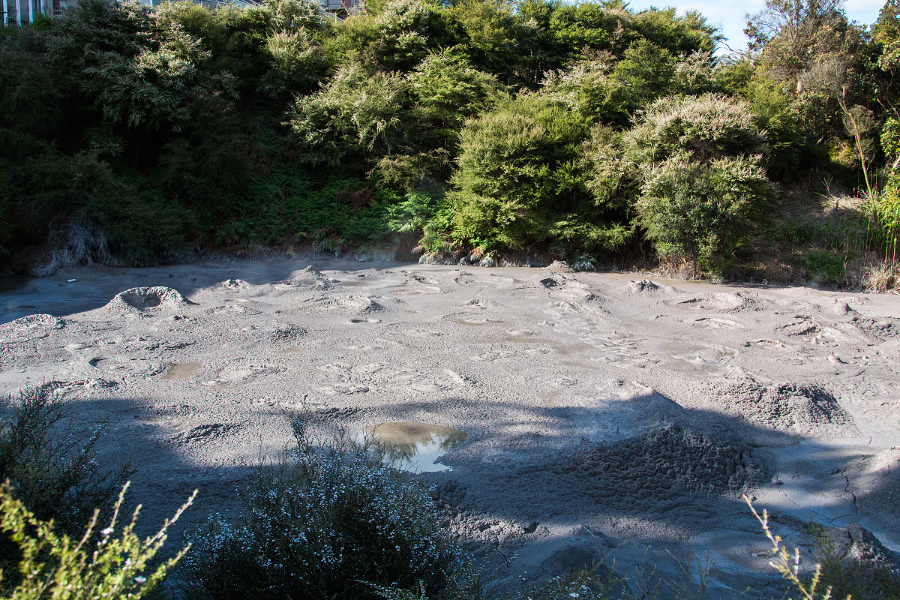 Boiling mud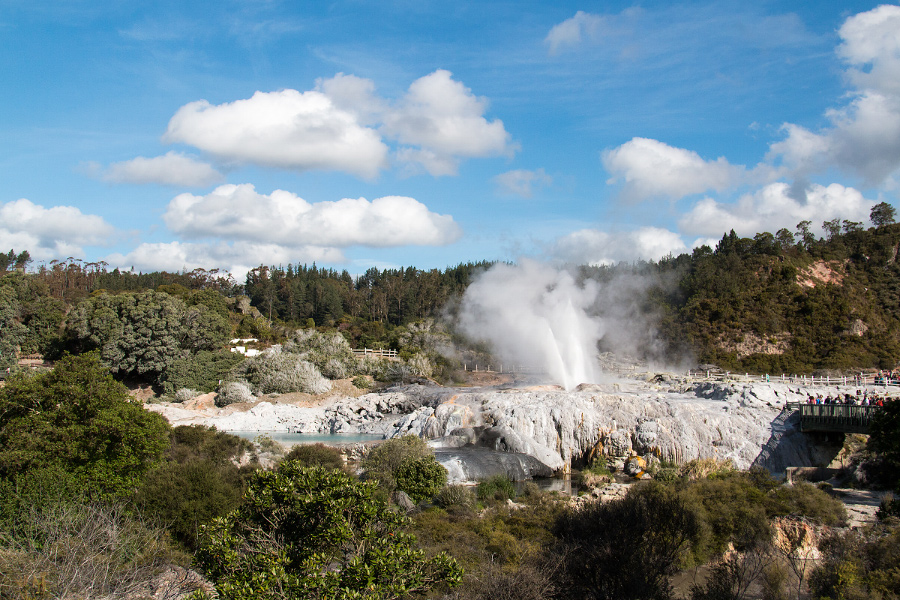 The geyser erupted not long after starting our tour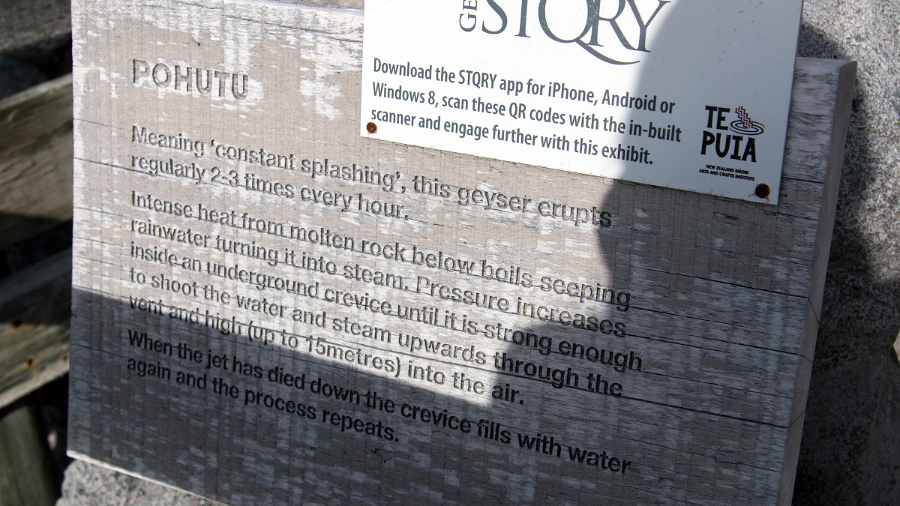 Sign reads: Pohutu – Meaning 'constant splashing', this geyser erupts regularly 2-3 times every hour. Intense heat from molten rock below boils seeping rainwater turning it into steam. Pressure increases inside an underground crevice until it is strong enough to shoot the water and steam upwards through the vent and high (up to 15 metres) into the air. When the jet has died down the crevice fills with water again and the process repeats.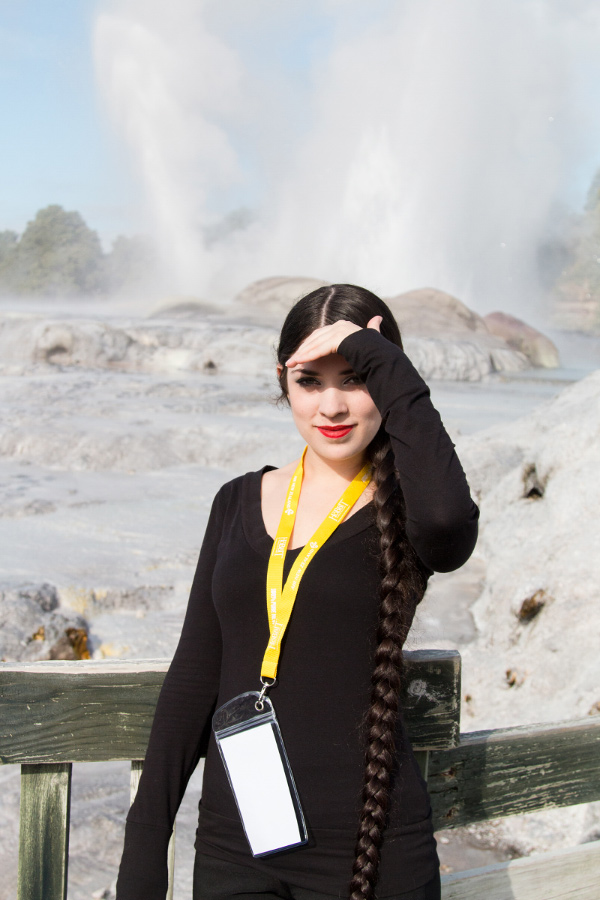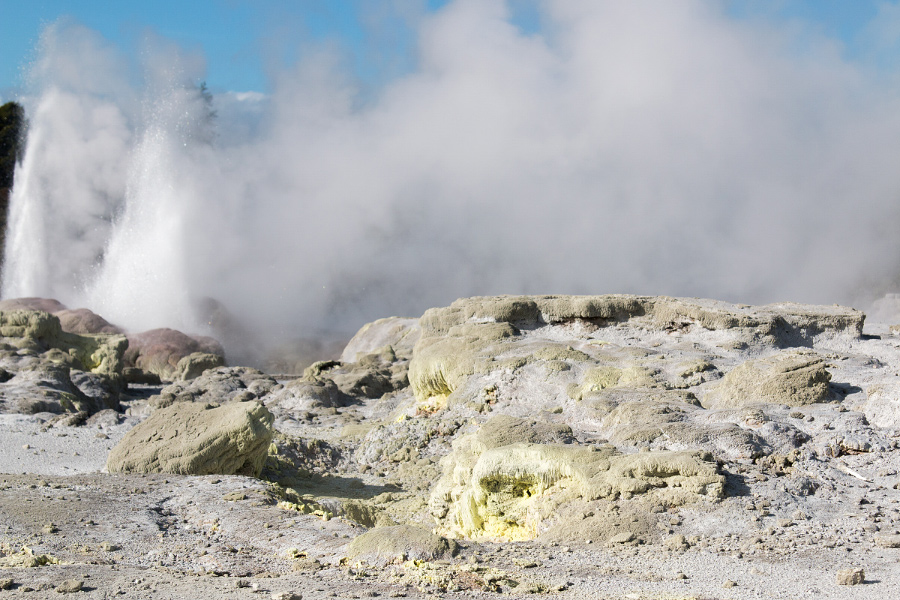 Sulfur deposits. During our time in Rotorua, it was impossible to escape the rotten-egg smell!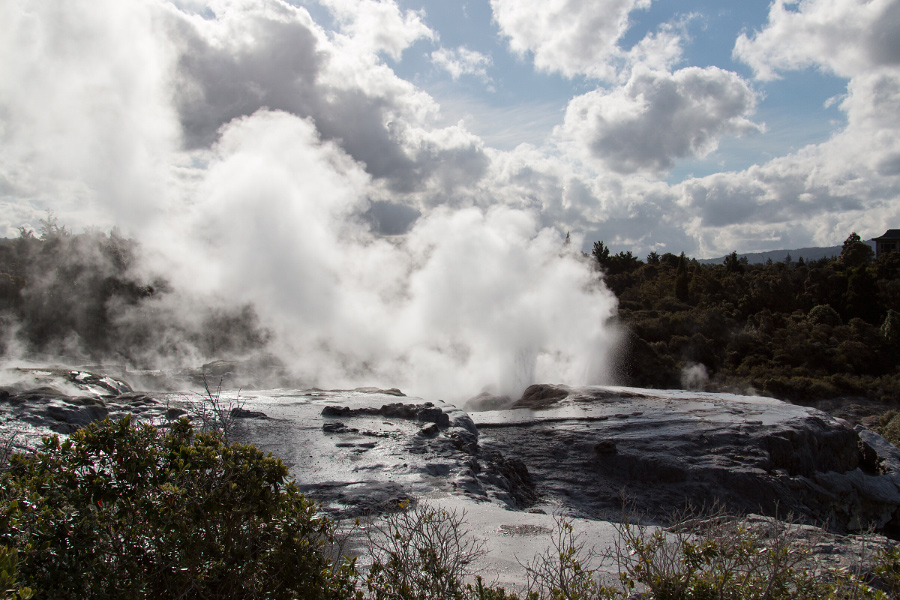 I like this picture! We are so grateful to have been able to borrow a really reliable all-purpose lens for the trip – though buying a new camera also helped…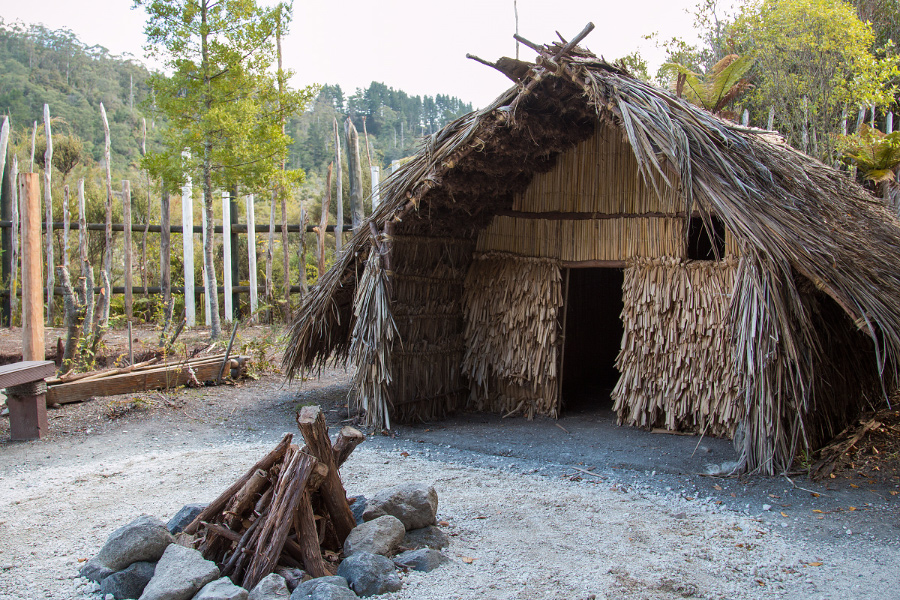 A Puni (Māori hut)
A 'Pataka' (structure for food storage) and a sculpure at the prow of the longship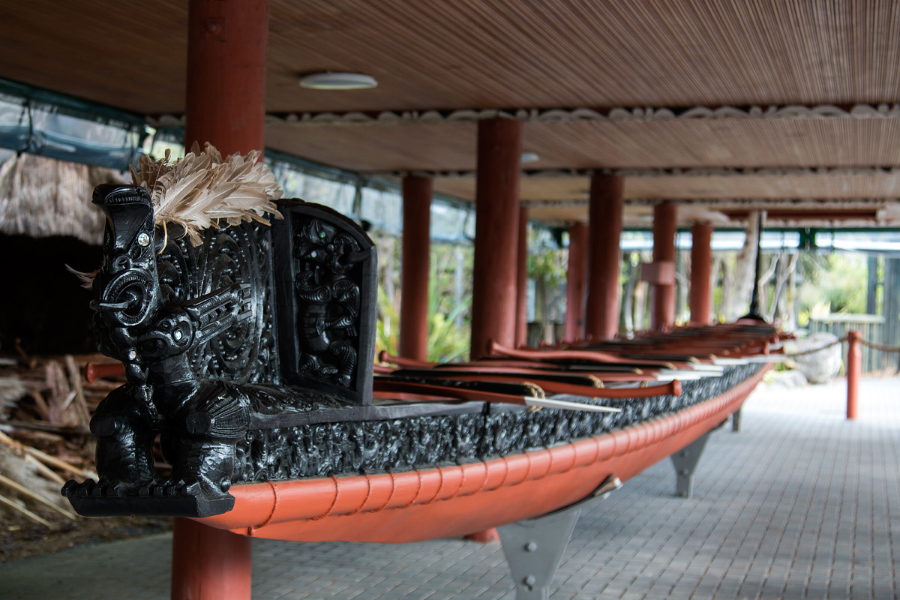 Waka – a long Māori canoe (or longship)
After the tour we all gathered around the courtyard as part of a pōwhiri, a welcoming ceremony which consists of a number of rituals, chants and speeches. Our nominated "tribal" leaders (two of the winners) would represent us as a group, present a gift to the host (laying a leaf on the ground as a gesture of peace), and be challenged in an aggressive display of gestures with ceremonial weapons. After this we could all file into the meeting-house  – normally it would be customary to remove shoes, or even for men and women to sit separately, but this was quite a relaxed gathering, and photography was also encouraged.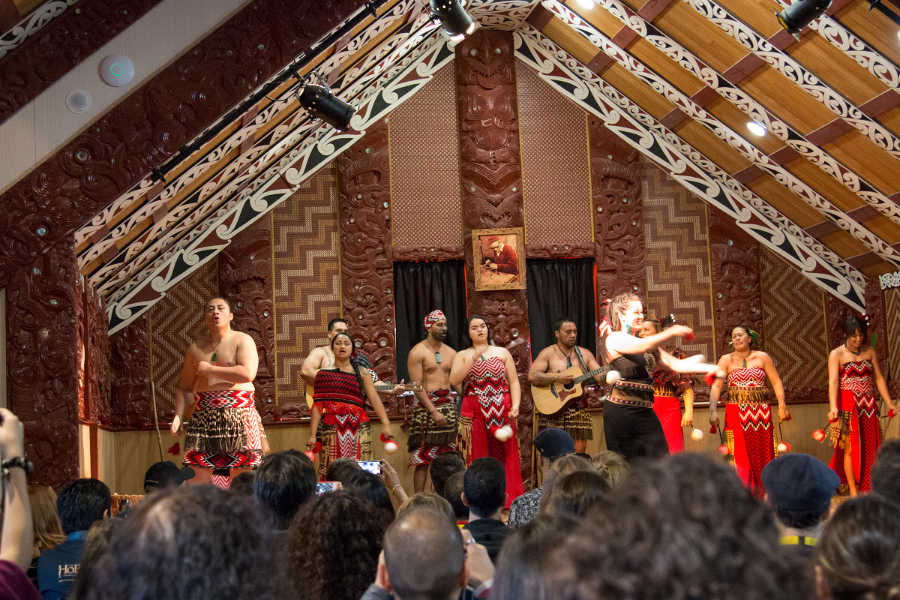 After a series of chants, songs, a haka, and some audience participation, we were ready for a feast! Te Puia boasts a delicious hāngi experience, where you can enjoy food that has been cooked in earth ovens/fire pits underground and cooked for several hours by hot rocks. I think the process is a little more modernized for large tourist groups, and most of the food was familiar, but it was delicious.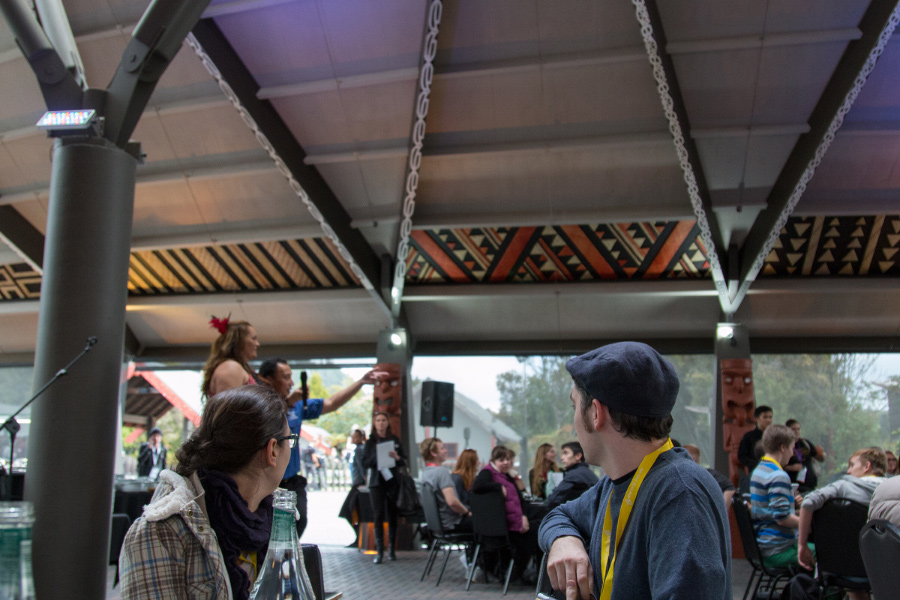 A blessing from our host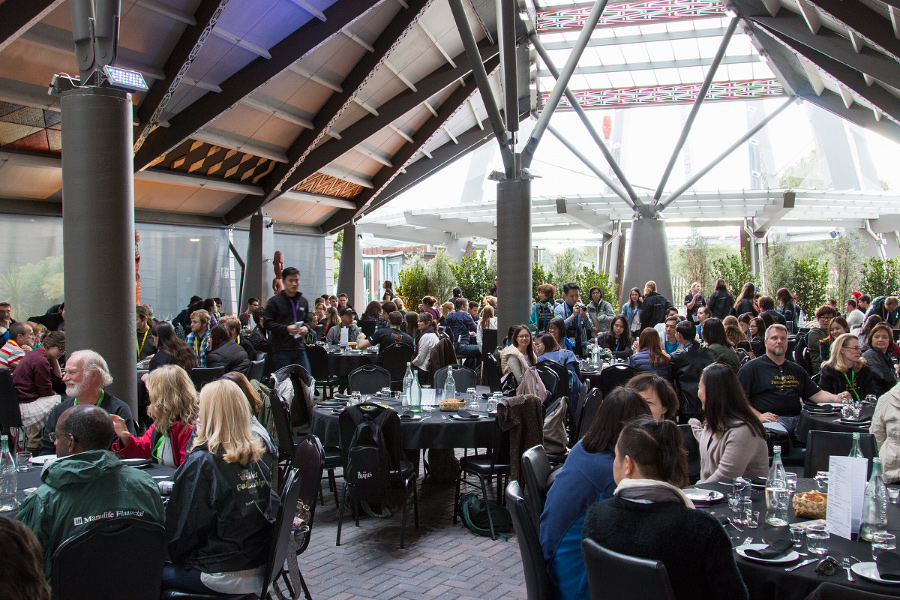 A 'shot' of a drink flavoured with manuka honey
It wasn't a super late night and was far from being the most tiring day of the trip, but we were exhausted nonetheless. There was a little surprise for everyone in their hotel rooms, too: a bottle of ginger beer from Hobbiton! 😀 We ended up sharing it just before the flight back to Australia, unsure of whether it would pass through customs or survive in our luggage.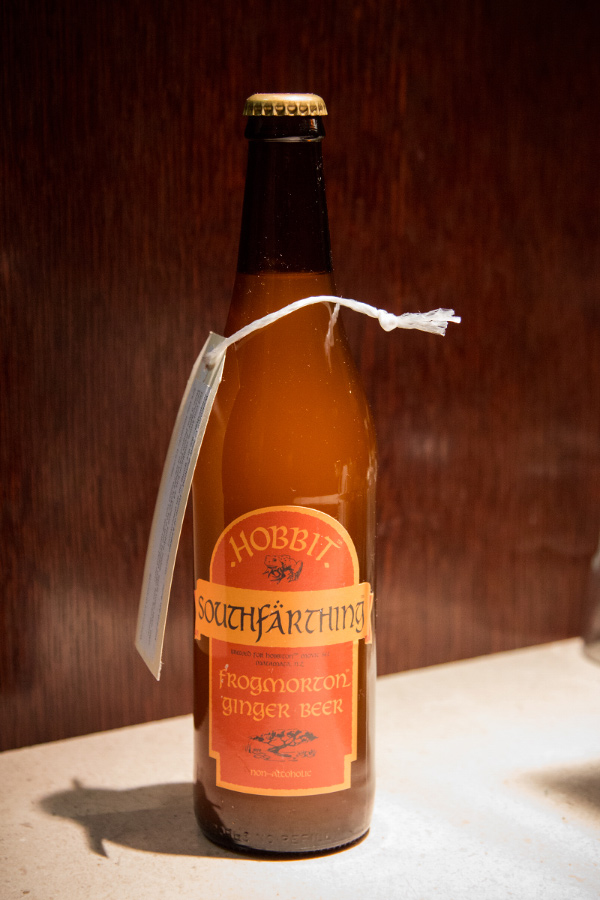 And to cap off this post, here's the first video entry in the Real Middle-earth Hobbit Fan Contest videos made by the crew for New Zealand 100% Pure. Some of the things I talk about in the post make a lot more sense in video footage!