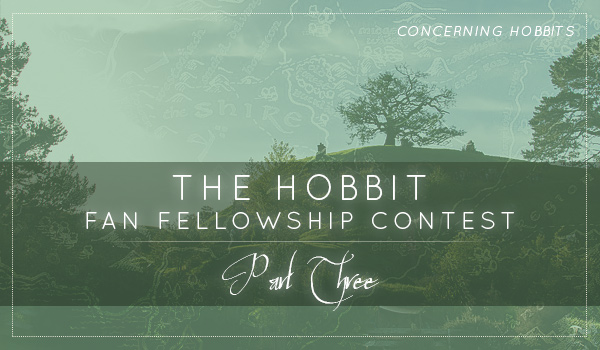 This is part three of a series of posts about my Hobbit Fan Contest experience, where I got to spend a week in New Zealand (Middle-earth!) with a group of some of the biggest Hobbit fans in the world. This was an absolute dream come true, one I was able to share with my elf-partner, Adam. You can also read more about the contest and how I won here, or about our first day of the trip here.
Rotorua Skyline
When you have a day of outdoor activities planned, waking up to this view might not please everyone! But I love mist, rain and mountains, so I was just thrilled to have another gorgeous photo opportunity. We were spending the first half of the day at the Skyline Rotorua, with all-access passes to ride on the luge, the skyswing, or the zipline, or whatever else we felt like!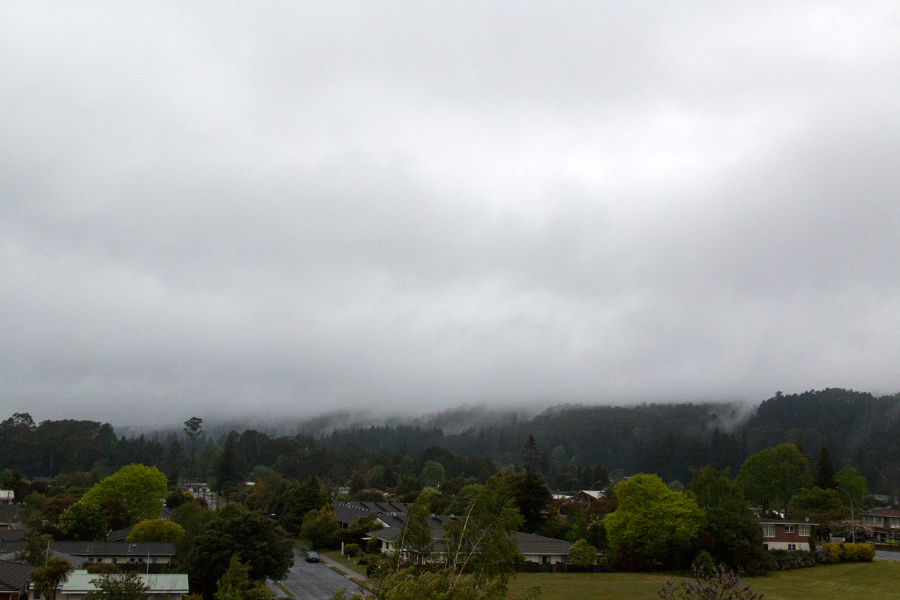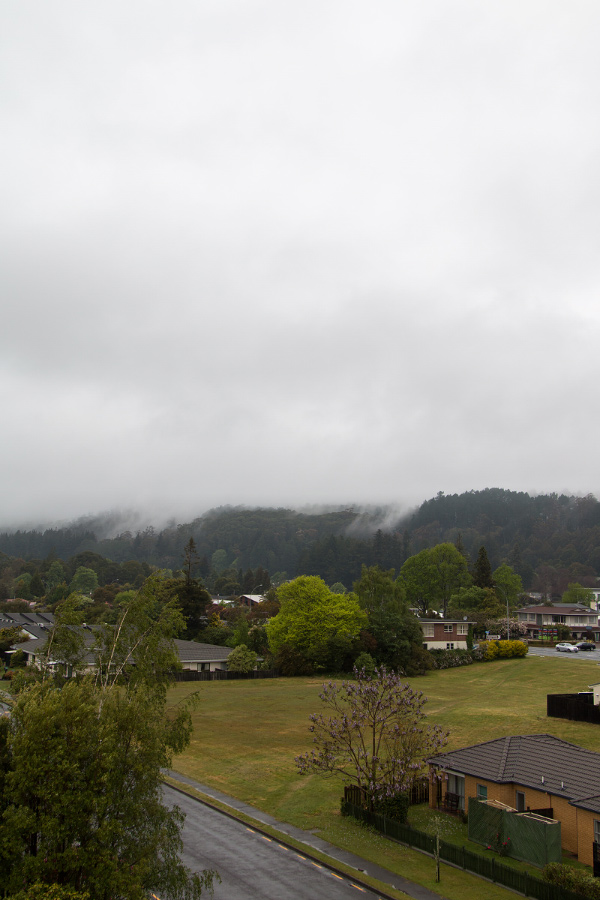 First, we were taken 487m above sea level up Mount Ngongotaha in a Gondola (a cable car):
Happy Finns, Norwegians, and us! The background is completely inaccurate – it actually looked more like this: 😀
I'm in too much pain of a morning to even think of doing physical or stomach-churning stuff, 🙁 so instead of wearing ourselves out even more, Adam and I just took a wine tasting and… made ourselves even sleepier. Oops. The Volcanic Hills Winery tasting room sits in the Skyline complex on top of the mountain, so it was probably the most interesting location for a wine tasting we'd ever experienced. The owner, Sean Beer, really looked after us. 🙂
Photo credit: Trip Advisor and Skyline
We come from a wine-growing region in Victoria, which most of the winemakers we spoke to on the trip said they had visited or worked in, too. Unfortunately the bottles would've been too heavy to cart around with us, so we couldn't buy anything. Perhaps a more dedicated visitor would, but we were saving what little space we had for Hobbit-related memorabilia!
We watched a few people on the canyon swing, photographed some misty views…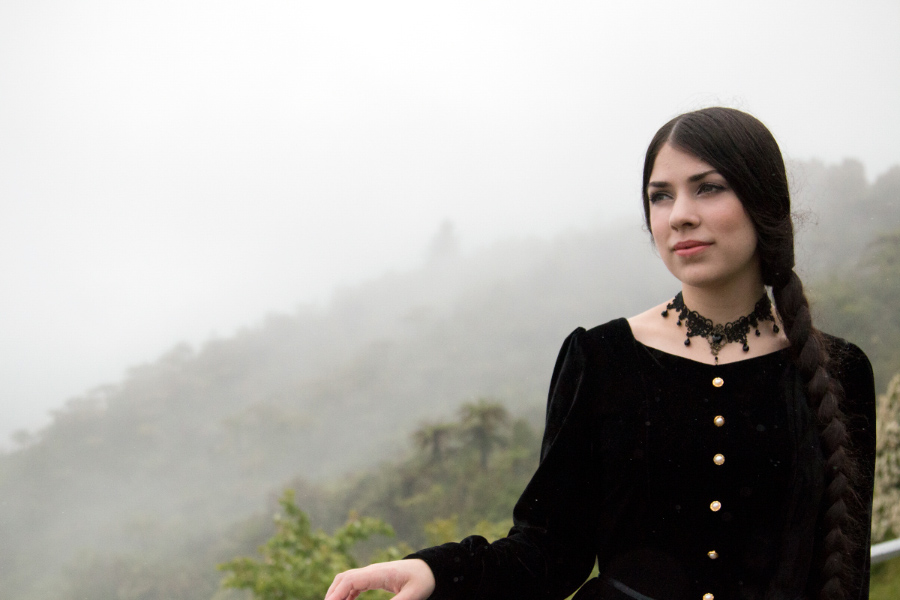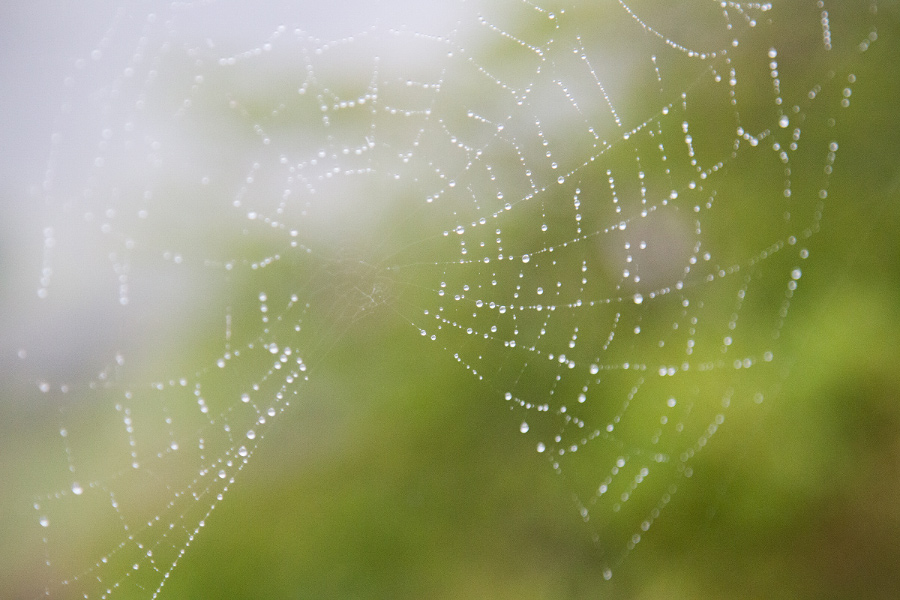 Before and after
…and then our company enjoyed another delicious buffet for lunch!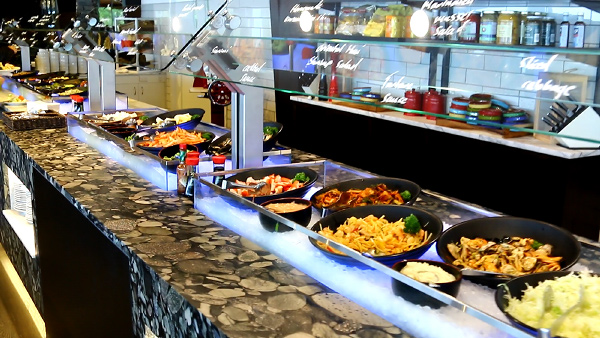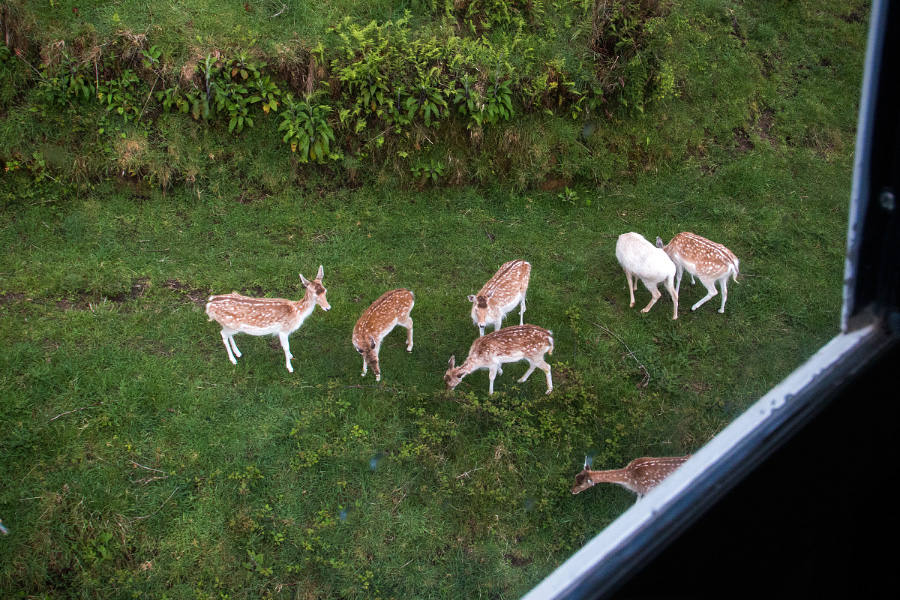 On the way back down the gondola we spotted a little herd of fallow deer.
The Road to Hobbiton
After lunch it was time to leave for what would be one of the biggest highlights of the trip, and somewhere most of us had been longing to visit for years! THE HOBBITON SET!!!!!!!!!!!!!!!!!!!!!!!!!
A turn-off to Matamata (the famed movie location's town), and our mugs, full of anticipation.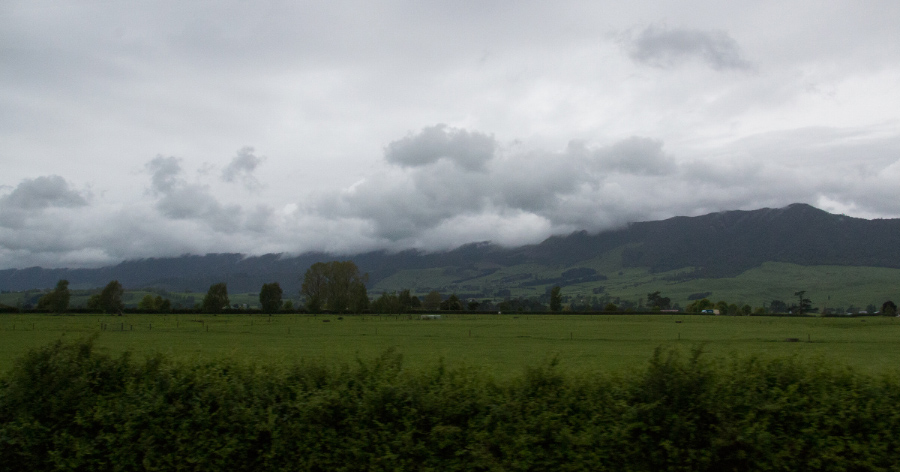 Enjoying more misty panoramas along the way. The journey from Rotorua to Matamata takes around an hour.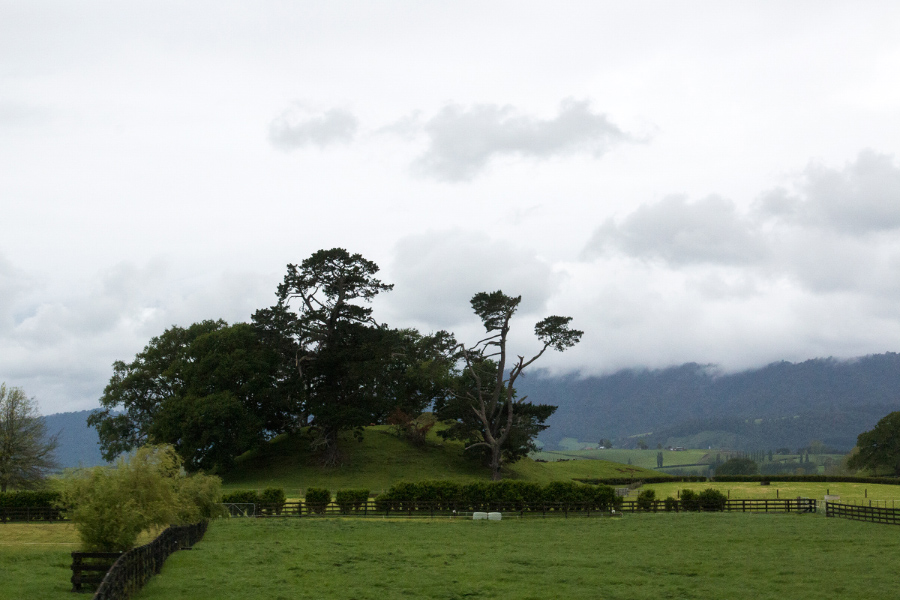 Before getting to Hobbiton itself, we stopped at Matamata's visitor and information centre, and swamped the place. 😀 There was an opportunity to get some merchandise here too, so I bought New Zealand post's presentation packs of Hobbit tie-in stamps. We used the rest of the time there to take photos of the building – have you ever seen a cooler information centre?!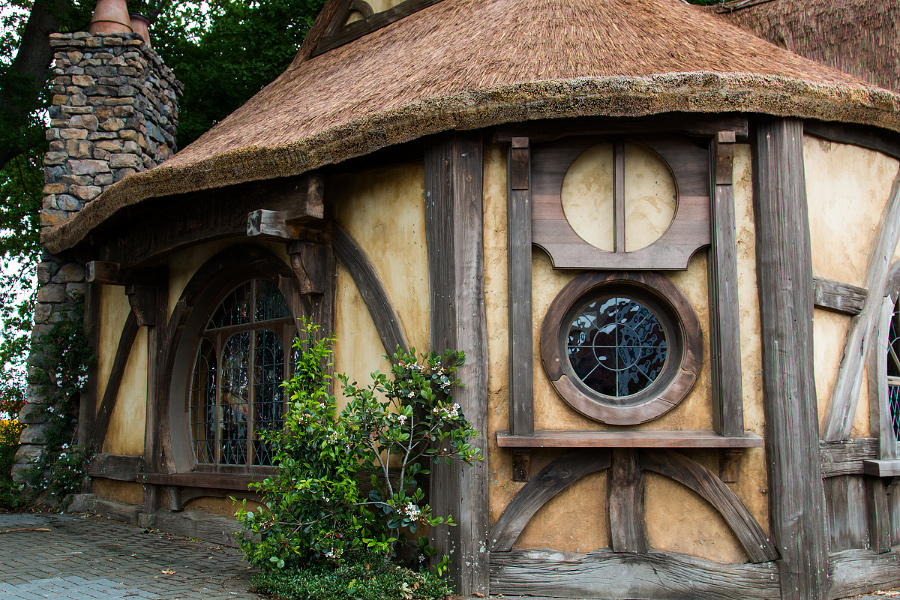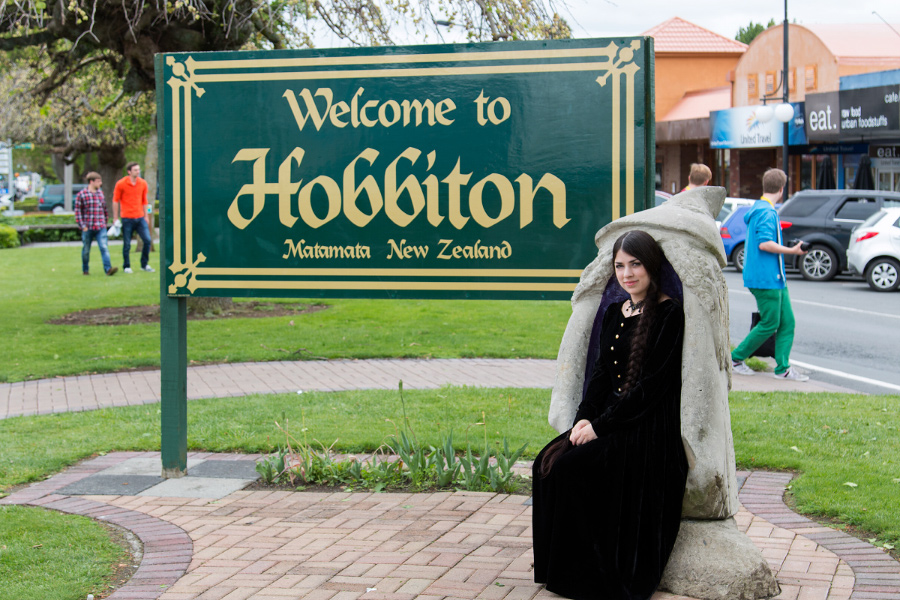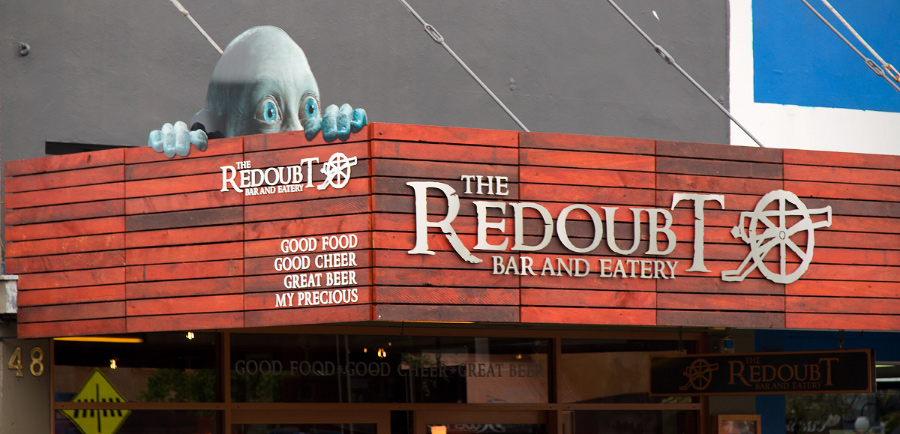 A few local businesses cashing in on the tourism – it would've been nice to visit those too but there wasn't time!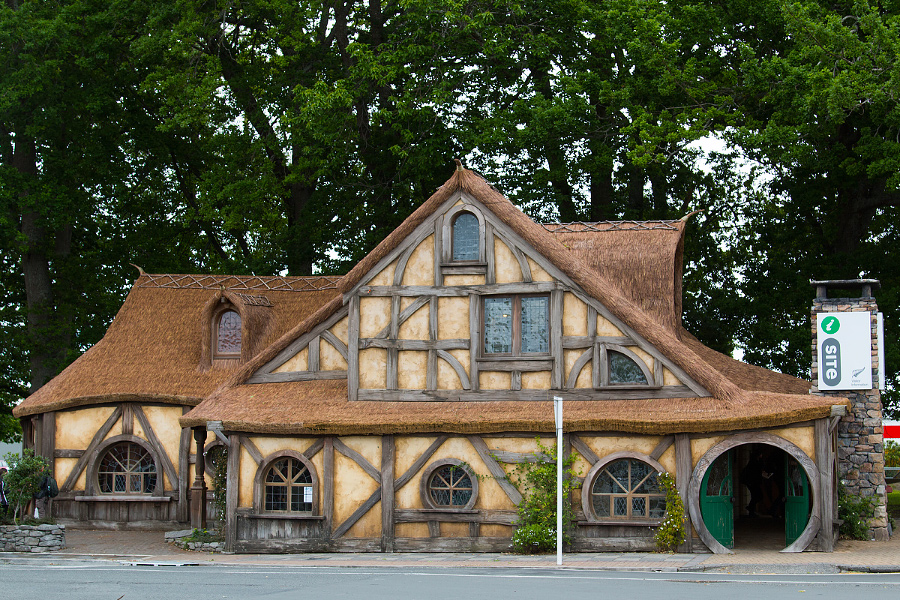 Heart of the Shire
About 10 minutes out of town lies the Alexander sheep farm. This was scouted by Peter Jackson as the original Hobbiton location for The Lord of the Rings, and construction began in 1999. They had the army build a new road ("Buckland Road") into the spot for the heavy machinery (and later for trailers, caterers, and filming equipment). Much of the set was removed after filming, but visitors could still get in and view the foundations and some plywood hobbit-hole frontages. It was rebuilt, now permanently, for The Hobbit in 2011, and has been exquisitely maintained since then by the gardeners!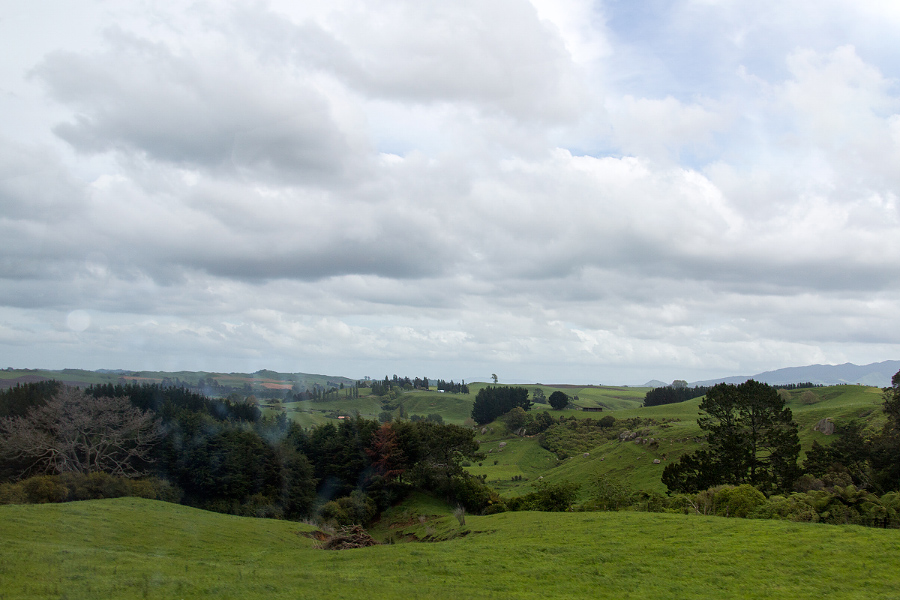 We stopped at official entrance and checked out the Shire's Rest gift shop, where we all went merchandise mad. 😀 I bought a Green Dragon replica mug, a bag, the NO ADMITTANCE sign, and a pile of postcards. The shop stocks the same goods as you can find on the Weta store, but you could also buy a specially-brewed range of drinks, including a cider, ginger beer, and a couple of ales. I think we only had 10 or 15 minutes in a place Hobbit fans (those who love collectibles, anyway) could easily spend hours in.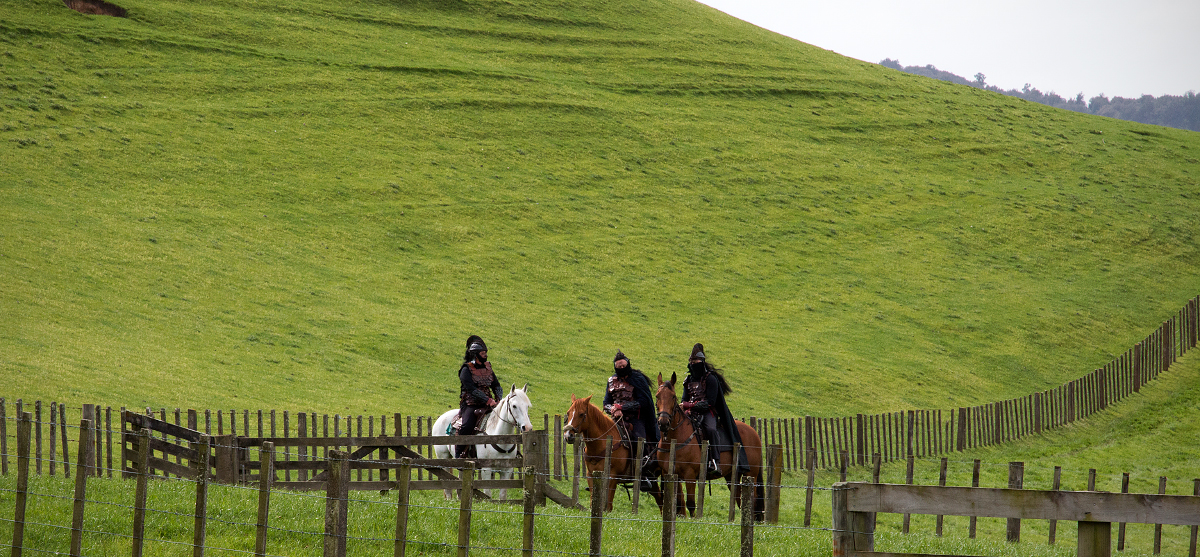 Some costumed riders began to gallop alongside us and "escorted" the buses down through the hills. Perhaps they were supposed to be Easterlings, but it looked more like samurai armour.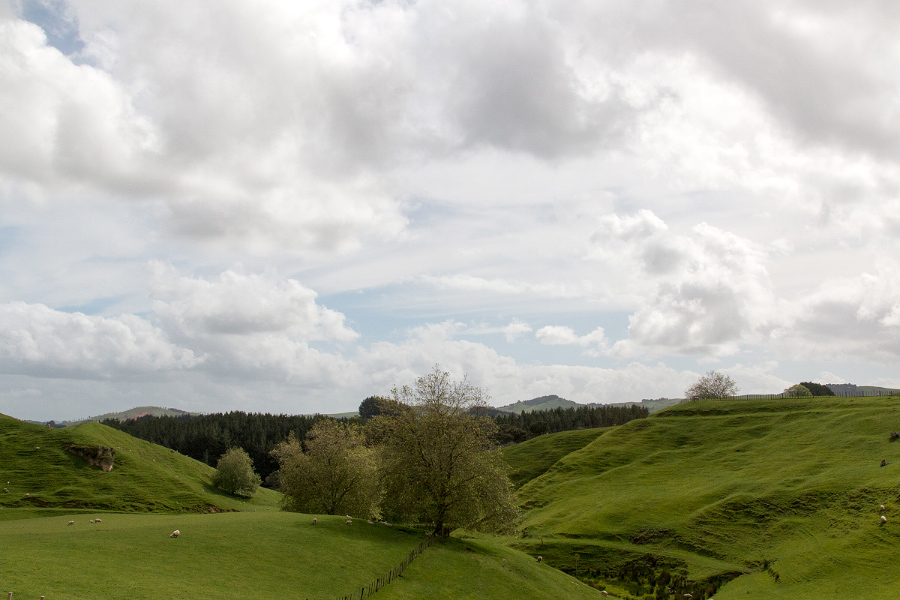 You can see the weather getting gradually more perfect!
Hobbiton, barely visible, lies nestled just beyond these pines behind the hill.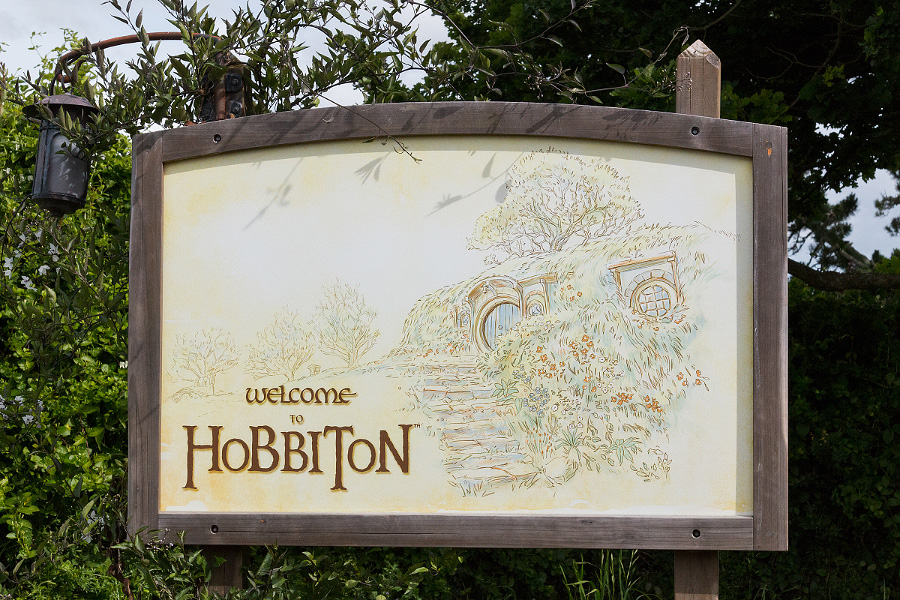 So many years of longing, and suddenly we were really there! I don't think I can adequately put into words what that meant to me, because the whole trip was surreal – it was hard to comprehend that we were in the closest to Hobbiton that you can get on this earth! I almost wouldn't believe that I won and was part of this huge VIP experience, if it weren't for the photographic proof!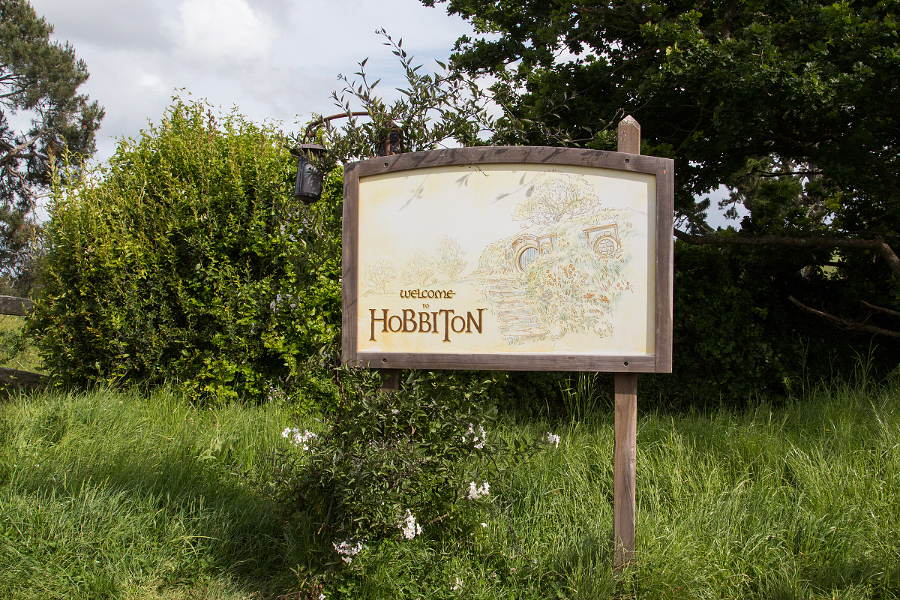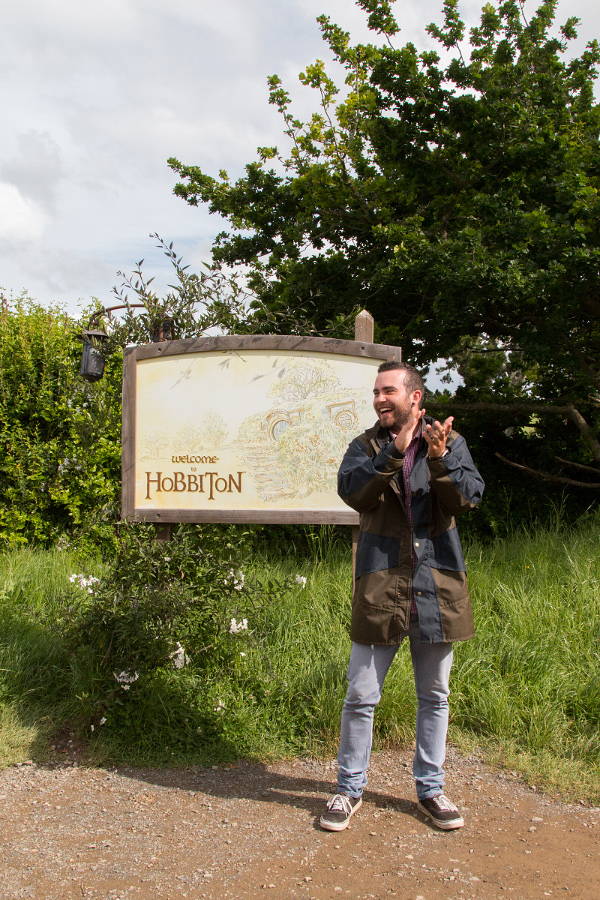 Our tour guide Ethan, a Matamata local, was such a happy and energetic force. He has a bit of a dream job here, but also seemed pleased to have a group of big fans and "experts" to take around – we didn't know everything he told us though!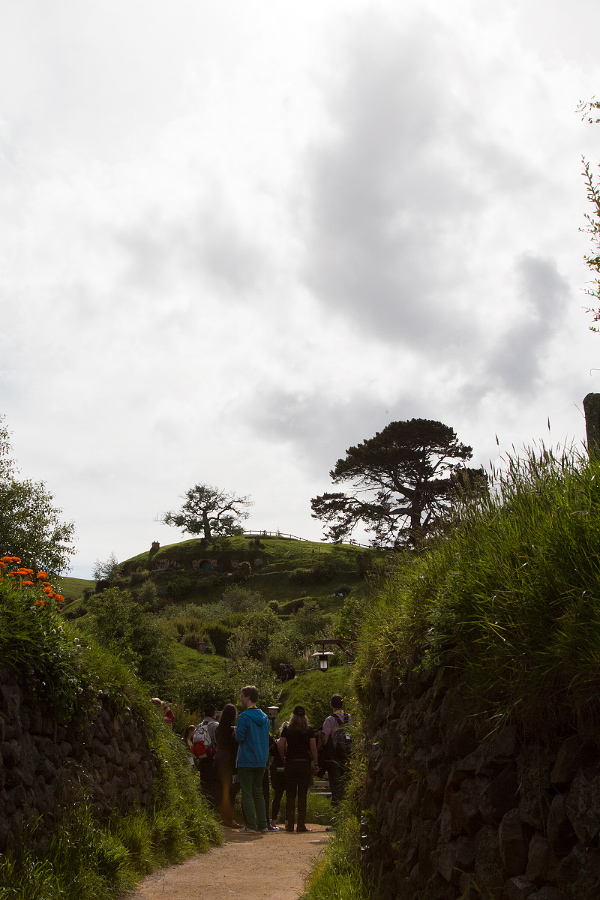 Our first steps into Hobbiton! You can imagine how excited people were to cross the threshold and look around for the first time.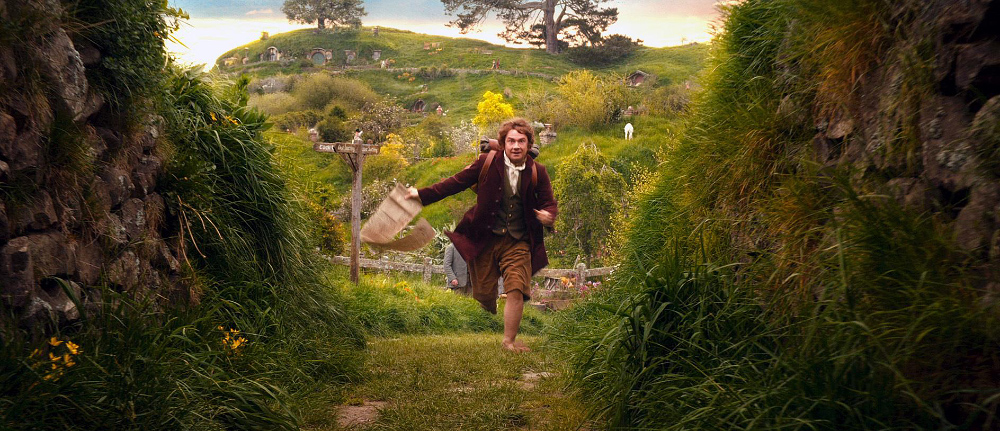 Movie still comparison
There are 44 unique Hobbit holes here, and I may have managed to photograph all of them! 😛 But for the purpose of this post I've condensed it to my favourite photos, so I hope you enjoy this peek into one of the coolest places on earth!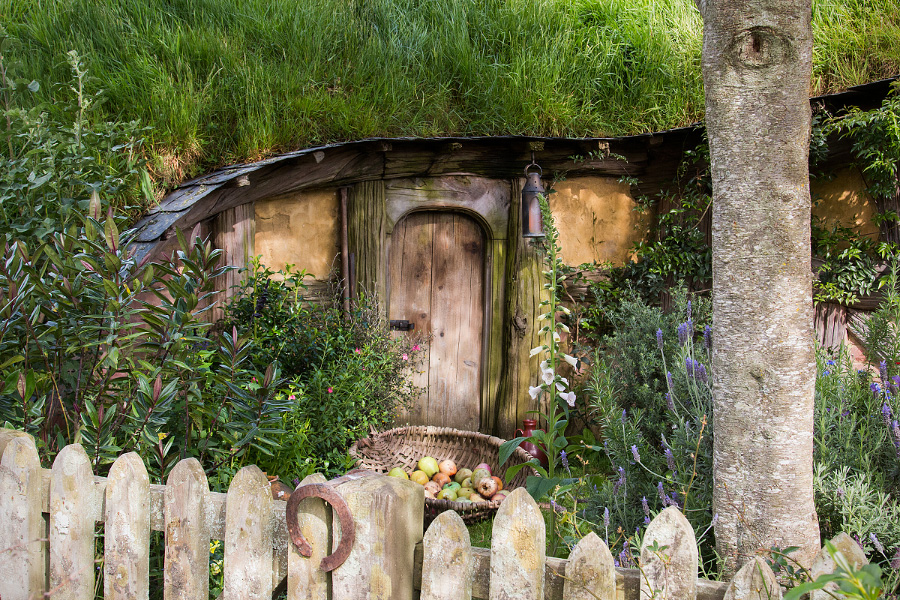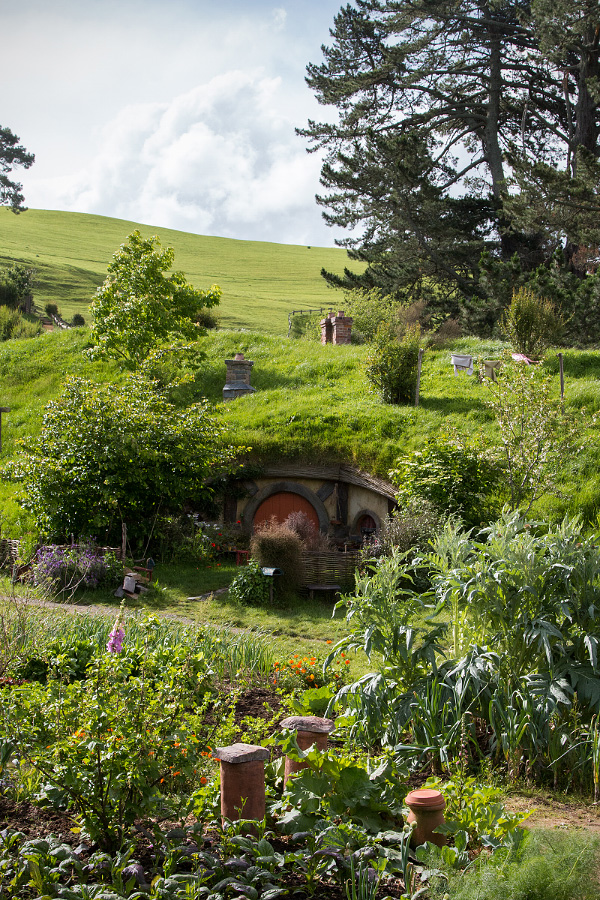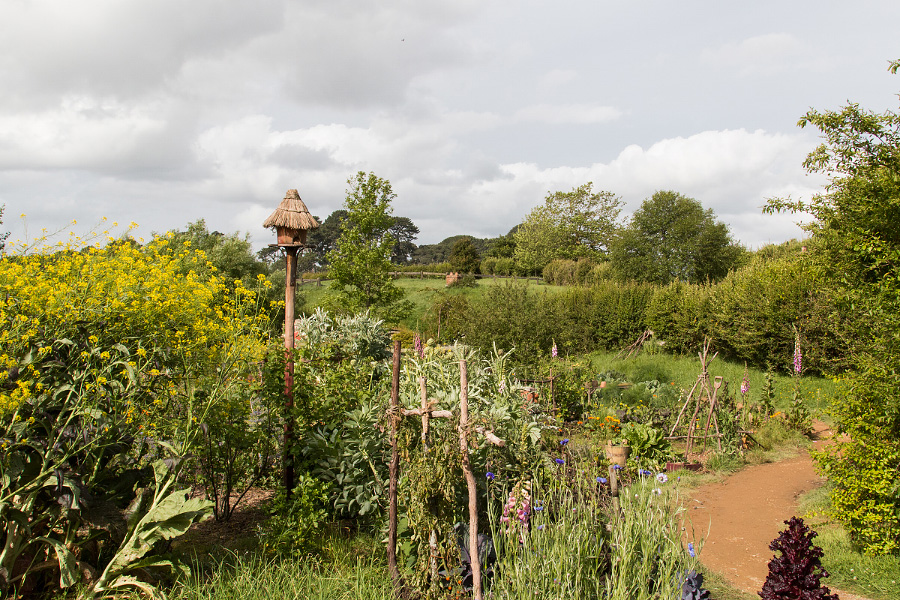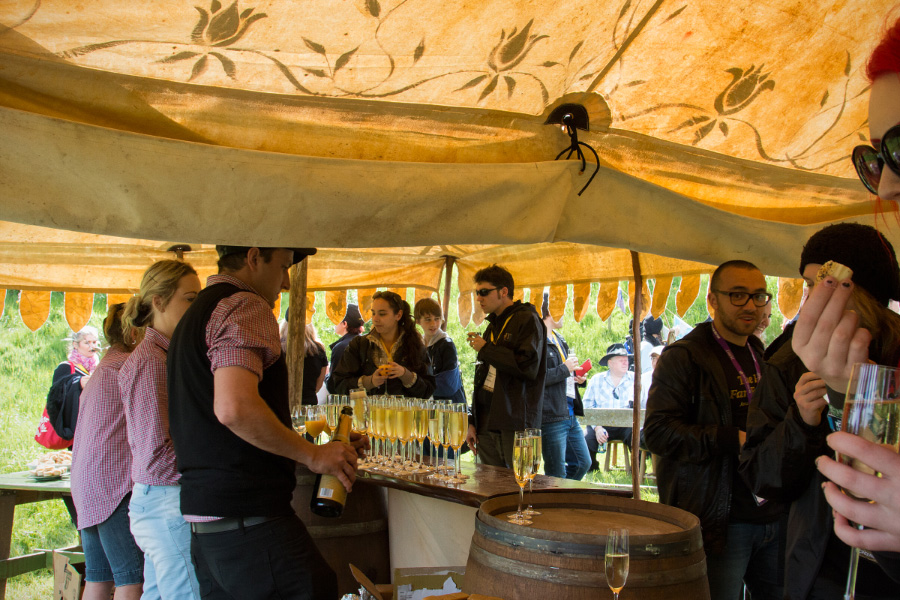 A quick stop for champagne and canapes on our way through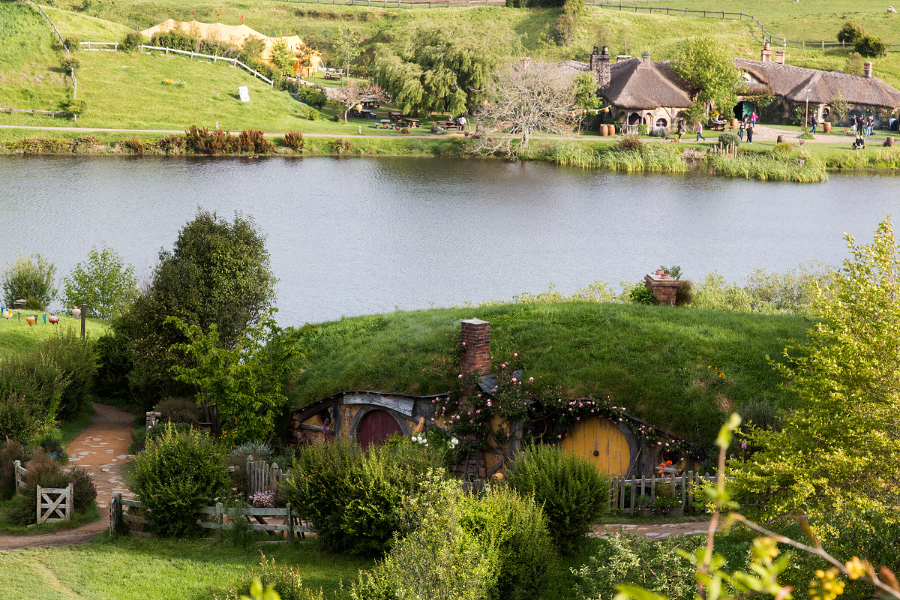 Looking across to the Green Dragon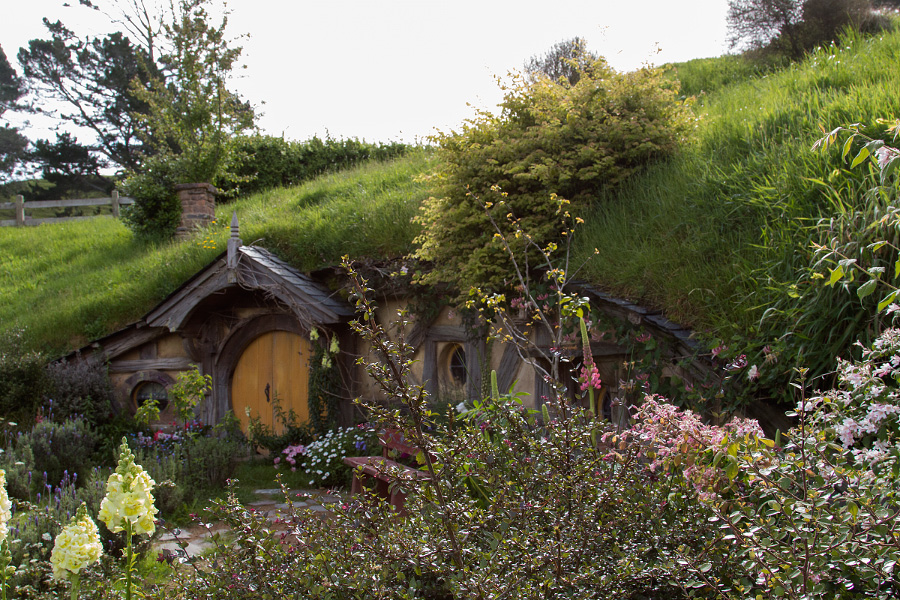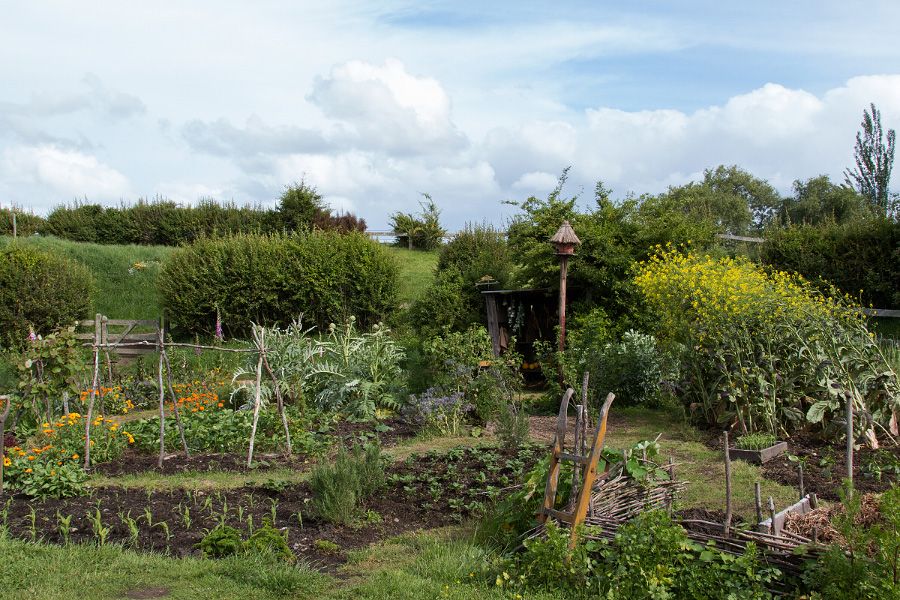 Vegetable gardens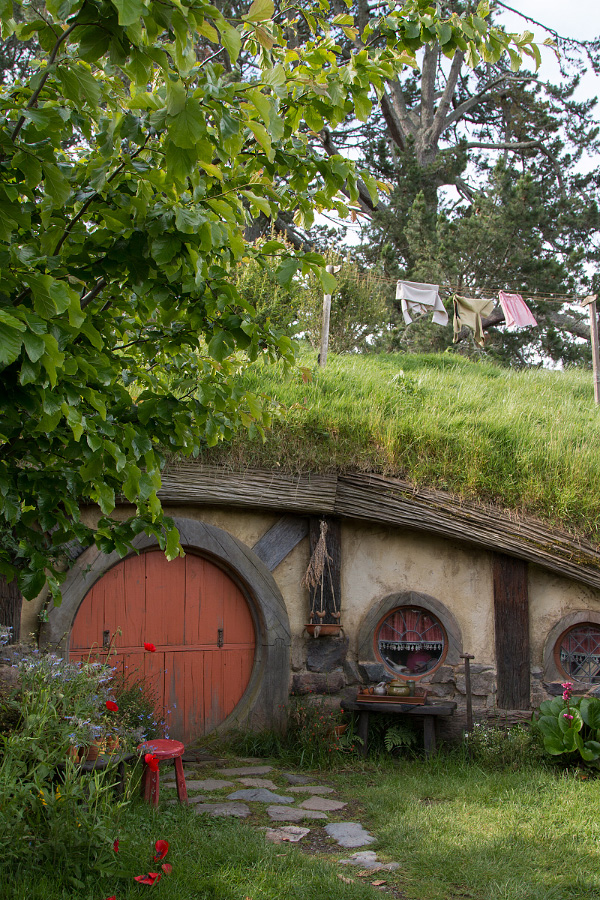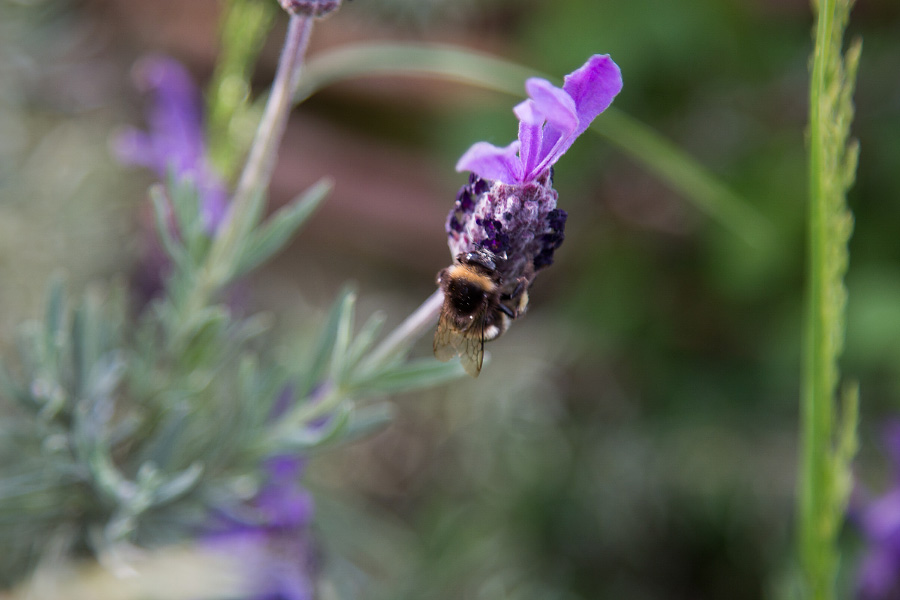 Our first-ever sighting of a bumblebee! We don't have them in Australia.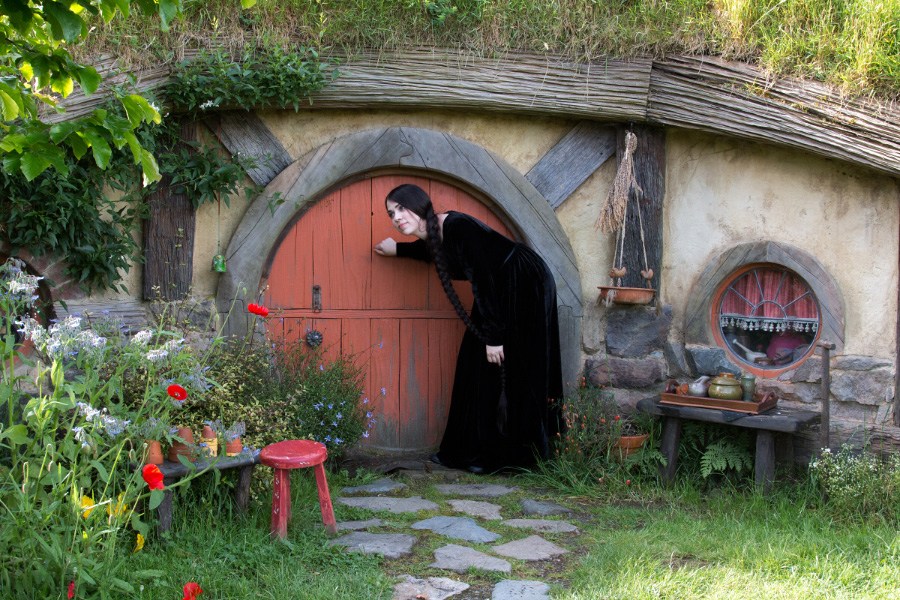 All the holes are to scale, and I feel big at only 5'2″!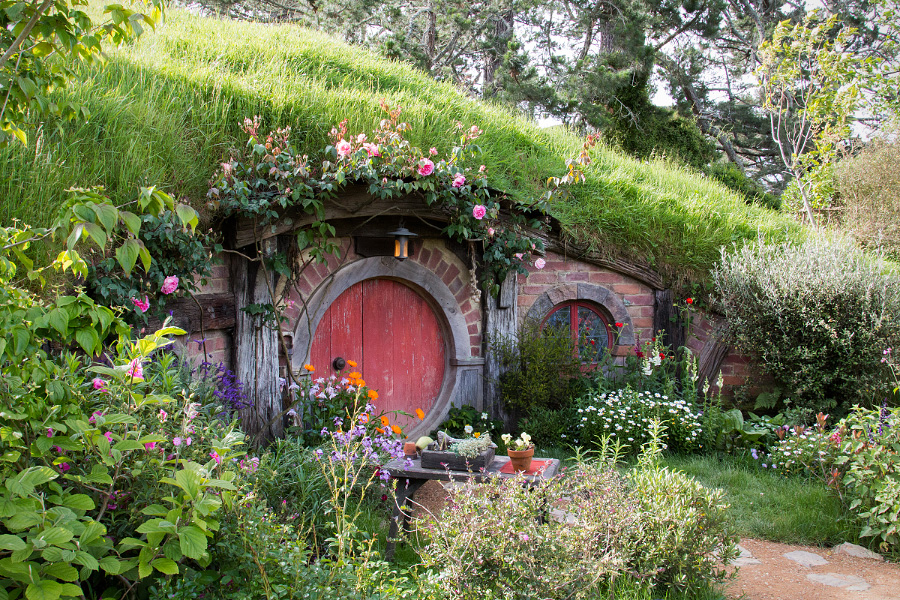 Glorious springtime in Hobbiton <3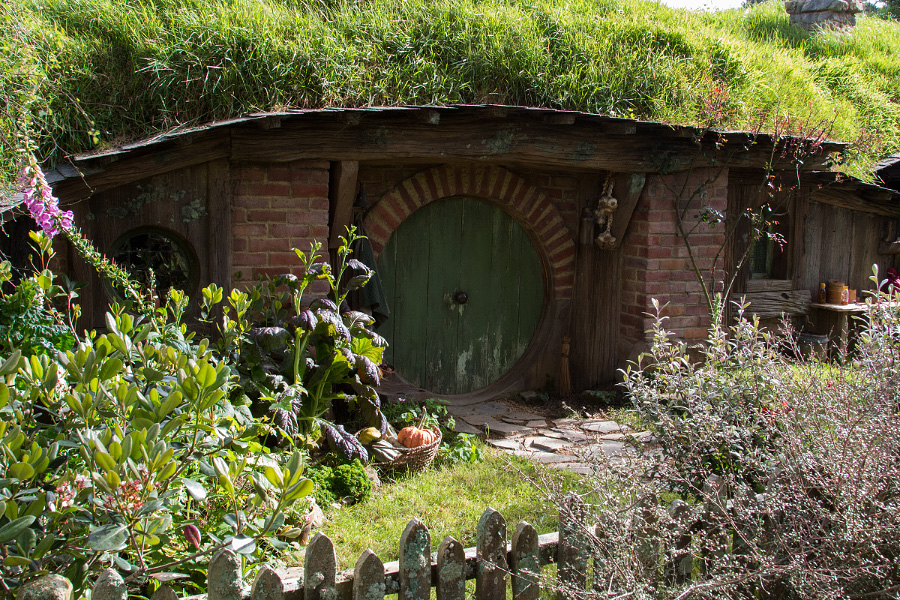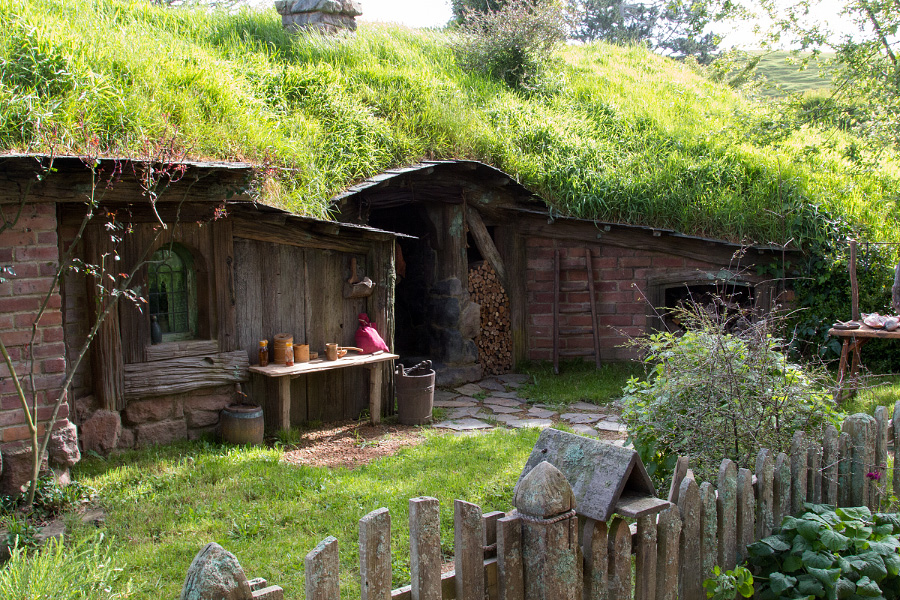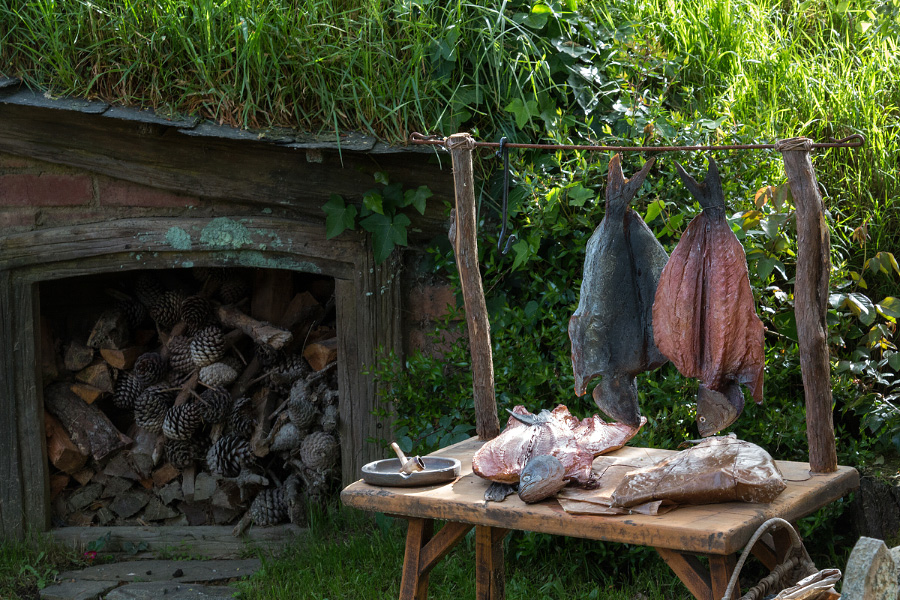 Firewood, kindling, and prop fish
Gardeners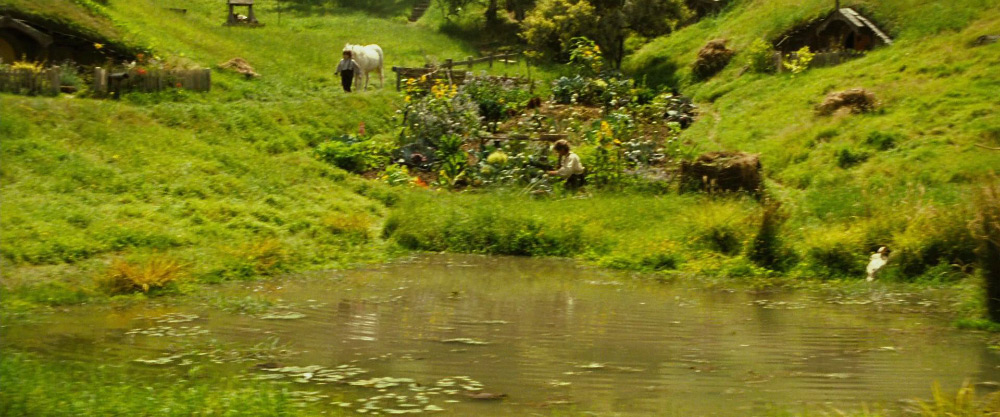 Movie screenshot comparison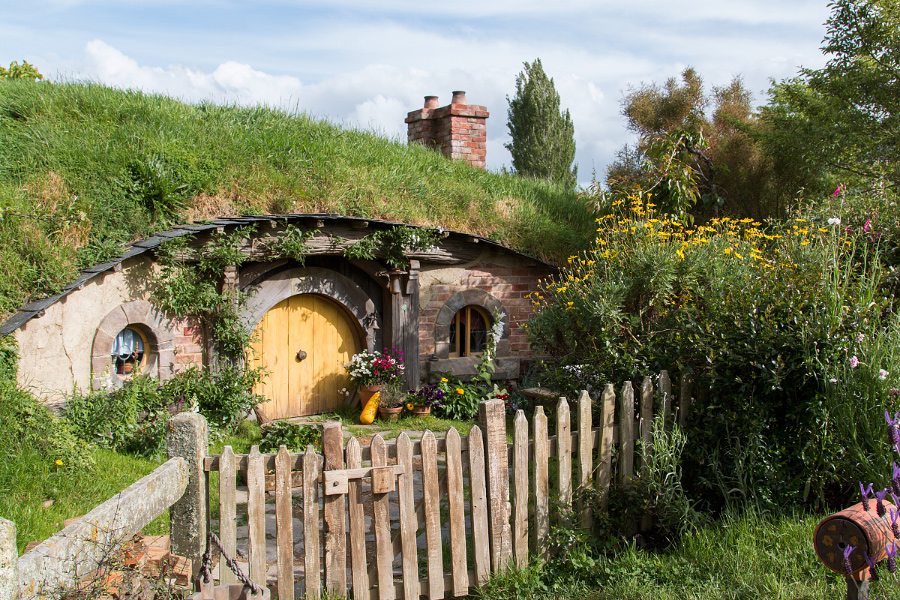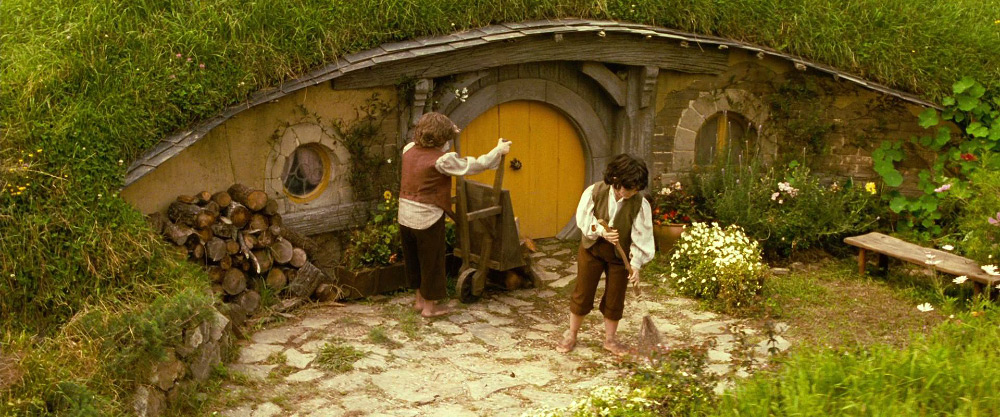 Movie screenshot comparison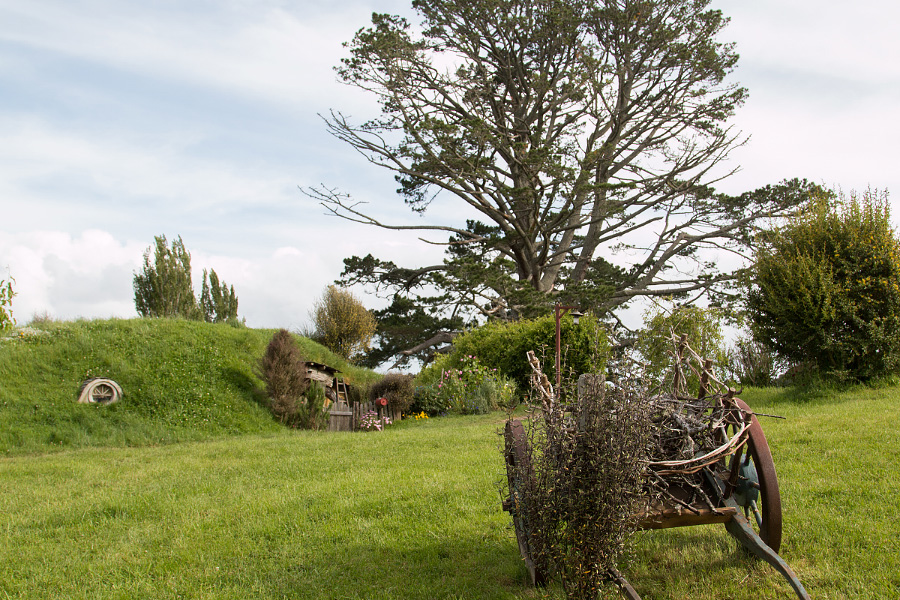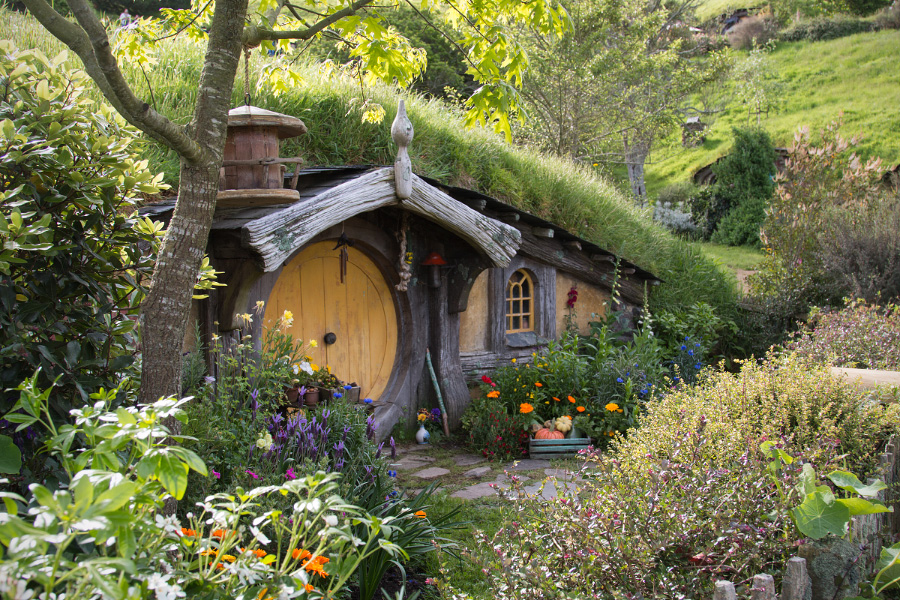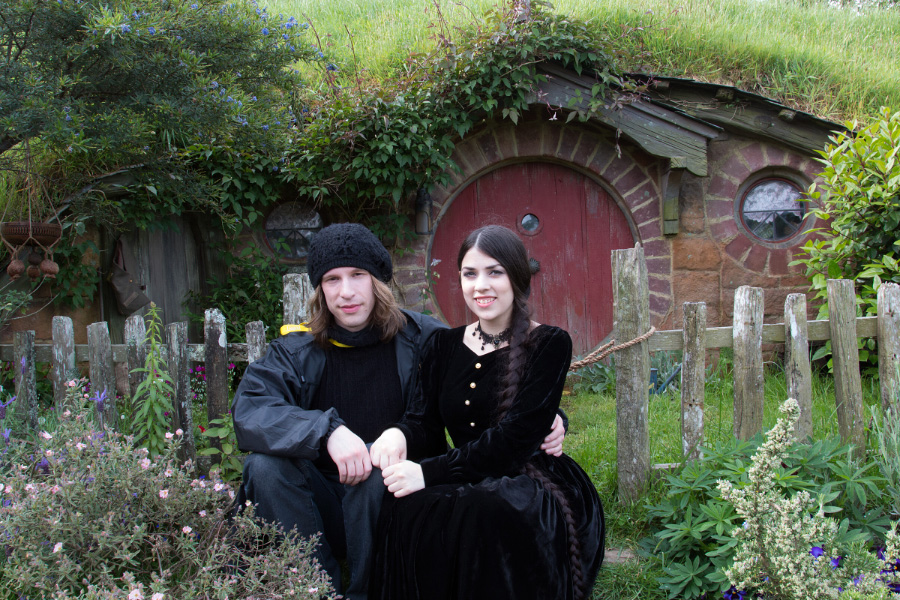 Winding our way through the paths, heading steadily up to The Hill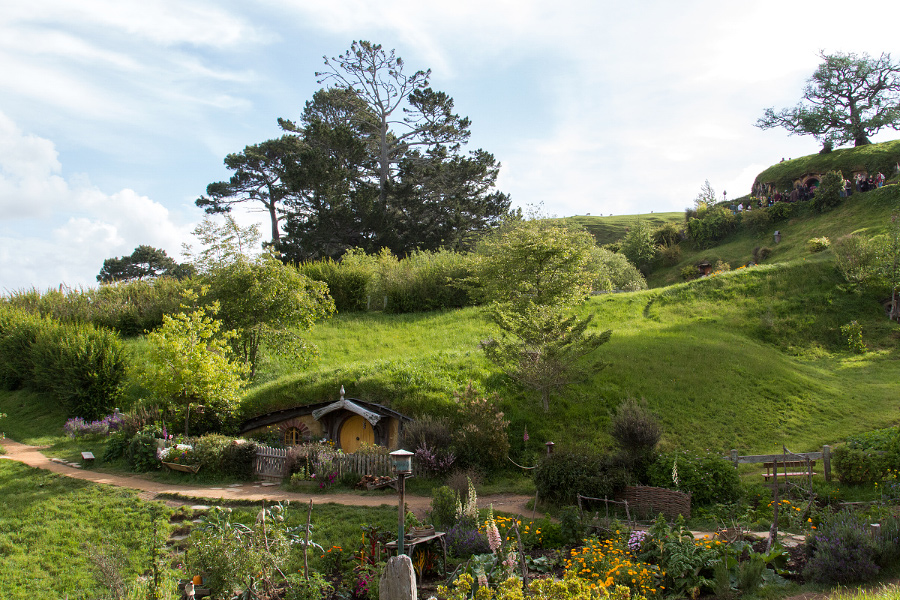 I took an Instax camera to add some character to my trip diary.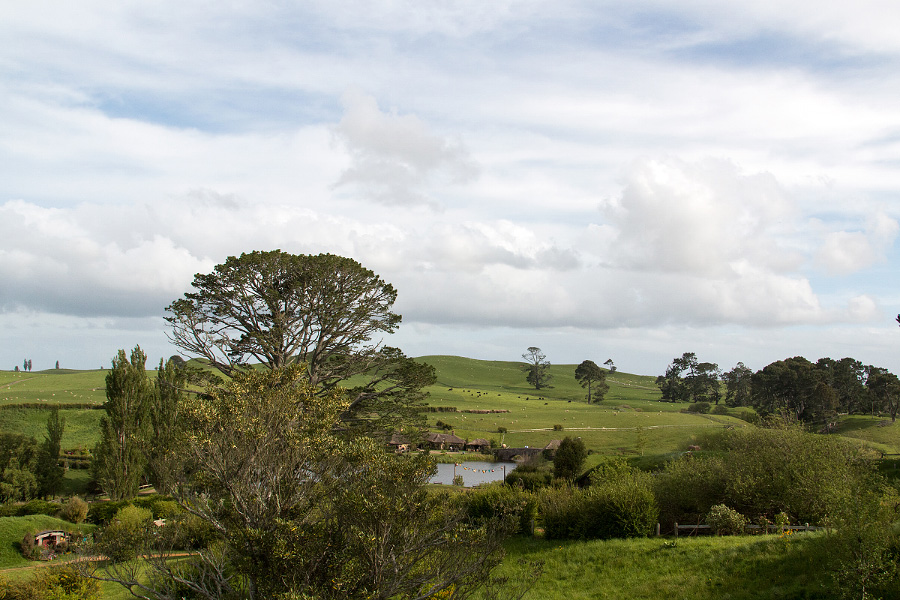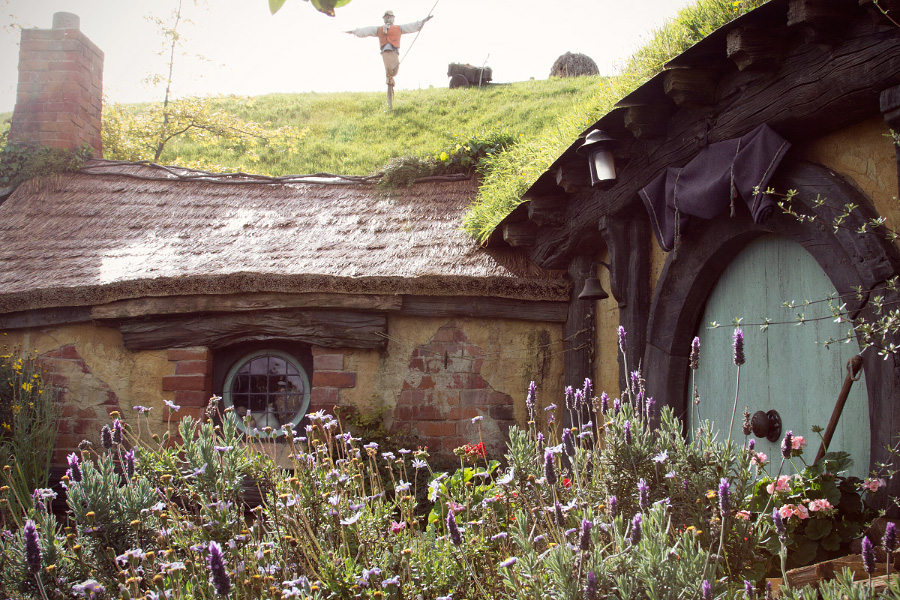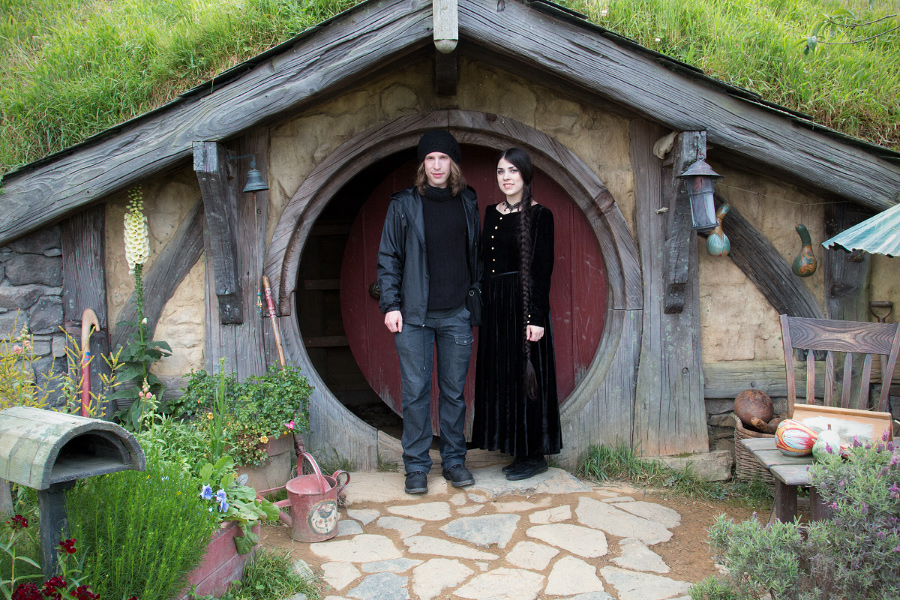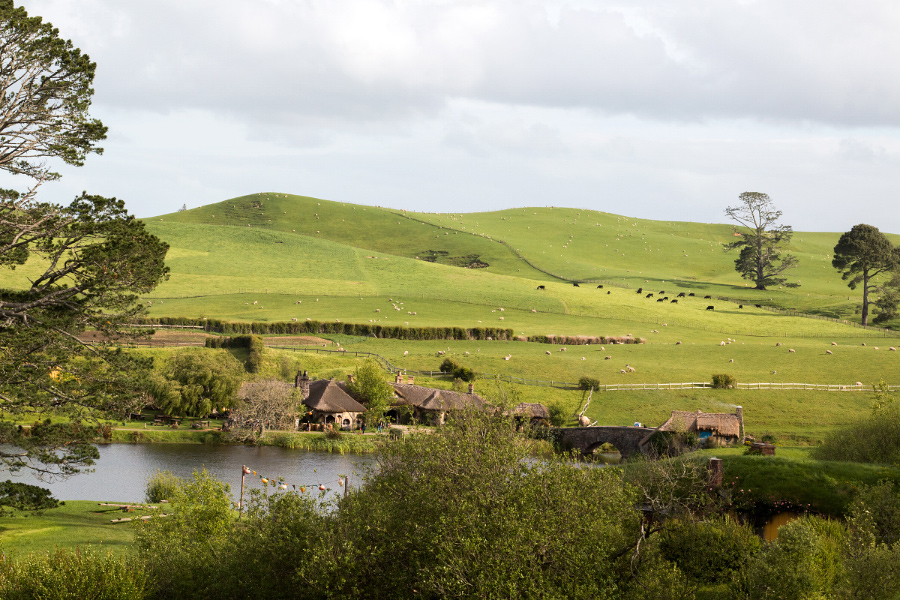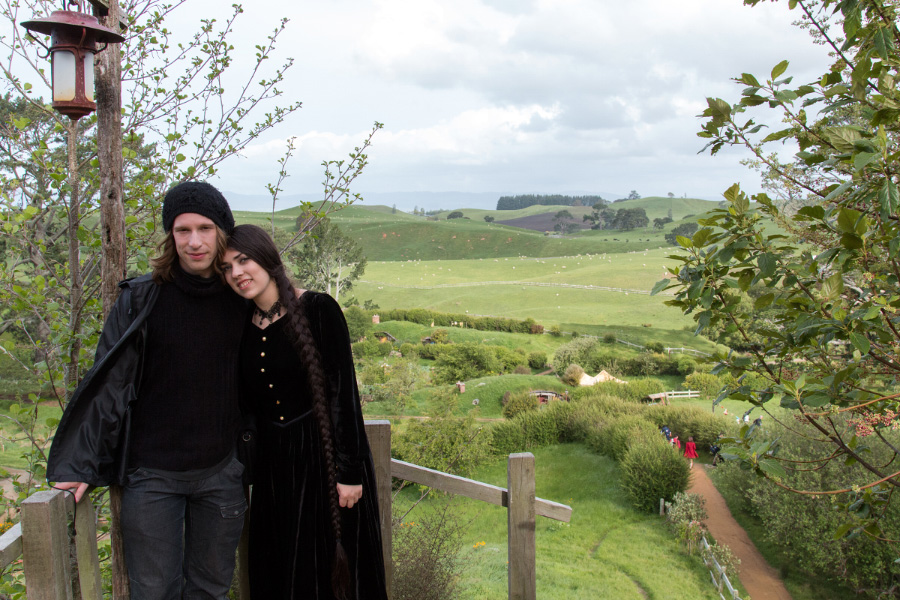 The "set" really is every bit as magical and "real" as it looks, and being there with so many excited fans was the best possible way to see Hobbiton for the first time! I can't recommend the experience there enough!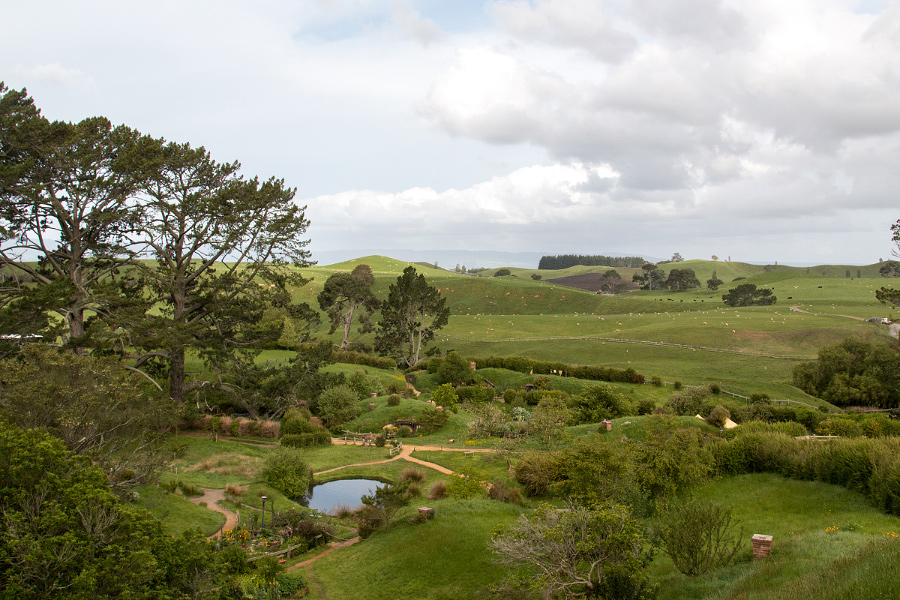 Thank you for viewing! Part two of the Hobbiton journey (including Bag End and partying at the Green Dragon) can be found here.
And here's the next entry in the Real Middle-earth Hobbit Fan Contest video diaries made by the crew for New Zealand 100% Pure – well worth a watch!