Entries now closed!
Entries were judged on a points-scoring basis which took into account things like originality, colour use, accessories, headwear and hairstyle, and background inspiration. After very careful (and difficult) deliberation, I'd like to congratulate Janna on winning. 🙂
I wish I could have awarded every entry, but I enjoyed reading your thoughtful coordinate ideas – I hope you're able to put those looks together in future! And if you didn't win but still want one of these skirts, there's still one left here!
---
Because I've already forgotten two "birthdays" of Aletheia Nocturne, I decided I'd do something special for the 100th post instead. 🙂 It's crept up on me now, but to celebrate (and I guess I'm celebrating my own dedication or something, but also that of those few loyal readers who have been here since the start!) I am doing my first giveaway! There WILL BE MORE in future, but I'm starting with something special. 🙂
M.A.D Hatter Clothing – Mint Romantic Skirt (RRP $65)
This pretty skirt from Marzy at M.A.D Hatter Clothing is sure to bring a touch of  sweet charm to an outfit! It's new and unworn and made of 100% cotton.
The skirt includes waist ties (detachable) and 2 brooch bows which can be attached anywhere you like, or perhaps to use as an accessory! It features a print of young ladies in pastoral pastimes on a mint-and-white striped background.
The waist measurement would fit a 24-26″ waist most comfortably but would fit a few inches either side of that too, as the back is elasticated. It can be worn with a cupcake (or bell-shaped) petticoat for a lolita-appropriate silhouette (above left), or can be worn with a less voluminous one (above right), or even none for a more elegant vintage look. The skirt length is 23″.
I have a skirt from M.A.D which I posted about here. I love how Marzy often picks fabrics and prints with friends in mind, and how they lend themselves to creating  quite a unique coordinate! Marzy also does all sorts of custom clothing and accessories.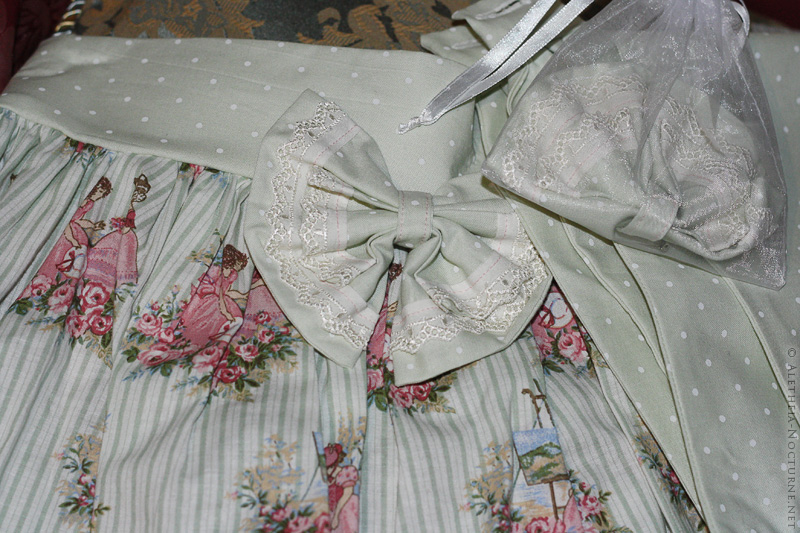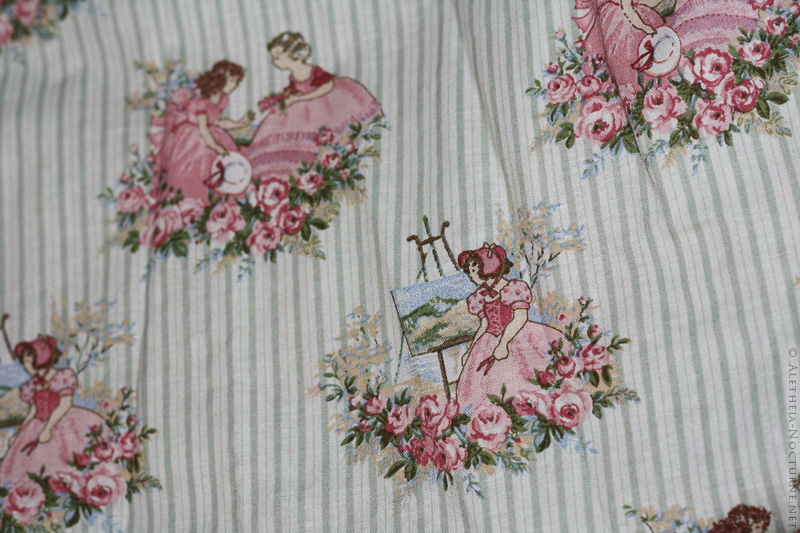 The competition is open to anyone from any country, but to be eligible to win, you just need to post a comment below answering the following question:
How would you describe the dream outfit you'd pair this skirt with?
Entry closes midday (12pm AEDST)on March 12, 2013
*Winner must provide a valid email (don't worry, it's only visible to me) as means of contact in the comments form, and must provide a shipping address if drawn as the winner. If no response is made within one week, the item will be forfeit and awarded to another participant. For more terms, please keep reading:
This Aletheia Nocturne 100th Post giveaway is hosted by Amy, the webmaster.
Item value is AU$65.
You don't have to follow this blog or share the competition on any platform to win, but you must comment on this post with a response that answers the question "How would you describe the dream outfit you'd pair this skirt with?".
Only one entry may be made per person. IPs are logged.
Comments that don't follow the entry rules will not be eligible to win, and may be removed.
The winner will be judged on merit and creativity, and chance will not play a factor. The decision will be final.
Winner will be notified by email on (or before) March 15. The competition entry post will be updated to include the winner's first name or alias. The winner's personal contact information will never be released to any other party.
I cannot accept any responsibility for lost or damaged parcels. Please take this into account if you are entering from a country whose customs office may withhold the type of goods featured in the competition.