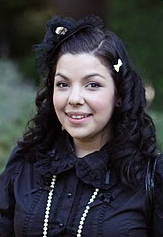 This is Kimmy, my bakealicious little sister.  She's studying a patisserie course and sometimes posts pictures of her food on her tumblr. A few weeks ago she baked THE BEST CAKE EVER.
Mother's Day falls about a week before my mother's actual birthday, so Kimmy created some raspberry meringue cupcakes, and invented a little 'Turkish Delight' cake for Adam, whose birthday was also on Mother's Day. But these pretty creations (pictured down the page in cheesy Hipstamatic goodness) were totally outdone by the taste and experience of her next scrumptious dessert. We wandered around the supermarket, me feeling dopey and peaceful after a massage and both of us lost for food ideas. We settled on taking mum out to a restaurant, but creating a simple cake for later. I googled and we decided to use this recipe:
http://www.realmums.com.au/showthread.php?7950-Lemon-Syrup-Cake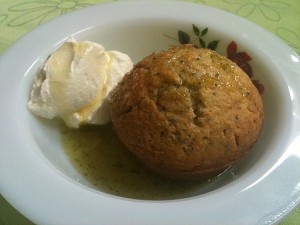 Lemon Syrup Cake
Ingredients:
125g Unsalted Butter
½ c sugar
¼ c brown sugar
2 tbs grated lemon rind
2 eggs beaten
½ c sour cream
¼ c water
2 c self raising flour sifted
Lemon Syrup Ingredients:
¼ c water
¼ c sugar
shredded rind of a lemon and a lime
2 tbs lemon juice
shredded lemon & lime rind to garnish
Method
1. Preheat oven to 180 degrees C. Grease an 11 x 21 x 7cm loaf tin with butter, line and dust evenly with flour.
2. Cream the butter, sugars and rind until light and fluffy, about 5 mins. Add eggs a little at a time, beating well after each addition. Fold through combined sour cream and water, alternately with sifted flour.
3. Spoon mixture into the prepared tin and level surface with a spatula. Bake for 40-45 mins or until skewer inserted in the centre comes out clean. Stand for 5 mins before turning onto a wire rack to cool.
4. To make lemon syrup, combine water, sugar, shredded rind and lemon juice, and simmer for 5 mins. Place cake onto serving plate, pour over syrup, stand for 5 mins then garnish with shredded lemon & lime rind.
The changes we made were turning them into cupcakes instead, adding poppy seeds, and serving with whipped cream. The cakes were so moist and melt-in-your-mouth-y, and the textures and tastes (the tangy sauce on soft cream, melting into the cake's soft inside through the slightly crisp outside) all combined for a perfect dessert experience.