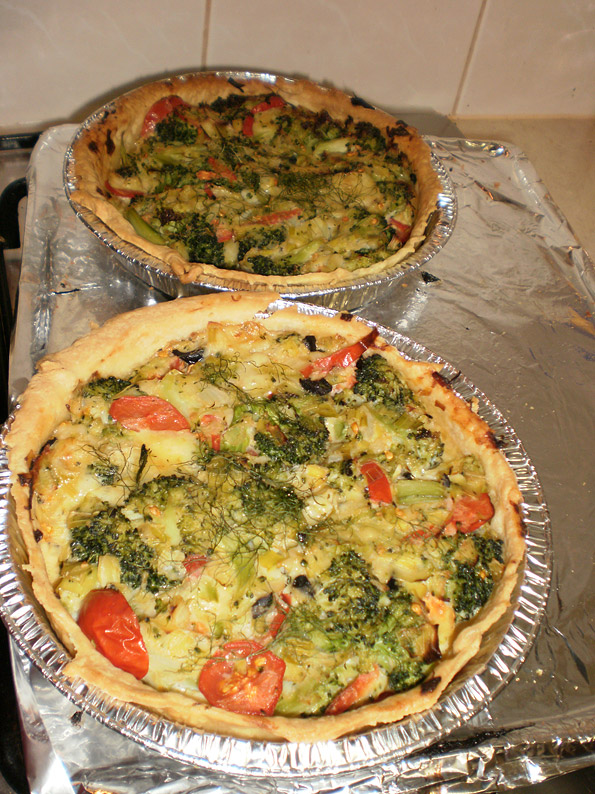 I know these might not be the most appetising pictures, but my little vegetable tarts were delicious. This sort of meal happens by accident: we have a few ingredients that need to be used up, so I Google for ideas, throw things in a pot, and hope for the best.
To create something like this, you need:
A pie dish (or several)
Shortcrust pastry (1 sheet per tart, or make your own)
1 leek (or 2 onions)
1 head broccoli
1 fennel, grated or sliced very thinly
1 cup of cheese (cubed or grated), feta is best
1 or 2 eggs
tomatoes
You can make variations on the main ingredients to your personal taste: a grated zucchini, mushroom, asparagus, beetroot, goat's cheese, mmm…
Method:
1. Heat a little oil or butter in a saucepan and add chopped leek. Keep on low-to-medium heat, and add fennel, stirring often until it's all tender. Add the other vegetables in order of how long they take to cook, but don't overcook them.
2. Lightly grease pie dishes and line them with the pastry. Blind bake in the oven at about 220°C for 10 minutes or so, or the pastry will be undercooked later.
3. Hopefully your mixture isn't too watery. Stir in the cheese, eggs, and tomato. Now pour or spoon the mixture onto the par-baked crusts, and place back in the oven at 180°C for about 20 minutes.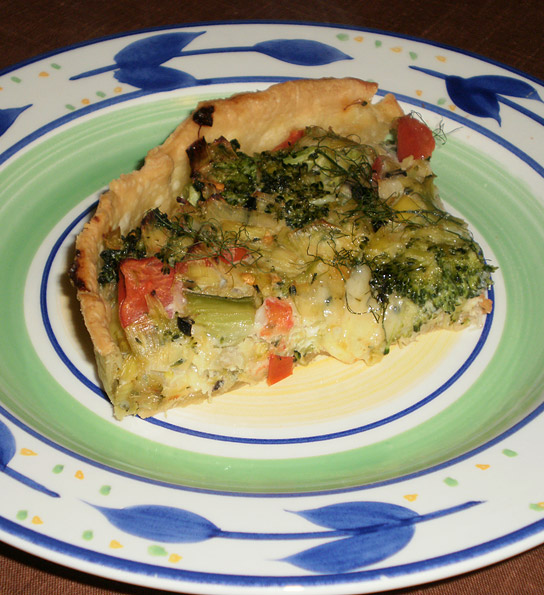 All good meals take a little time and effort, but my mission is still to keep compiling meals that aren't difficult, can be substituted with different ingredients, and (most importantly) are tasty and wholesome. This pie could be enjoyed cold with salad in the summer, or as a filling warm winter meal.
My next food post will "guest star" my excellent patisserie-chef-in-training sister, Kimmy. Let's see what scrumptious (but not impossible) treat she has in store!