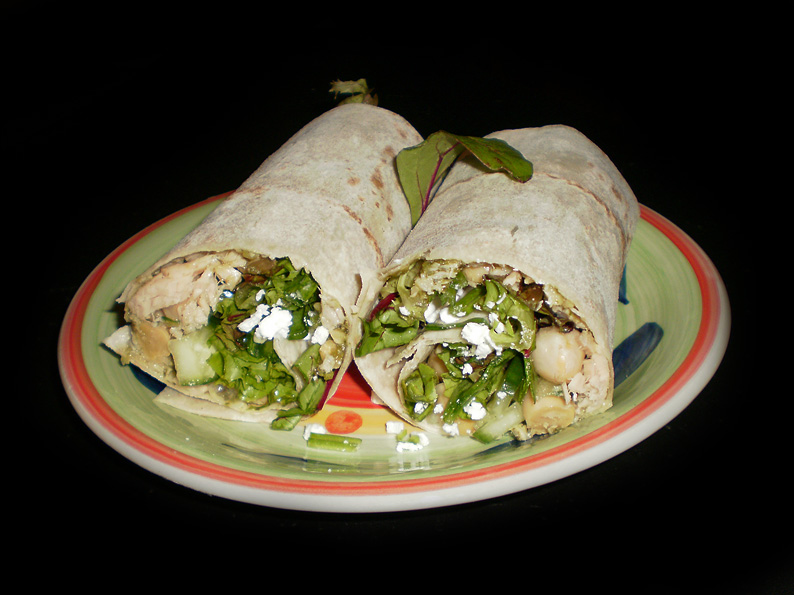 This has basically been my lunch (and sometimes dinner) for the past few weeks. It never takes more than a few minutes to prepare, and needn't involve any cooking, and is great as an on-the-go healthy and delicious meal. The ingredients list can be as varied as your own tastes, but I will list what I typically use as ideas.
Ingredients:
2 pieces of Mountain Bread or similar flatbread (tortillas aren't usually that healthy so stay away from really floury thick breads if you're diet-conscious)
soy or whole egg mayonnaise
a small amount of your favourite dip, pesto or relish
salad leaves like spinach, rocket, cos, or a packet of mixed leaves from the supermarket
low-fat ricotta, feta or other cheese (boconccini or buffalo mozarella are also delicious if you want the wrap toasted lightly)
chopped cucumber, tomato, avocado, chickpeas etc. to taste
optional lean meat, salmon, tuna, bean curd skin or any other staple favourite in your diet – I like to use warmed-up refried beans!
Method:
1. Lay out the flatbreads and spread a little mayo in between. I use two sheets because the bread tears easily. The mayo helps the sheets stick together and makes them a little less dry.
2. Spread some dip (e.g. basil and cashew, sun-dried tomato) across the side you will be placing the filling on.
3. Place filling (i.e. tuna, cheese, tomato, avocado, cucumber) in a line down the middle of the bread. Top generously with salad leaves.
4. Carefully wrap up it all up tightly or use your favourite wrapping method (it can be tricky, but I avoid folding up the bottom and then the sides because it becomes too thick) and then cut the rolled-up cylinder of yumminess in half.
These can be a bit messy to eat so do use a plate or give your guests cutlery! 😛 Experiment with your favourite fillings and try something different each day – they make a satisfying and nutritious lunch!