I'm trying to think of other content I can include here that might make it easier to update on close to a daily basis, so I decided that posting my recipes and cooking adventures might be a good place to start.
I am always on the hunt for meal ideas that are super nutritious but still delicious, but I don't really like preparing things that take a long time or use hard-to-find (and expensive) ingredients. Most of the things I cook now are vegetarian, with the occasional fish used. I use eggs from our own chickens (who have a large, safe place to roam and get fed all sorts of things… I even cuddle them regularly). I shop as often as possible at the local greengrocer, and use first cold-pressed extra virgin oil. I try to avoid very carb-heavy foods because my lifestyle isn't active enough for all that extra energy, and I seem to have a sensitive stomach. Heavy meals make me quite lethargic afterwards, as does cane sugar (attempting to remove it from your diet can be one of the most difficult yet rewarding decisions!). The gentleman thinks I am fussy but he still loves almost everything I cook!
So I'm going to try and post the quick/healthy/tasty meals that I invent or adapt from existing recipes. I may not be completely specific when it comes to quantities, so if you attempt any, do rely on taste-testing and your intuition!
First up are these tasty patties (or burgers). We just found dozens of ripe mini-truss tomatoes in our garden, and the parsley bush was going crazy, so we tamed them back a bit and picked things.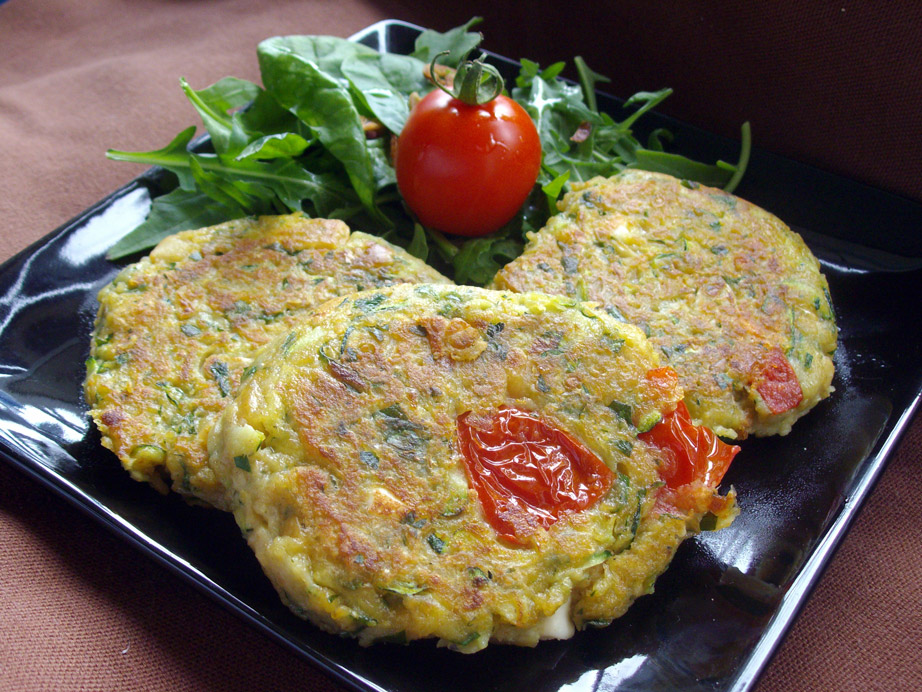 Ingredients:
1 can of chickpeas
1 large zucchini (or 2 small)
a generous handful of fresh parsley
chopped tomato
1 small onion
2 small eggs
plain flour (I used gluten-free) & breadcrumbs
feta cheese
minced garlic
a pinch of salt (I used this, yum!)
Method:
1. Mash up the chickpeas (you can use process them but the texture is nicer otherwise) in a bowl. Grate all the zucchini and combine.
2. Chop and sauté the onion (optional ingredient) and add.
3.  Add chopped parsley, tomato, garlic, desired seasonings, cheese, and eggs, and combine well.
4. Stir in flour and breadcrumbs until the mixture can be formed into a patty without breaking up.
5. Fry in a pan until cooked through and nicely browned on both sides.
There are endless variations on the 'veggie burger' but grating can be a great way to disguise vegetables you (or your children) are not so keen on. Olives or cheese are also a good way to add some flavour without overdoing the salt and seasoning. They can be served with a salad, as part of a hamburger bun (instead of meat), or enjoyed on their own as a lunch box snack.