Tonight's delicious and hearty meal took about 3 hours but was a nice treat. My grandparents both had their birthdays in the last week so we had them to dinner, and everyone seemed to enjoy it.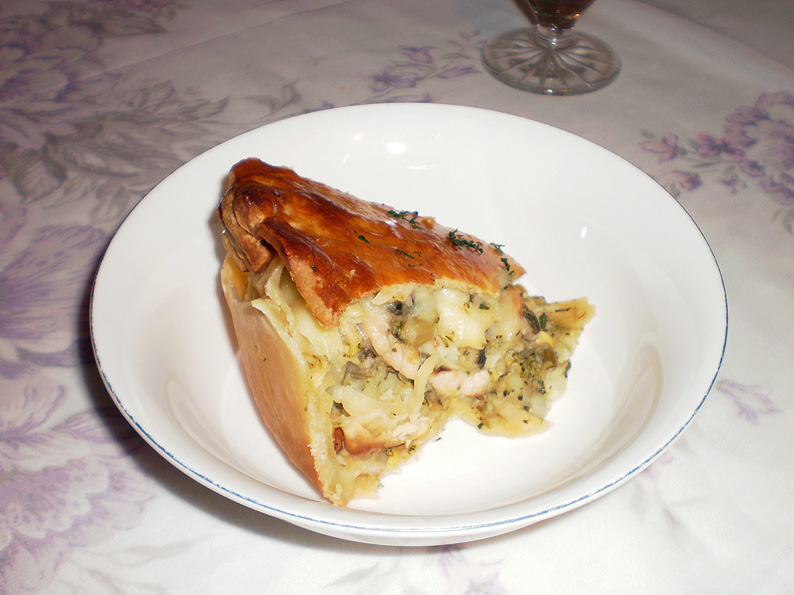 Vegetable & Chicken Pie
I honestly can't be bothered recording the method, because it's really a 'throw a heap of your favourite vegetables in' sort of meal. You can find pie recipes anywhere and while they take a bit of effort, they aren't difficult. You literally just stew up things like leek, celery, potato, carrot, brocolli, zucchini, cauliflower, add diced meat if you like, then spoon the mixture into a greased and shortcrust pastry-lined dish. I made heaps of the mixture so there was some left over to use in other dishes. Anyway, some tips would be to:
1. Cook onions/leek and celery in butter and garlic first, then add chicken pieces if you're using them.
2. Add the rest of the vegetables in order of how long they take to cook, with just enough water to cover them.
3. Cook it until most of the moisture has disappeared.
4. Home made pastry is much nicer than bought, but only do this if you have time and energy.
5. Before sealing the pie with pastry, top it with your favourite cheese.
6. Bake it for about 40 minutes, it needs quite a while to cook properly!
7. If you mess up the mixture and the pie isn't working, just eat it as a stew or soup, or refrigerate it and make pasties out of it the next day!
And for dessert…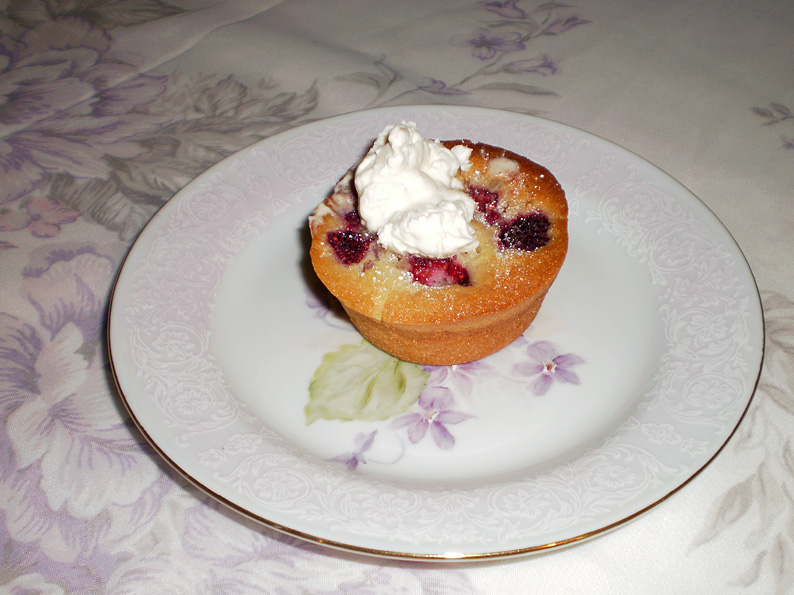 Raspberry Friands
I've never made these before, but my sister makes them quite often and they are irresistible and addictive. They are also very easy! I didn't use any moulds, just a cupcake tray. I wouldn't make them any bigger though, because they are more suited to being bite-sized party treats!
You will need:
1/2 cup of plain flour
1 cup of almond meal
1 & 1/2 cups icing sugar
6 egg whites, beaten lightly
150 grams melted (cooled) butter
a heap of raspberries or other fresh/frozen berries
Method:
1. Sift the flour and icing sugar into a mixing bowl.
2. Add the egg whites, almond meal and butter and stir. Mix in some berries, too.
3. Pour into greased moulds or tray.  Poke some more berries into the top, and bake for about 20 minutes at 160°.
4. Check them once or twice, cook until they are going brown, and if your skewer comes out clean … they're ready!
Serving with whipped cream or ice-cream is delicious while they're still hot. Otherwise, this recipe is well suited to beginners, is quite quick, and almost anybody is sure to love them!
I'll be back with less food-related content soon. 😛