Whether you need a quick warming lunch, a way to use up some leftovers, something savoury for a gathering, or just need to add a new staple to your cooking repertoire, it's hard to resist a homemade pizza. There's also no reason pizza can't be something enjoyed regularly if you keep an open mind.
They can easily be vegetarian, gluten-free, carb-friendly, and you (hopefully) won't feel as weighed down as by the oily, sloppy mass you can expect from the takeaway shop. However, don't be afraid of healthy fats – just avoid anything heavily processed.
My combo today:
Flat bread/wraps
Goat cheese or ricotta
Half a grated carrot & zucchini
Sliced onion
Pizza sauce*
Pinches of flaky salt if your cheese isn't already salty enough
The other point of this "pizza" is to disguise a few bland-but-nutritious foods with other great flavours. Grab a vegetable you like and a vegetable you're not so keen on raw and sprinkle a generous amount on the base. I used Mountain Bread (I use it for salad wraps all summer but they're great toasted as bases or for dipping) but usually need two pieces or it's a bit thin. Spread a bit of mayonnaise (or your favourite dip) in between the slices so they don't separate as easily. Pesto, dips (i.e. olive, sundried tomato), home-made tomato pastes, or even some refried beans are better options to most *pizza sauces from the shops.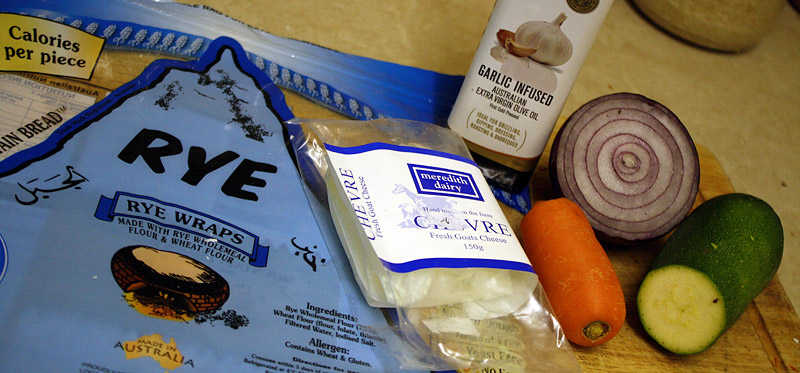 I tend to layer the ingredients so that whatever needs the most cooking is on top.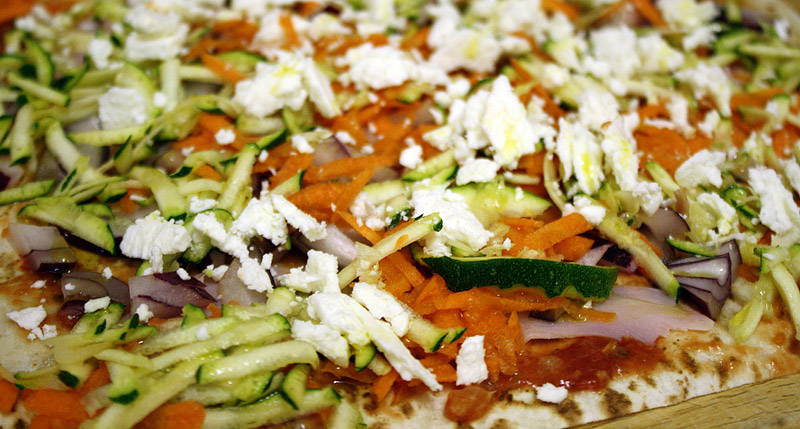 To prevent the base from burning too much I drizzle olive oil around the edges. I also do it because I could almost drink the stuff… You should probably brush it over the base but you can be lazy and save a few dishes.
Bake for about 15 mins on 180-200°C until crispy, but before it gets all charred (unless you have a woodfired pizza oven, mmm).
 Then slice up and eat the whole thing, or serve in small pieces at a party.
If you don't find it filling enough I would suggest upping the quantity of vegetables or adding something with protein like a lean meat, tofu, or even some beans (refried or just kidney beans/chickpeas)!
 Here's another delicious combination you could try:
Greek/Australian feta
Grated beetroot, or pumpkin (grated or softened by pre-cooking)
Good handful of rocket
Toasted walnuts
Optional: Roast chicken (tear it up)
or:
Tuna (canned, but avoid the mushy stuff)
Cannelini beans
Spinach leaves
Camembert or brie (the melting is divine)
Toasted pine nuts
Fresh parsley or herb of choice to finish
or:
Smoked salmon
Red Onion
Asparagus
Creme fraiche, sour cream, or cream cheese (mixed through with a little lemon juice and dill or other herbs) spread over the base
Capers or olives
Artichoke
Fresh dill and cracked pepper to finish
and something a bit different:
Shaved fennel
Caramelised onion
Baby capers
Roast garlic
Fresh continental parsley
Drizzled olive oil, lemon juice
Fennel fronds and cracked pepper to finish
What are your favourite homemade topping inventions? Would you try these?