There's been a lot of hype lately about quinoa, a pleasant-tasting seed with a versatility not unlike couscous, and almost as simple to cook. Quinoa (say "keen-wah") comes in a few different colours and forms but I've been using the "Royal" Quinoa mostly, because I haven't had as much luck with the red/black variety and I found the flakes more suited to sweet dishes.
It's pretty easy to find packets of the stuff in the "health food" section of a supermarket, or from any speciality health store. I can get around four serves from 1 cup of grain (as long as I've added other ingredients), which works out at about 50 cents per serve.
The method is simple, but there is one thing you absolutely must do before cooking (even if the packet says otherwise) and that's to RINSE it thoroughly. You need 3 cups of water to every 1 cup of quinoa, so measure out what you intend to eat (it keeps fine in the fridge for leftovers) and cover with water. Swish it about a lot or let it sit for 10 minutes or so, and use a very fine strainer to drain. I tend to rinse several times over, because if I don't the strong and slightly nasty flavour of saponin ruins the meal.
Bring the water to the boil and then boil the quinoa for a few minutes. Turn it down a little after that and then simmer for about 20 minutes or until all the water is absorbed and the seeds are fluffy and come free of their casing. You'll be able to see funny white wormy coils come out too.
At the same time as I cook the seeds I put another pot on with my vegetables or sauce of choice, which is usually a combination of whatever vegetables are in the fridge at the time. Here follow a few of my experiments, though they might not look terribly appetising!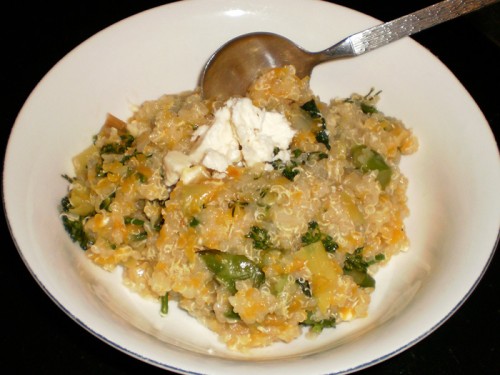 Grated pumpkin, chopped broccolini, and onion, with crumbled feta. I really liked this combination but the veg- to-quinoa ratio was too low so I put twice as much in now.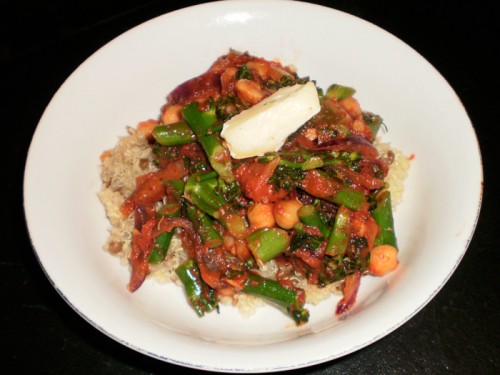 I didn't stir the mixture through this time – it consists of  broccolini, red onion, chickpeas, and a tomato pasta sauce, with camembert on top.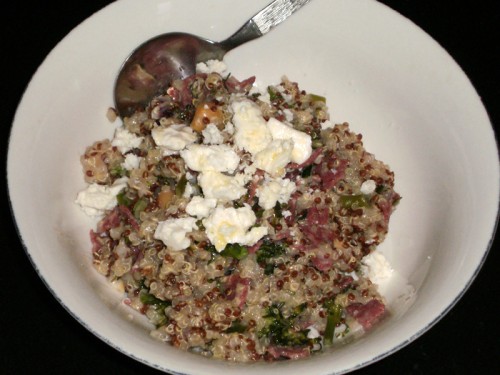 I didn't like this mixture much. I don't think I had much food on hand so I chopped salami, but it really didn't suit. I combined red quinoa with the normal stuff but the grains didn't seem to "cook".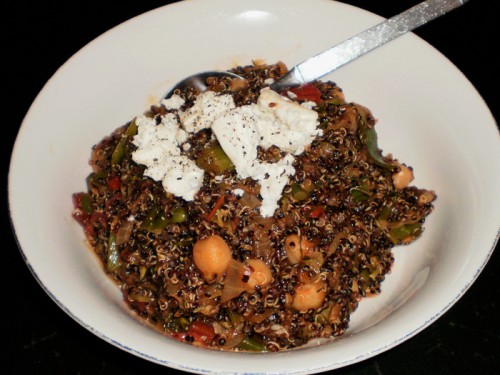 This was even WORSE – the vegetables look a bit soggy but the grains never expanded and were unpleasantly crunchy. Next time I'm going to attempt to cook them for longer in more water (and then drain the excess) in case it's the saucepan I'm using, but I couldn't finish the bowl and wasted the leftovers.
The only other mixture that I really enjoyed (but don't have photo evidence of) contained:
Royal quinoa
A jar of basil pesto
a grated carrot
a large grated zucchini
a handful of chopped purple beans
This combination was much more delicious and didn't need anything like cheese on top to improve the experience.
Now that you have seen my measly (but mostly edible) attempts, I'll link to the site that inspired me in the first place. The photos make the food look delicious and the recipes are lovely and detailed. I'm yet to try out all of them but the double broccoli was scrumptious!
I recommend using ingredients that stay quite crisp to keep this appealing in looks and texture. Other than broccoli with broccoli pesto (can you tell this is my favourite vegetable?) I enjoyed the pumpkin/feta mixture and basil pesto mixture the most. I think I'll avoid tomato sauces from now, but if your dish comes out tasting average I recommend CHEESE of any sort because the saltiness masks any slight saponin taste that might remain.
Other simple meal ideas I've experimented with in the last few months include: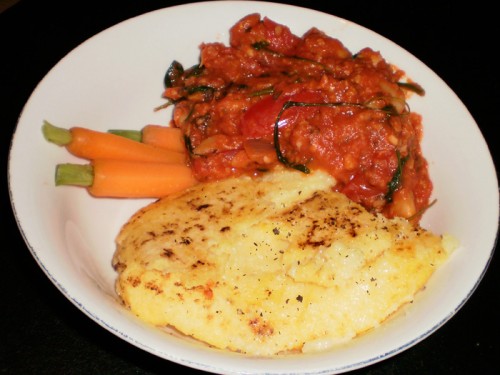 Fried polenta (leave it to firm up in the fridge for an hour or so) with steamed baby carrots and a bean/onion/tomato/spinach mixture. This was delicious but seemed to upset my tummy. :S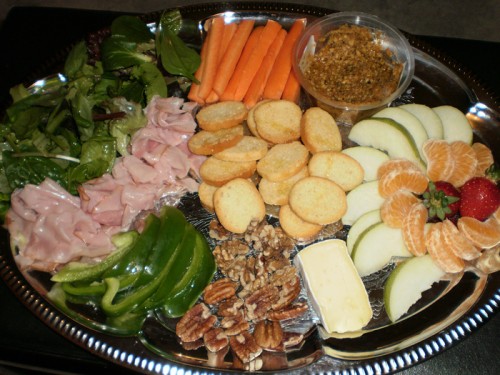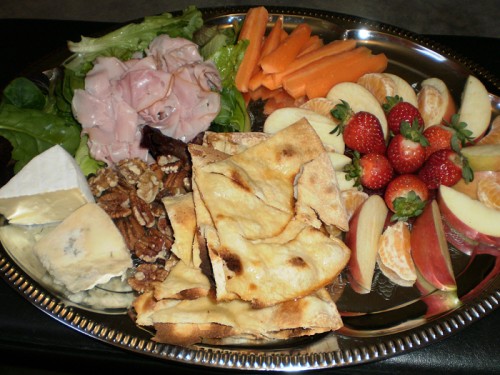 Lunch platters: we should probably replace the ham (tasty as it was) with something less processed. The bread was a gluten-free pizza base I baked for a little while and drizzled with oil – it was amazing! Adam shared these with me and they're very easy to prepare, visually appetising, and great for a picnic.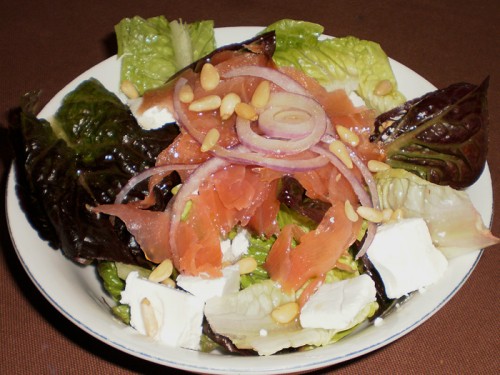 Smoked salmon salad: tear up lettuce/salmon/feta, sprinkle with salad onion and pine nuts, and drizzle with olive oil. Drawback: onion breath.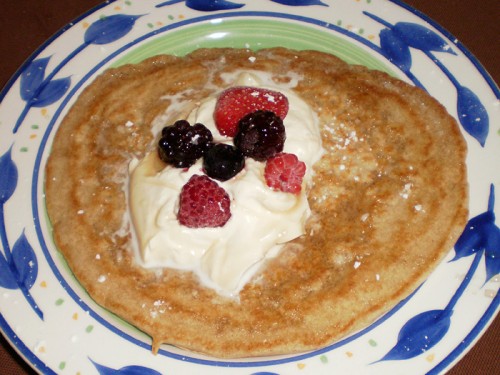 A buckwheat pancake. I just used a gluten-free packet mixture (Orgran) thinned out a bit with water because I prefer them like crepes, then served with maple syrup, fresh whipped cream and frozen berries. The berries were too cold but this was an awesome makeshift lunch. Good to keep on hand for a sleepover breakfast! Verdict: YUM!