Autumn here means getting to cook properly again, because summer is so hot and we're reluctant to use the oven much! May is also always a very full month for us because about 10 close friends and family celebrate their birthdays within 3 or so weeks of each other (and Mother's Day must be divided between two mums)!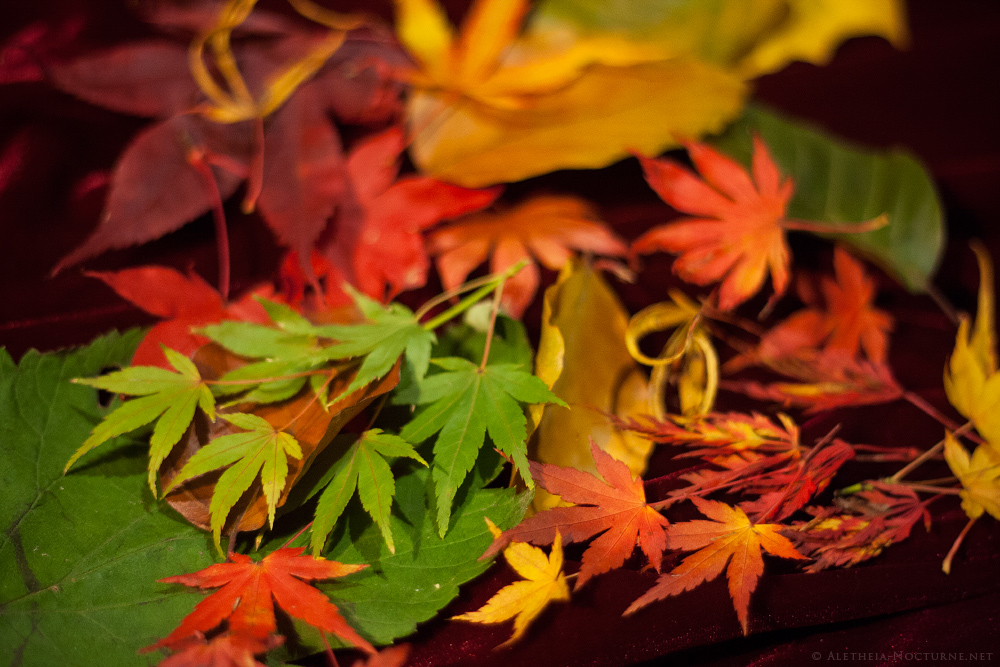 After a difficult week we needed to get away for a few days, which meant getting to meet my mum's new cats. 😛
Rescue cats Leo and Vinny (formerly Cheech & Chong!)
My other self-appointed task was to create something delicious for Adam's birthday dinner. Double chicken breast fillets are usually affordably priced, so I started Googling "baked chicken dishes" and came across this – it looked tasty and by happy chance I already had the seasonal ingredients. I've listed my substitutions; the meal is also easily made gluten-free.
100g (2/3 cup) plain flour (I used GF flour)
600g chicken thigh fillets, cut into 2.5cm pieces (I used breast, it doesn't really matter)
2 tablespoons olive oil
125g butter, chopped
2 cloves garlic, finely chopped
1 onion, roughly chopped
300g silverbeet, stems finely chopped, leaves roughly chopped
1 fennel bulb or 2 baby fennel, finely chopped
1 teaspoon fennel seeds, ground
125ml (1/2 cup) dry white wine (I used a sauvignon blanc)
500ml (2 cups) chicken stock
60g (3/4 cup) finely grated parmesan (I had no parmesan so used cream cheese)
1/2 cup chopped flat-leaf parsley
1kg desiree potatoes, peeled, chopped (I used sweet potatoes which turned out beautifully)
80ml (1/3 cup) milk
I didn't photograph the first step, but here's the method copied over from Taste.com.au:
Step 1 – Place flour in a bowl and season well with salt and pepper. Coat chicken in flour, shaking off the excess. Heat oil in a large, deep frying pan over medium–high heat. Cook chicken, in 2 batches, for 2 minutes each side or until browned. Remove chicken and drain on paper towel.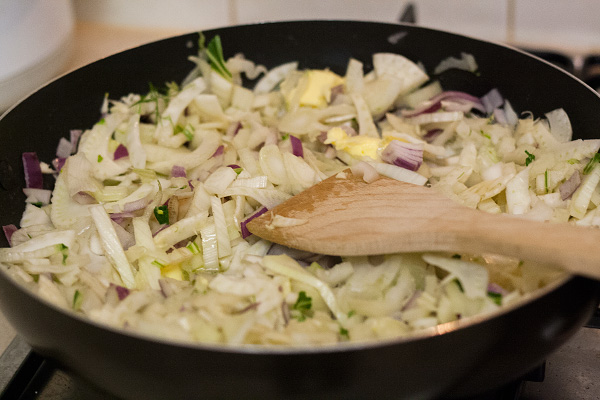 Step 2 – Add 50g butter, garlic, onion, silverbeet stems, fresh fennel and ground fennel, and cook for 8 minutes or until vegetables have softened.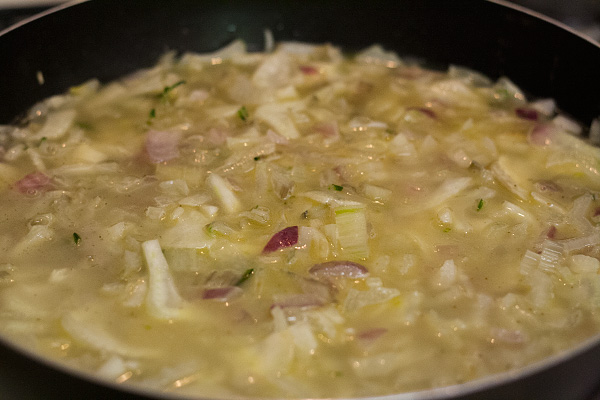 Step 3 – Add wine, bring to the boil and cook for 1 minute. Add stock and bring to the boil again.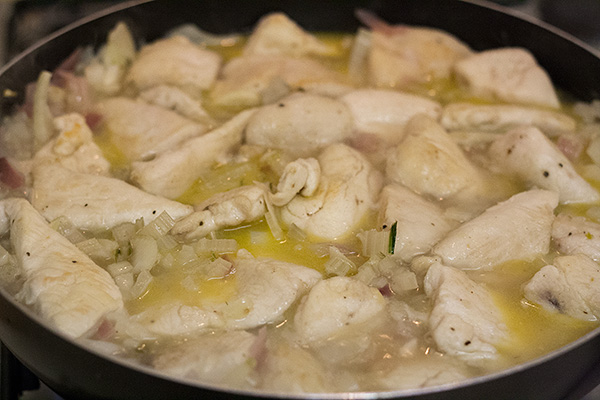 Step 4 – Return chicken to pan and cook, stirring occasionally, for 10 minutes or until mixture is thick and most of the liquid has evaporated.
Step 5 – Turn off heat, add silverbeet leaves, 20g (1/4 cup) parmesan and the parsley. Stir until combined and leaves have wilted.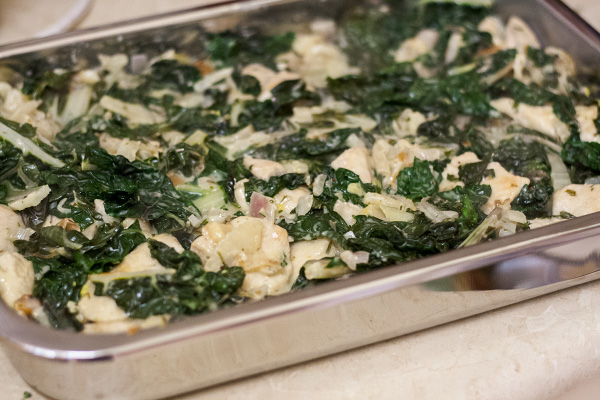 Step 6 – Season, then spoon mixture into a 20cm x 26cm, 2L ovenproof dish (or whatever dish you have) and cool in fridge for 15 minutes.
At this point, place potatoes in a pan of cold salted water, bring to the boil and cook for 10 minutes or until tender. Drain and mash with a potato masher. Add remaining 75g butter, milk and 20g (1/4 cup) parmesan, and stir until well combined. Season with salt and pepper. Preheat oven to 190C.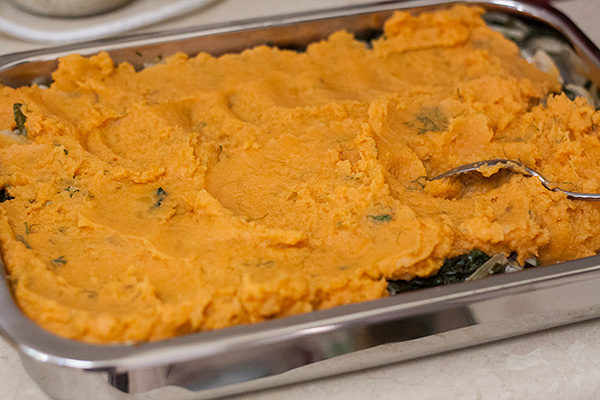 Step 7 – Spoon mashed potato over chicken mixture and scatter with remaining 20g (1/4 cup) parmesan (I used rice crumbs, haha). Bake for 25 minutes at 190C or until top is golden and filling is heated through.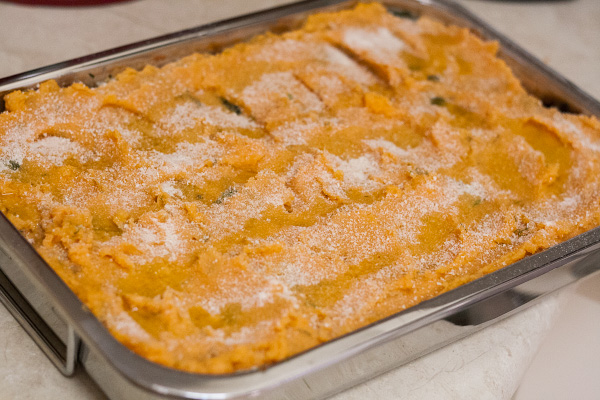 I was fairly leisurely in preparation and cooking, but it took me a few hours so I was rather happy when we finally got to eat it. 😛 It really was delicious with lots of flavour and depth, though some of the seasoning steps could've been omitted for a little less saltiness. It doesn't work out very expensive per serve, but you could easily substitute other ingredients with whatever is in season. You mustn't be put off by a recipe that calls for expensive ingredients or ones you don't like, because most savoury dishes are versatile enough to swap out quite a few things. You can also develop confidence in cooking this way. 🙂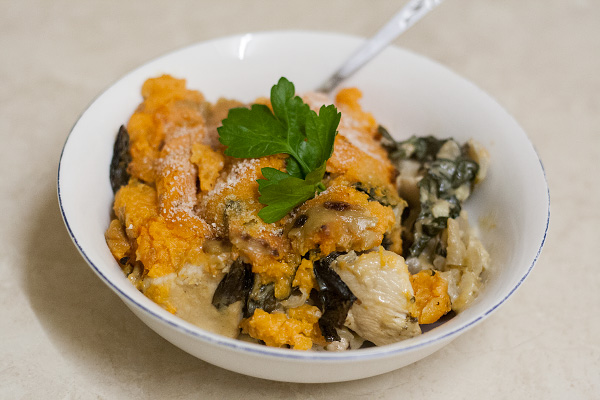 While this is a "complete" meal on its own, you could make it go a bit further (it's RATHER rich and chicken-y!) by serving with salads or rice/quinoa.