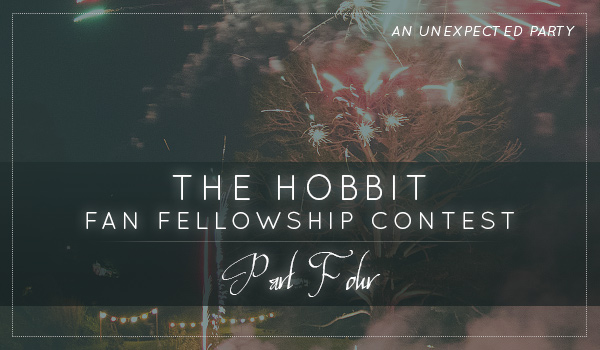 This is part four of a series of posts about winning the Hobbit Fan Contest, where I got to spend a week in New Zealand (Middle-earth!) with a group of some of the biggest Hobbit fans in the world. This all-expenses-paid VIP experience was such a dream come true, one I was able to share with my elf-partner, Adam. You can also read more about the contest and how I won here, about our first day of the trip here, or the first part of our day at Hobbiton here.
Over Hill
Let's jump straight back into the photos and to the hobbit hole we were all most excited for!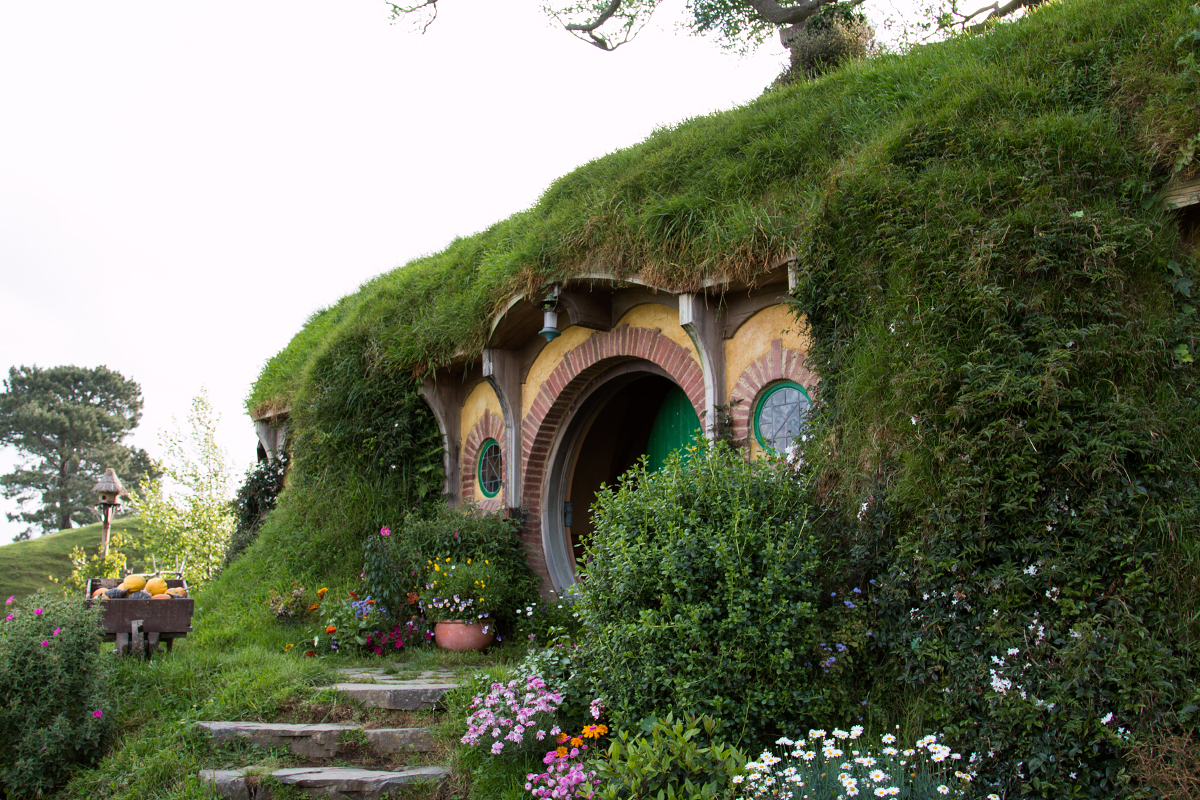 Movie screenshot comparison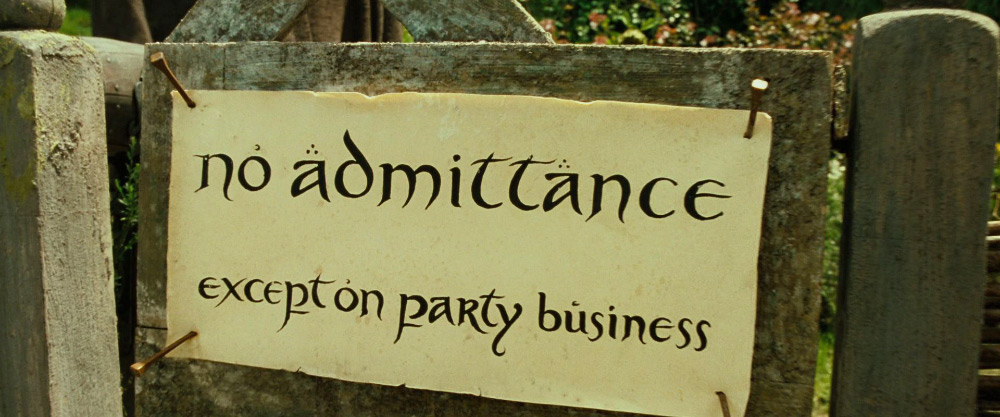 Movie screenshot comparison
This particular full-scale part of the set is still official property of New Line/Warner Bros., so we weren't allowed to venture beyond the gate or touch things. However, they were letting one fan from each group have a peek in, so we were more than happy for our Slovenian "Fan Fellowship Fellow" Bernard (who was dressed up and so, so happy that day!) to take a step inside. He said the hole doesn't extend very far (the interior of the set isn't on-location) but could see a bit of the wood paneling going back a little way.
You can see the oak tree above is looking a little scant of leaves! The tree didn't actually grow there and was brought in (dismantled) from another site, stripped down, and then had fake leaves painstakingly applied to it. Many of them had blown off, so most of us picked up one to keep (see further down)! 😀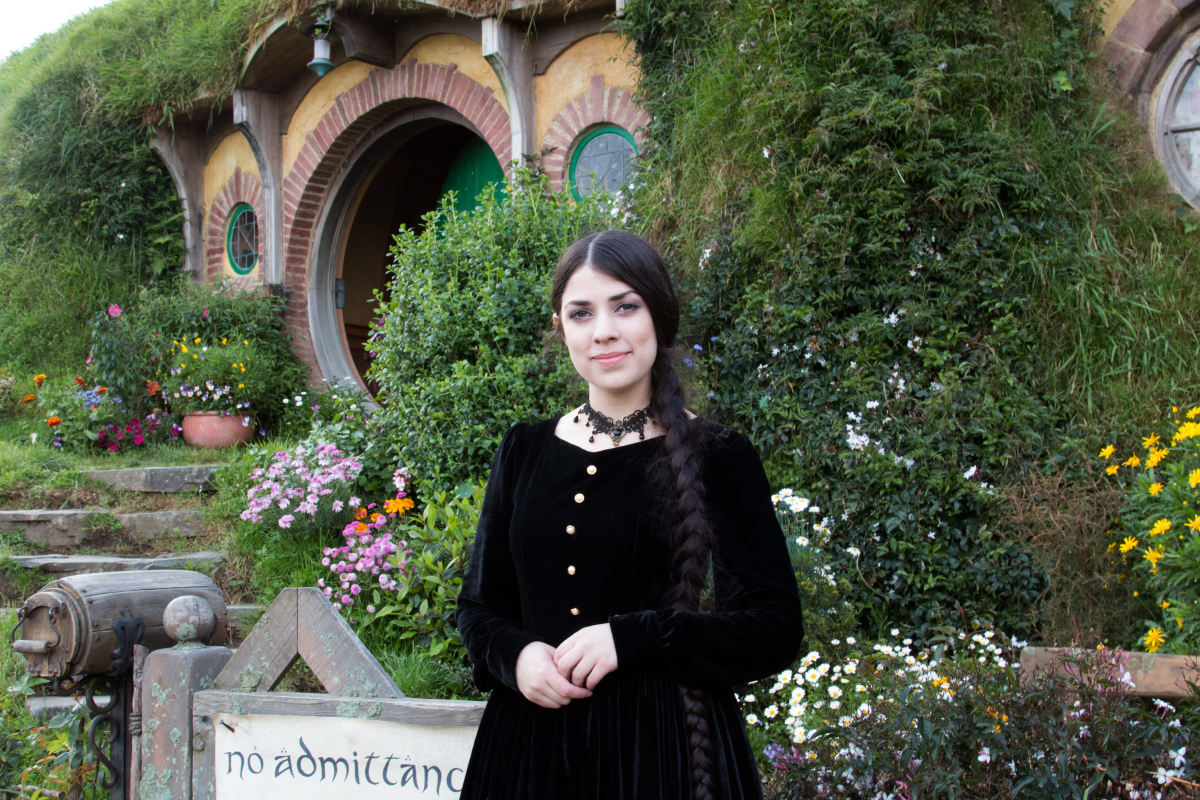 How we felt: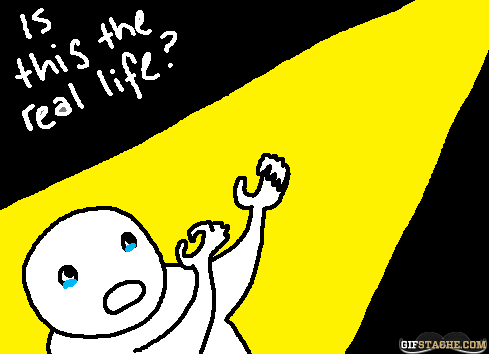 Under Hill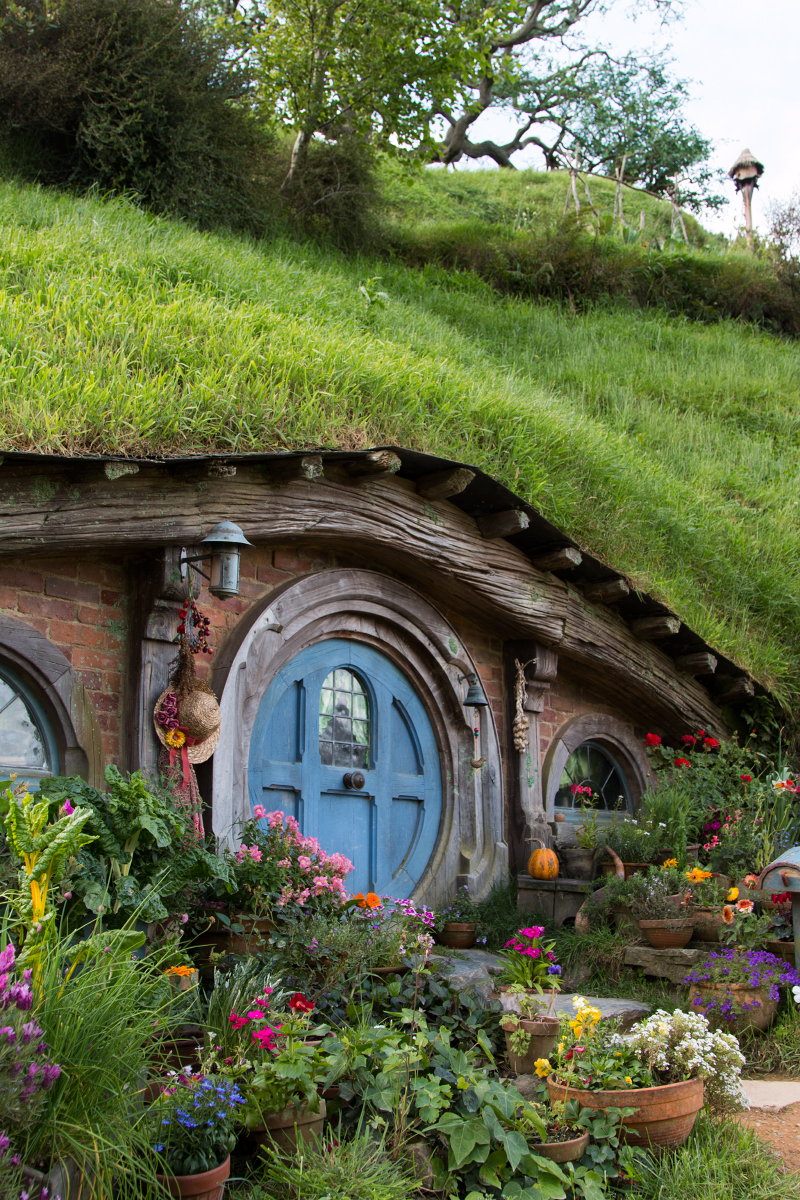 How pretty is this one!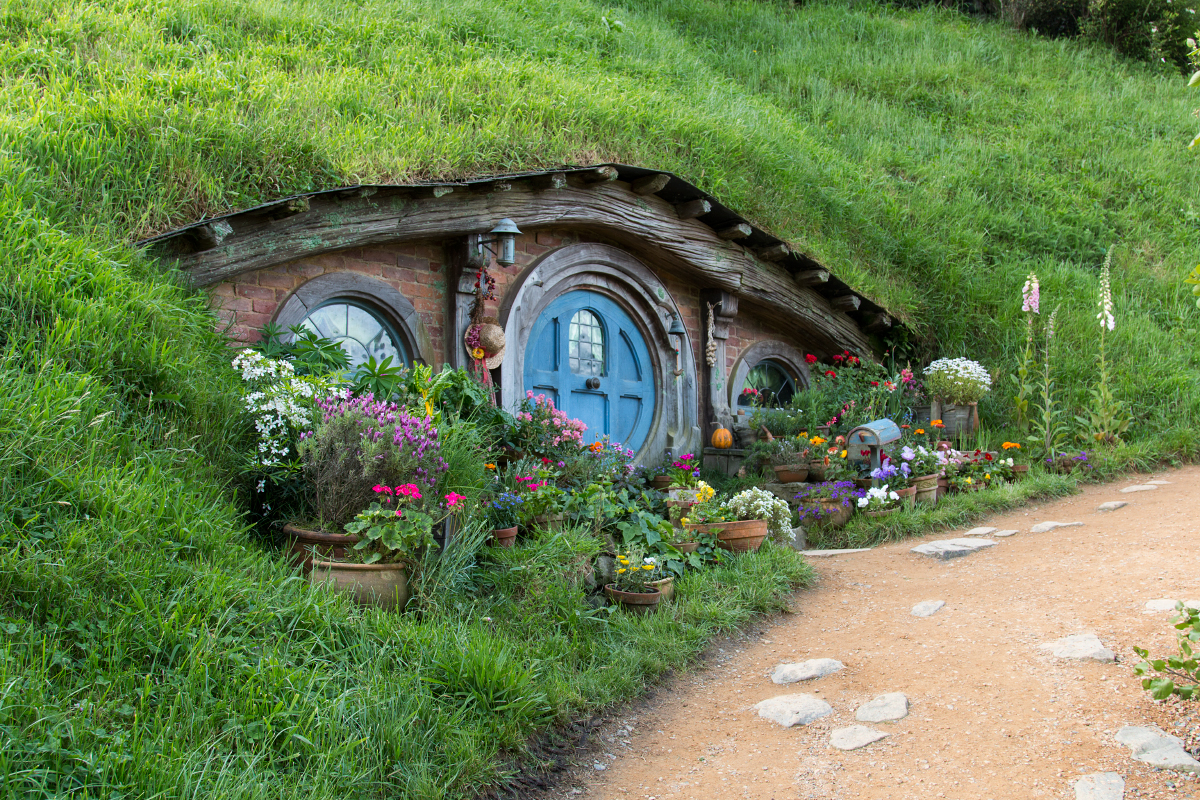 Check out this little hobbit's ceramic work!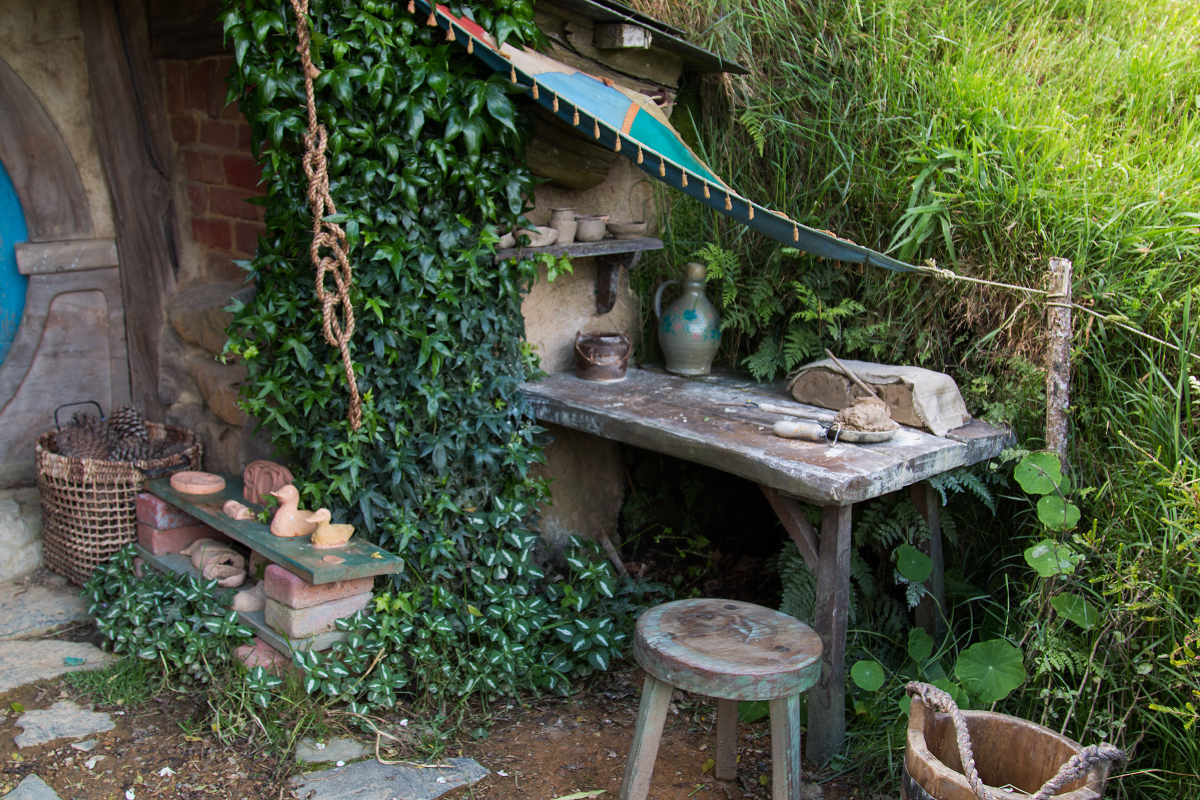 L: A bumblebee in the lavender | R: Cheese wheels through a window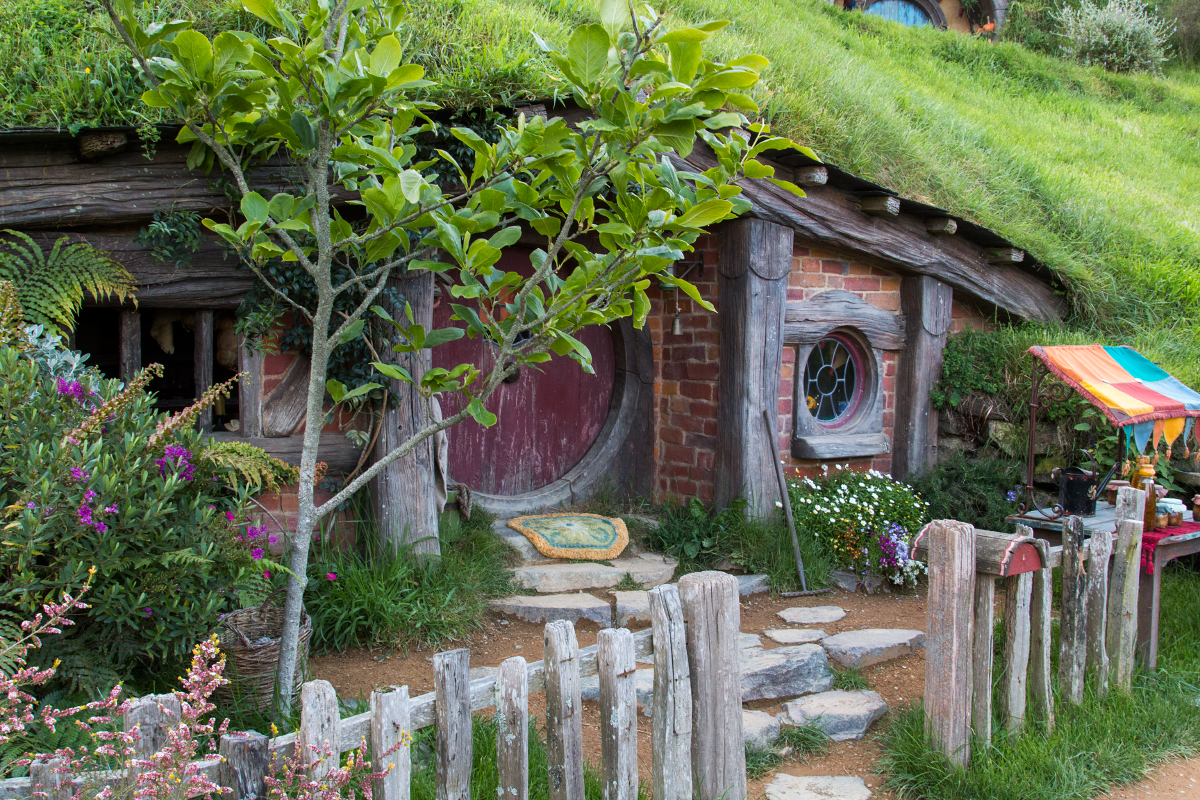 This hobbit is selling preserves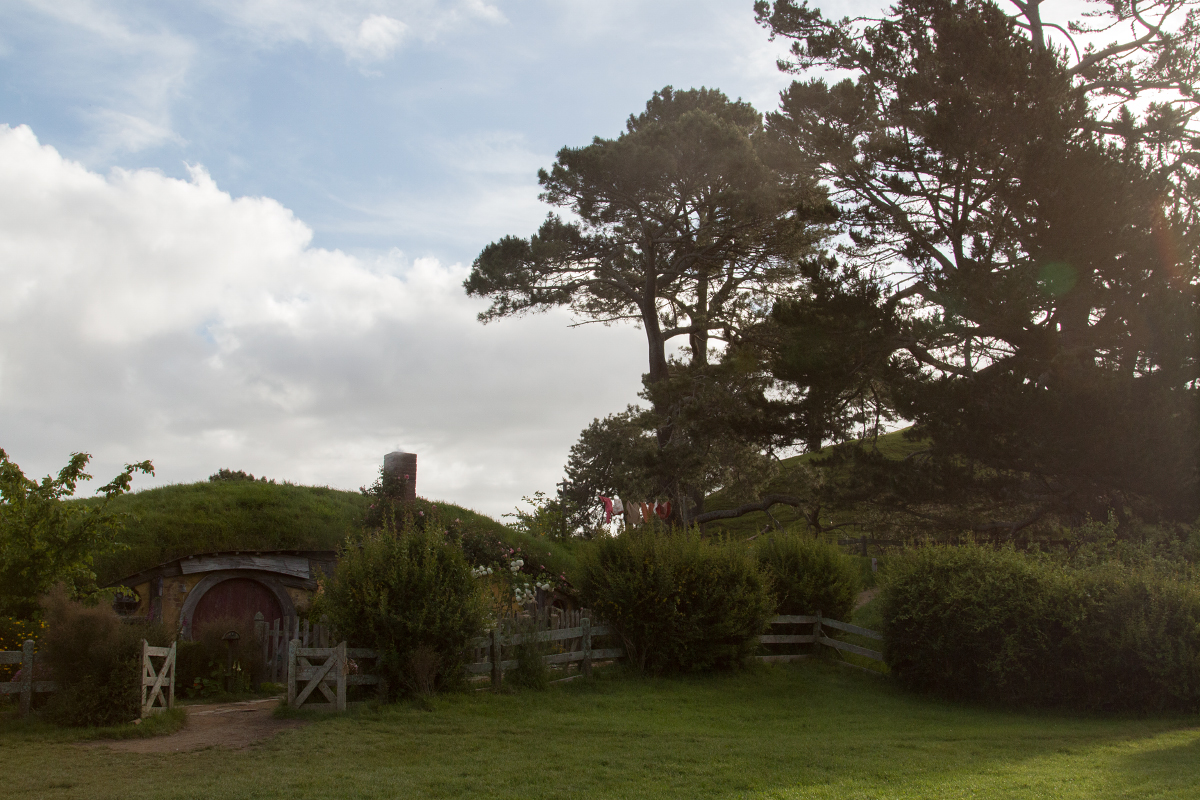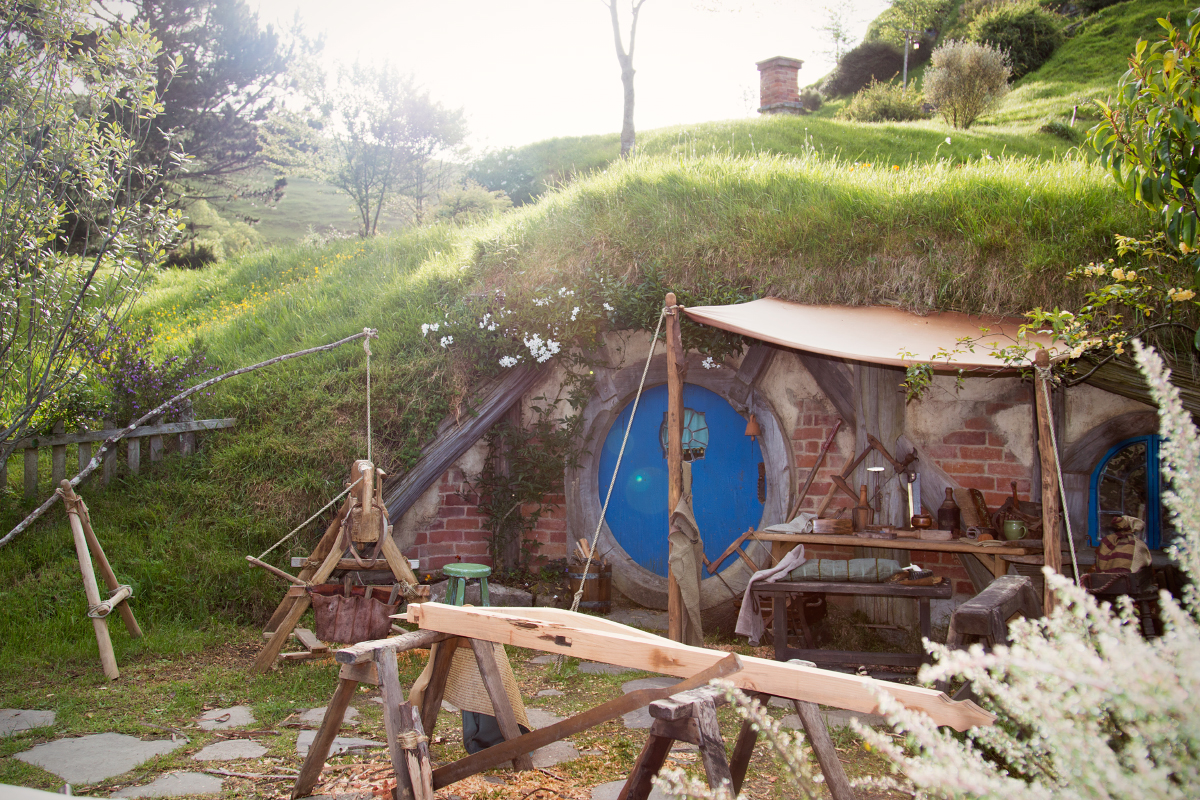 A hobbit carpenter's work-space
Two doors of Samwise Gamgee's beautiful hobbit hole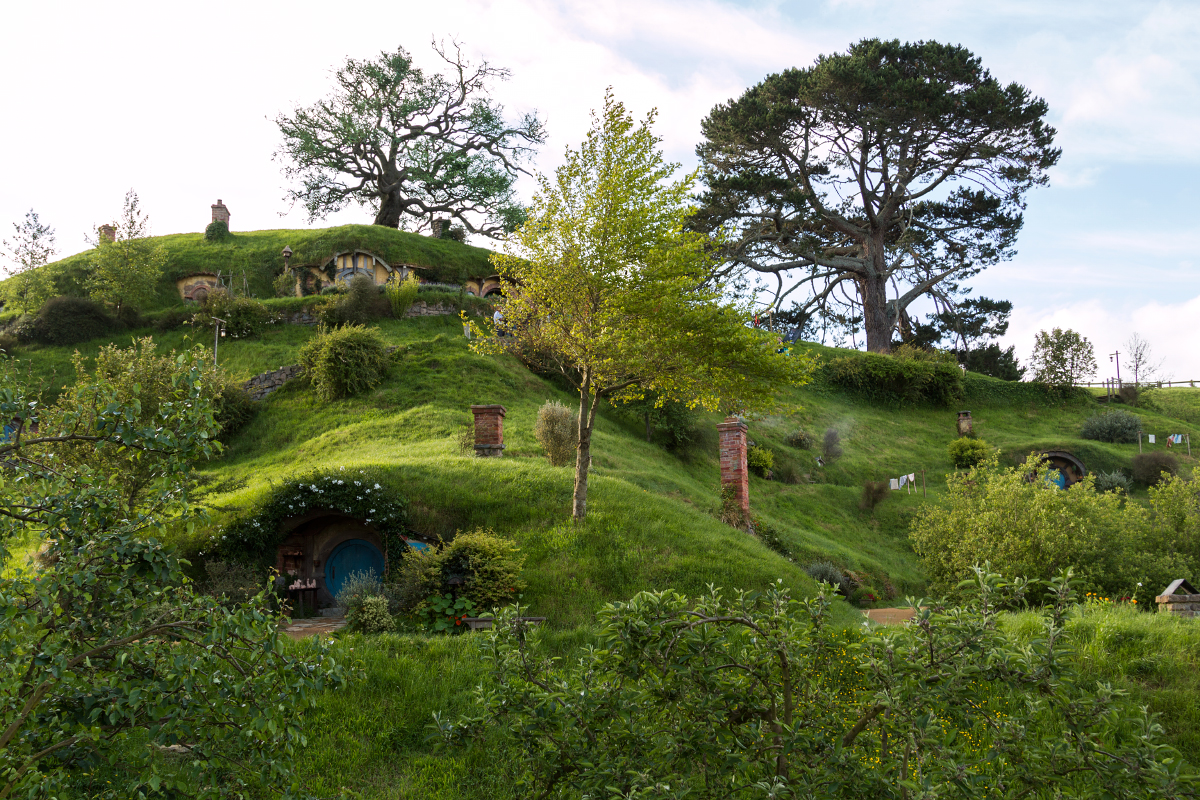 So many beautiful details
By this time we had weaved our way down the paths into the Party Field: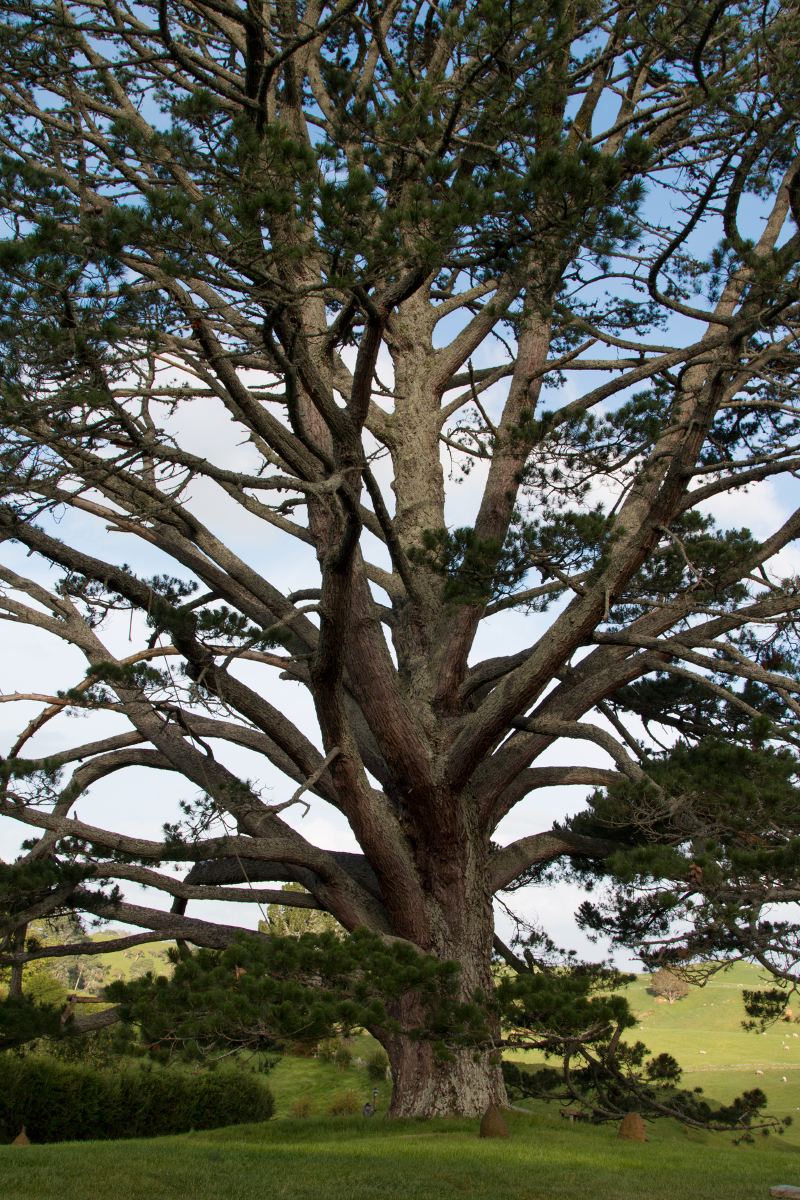 The Party Tree! It was too big to fit in the frame!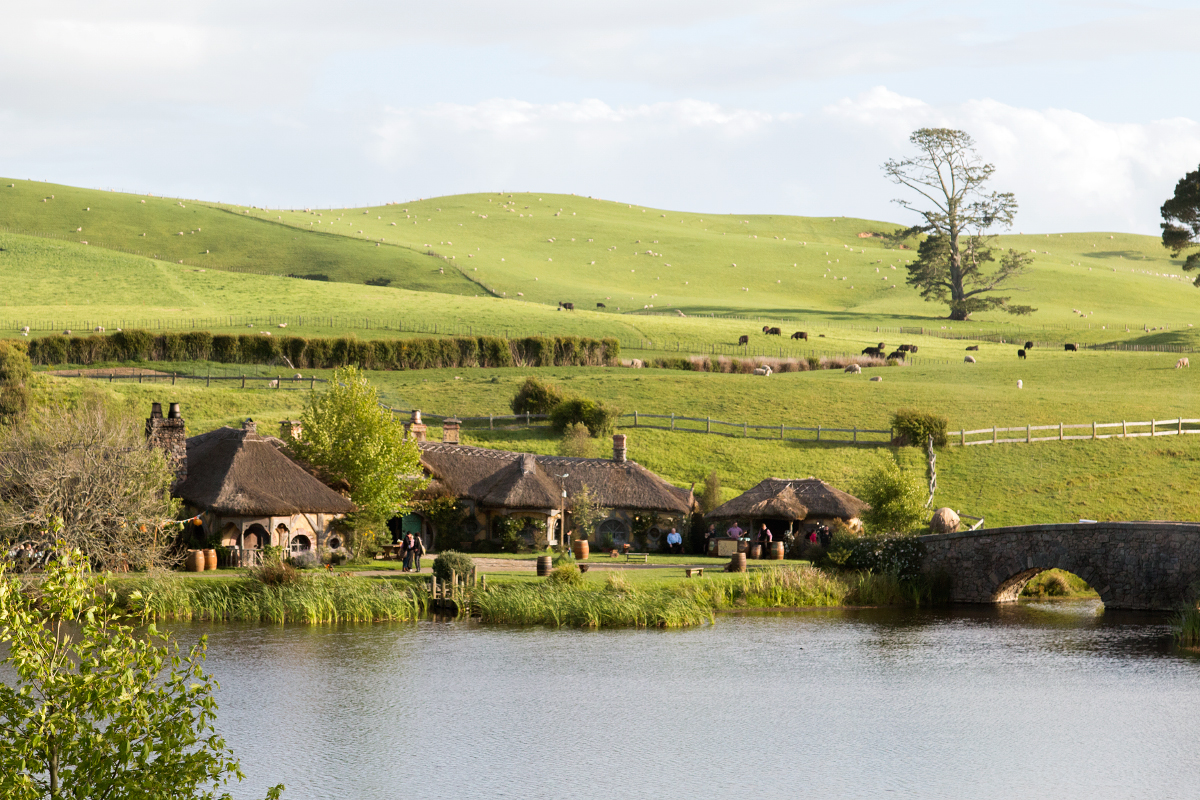 Looking over to the Green Dragon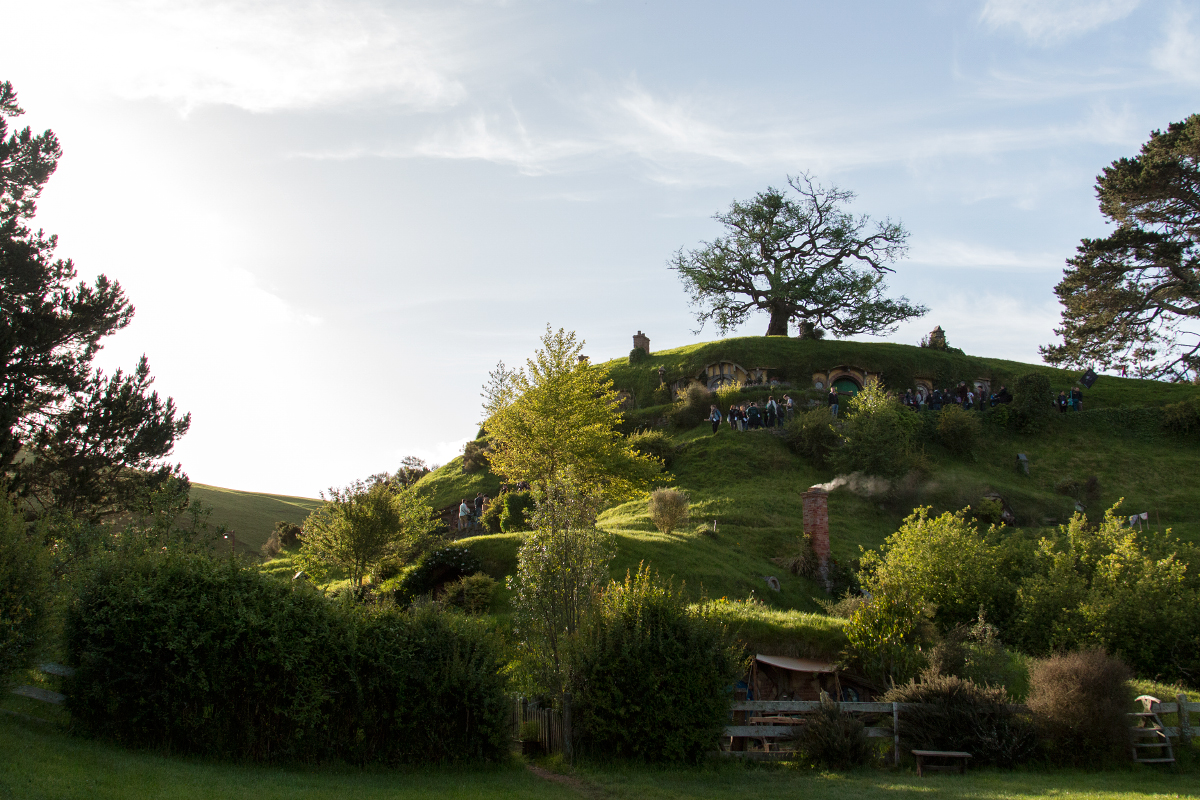 Looking up at Bag End as one of our groups is led by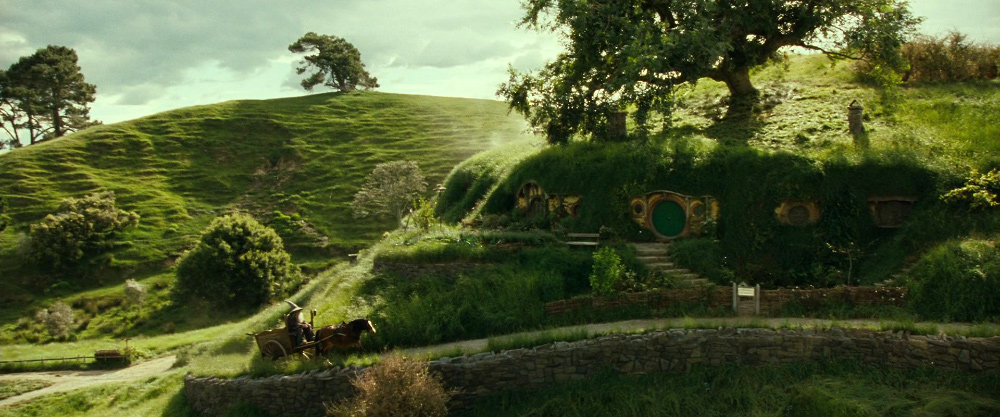 Movie screenshot comparison
And our Wizard group! I wish we could have a reunion.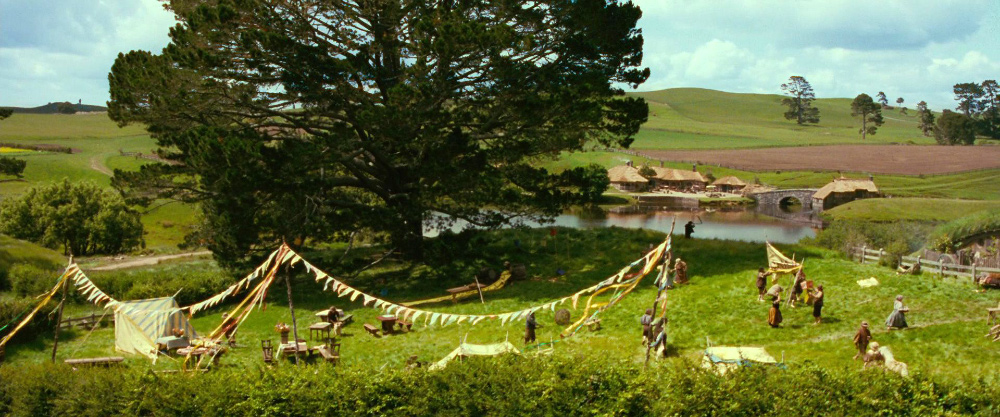 Movie screenshot of Hobbits setting up for the eleventy-first birthday
A lantern by the path, and a maypole in the Party Field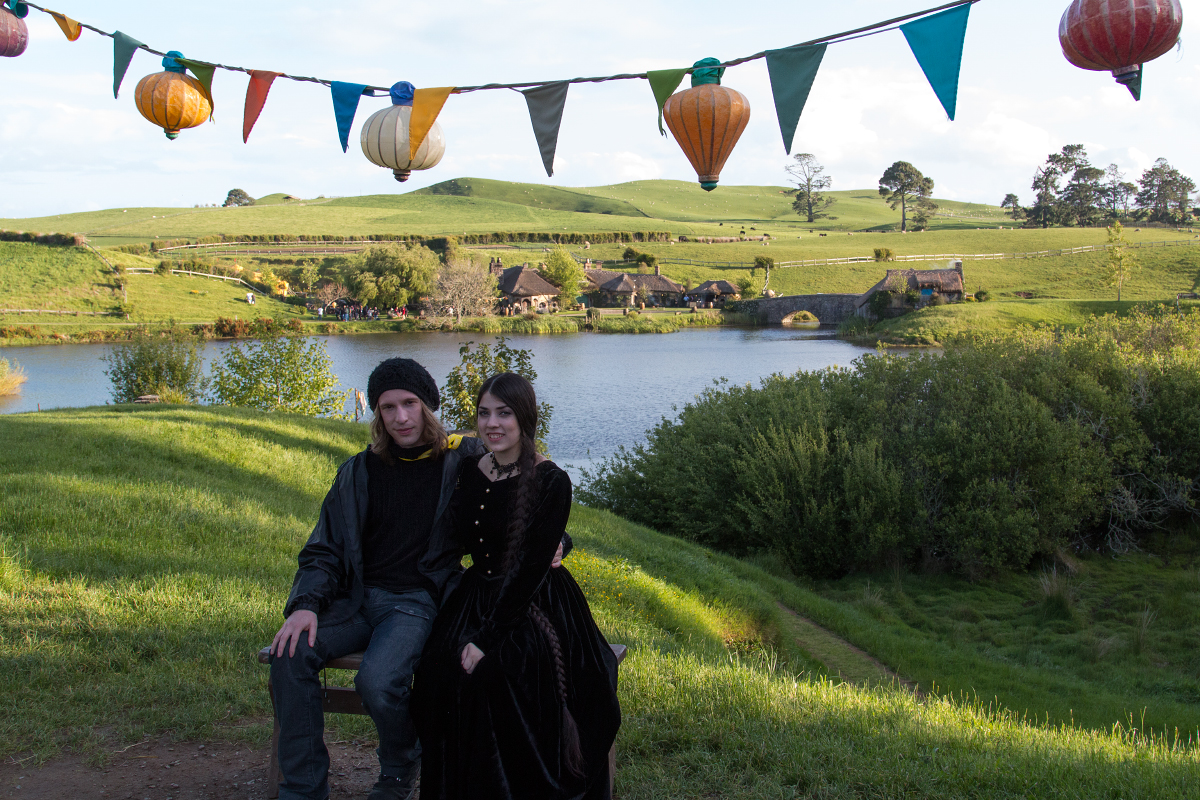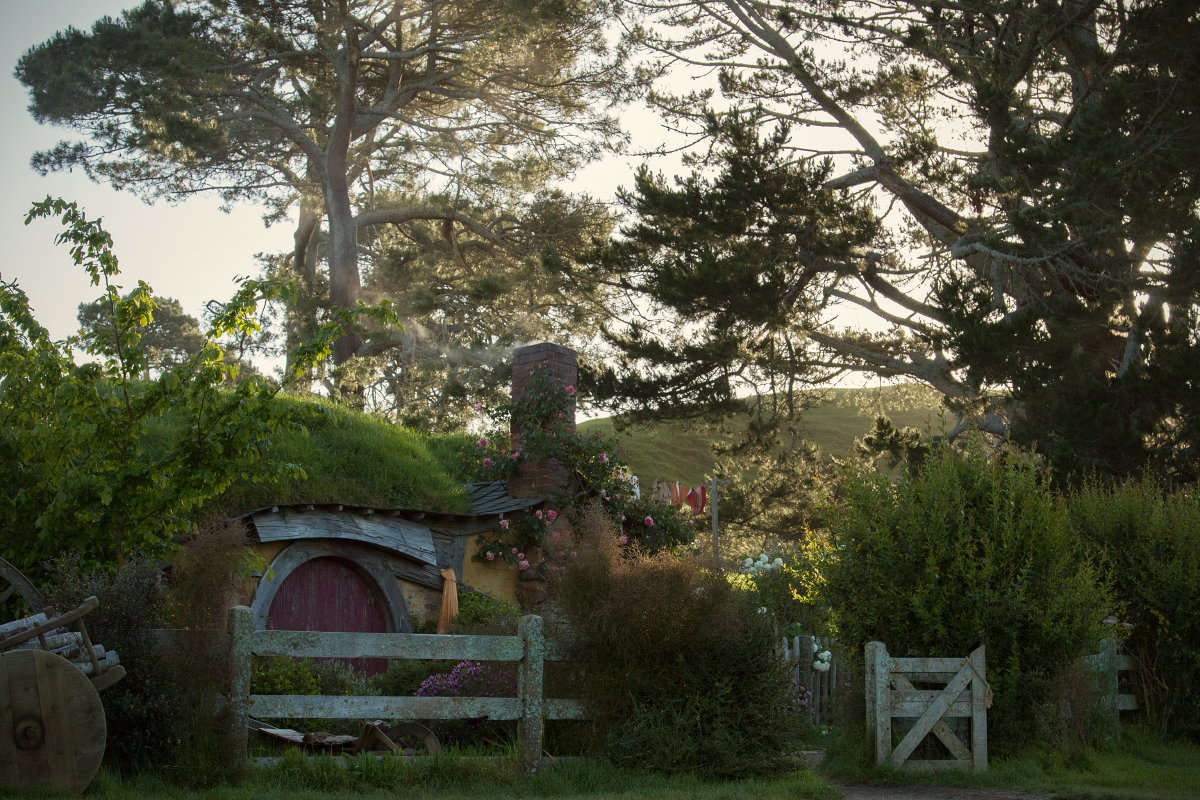 The Gamgee residence – what an atmosphere!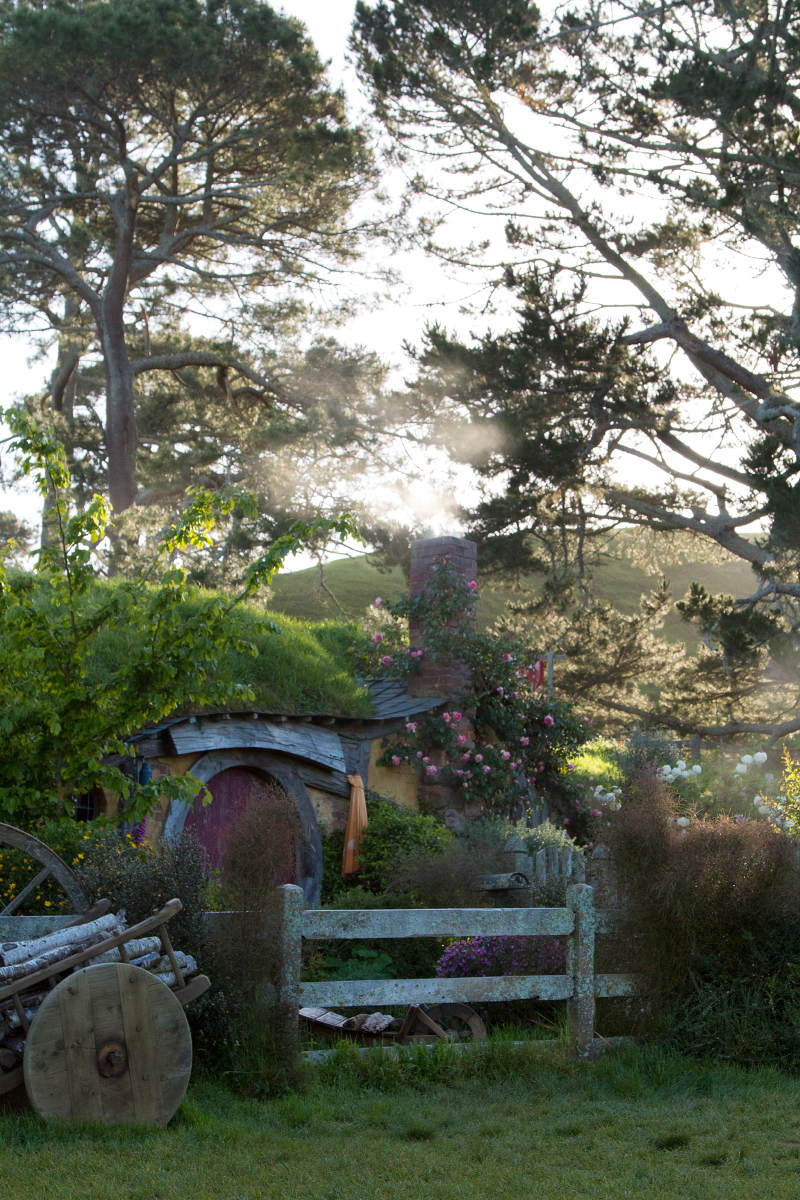 At the Sign of the Green Dragon
The tour continued on through a little thicket of trees…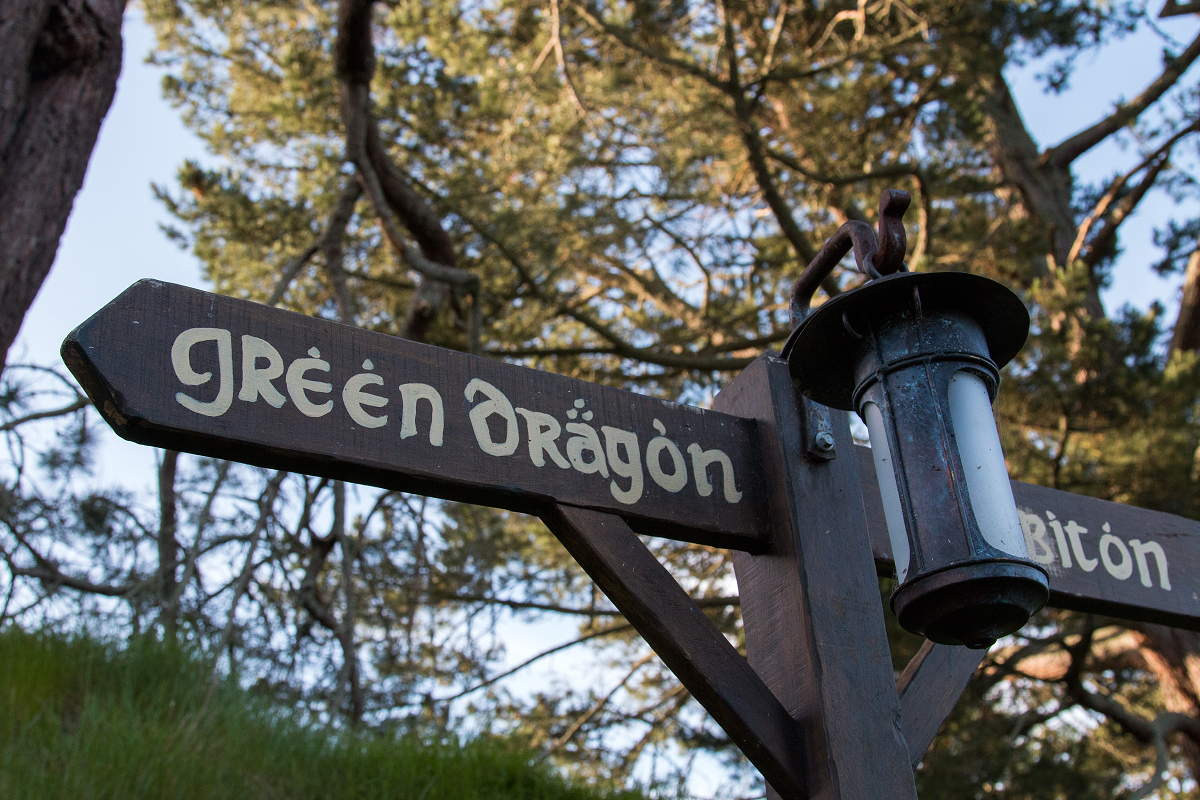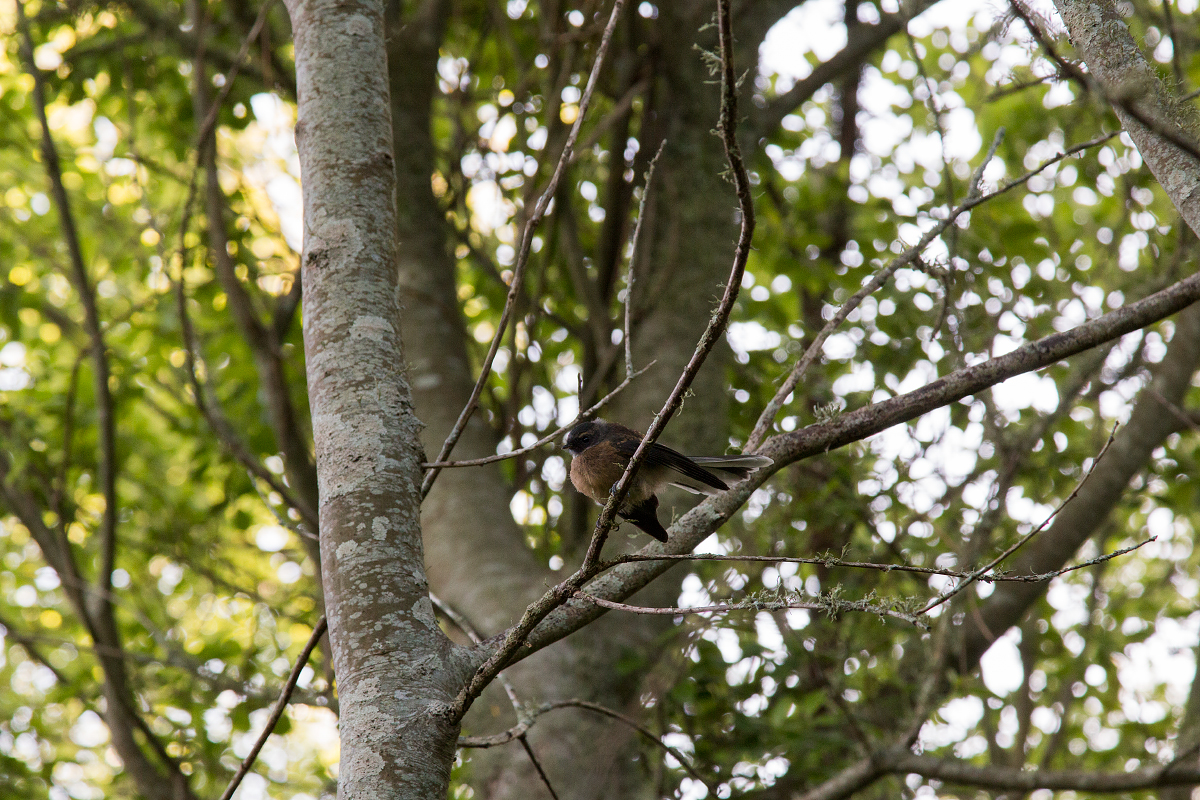 A gorgeous little Fantail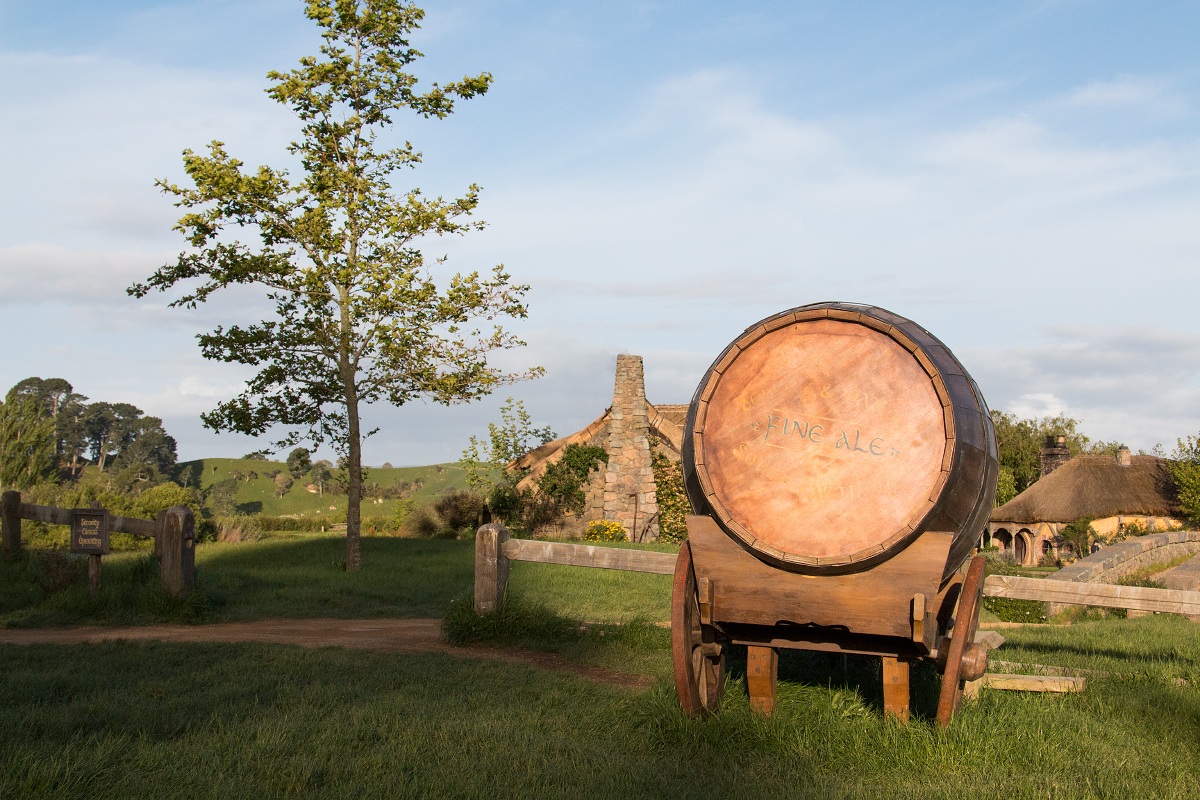 The little grove leads into town…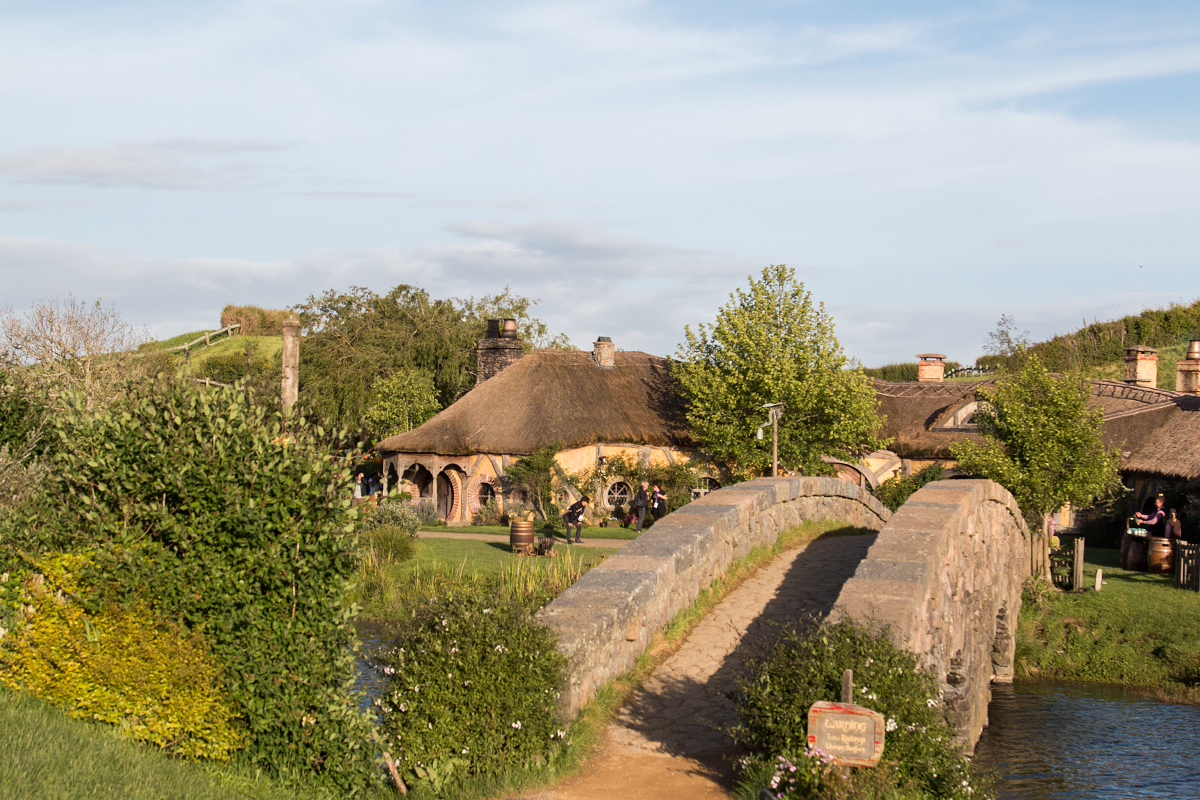 The bridge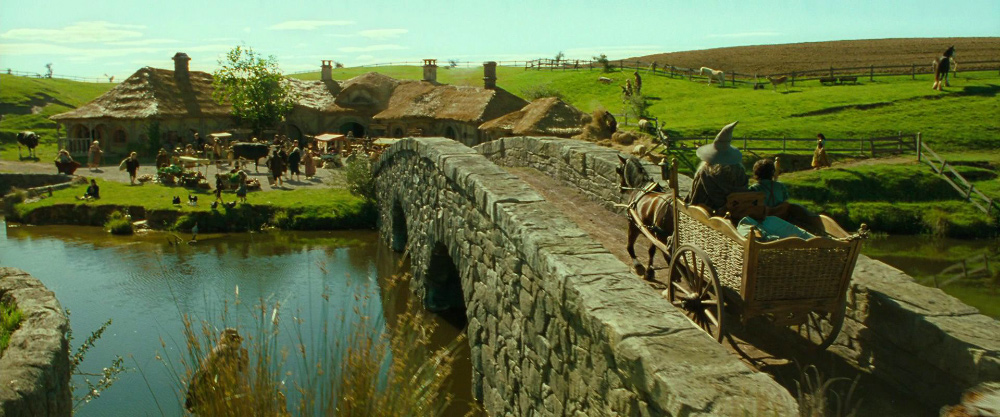 Movie screenshot comparison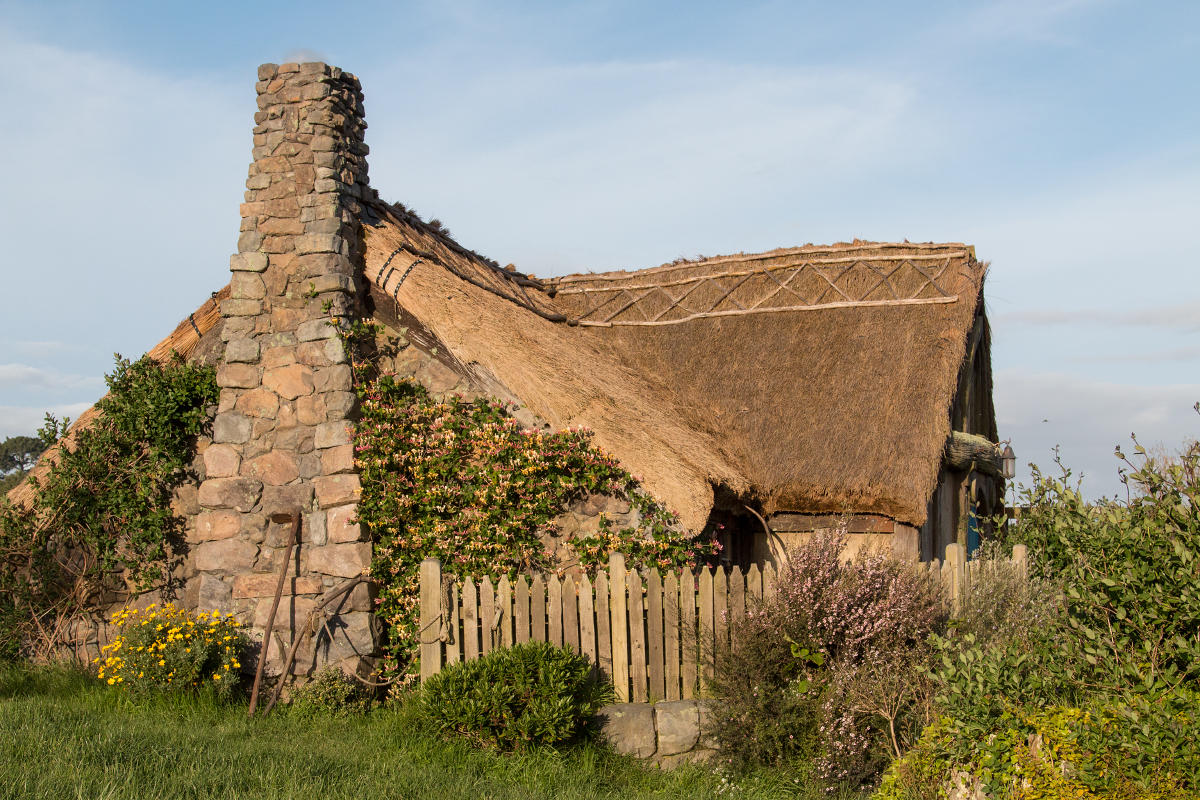 The Mill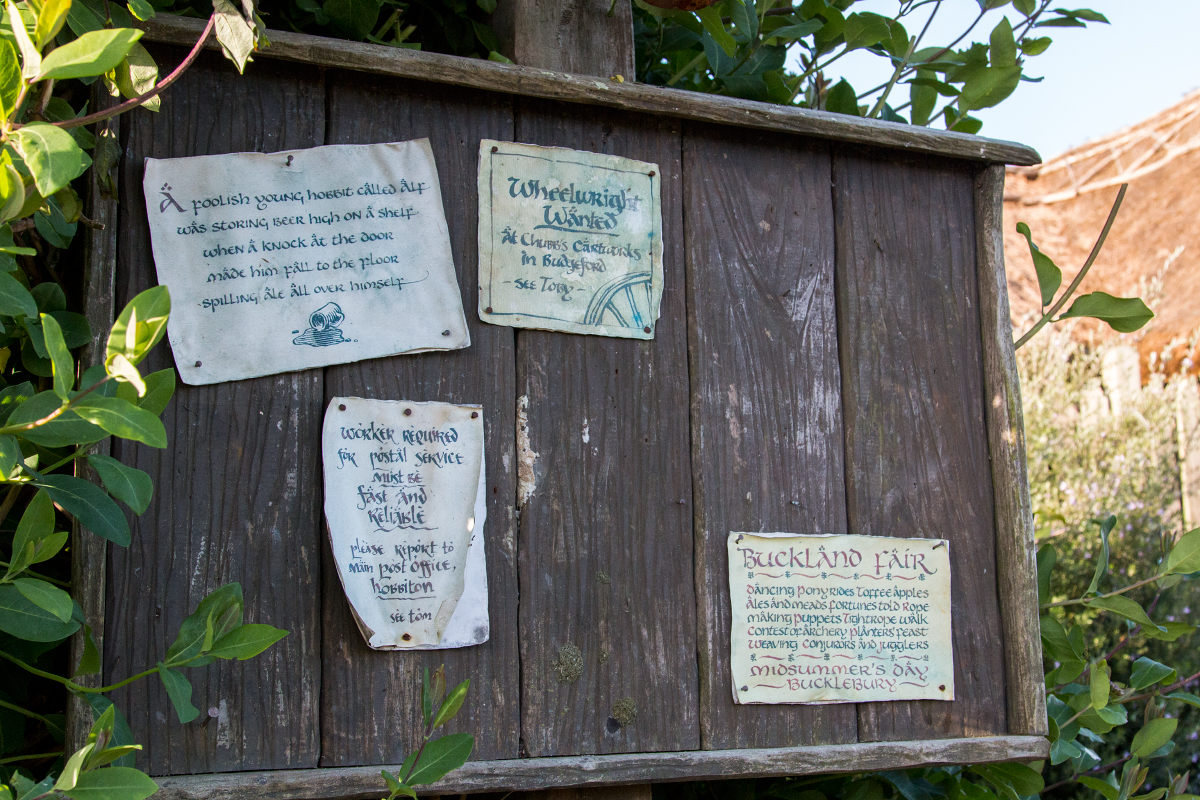 A noticeboard
The Mill from across the water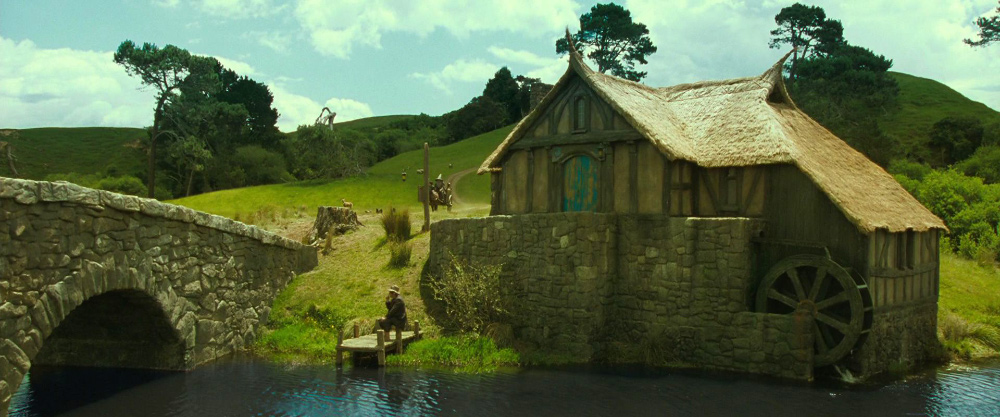 Movie screenshot comparison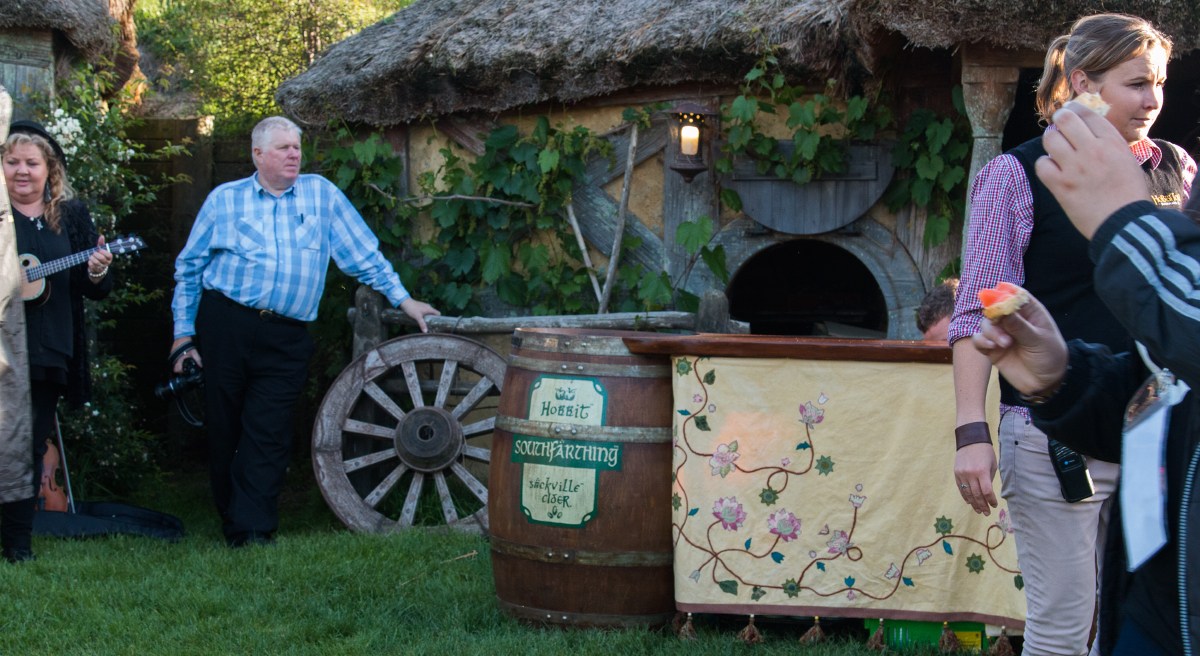 It was time for a cocktail evening at the Green Dragon! We were served lots of canapes and got to sample the specially-brewed Southfarthing drinks (ale, cider and ginger beer). Alas, I got through half my cider and had a stomach ache for the rest of the night – probably the sulfites. 🙁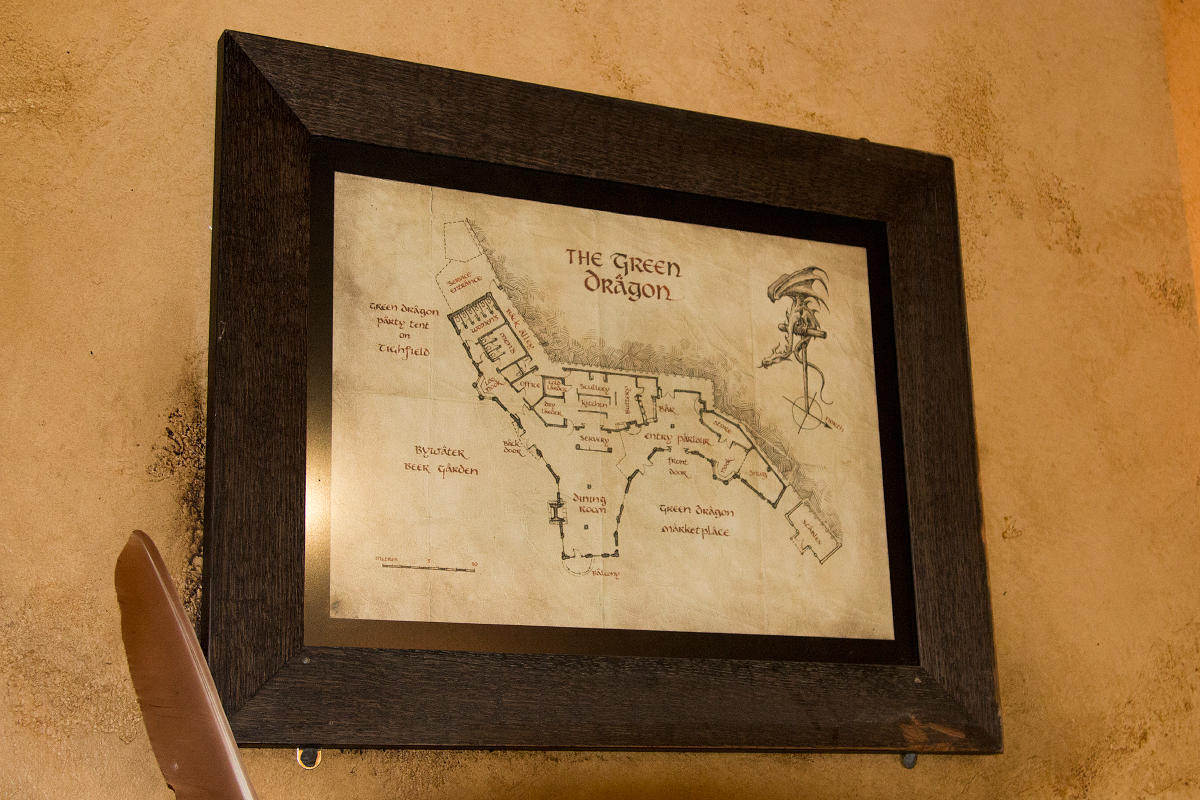 Groups were being ushered into the Inn one at a time. This was the one place I wish I'd taken more pictures, too! Anyway, after checking out the first sitting area we were beckoned over to a curtain which was covering a doorway. Being short and usually standing at the back of a crowd, I couldn't actually see what was going on, but the curtain was drawn aside and the next moment our group erupted into happy cheers! Jed Brophy, Mark Hadlow, Stephen Hunter and John Callen (Nori, Dori, Bombur and Óin) had surprised us by turning up for the party! There were still more surprises to come though, so keep reading!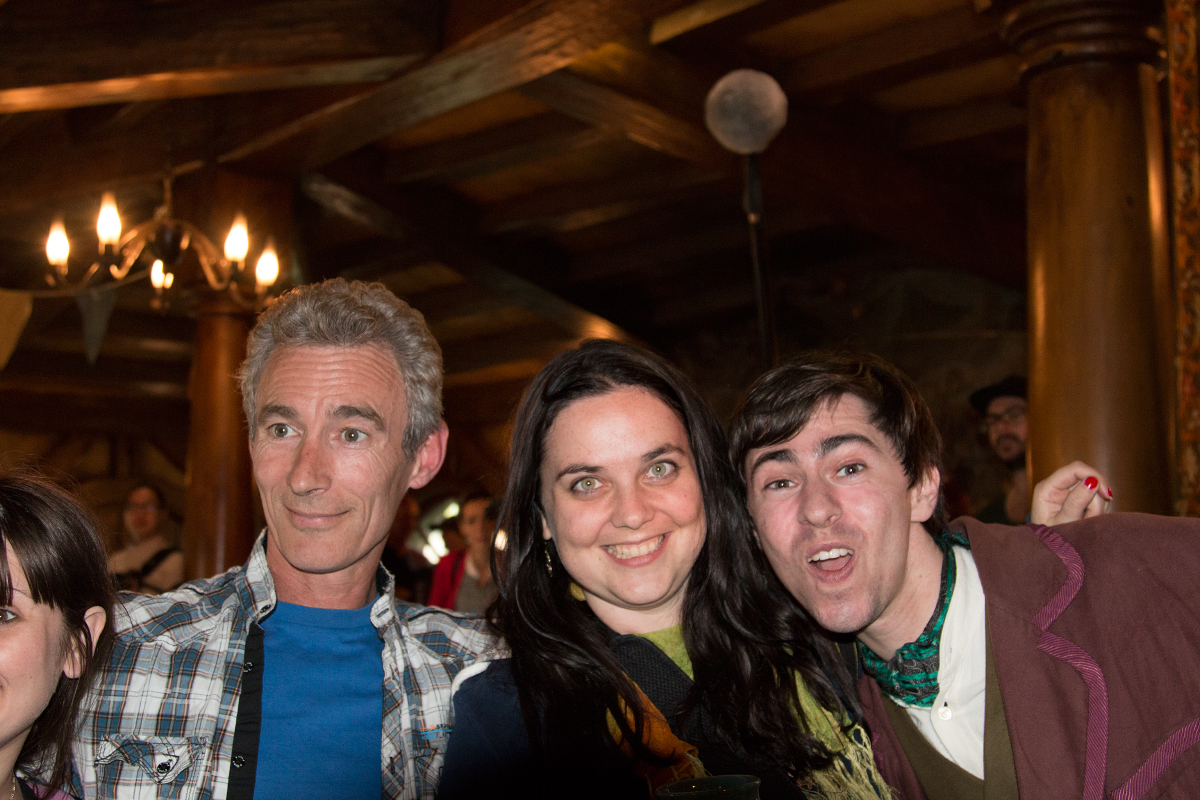 Jed, Viki and Bernard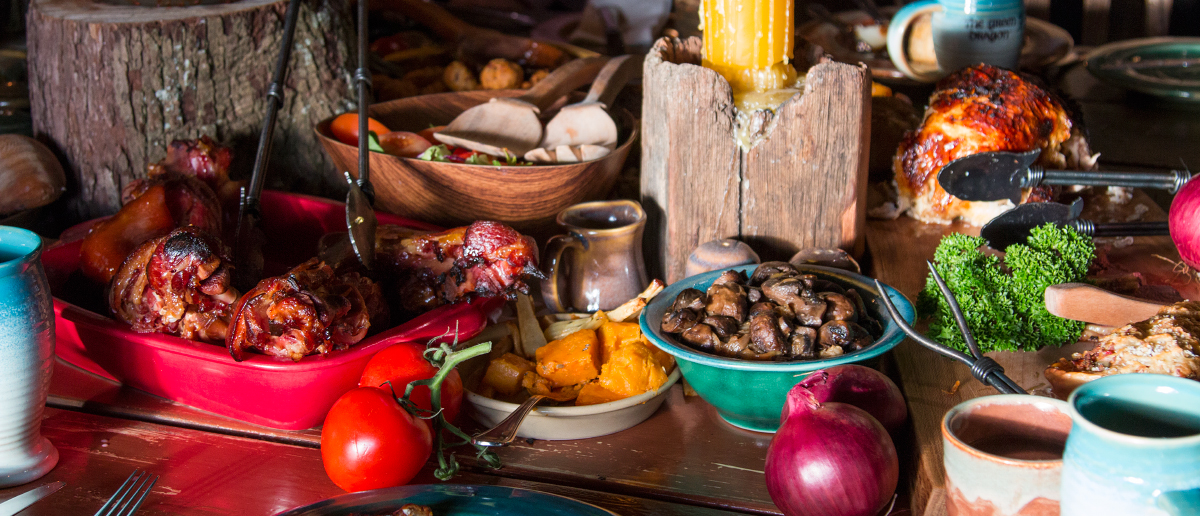 We weren't given a feast that night, but whatever the special guests had looked pretty good…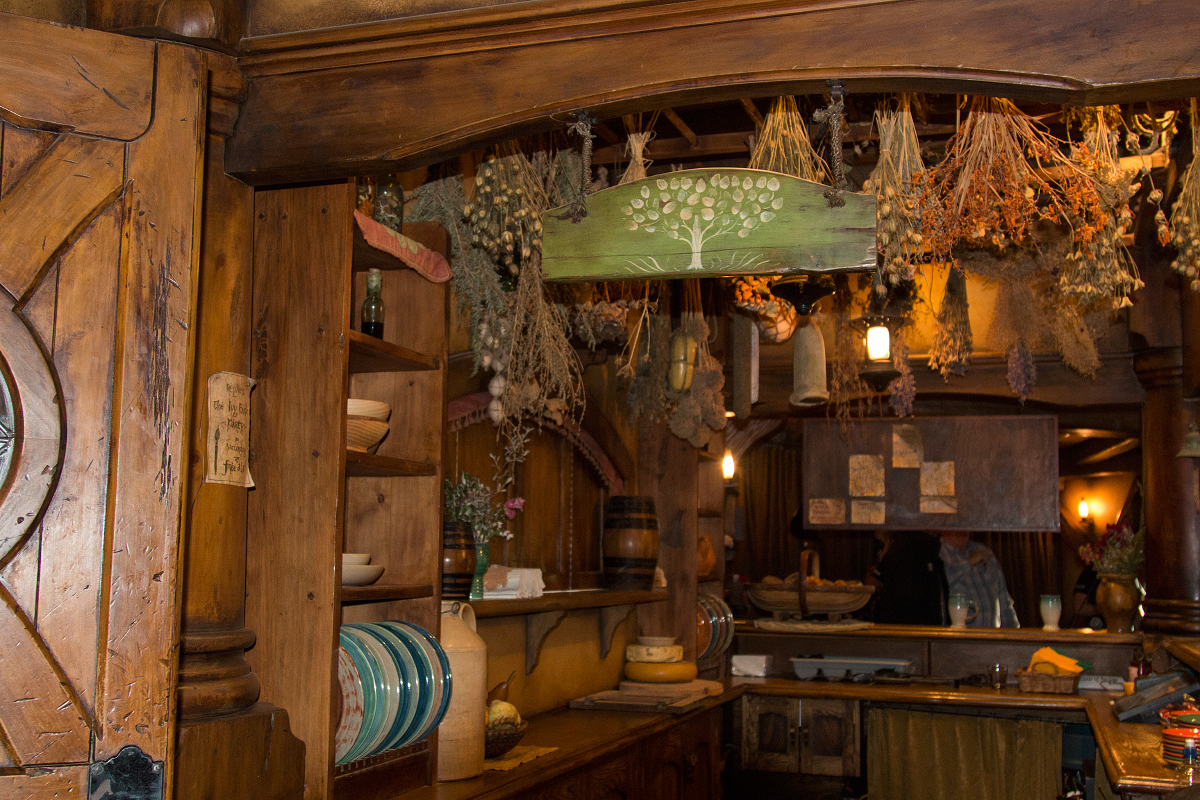 The bar
Back outside, we could mingle, eat, drink, and watch nightfall descend over Hobbiton. Archery targets were set up so fans could have a quick go – we live near an archery park and Adam is quite proficient with a compound bow, so I believe he actually got the highest score that night! 😛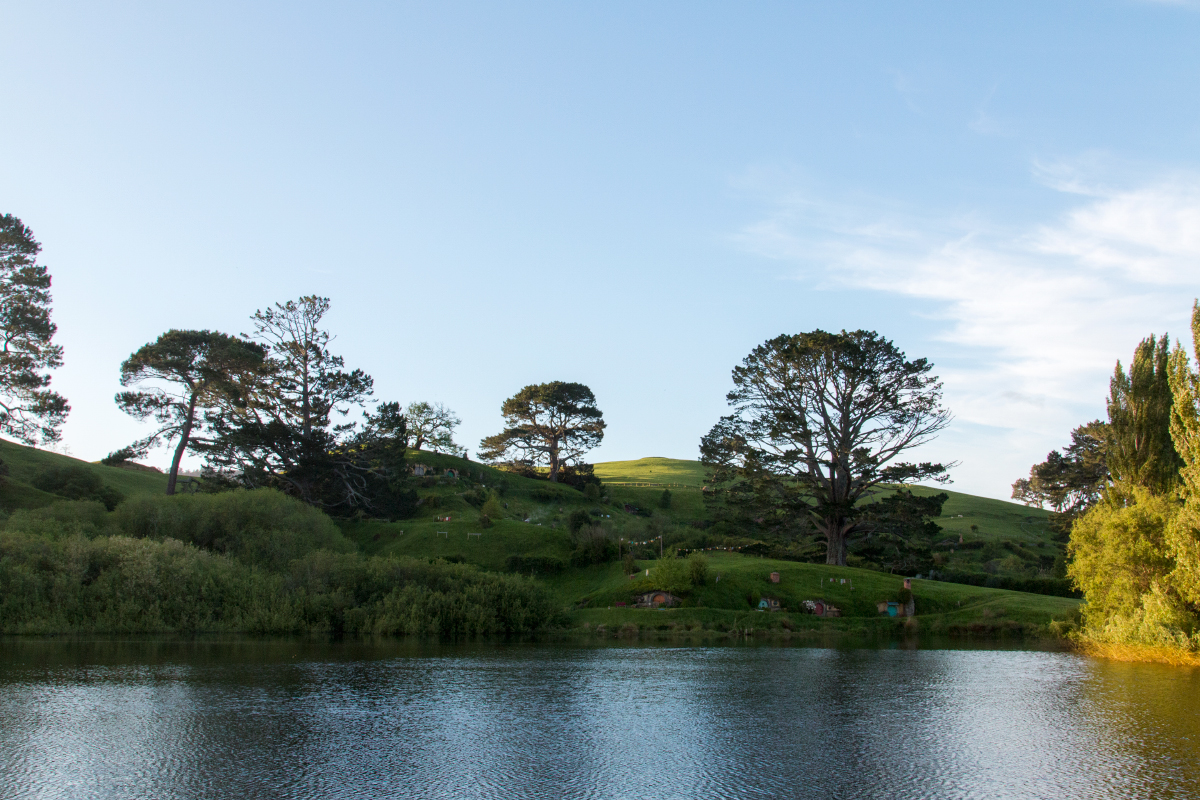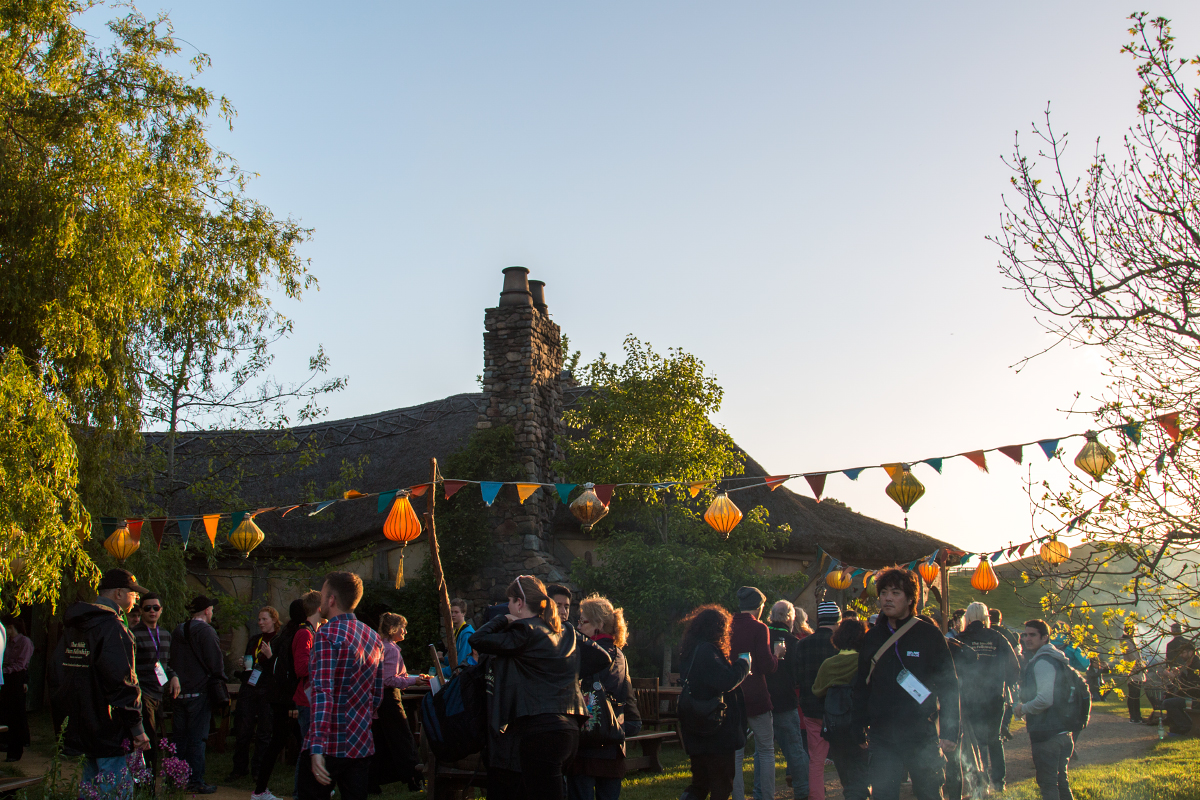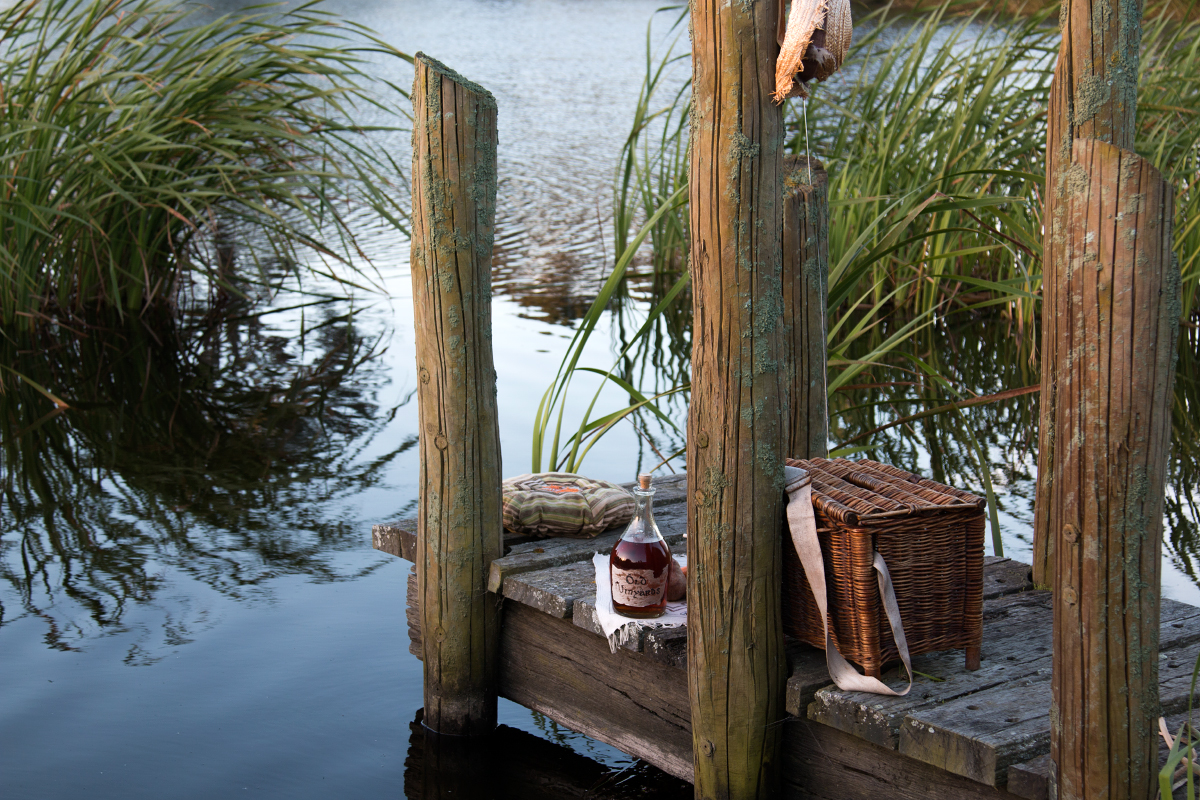 A hobbit fisher's gear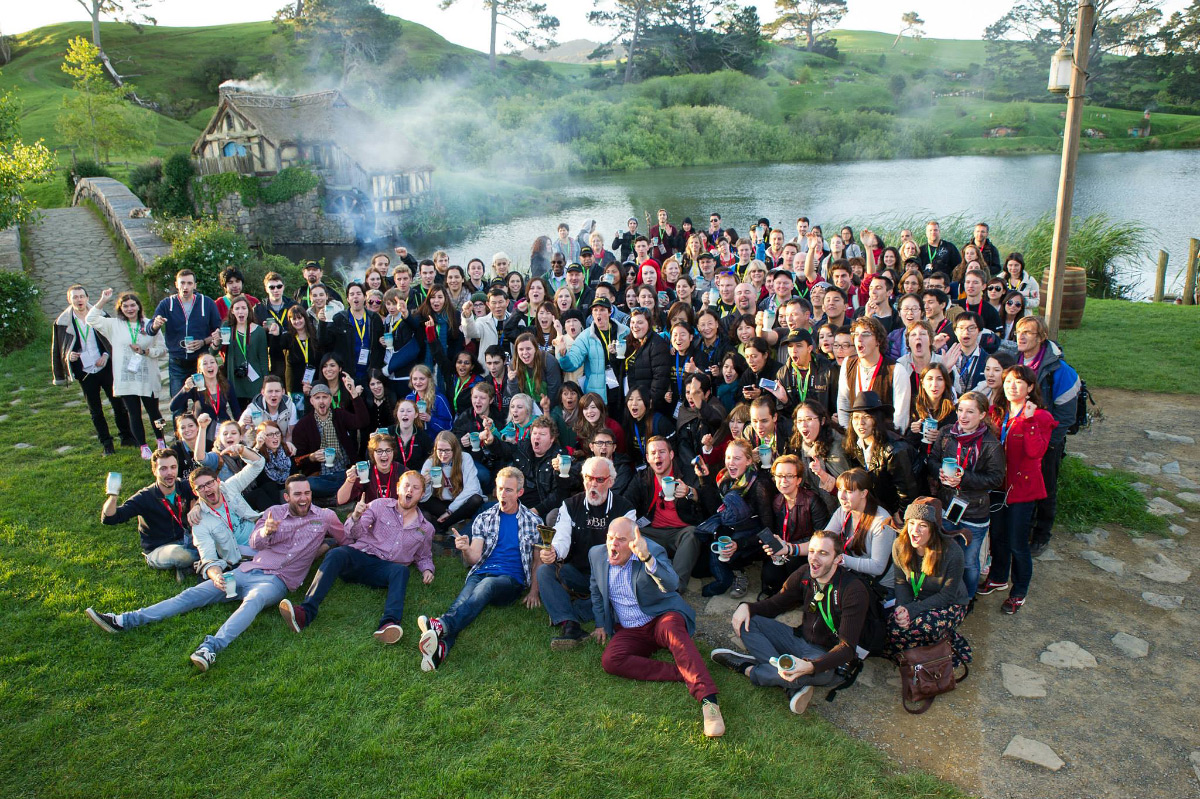 Group photo: "Nori is a DICK!" (I'm toward the center-left on the ground)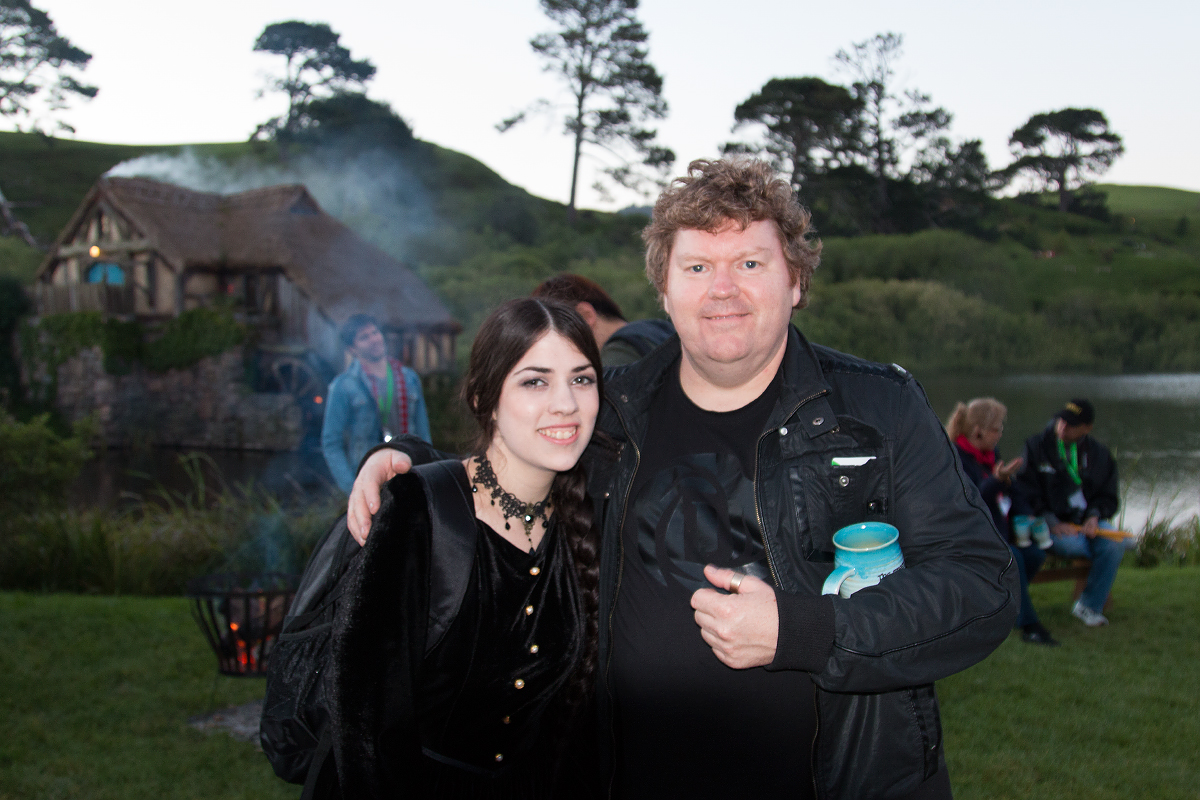 Stephen Hunter (Bombur)
L: Oak leaf from Bag End and autographs from Nori & Bombur | R: Me with Eriko, a Japanese winner
Jed Brophy (Nori, Sharku, Snaga, Black Rider, Elf, Rohirrim, everything!)
The actors were getting a little swamped so I didn't feel like approaching the other two for photos and autographs – they were all very gracious anyway, so I probably should have just horned in like everyone else!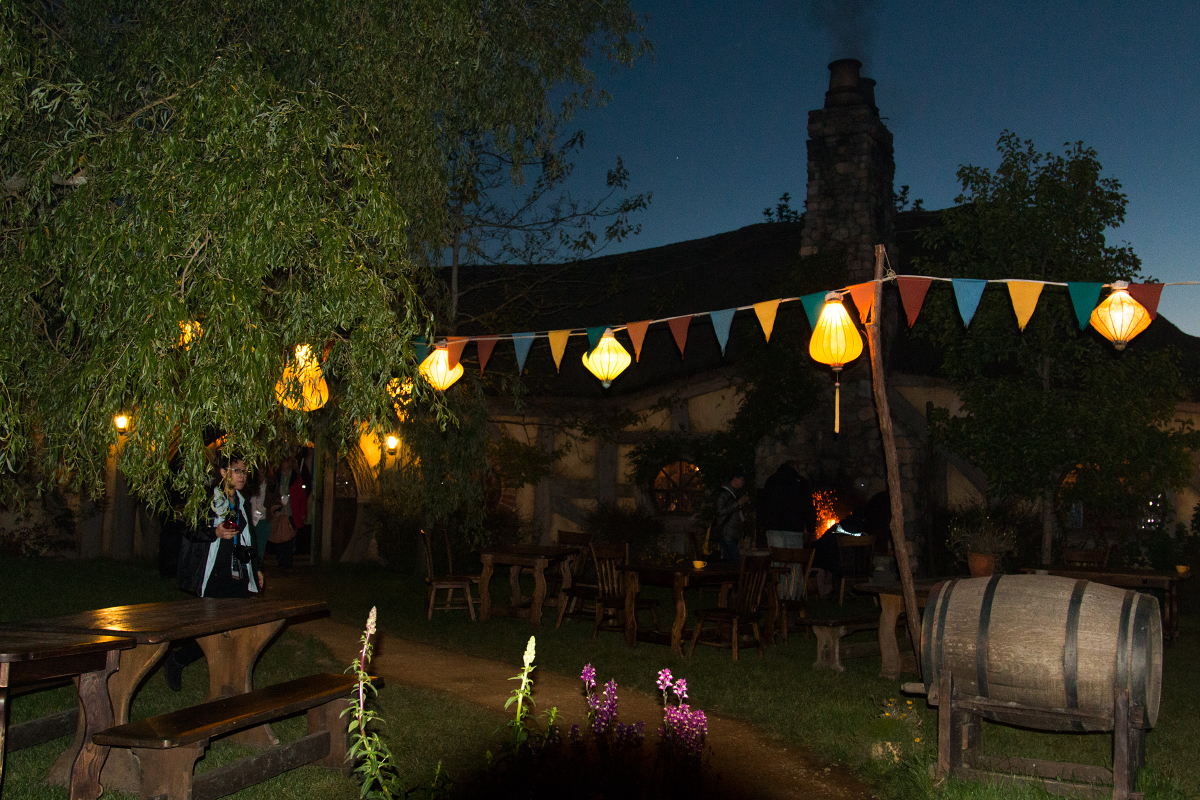 As darkness set in we were all ushered into a gorgeous marquee. It was announced that we were to be the first group to see the final trailer for Battle of the Five Armies! This was three days before it was released officially to the rest of the world, so we were told very firmly to put all recording devices away, and had of course signed waivers and important documents before the trip – so we could only discuss it with each other! We were then shown the trailer three times in a row – quite enough to get lots of excitement and chatter brewing for the film itself with its previews of were-worms, trolls, and the White Council.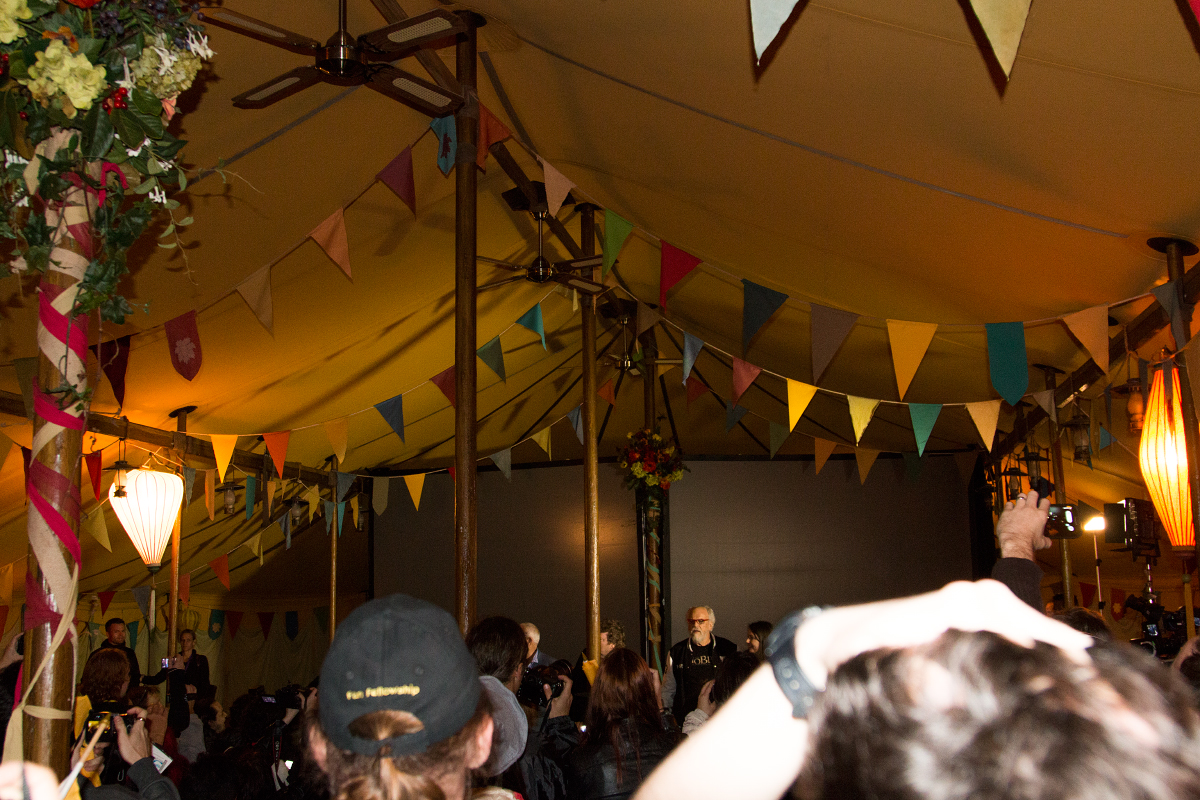 The Dwarves got up on stage after this to wish some of the fans a Happy Birthday, and then they sung us Misty Mountains, which was very well received! I pressed the wrong button while recording it however, but the evidence is on another hundred or so of the fan's cameras. 😛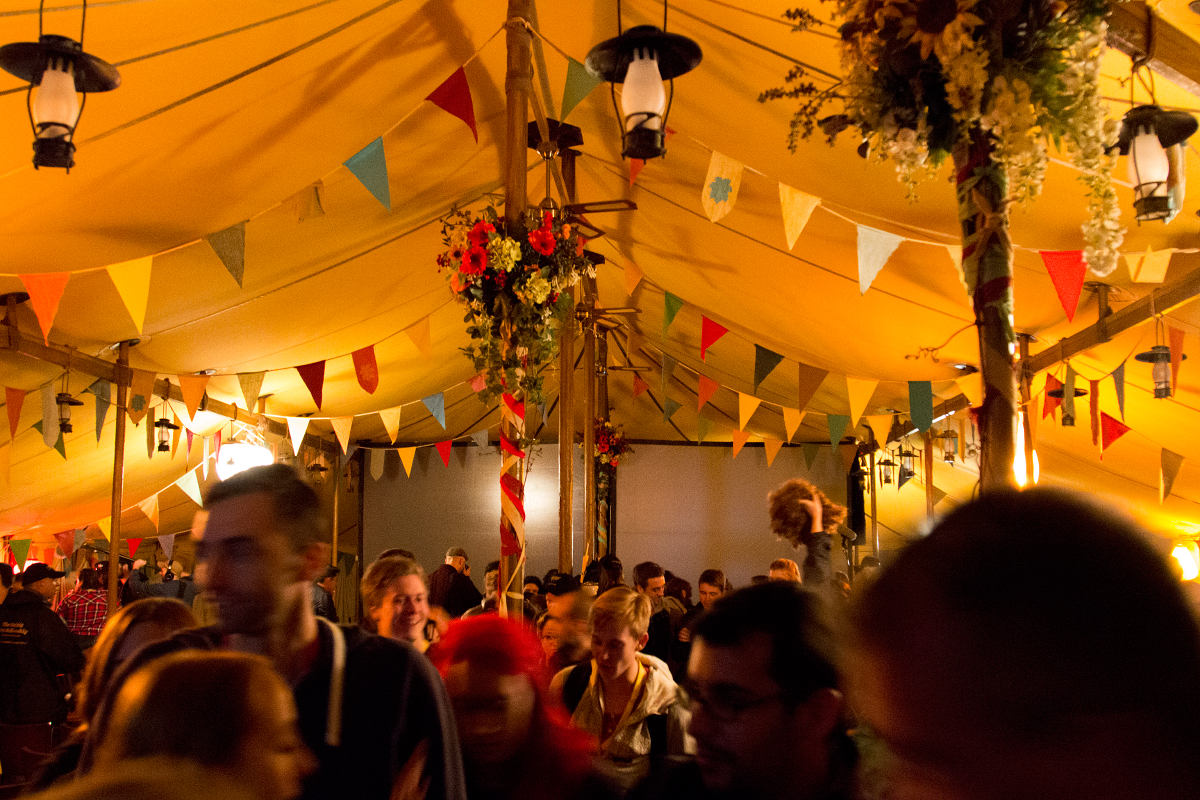 We left the marquee and were soon greeted with another awesome surprise: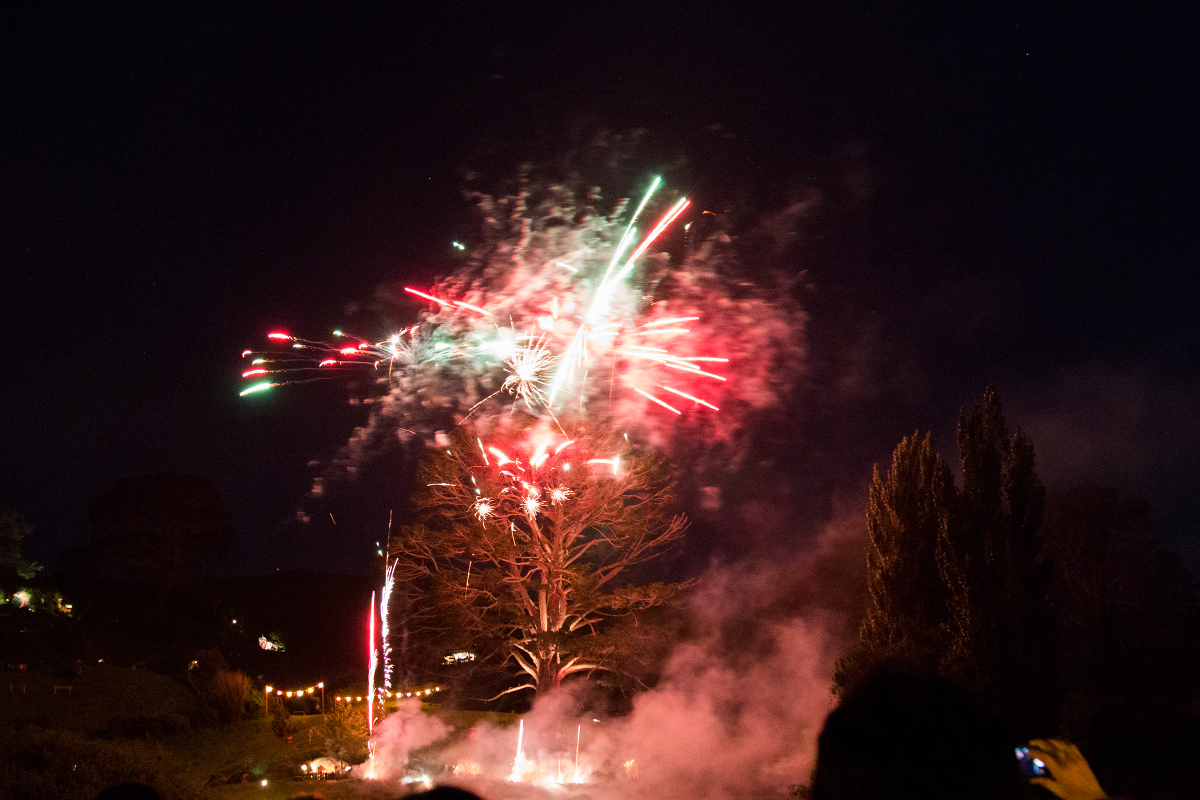 Fireworks over the Party Tree!!!!!!!!!!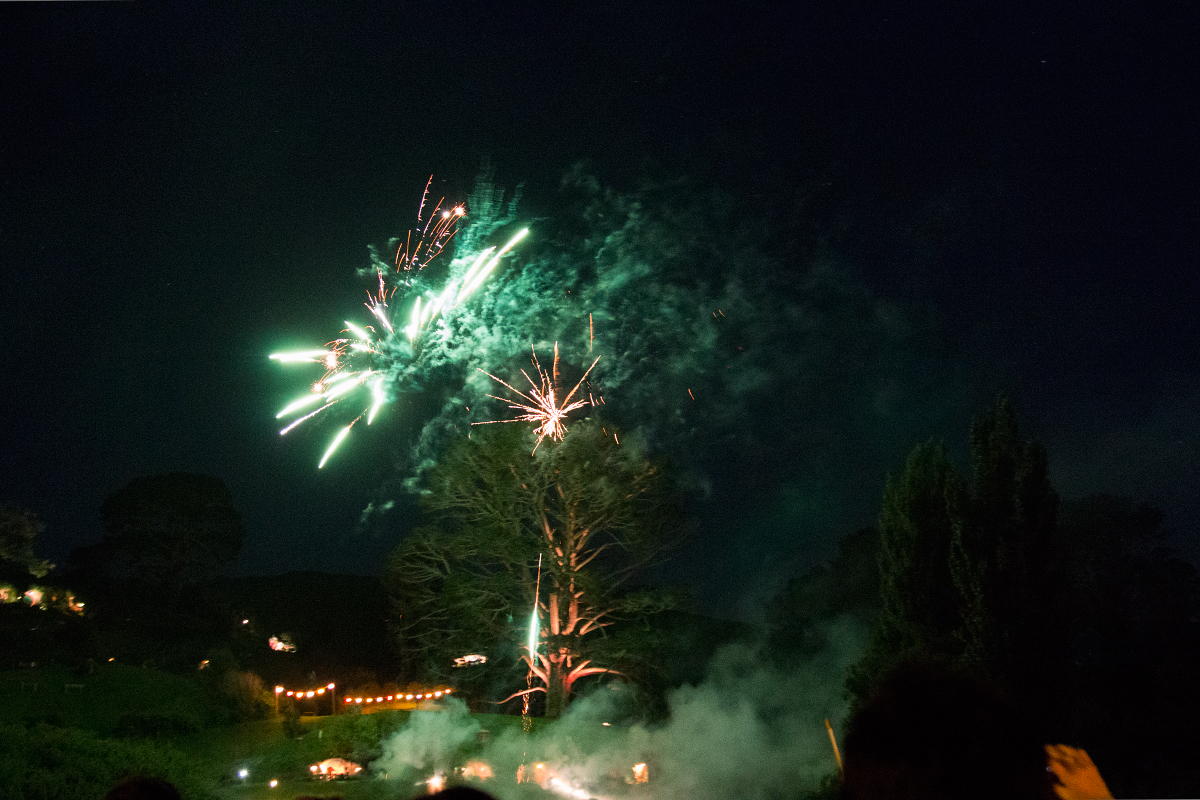 It wasn't a long show (no dragons, I'm afraid), but I jumped up and down cheering like a little hobbit anyway.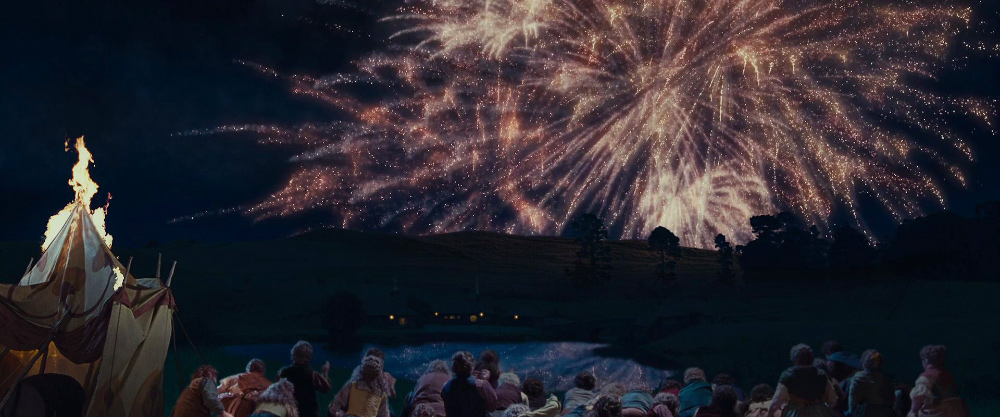 Movie screenshot comparison
Our time at Hobbiton culminated in a night-tour of the set. This was lovely because it felt so authentic!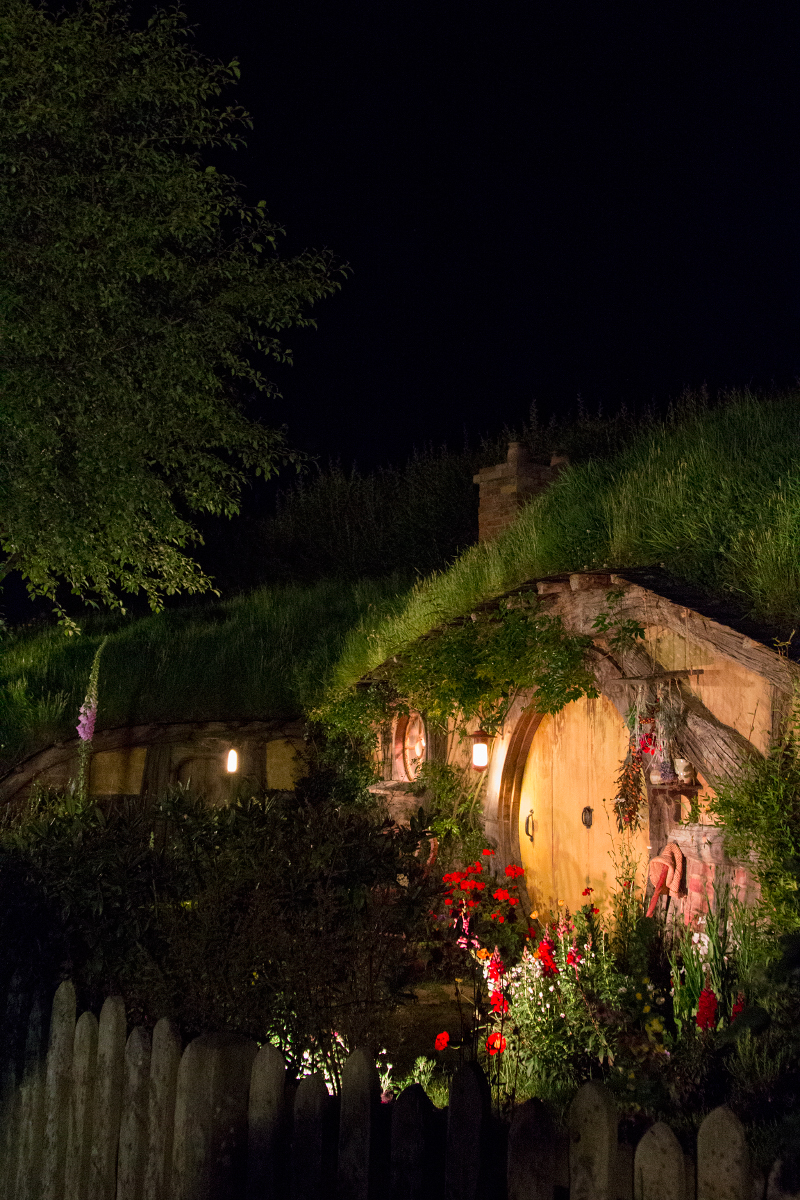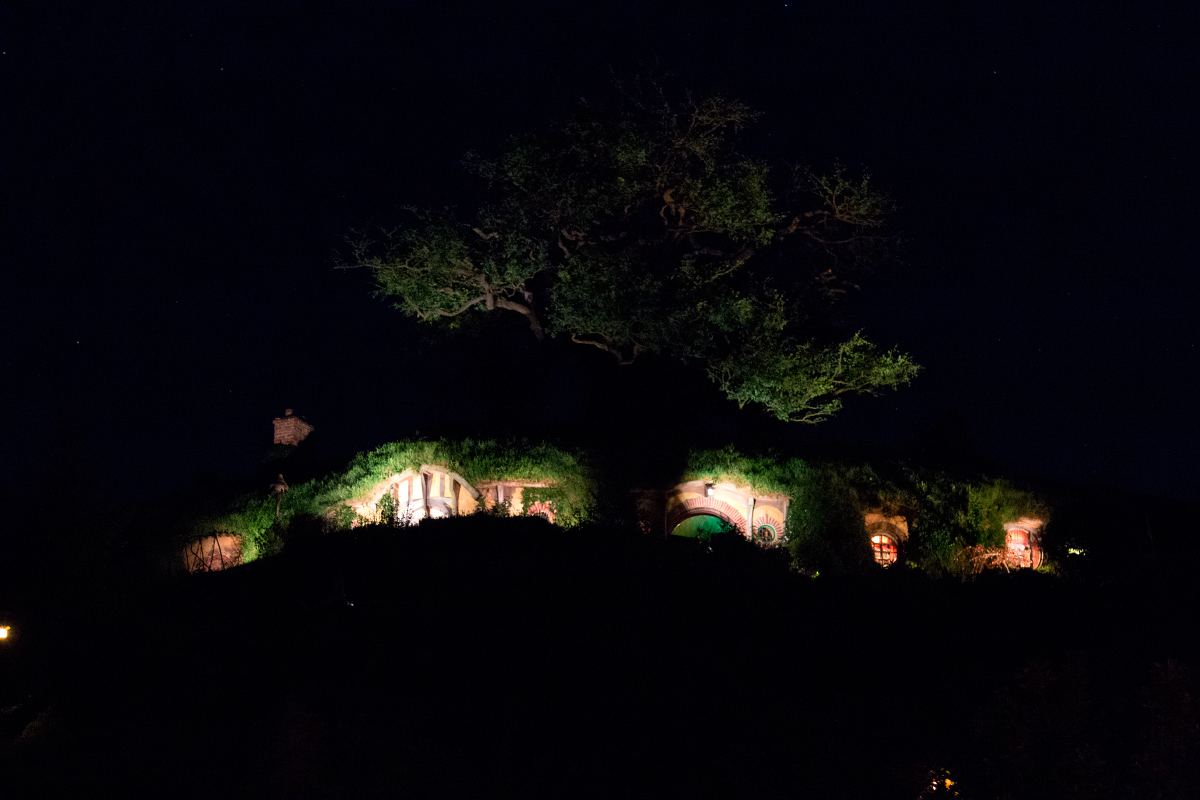 Bag End lit up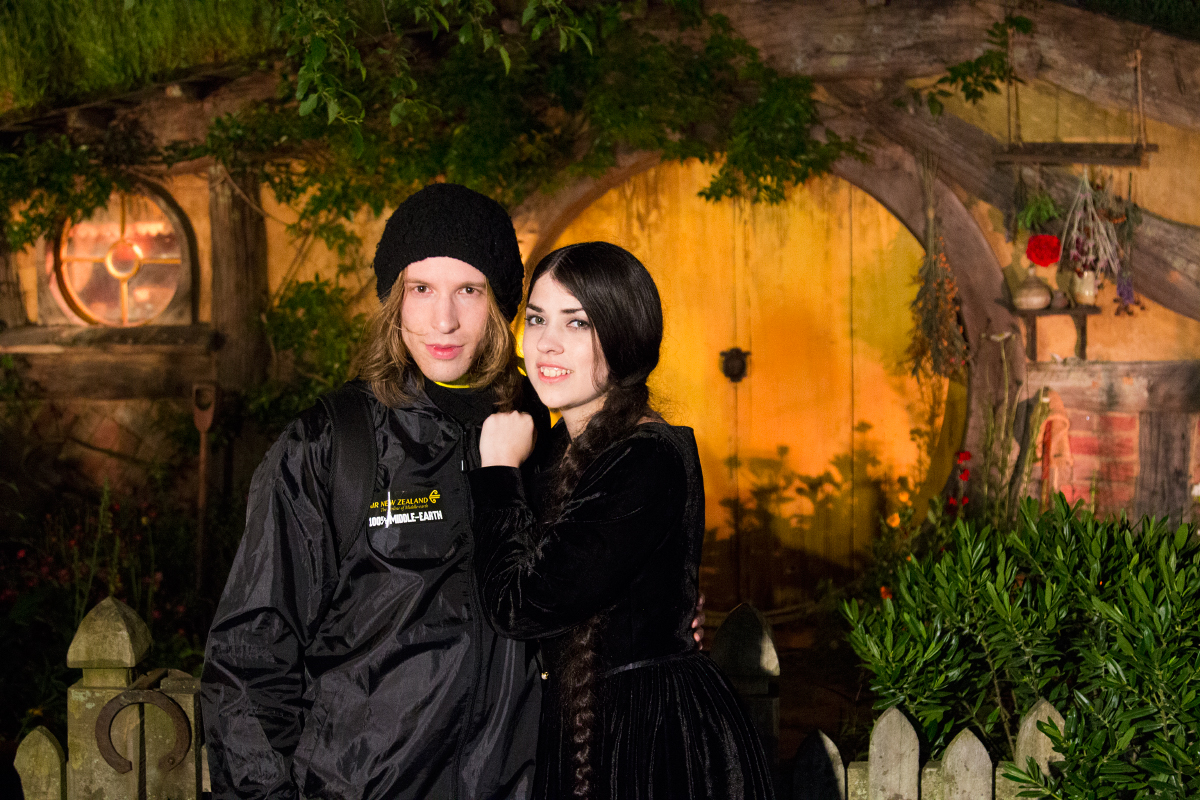 There we have it! I'm pleased to be able to document and share one of the best days I've had in my life – the tour was every bit as amazing as it could possibly have been! But the next chapter features another of the best days I've ever experienced, and a vastly different place!
Here's the Real Middle-earth Hobbit Fan Contest video diary to recap the day: