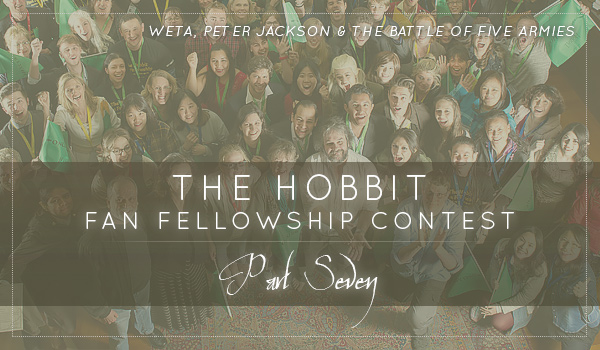 I hope you've enjoyed my story so far, because this is the final installment (part seven) in my Hobbit Fan Contest series, where I document spending a week in New Zealand as part of an epic adventure with some of the world's biggest Hobbit fans! 150 of us (75 winners and their chosen guests) enjoyed an all-expenses-paid VIP experience across the country, where we visited filming locations, local attractions, and were the first audience in the world to see a rough cut of the final Hobbit film with the director himself. I can't put into enough words how much it meant to be able to have this dream come true. Instead of placing it at the bottom of the post, I'd like extend the biggest thank-you EVER to Air New Zealand, 100% Pure New Zealand/Tourism New Zealand and Warner Bros. There are too many individuals and businesses to mention personally (see below for our Fellowship's thank-you video!), but we were treated wonderfully and enjoyed every part of the trip.
Wellington & Weta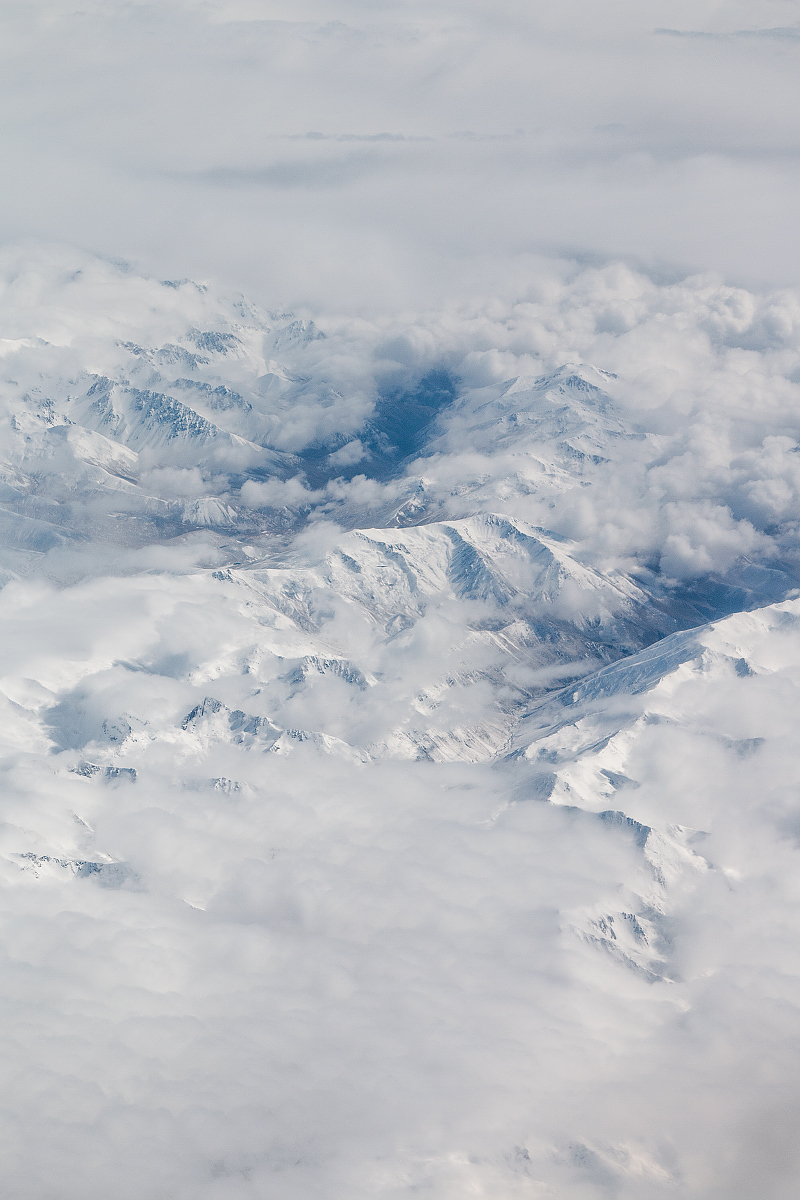 We departed Queenstown early in the morning. I'm not an avid flier (not because of fear, but because of the discomfort/pressure and inevitable motion sickness) but the views on this flight was one of my favourite memories from the trip. In fact, the beauty of so many of these locations impressed upon me and reinforced the importance of looking after our planet… As privileged as it makes me sound for having the choice, more than ever now I just want to simplify things, reduce waste (I'm a stickler for recycling, composting, donating and re-using – what's your excuse? 😛 ), and resist the grip of capitalism and consumerism. I guess there's nothing like travel for opening your eyes to humans' impact on the planet, and what we can live without!
Imagine being able to explore down there!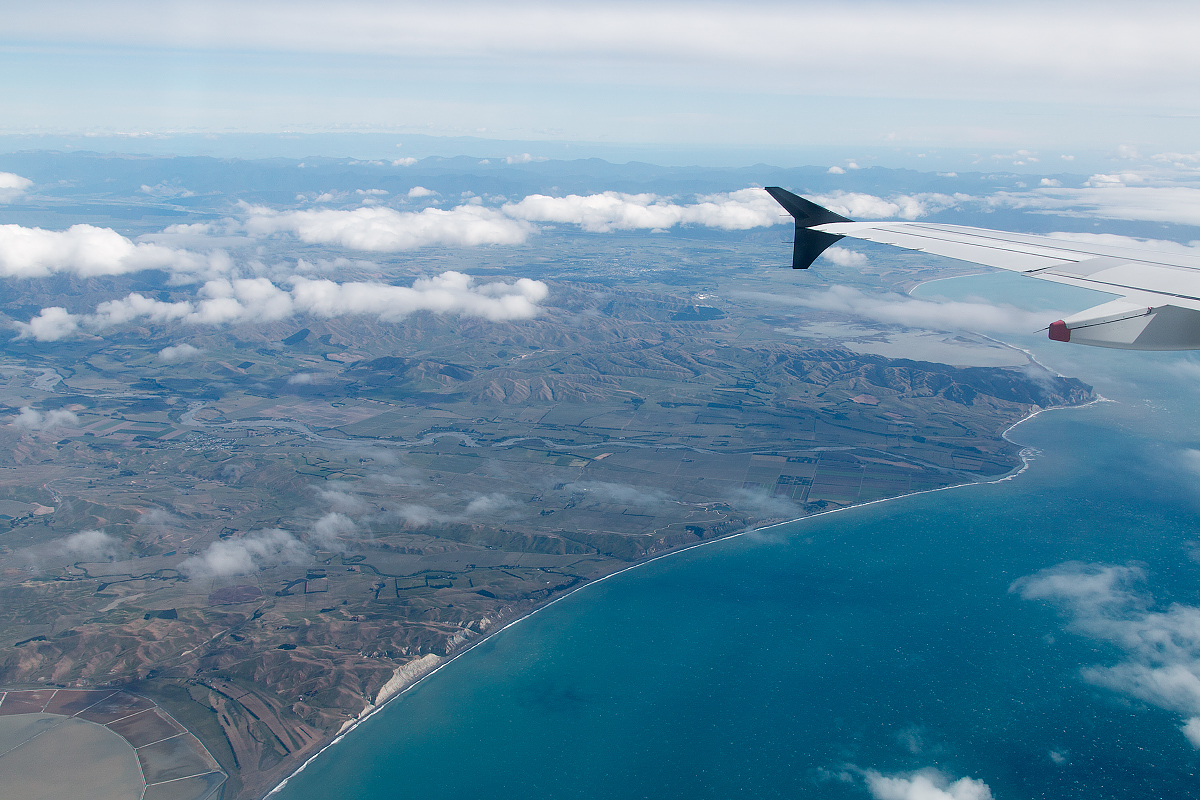 Above – the north coast of the South Island
After a buffeting descent I was very glad to have my feet back on the ground! Our luggage would be collected for us (but more on THAT later…), so we headed straight into the area of Wellington Airport that has the Eagles display.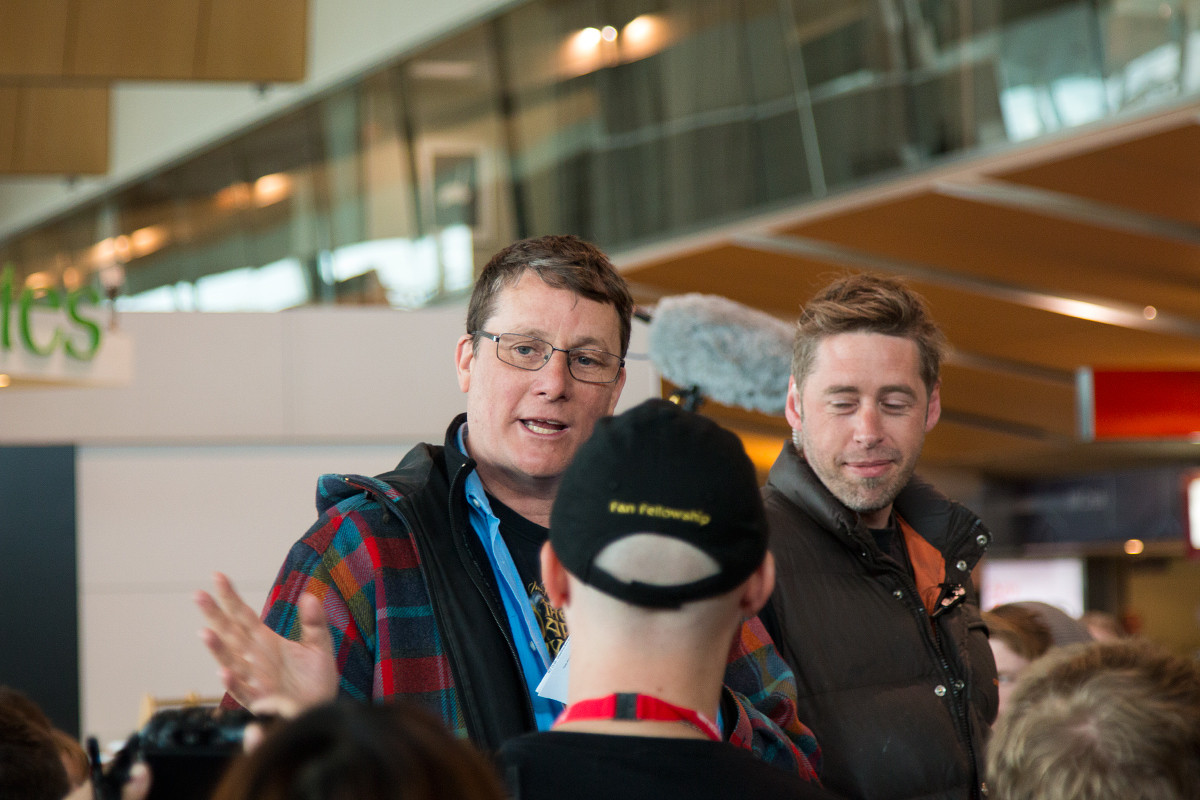 For a surprise, we were welcomed there by Richard Taylor (how exciting!), founder and head of Weta Workshop. He announced that we would get to be the "audience" for the unveiling of Wellington Airport's final sculpture.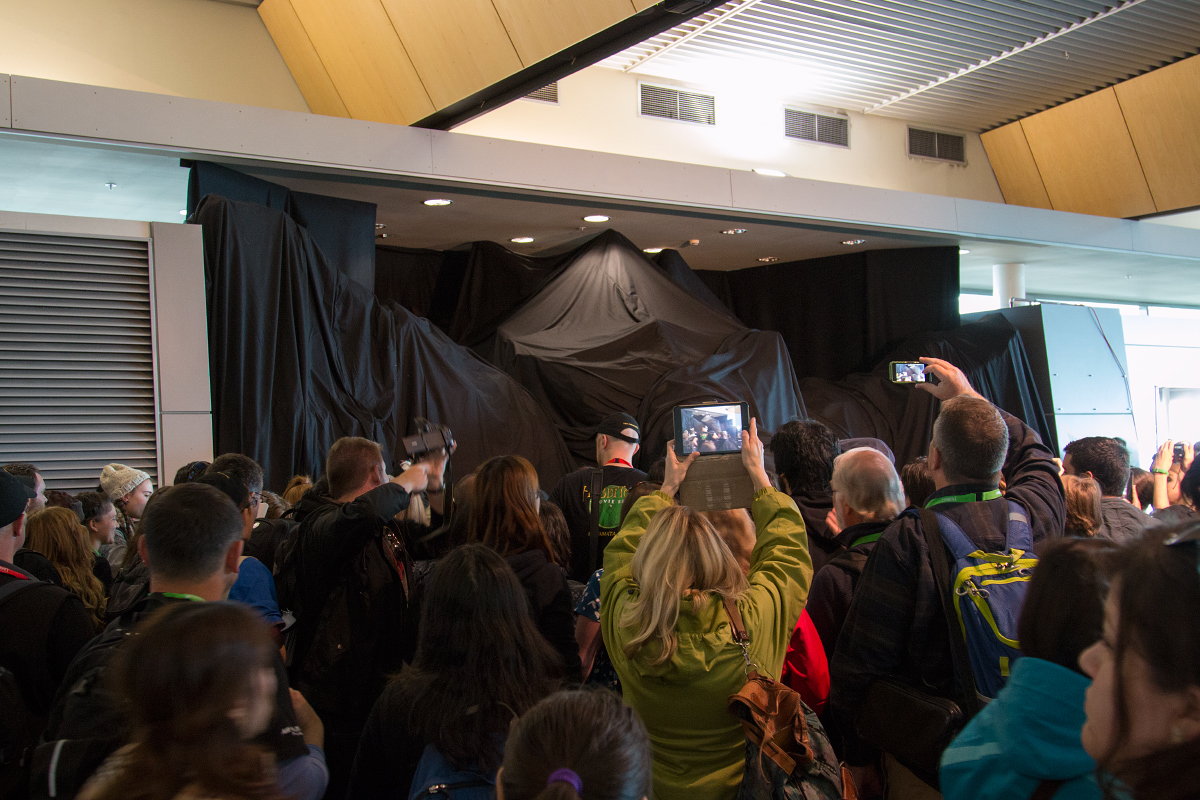 It wasn't hard to guess what the sculpture might be! 😛 The youngest member of our Fellowship, a son of one of the Australian winners, was given the task of pulling off the "shroud of Smaug"…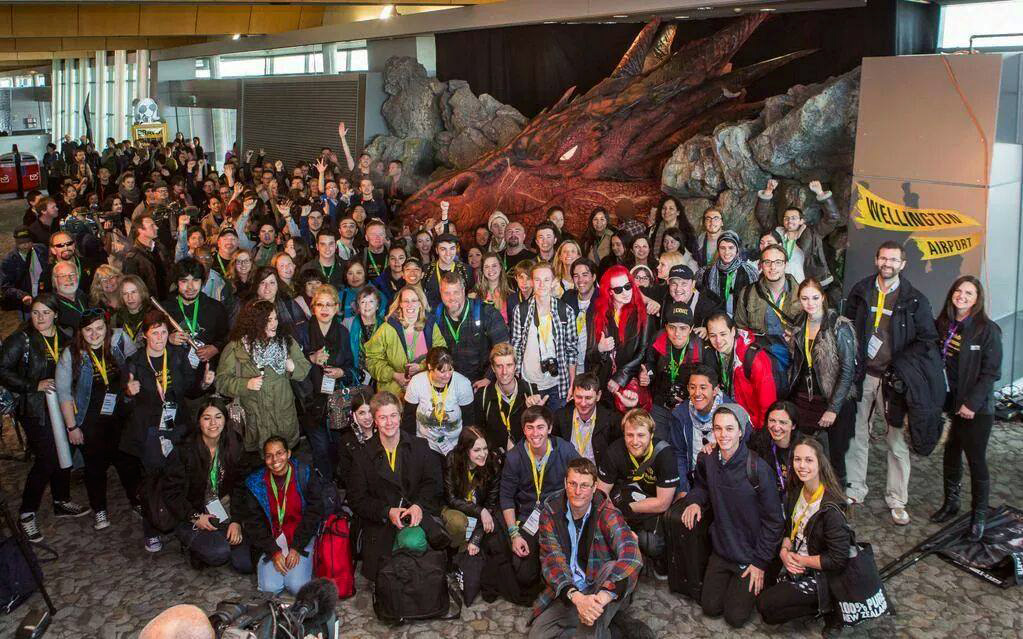 Our Fellowship on its exciting final day. The 75%-scale fire dragon's eyes also open and close! There were heaps of media people covering this, so I'm sort of hiding on the floor near the front because I looked quite a mess!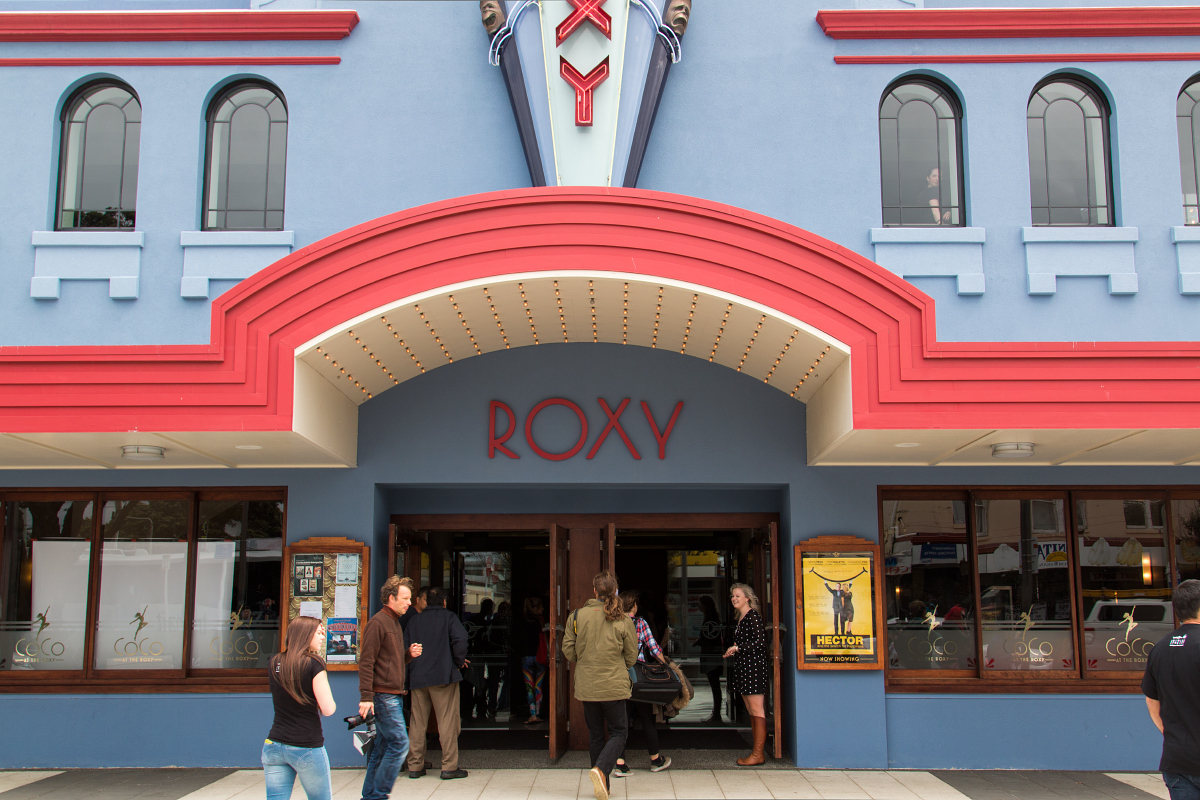 The next stop was the Roxy cinema in Miramar, for presentations by Matt Aitken (Weta Digital effects supervisor) and Daniel Falconer (designer and concept artist).
Inside we were met again by Richard Taylor, his partner Tania Rodger, and Jamie Selkirk (editor/producer).
No photos or recording were permitted in the auditorium, but basically we were seated in chairs that were so large and comfortable I had to try not to fall asleep! The presentations were too interesting to do that anyway: we were given some rare insight into the digital effects process by seeing how a scene like the eagles' rescue (Out of the Frying Pan and Into the Fire) was created, from all different angles and with all the layers being added. Daniel Falconer showed us a selection of images/concepts and photos, and enjoyed having an audience he could "geek out" to, diving into First Age Middle-earth history references, which often informed the design process of armour, weapons, architecture, and costumes.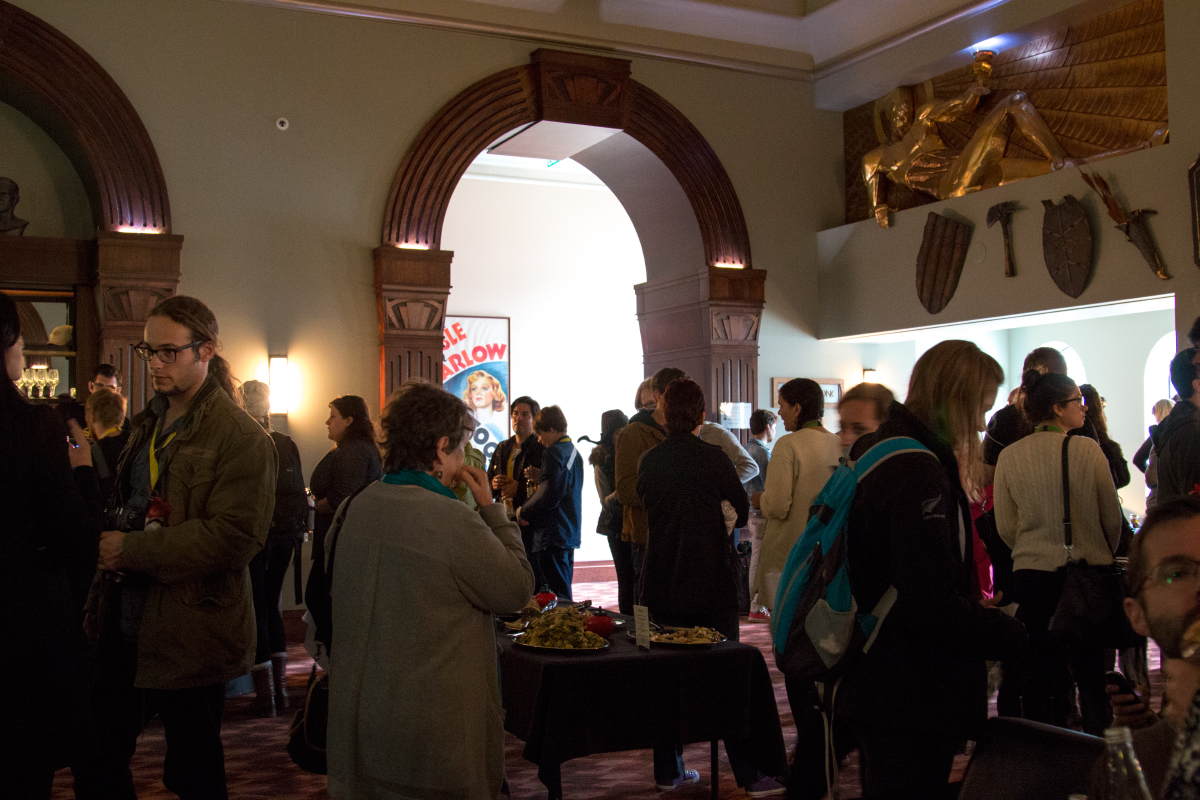 Lunch in the foyer.
On the way out Tania gave each of us an authentic film cell clipping from one of their film reels. 😀 The pieces we got had scenes of Frodo hiding, and of Legolas shooting an orc on Amon Hen. It was quite a tightly packed day, so we were ushered along to the next destination, the Weta Warehouse.
They had a small gift area here but there wasn't much time to browse long – I resisted buying anyway, because I didn't have much luggage space and can always make an order from their website. Anyway, they'd brought out props for us to view as we went through, many of which had never come out of storage before. Photos weren't allowed past the foyer of the warehouse, so I'll describe what we experienced.
We were divided into small groups and circulated for little activities/question opportunties with folk from Weta. We had no more than about 10 minutes at each activity, but enjoyed handling some of Peter Lyon's (swordsmith) swords, making chainmail using the film's technique (where we each got to keep a bit of normal and Dwarven mail), blood-making (a vial of orc blood and "normal" each to keep!), and watching Gino Acevedo apply prosthetic ears on a few lucky folk.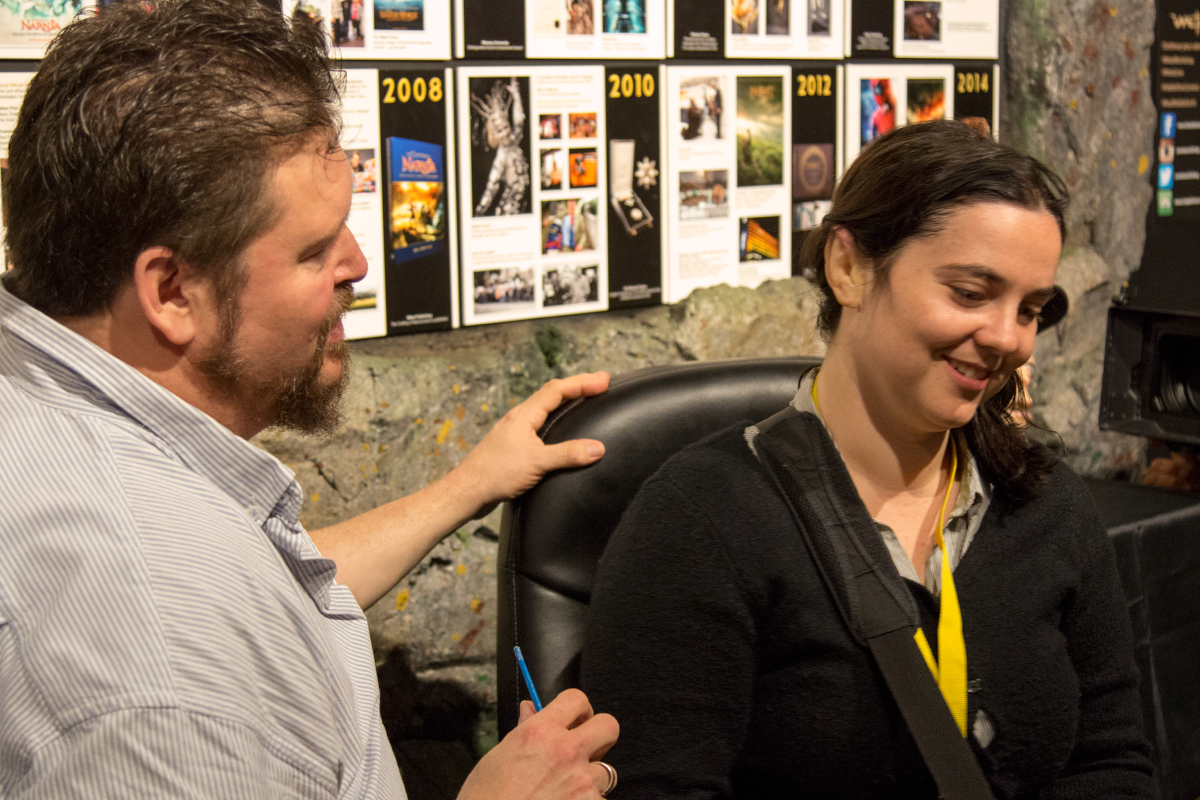 Bulgarian winner with her new "Sam ears"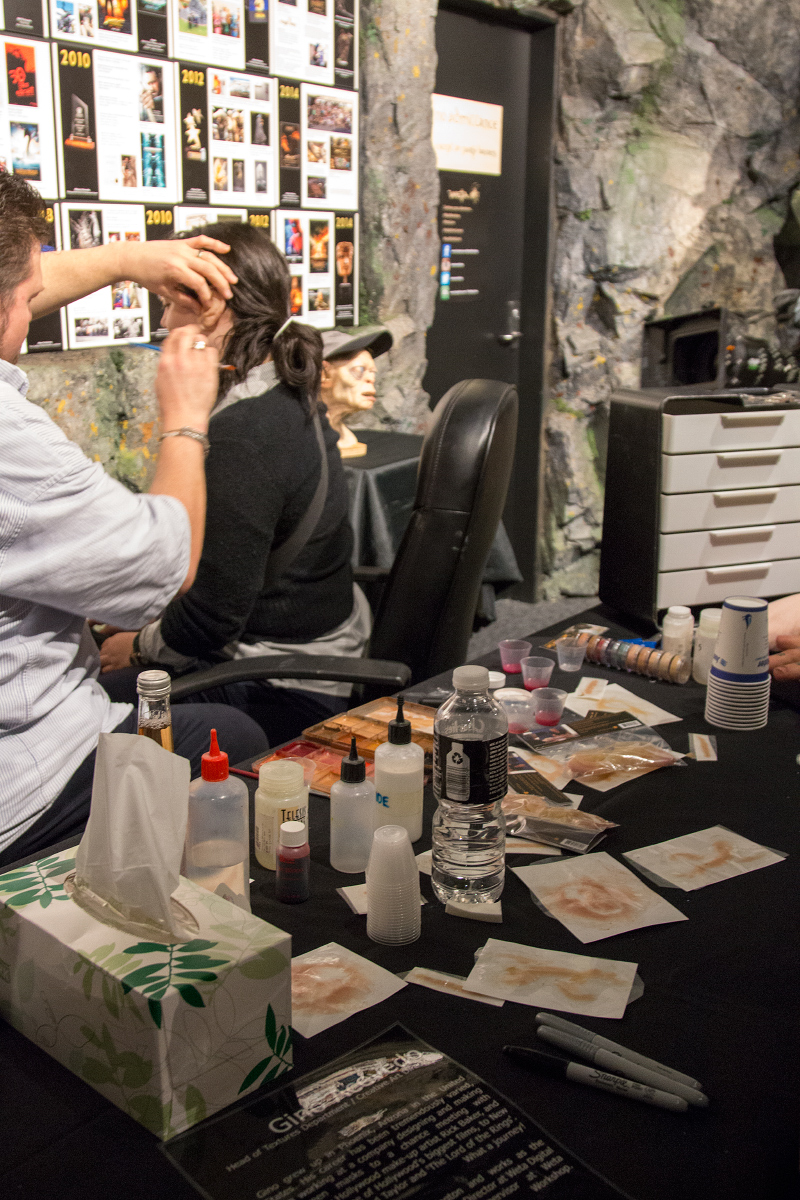 Special effects makeup – instant blemishes and wounds ready to be applied.
It would've been great to spend more time looking at the props in there!
Now to the Weta Cave!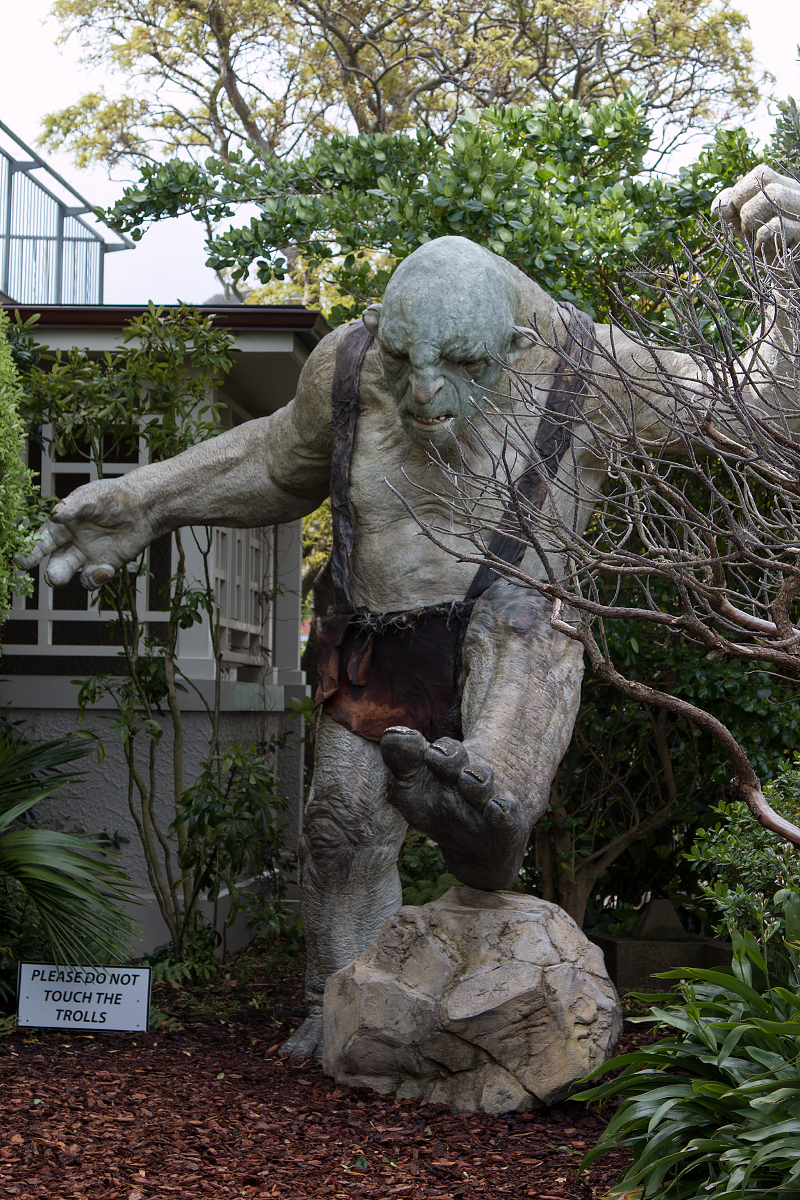 Tom, Bert and William frozen outside the entrance.
The Cave is free to tour (no photos except in the shop, though) and you can view a heap of original props made for films that Weta has worked on. Someone also spied an Elder Scroll hanging on the wall which had been made just for fun! Too cool!
Park Road Post
Not long later it was time to get back on the buses and make a quick stop at our hotel. Traffic was slow and we became a bit anxious – we were only going to have about 15 minutes to freshen up and change, which wasn't quite welcome to the ears of the costumers in our number! Once there, as luck would have it, Adam's case was one of a few that had been misplaced during transit at some point. He was quite upset, not so much because he would have no opportunity to shave or get out of his daggy day clothes, but because his lovely costume, which we had designed together and had tailor-made for him, for this very purpose, my trip of a lifetime, was all packed safely away in his case. 🙁 Thankfully my own luggage was fine and I had actually carried around my own costume for the entire trip (sometimes unnecessarily :P) to keep it safe. So the plan was that Adam would investigate the missing luggage with the helpful trip staff (namely Emma), and I would just try to stay calm and get ready in at least half the practical time… The next blog post will detail our Elf costumes, but suffice it to say that they are quite precious to us! So I ironed my silk-satin carefully, hurriedly pulled my hair out of its rags, applied some latex ears, and got made up. NO bags or phones would be allowed at the final exciting event, but I still brought a tiny pouch with medication and stuff in it.
Adam returned some time later, after a mad taxi dash to another hotel to check there, looking crestfallen and stressed. We converged in the lobby and the team reassured us they'd keep trying, but we were a bit resigned by then and had no idea when he'd get reunited with it – perhaps it was still on the South Island? Everything had gone perfectly until then and we were treated so well, but it all got a bit much by then so I was sadly crying in my pathetic Elven glory, in turn making our wonderful team leaders upset too. 😛 But as we were boarding the bus, Emma was jumping into a taxi again to try the airport itself! Actually, the whole bus gave a cheer as I got on, which was awfully sweet – our new fan-friends had either been wised-up on the unfortunate situation, or liked my outfit! :O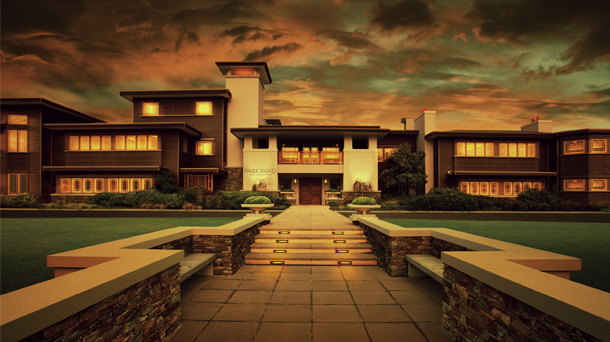 I still felt a bit nervy when we pulled up to Park Road Post, the post-production facility that Peter Jackson owns, and the venue of our exclusive movie screening. Security was tightest here, with strictly no bags, phones or recording devices allowed (beyond some of the media, I guess), and only the fans (no media or team/crew) had security passes to get into the theatre. We were being given a privilege that night by being the first audience to see the final film, well before anyone else would. We had signed documents about disclosure and there would be genuine consequences for anyone who couldn't respect that.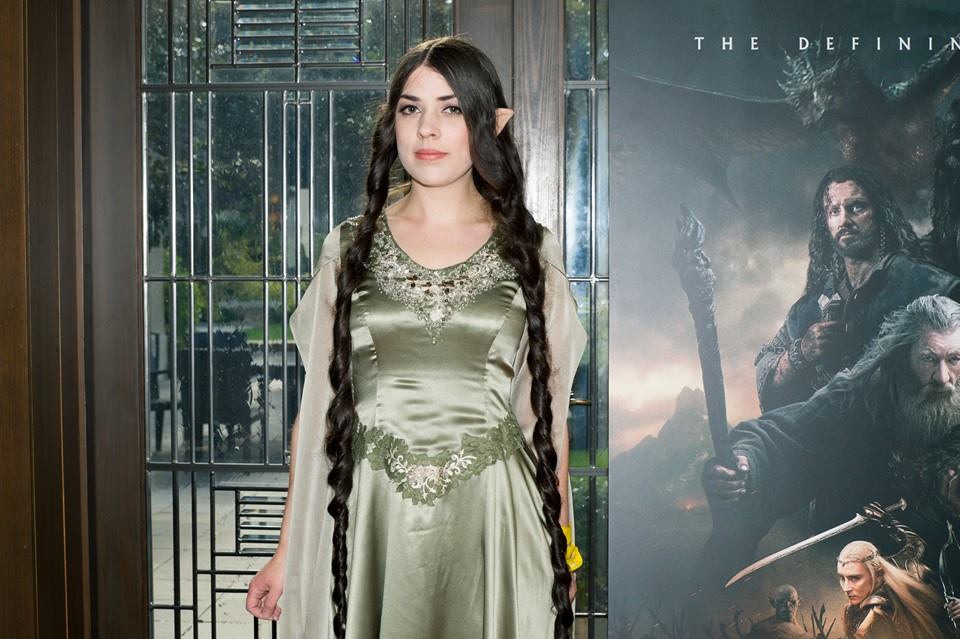 Me in the foyer at Park Road Post
Plates of canapés and as many drinks as we would like were served to our party as we milled about waiting and chatting. I guess about a dozen of us had dressed up, so we sought each other out to admire one another – let me just say that in such male-centric stories, women and girls all over the world have been doing us proud by costuming (or cosplaying) as male characters, or "genderbent" versions of them, which is so much more fun than if we just stick to the handful of named or featured ladies! The inspiration for our own costumes however, was simply how we would like to dress if we were Elves in that universe. 🙂
Not long into the party I got quite a surprise though, as Adam suddenly appeared beside me, sporting his new Elven coat, wig and all! In the few minutes I had spent away from him, Emma, who had found his luggage at the airport, had managed to get his attention from afar and there was just enough time to change in a bathroom. Three other people were in the same position, hurriedly pulling on things and then re-joining the party. Well, that concluded that little episode. We were both much happier from then, and could carry on as planned!
The Final Chapter

Once instructed, we filed into the theatre. As usual, we always seem to get shafted to the end of every queue, but still managed to find a seat I could just see from (I'm short so avoid railings and barriers especially…). Everyone was scanned with metal detectors as we went through, too. The theatre was really cool, but I can't find images whatsoever of it. The whole facility is styled in an art deco fashion, but the decoration in the theatre was particularly gorgeous, as well as the ceiling of it being like the night-sky, sort of Harry Potter style!
Once seated, Peter Jackson came out, along with Jed Brophy who would be "hosting", and naturally there was a massive response. 😀 Peter wasn't exactly sleeping in the month or two leading up to release, so he warned the "winners" of his adjacent seats that they might need to wake him up every now and then… Jed led a question-time, Peter apologised for how unfinished the film was likely to look, and then we began the screening. Of course I couldn't talk about it to anyone for a while, but that time is long passed – I enjoyed it and found many of the sequences exciting, visually amazing, and the atmosphere that night was great. However, while not a staunch purist, I am also not so loyal as to only have praise for it. We are desperately holding out for serious pacing and editing shortcomings to be addressed by the extended release now. As for the early screening, we will perhaps be the only audience to ever have seen it in that stage of production, because a good portion of it still hadn't been rendered, so just the framework for many digital elements was present in many scenes. In some cases only the words "[orcs ????xxxxx]" would appear on a texture-less sort of mesh, and this was quite entertaining. At Beorn's entrance to the Battle, for instance, the static shape of a man was dropped by the Eagles and partway down changed (just changed, no morphing) into an equally-static bear mesh. 😛 It gave us some pretty good insight as to how much was computer-generated anyway, which is to say… a lot.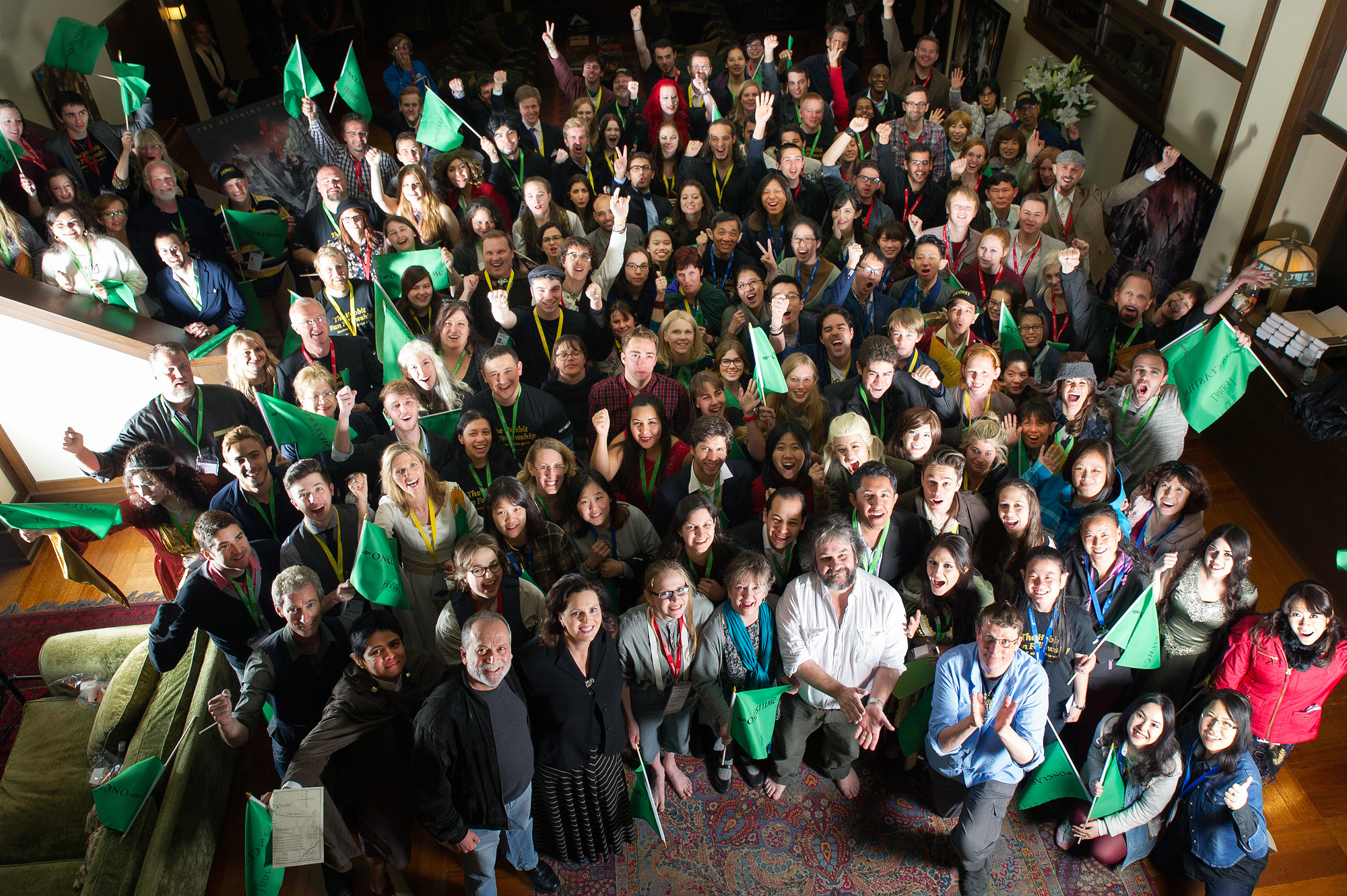 After the film we got to have a cool group photo taken (I'm on the right near the front), and then were given another Q&A session, this time joined by Philippa Boyens (screenwriter/producer), Richard Taylor, and Joe Letteri (senior VFX artist). I wasn't particularly compelled by most of the questions (and didn't have any myself) but it was the end of an exhausting week… The signing began after this, and we were delighted to all get the opportunity to say hi to Peter personally! Since my seat this time was close to the front, my row was seen to fairly quickly. There were many people to get through though, so I didn't ask any questions, linger awkwardly, or employ any generally embarrassing fangirl behaviour (that I know of…).
I got Peter to sign my Elvish name in my trip diary (it seemed appropriate), a cute Moleskine I wrote in and filled with polaroids. The fans also presented him with a big thank-you card with screencaps from all our videos on it and messages inside from everyone. Not too long later a number of us were able to take advantage of a coach that would leave earlier, which we gratefully jumped on, but I heard that Peter was still signing for several hours to get through everyone, by which time I think we were asleep!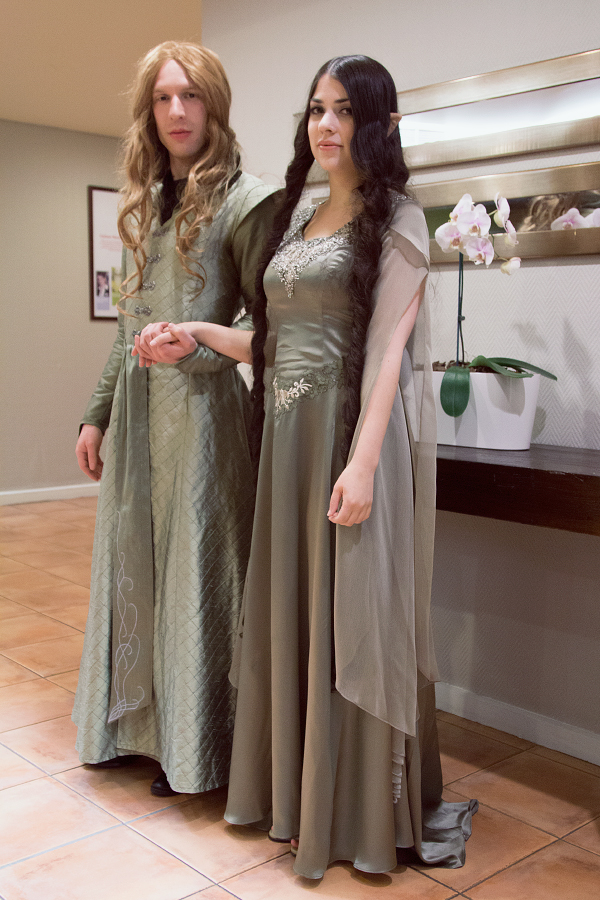 Back at the hotel ~ Adam's quilted silk robe with Nordic pewter buckles and embroidered belt, and my silk and chiffon gown with lace and glass bead embellishments.
Happy with Emma, who rescued Adam's stuff!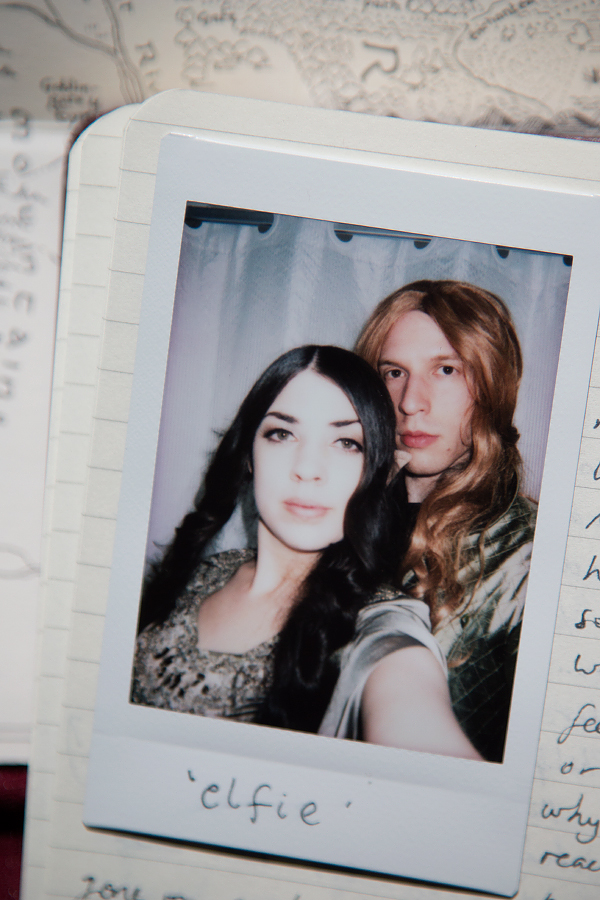 Late-night bathroom '[s]elfie'
The next morning, after a much less comfortable night, I woke to find we had an hour less than anticipated to get ready. Argh. We hurriedly packed up everything and I think I had time for just a few bites of breakfast!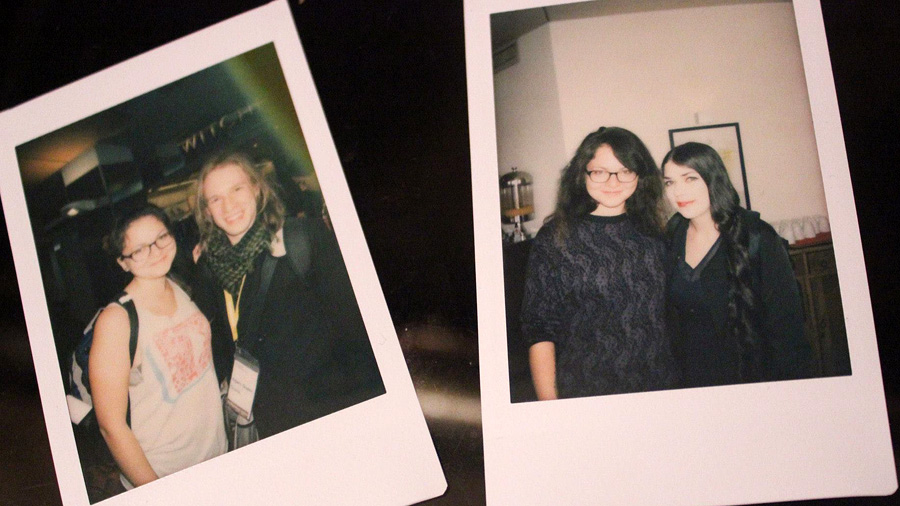 Saying goodbye to the Canadian winner's guest, Kattie. And in related news, we will probably see the Canadian winner herself again this week on her trip to Australia!
Team Wizard leading a verse of "Far Over the Misty Mountains" and parting at the airport, before our connecting flight to Auckland.

The giant Gollum display in Auckland, and saying goodbye to the Dutch winner, Elaine. Aren't they a gorgeous couple! *__* Elaine's blog posts all about the trip can be found here and they are well worth a look – she has incredible photos too.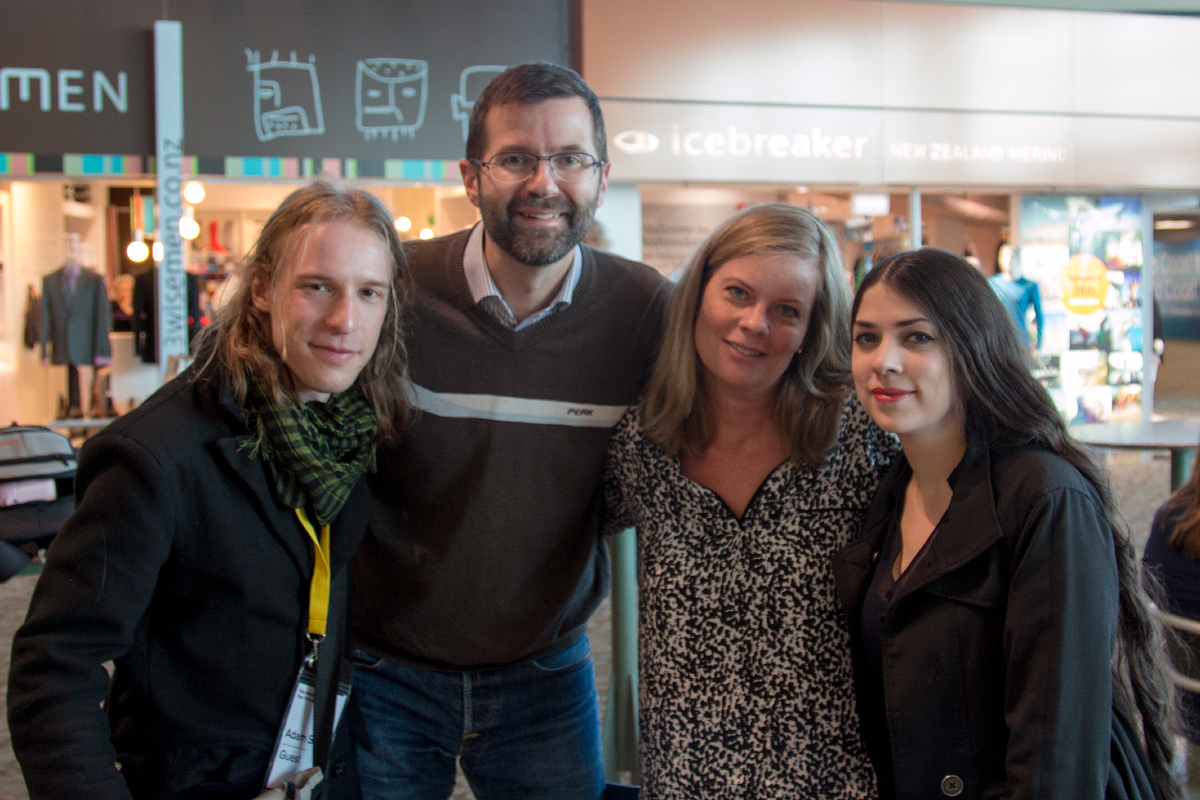 Finally, saying goodbye to our friend Maria, the Swedish winner, and her husband. We hope to see them in time on a future Scandinavian trip!
The good things about the return journey were that it was barely a 4-hour flight, much shorter than anyone but the Kiwis had to endure, I was looking forward to my own bed, and I enjoyed coming across Victoria (my state) in the daytime, where we were able to view a heap of familiar towns and landmarks from an angle I've never seen before. The annoying thing was that ten minutes out from landing I could see my own town from above, but this just meant there were still at least 3 hours before I'd actually see home, because we live 90km from the airport! It was a slight shock coming back too, because the weather was already over 30°C (ugh) and all the dry scrubby landscapes were not as welcome as the green, fresh ones we'd been spoilt with for days. The car ride was a bit of a blur in my state of emotional and physical exhaustion, but we still had time to gush a bit to Adam's cousin, who was our generous lift both ways, and had given us the spending money that allowed us to come home with a bit of loot. 🙂
I've reached the end of the story for now, so thanks for following our grand adventure, long as it took me to document – I'm beyond thrilled that I can now say I went There and Back Again. Here's the last part of the Real Middle-earth Hobbit Fan Contest video diaries:
Namárië!