For our local Nordic Festival, I wanted to create some appropriate costumes for Adam and I, inspired by Viking-age commoner garb.
With a traditional apron dress in mind as the basis for my simple outfit, I put together a sort of mood board of the fabric, accessories and trims I wanted to compile, which included: green and undyed linen, some sort of tablet-woven trim, brass turtle brooches, a leather belt, and perhaps some jewellery: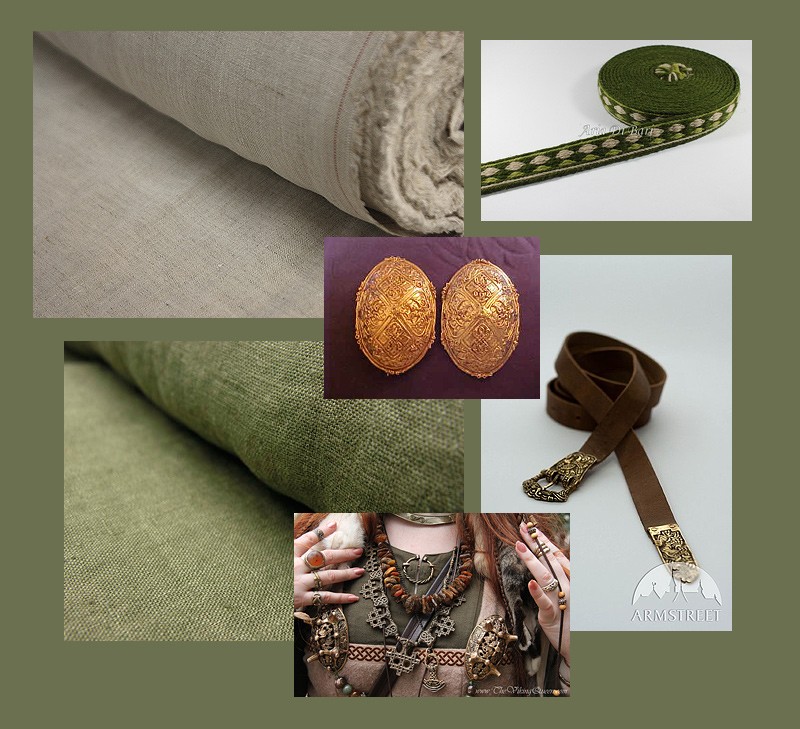 I ended up purchasing natural and khaki-coloured linen from Spotlight (Australia's main craft retailer), as well as brown linen for Adam, the brooches, and a belt from a different local supplier so it would arrive in time. I also found a penannular brooch, but it was far too thick and rough to put through the fragile linen! Jewellery was something I didn't end up prioritising, but there is time to get creative with that later on! I also bought a drinking horn (which was TWICE as big as I needed!), and made a little pouch from vintage offcuts of fur.
Other than costuming guides, some of the inspiration for dress shape and colours came from people like the beautiful Norwegian girls who often attend Viking markets and festivals in their awesome gear: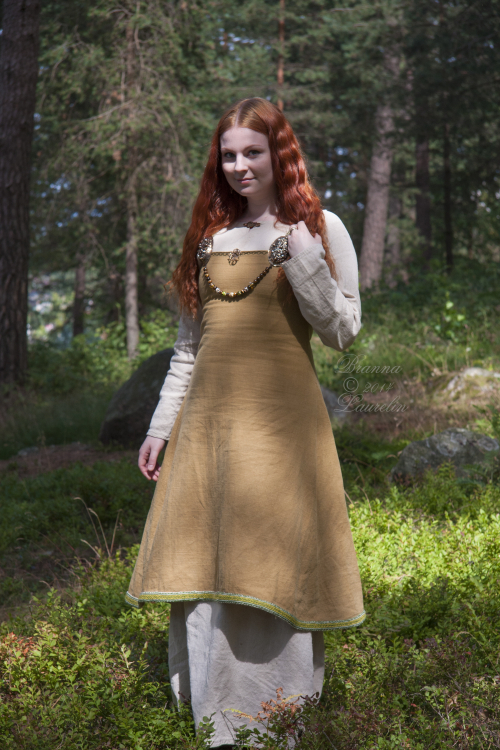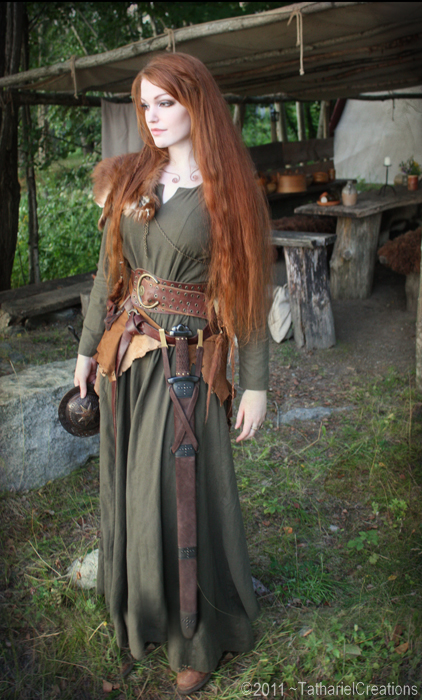 My friend Renate, and her good friend Marita Tathariel
Construction
Aided heavily by Lowana of Vanyanis, we first created a calico mockup of the main part of the dress (a sort of chemise). She designed a pattern from scratch with the basic shape in mind, but it was artistically modified to be a little more flattering on my curves, so I'd be happier in it! There are no zips or fastenings, it just pulls over the head.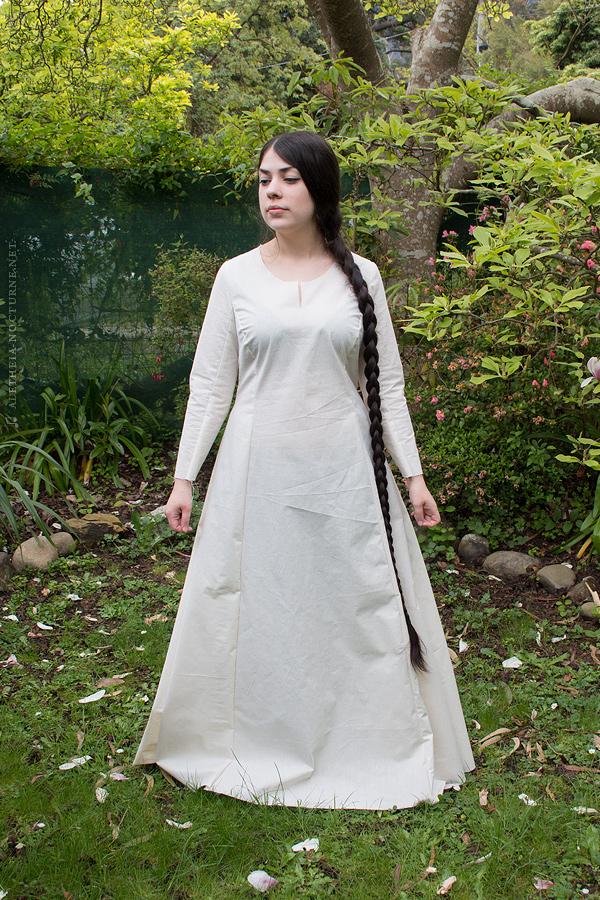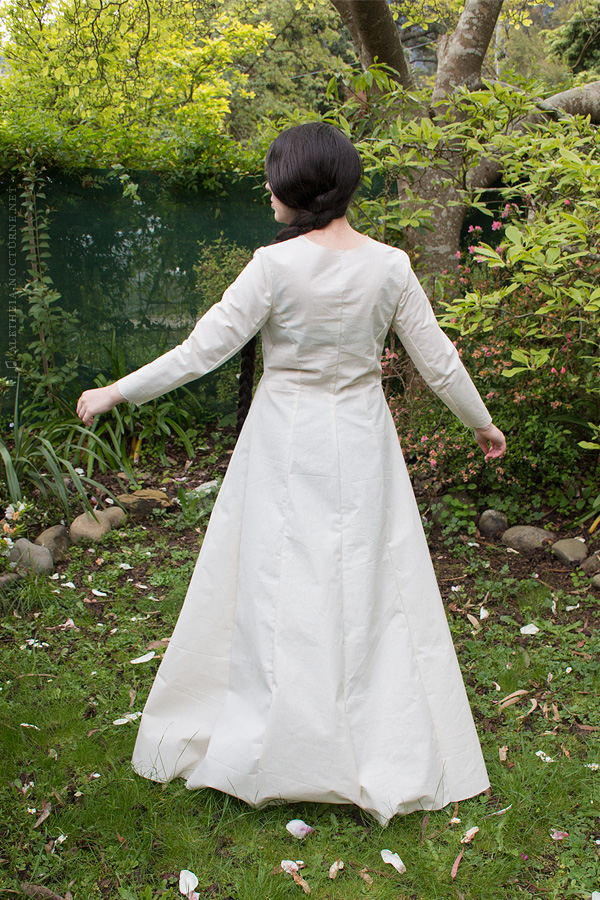 There is a front panel, side front, side back, two back panels, and two godets.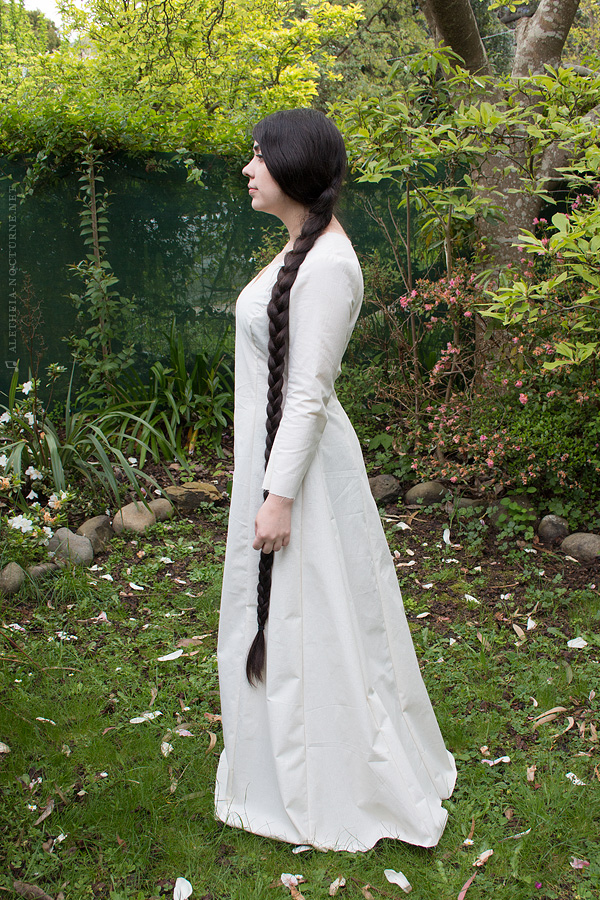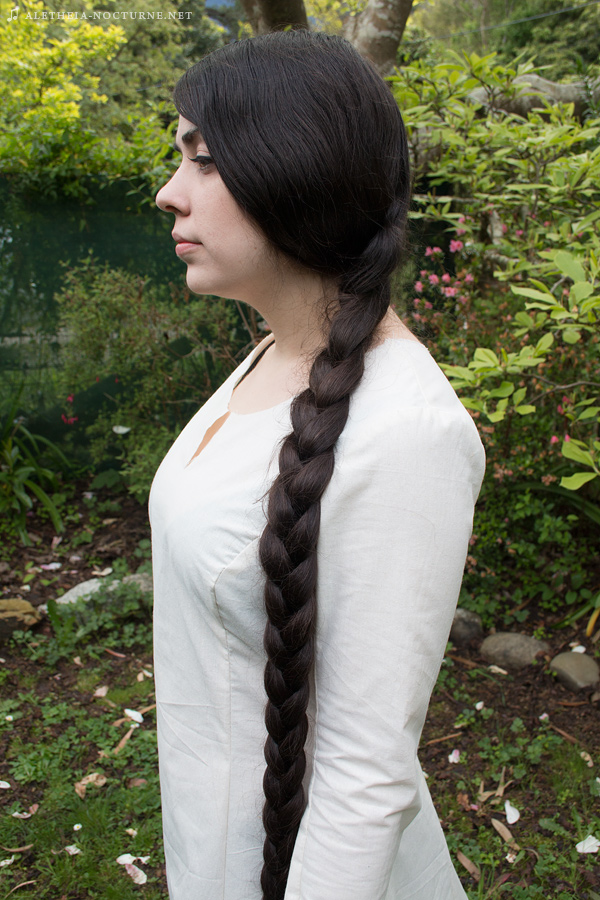 The arm pattern has two pieces and is shaped around the shoulder, ensuring a perfect fit without being baggy in the armpit.
I couldn't really afford metres and metres of hand-woven trims, but didn't want to compromise and buy just any old commercial trim, so that left only: making some from scratch! Being a pretty crafty person, I began to research how it could be done, watching a few videos and compiling multiple sets of instructions to understand the basic process. I found some natural-looking wool, and collected makeshift materials (I can't remember what the plastic thing even is, but it made a great imitation shuttle!), cut playing cards into "tablets", and chose a leafy pattern from here.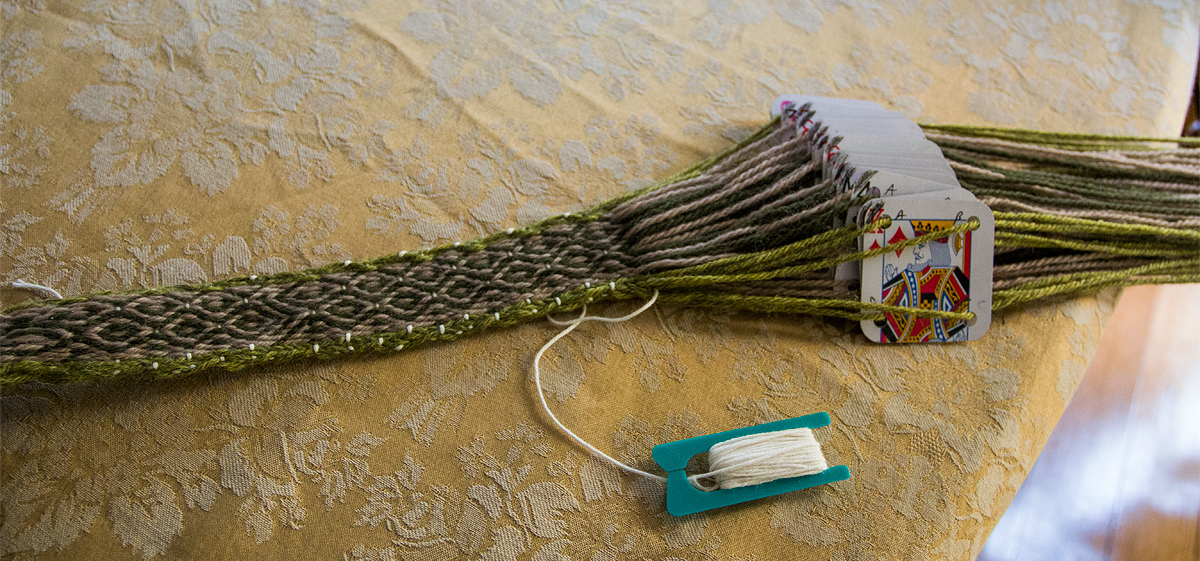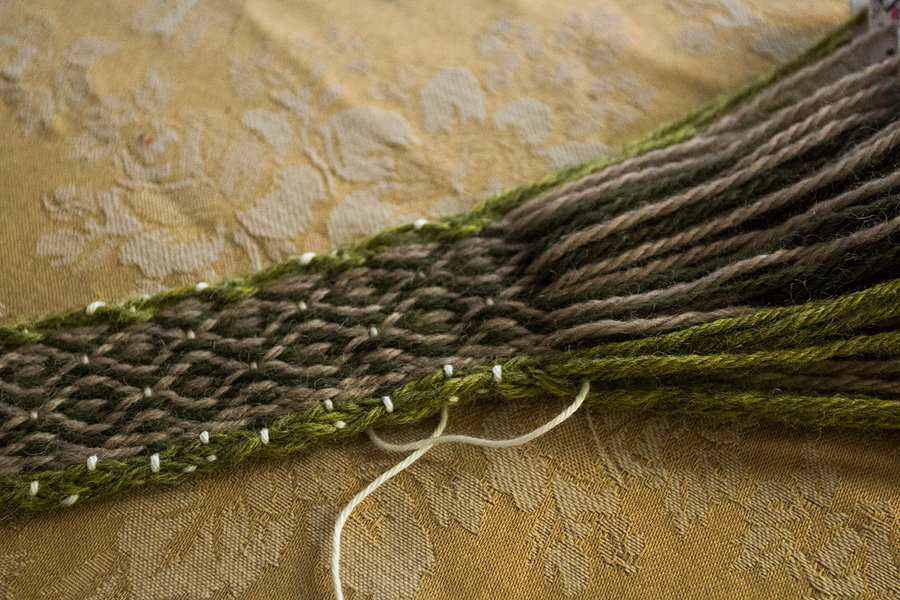 Now, if you know anything about weaving you can probably see some rookie mistakes straight up!
The weft thread is totally visible: I didn't know whether it would be seen, and in hindsight should've just used the the green wool. You might laugh, but to fix it I just grabbed a green marker and coloured in the white bits!
The pattern is a bit off: The wool was very catchy and I was constantly having to pull the strands apart, so it was difficult to "customize" the direction I turned the cards in. I decided to just alternate between turning them forwards and backwards 4 times each. It would have been a nice leaf pattern otherwise!
I picked far too thick a wool for it to look any good as a trim for the top and bottom of the dress. My first attempt instead became a belt!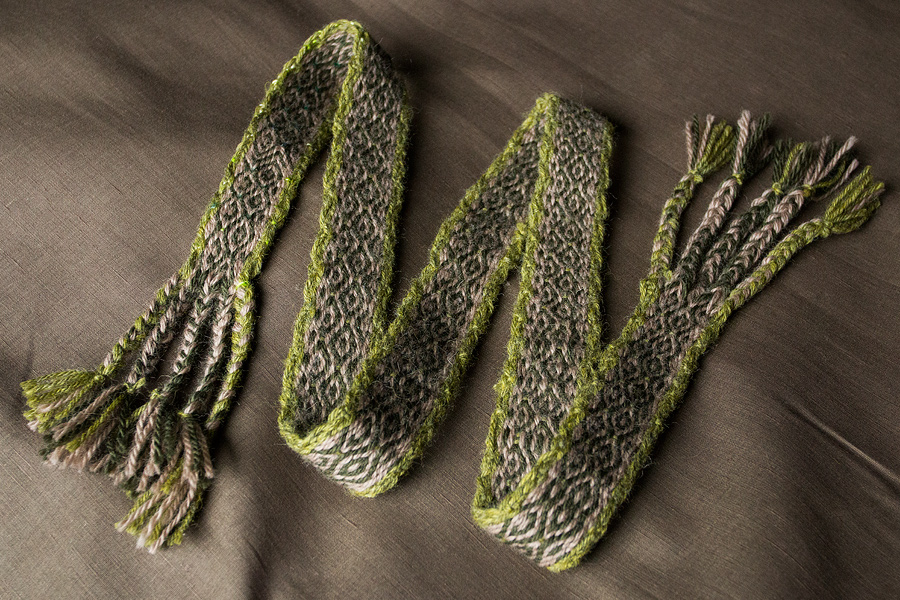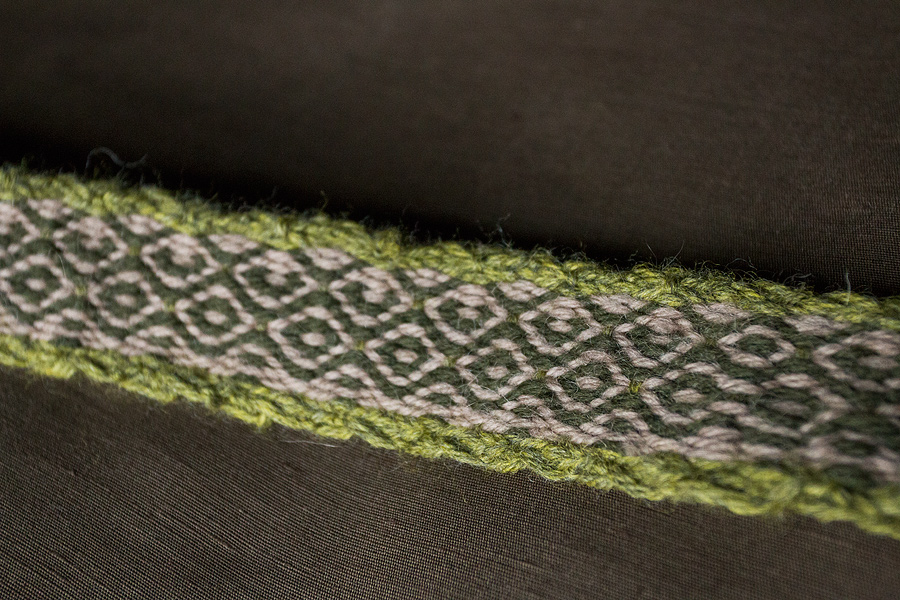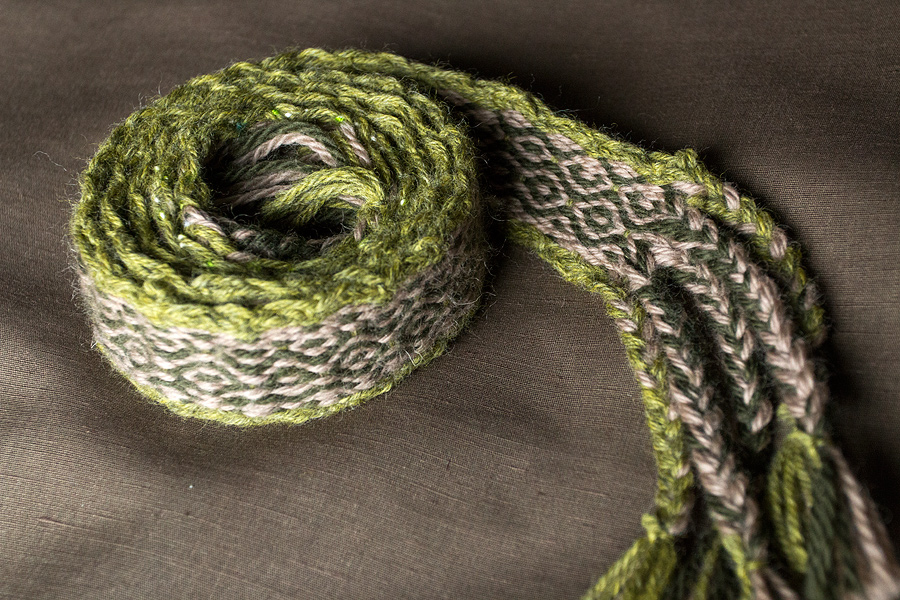 For the second attempt I got some soft cotton yarn instead. Not historically accurate, but much easier to work with, especially with a slightly more complex pattern, and affordable at late notice.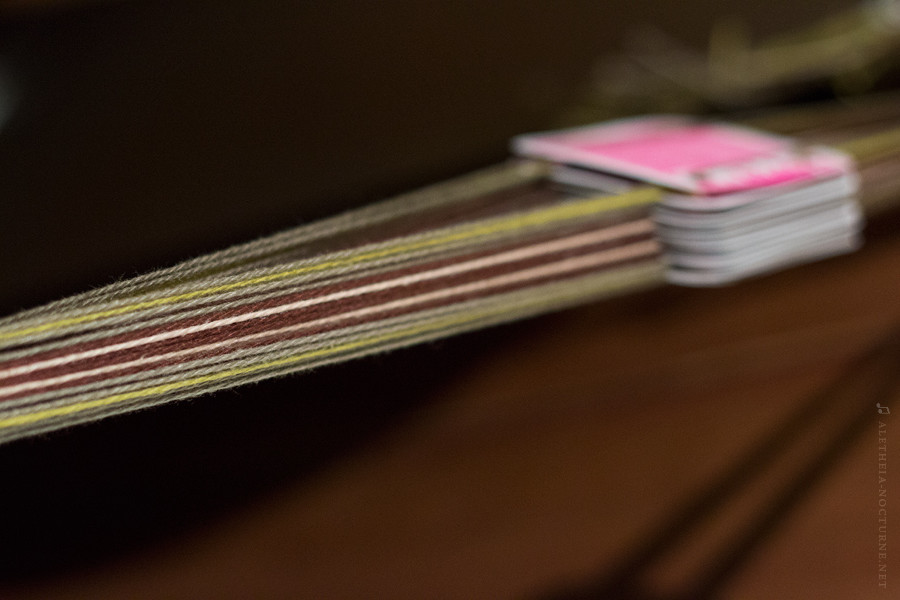 The "warp" – the main length of threads are fed in specific directions through the cards.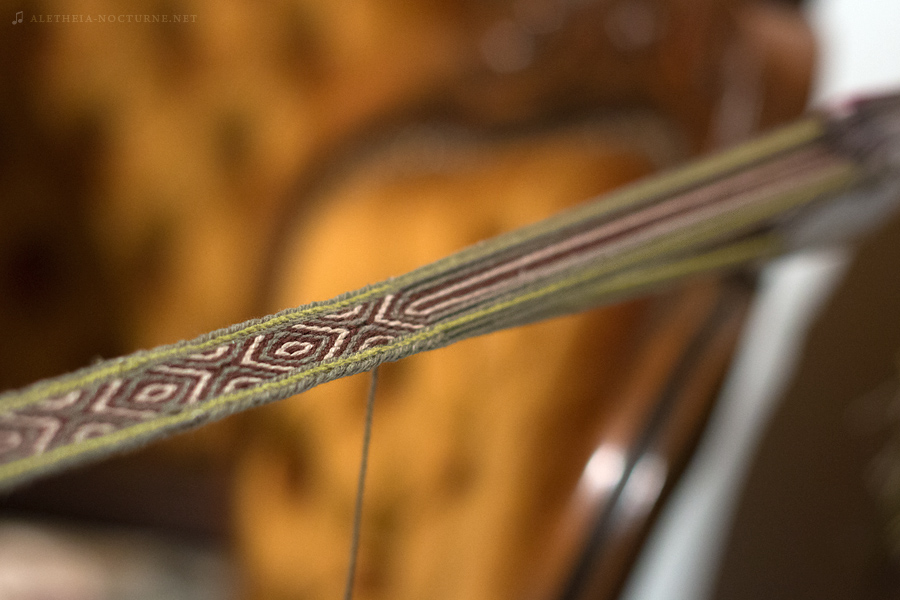 Turning the cards twists the warp threads and creates a pattern, and feeding the weft thread in and out holds everything together.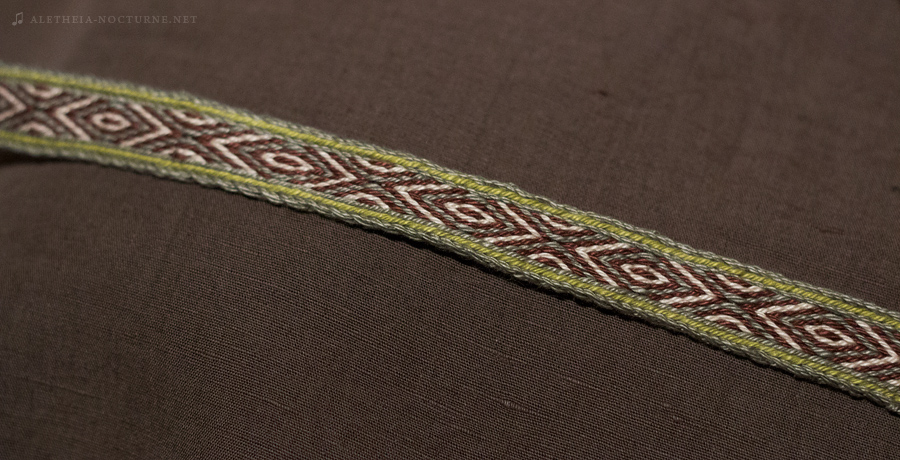 Done! It turned out pretty neat.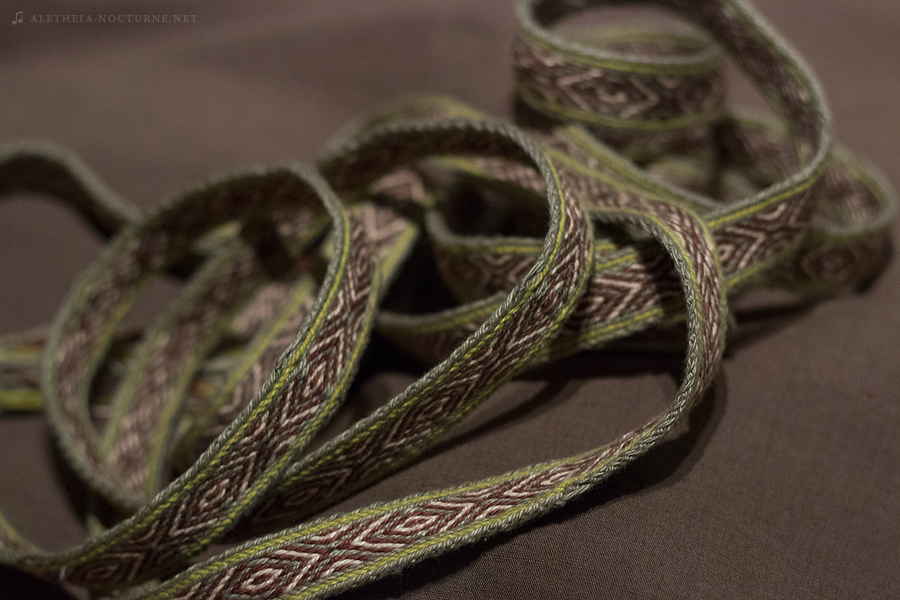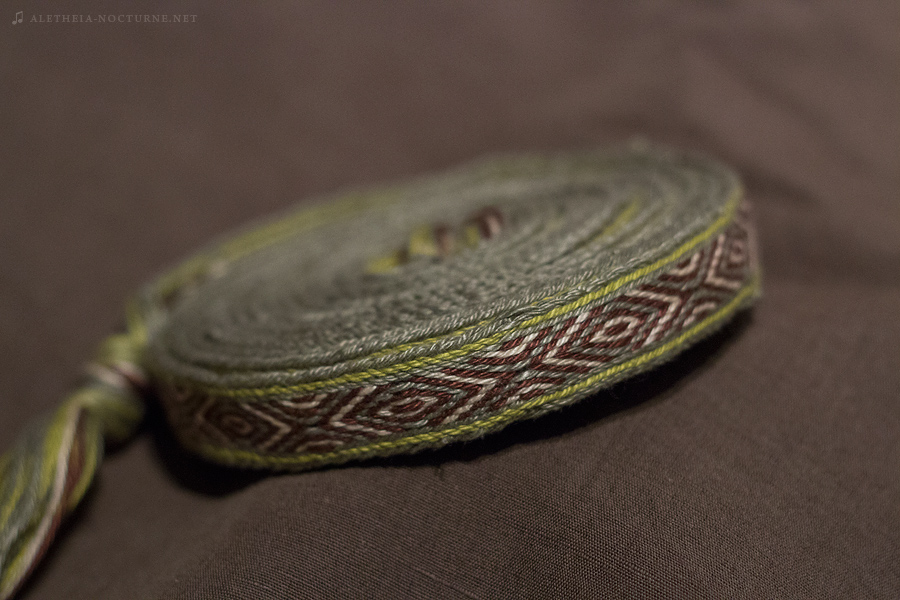 A finished length of trim, about 3 metres long. A much smoother effect than the first attempt!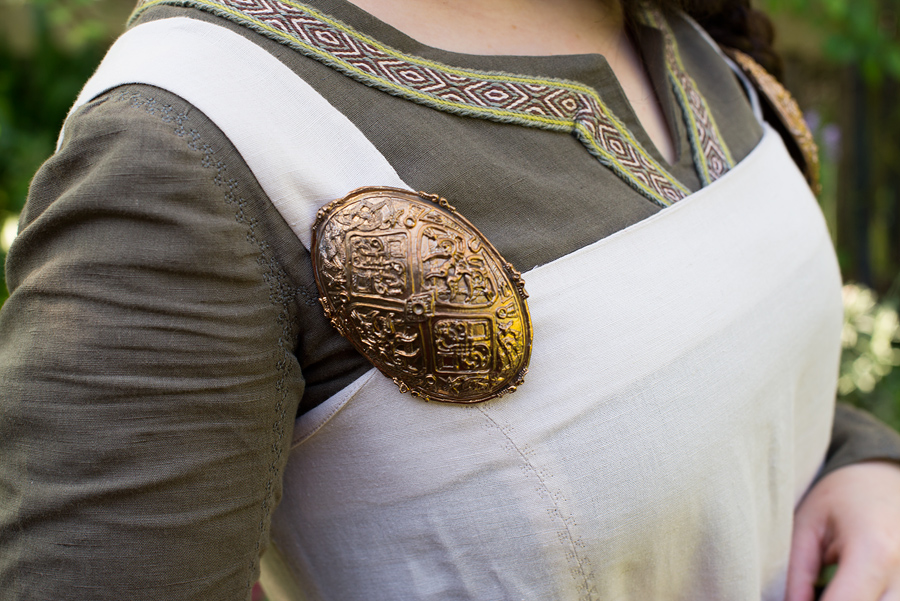 The trim is then pinned and hand-sewn onto the neckline.
When I put the dress together and tried it on for the first time, we ran into a slight problem. The linen was so fragile that the weave began to come apart at ALL the seams that bore any of the strain. It looked awful and was only going to get worse or tear on each future wear, so I consulted Google for advice! We ended up strengthening most of the seams with lengths of bias binding on the inside (you can use anything similar, but bias seems to be ideal), painstakingly pinning them inside and out, then top-stitching a wide, decorative stitch to hold them in place (instead of two parallel straight stitches). It took ages, used a few more reels of thread, and delayed my progress, but they are unlikely to come apart now, and the stitching actually looked pretty cool!
I constructed the apron part of the dress from a similar pattern, slightly widened at the side seams, and opted to keep it in once piece. Next time I think I'd like to try a slightly different style, but I liked how it was nearly full length. I haven't added trims to it yet – perhaps in the future!
I neglected to take any progress pictures of Adam's costume, but I made him a linen tunic (patterned from an existing tunic he owns) and a pair of very gathered "poofy" linen pants, mostly constructed from rectangular pieces. I have plenty of photos to share later, but now onto the…
Finished Dress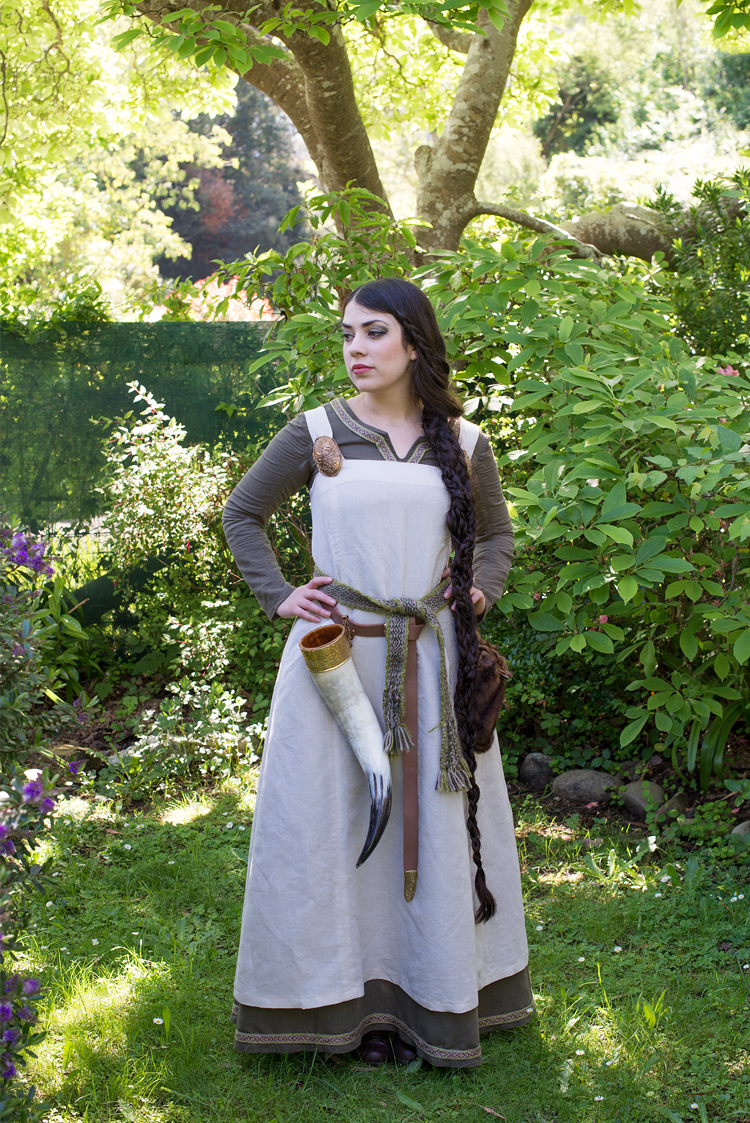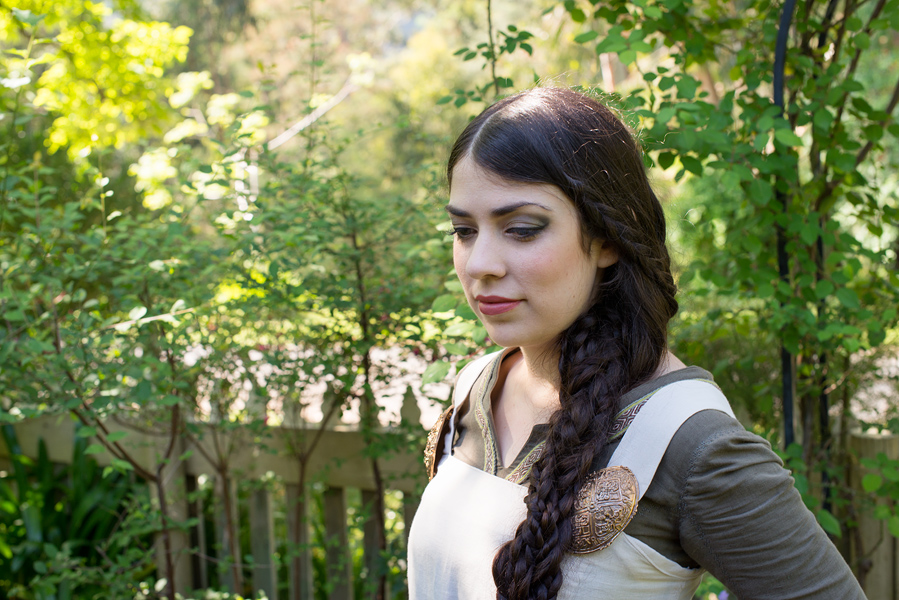 Some lovely viking ladies at the festival gave me an awesome new braid, yay!