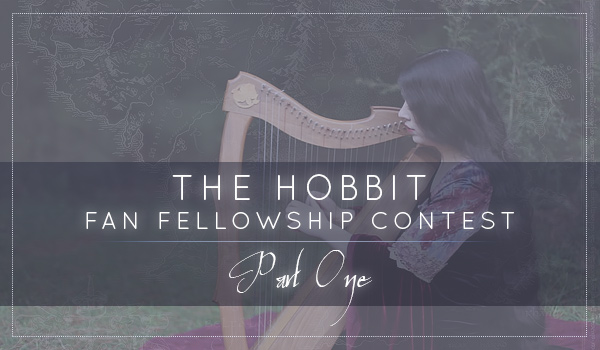 This is Part One of a series of Hobbit Fan Contest posts, where I document an epic adventure I went on this year! It's going to be quite thorough, which is mostly for my own benefit, but also because by sharing it I hope others will feel a part of it, too. And to emphasize, a trip of this nature has also been my number one dream for half my life, so I think it warrants a good, detailed story. Read on to discover how I entered and won, and what the trip would be comprised of!
---
Towards the end of July this year, it was announced that 75 Hobbit fans from around the world would be given the chance to win an all-expenses-paid epic prize trip around New Zealand, to celebrate the end of this franchise. Though in the past there have been a few smaller trips and giveaways (I even almost won a 2-day Wellington/Weta trip in 2012!), I don't believe the producers and New Zealand tourism etc. had ever done anything on this scale before. The contest itself consisted of four "challenges" (mostly based around sharing things on social media), the main of which would be an original video submitted by each entrant. It was later apparent that this contest was was probably focused on helping sustain tourism (tourist spending has increased threefold with the permanently established Hobbiton set) through the social media postings by winners, but also a wonderful gesture in giving back to fans at the end of a long film-making journey.



Peter Jackson's contest announcement
The best thing about the contest is that it wasn't randomised, so anyone with a computer and some video-recording capabilities would have a fair chance, provided they had abided by all the rules (9,000 words worth of terms and conditions!), participated in each challenge laid forth, and demonstrated their dedication to The Hobbit with passion or creativity. They were looking for the biggest Hobbit fans, after all! And for the 35 countries who were eligible to participate (perhaps because of various laws and restrictions in some countries or regions) a certain amount of places were pre-allocated for winners; for example, 5 places for Australian entrants. Each winner would also be able to bring a guest, bringing the total guests to 150!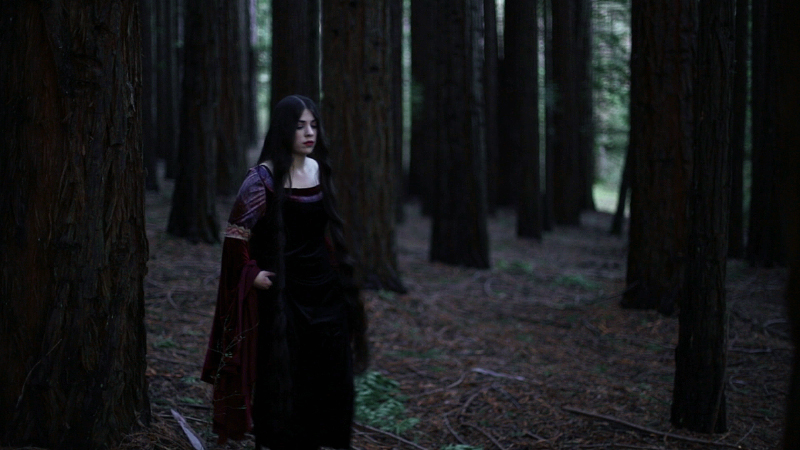 When I first watched the announcement made by Peter Jackson at Comic-Con I felt such instant anxiety! It wasn't a matter of deciding whether or not to enter, it was a matter of deciding what I could even do, with my obsession and the resources at my disposal, that would be good enough to win! And I HAD to win! In deciding what to do, I wanted to play to my strengths (music, dressups, and just "being a huge fan"), but it would still be setting myself goals that I'd never achieved before, thanks to timidity and procrastination. I knew I wanted to "show" my passion and not "tell" them why I thought I was one of the biggest Hobbit fans. Settling on footage of me "elfing about" in a forest, set to an original song about my love for Elves in Middle-earth, I brainstormed, created storyboards, gathered props, agonised over which lyrics wouldn't disqualify me with their rigorous guidelines ("can I even say 'Evenstar'?!"), and spent some really intense hours with my piano, my manuscript book, and Finale 2014. Thankfully, two of my generous best friends had just the video and recording equipment to do the concept justice…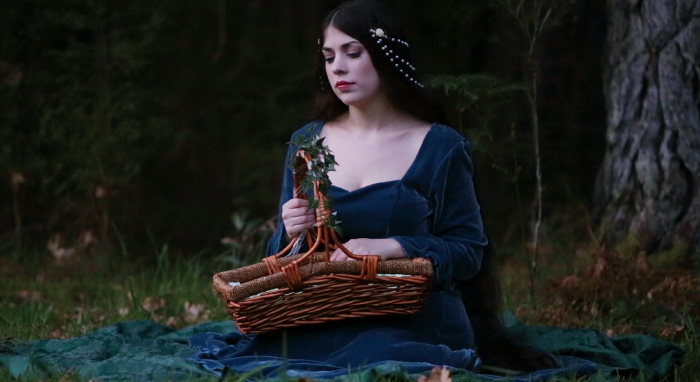 So I composed a lyrical sort of piece with the intention of singing it and playing a simple harp line, accompanied by piano (which I have played for a long time) or keyboard. I don't sing much any more or "officially" play harp, but I began learning it a few months ago, with the assistance of two amazing harpist friends, Branna and Carly. I have a long way to go with technique, but am finding this hobby very therapeutic and rewarding.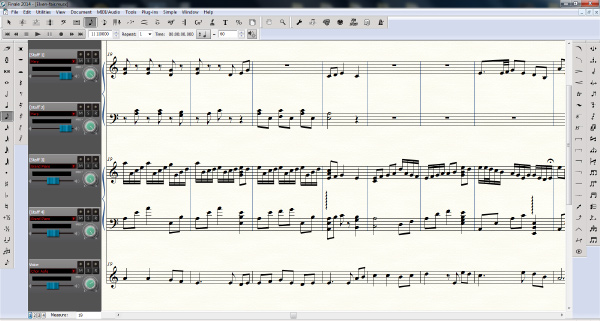 Scoring in progress…
Though entirely new to the recording process, with Alice's encouragement and guidance, and Alex's camera and recording studio equipment, we were pretty proud of the end result, particularly because of the tiny time-frame we had to work in. However, I am all too aware of how long I've spent out of choirs, and of the fact that chronic rhinitis doesn't create the most endearing vocal character, so uh, just be kind: 😛
Lyrics
Oh Elven-fair, from days of yore
Leave not unto the Western Shore
But if you must, forever know,
My heart with yours shall distance go.
For in that forest, in the light
Of stars that clung to heaven's height
With but a glance, my heart in awe
Was lost in dreams of Elven lore.
If we should walk from mountains high
Through forests deep, where shows no sky,
Though fated journeys take us far
In Rivendell there shines a star.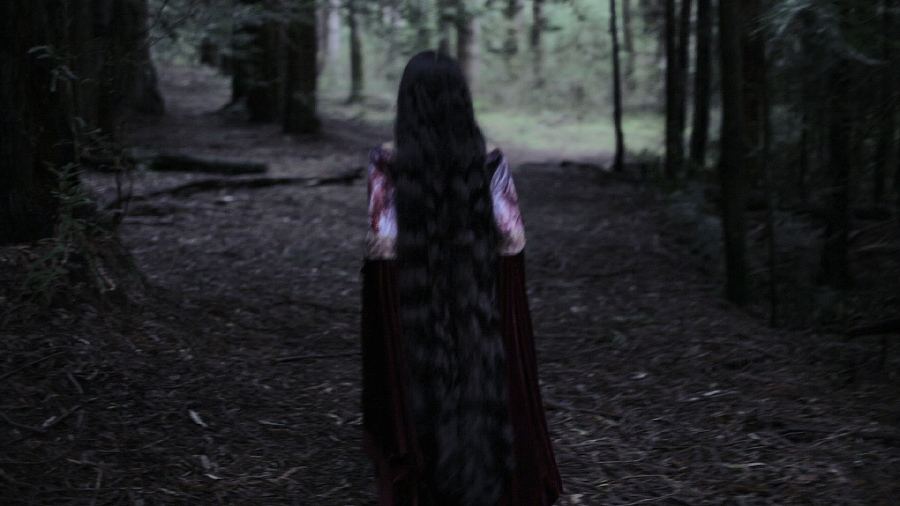 After it was submitted there was a huge sense of relief in a "well, it's done and I did my best with what I had!" way, but I tried to avoid thinking about it or getting too emotionally hinged on the result. In fact, the next time I saw an email with "THE HOBBIT" in the subject line (the contest had been sending them about each challenge while it was running), I couldn't even open it straight away. To lessen the potential for disappointment, I sifted through my other unread mail first, then came back to the email in question, and finally read and re-read the words:
"Congratulations! Since embarking on this adventure, you have met each challenge set forth in The Hobbit Fan Fellowship by Event Cinemas, proving your dedication and enthusiasm for The Hobbit Trilogy. Now, we're pleased to announce that you have been identified as a potential winner who, if qualified, will be invited to join the Fellowship and bring a guest along with you on the ultimate journey to New Zealand, the cinematic Middle-earth, to see the final film in the Trilogy, The Hobbit: The Battle of the Five Armies."
"Potential winner?!" I thought. "What does that even mean! Surely they wouldn't send me this if I hadn't won, that would just be cruel!" I called Adam (my elf-man) in and said blankly, "I think I just won." And to this day we are honestly still stunned. Of course, there was no question that I'd be taking Adam along – it goes without saying that I'd share the most important event of my life with the most important person in my life! 😛
There were only a few days to get back to the agent with all the requisite personal and passport details, so I waited until everything was 100% confirmed, then announced the awesome news! Actually, they asked us to refrain from posting much about it before a certain date, but winners were already finding each other online, to offer congratulations or express excitement over the upcoming adventure we would be sharing. Four other Australians also won – and the (only) other Aussie girl winner actually has the exact same birth date as me!
Winners were also liaising with Warner Bros. and Tourism New Zealand representatives about other aspects of the trip, including media opportunities in the lead-up. With work, costume creations and other commitments, there simply wasn't time to participate in interviews, but I was able to chat to the local newspaper and managed to make the front page…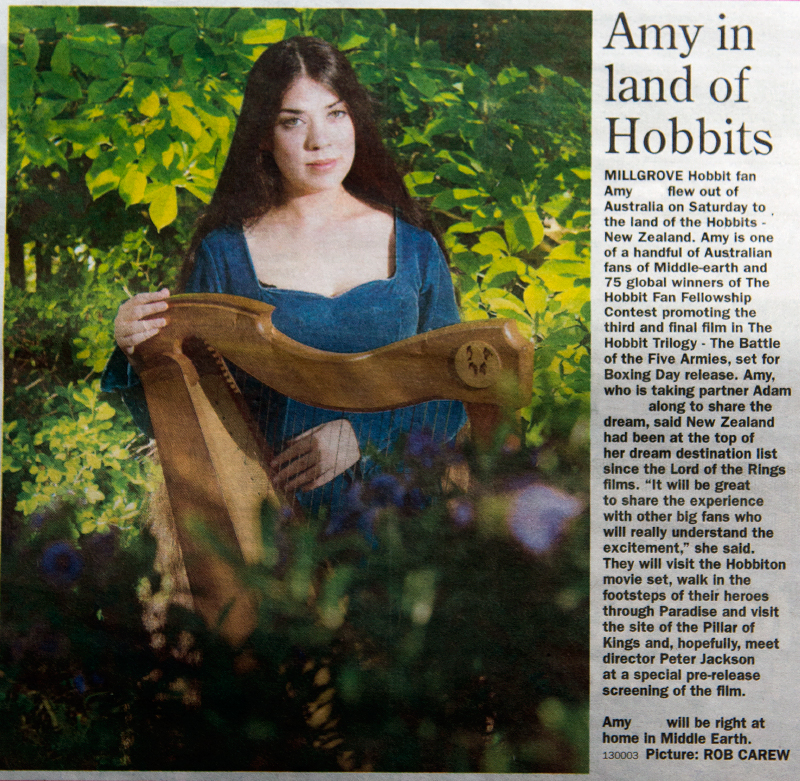 And just what was this whole trip going to entail? Well, we received a condensed and "secret" itinerary of our 7-day schedule and could barely believe how much awesomeness they'd packed into the week. We knew from the promotion of the contest that fans would get to visit the Hobbiton set and other locations, and that the "big event" would actually be a private screening of The Battle of the Five Armies with Peter Jackson himself, before anyone in the world would see the third film – the itinerary confirmed this but I was also happy to see we'd be flying down to Queenstown for some of the trip. Other tours and adrenaline-pumping activities also interspersed the Hobbit-related stuff, including visits to Rotorua, and the Te Puia cultural centre, and Weta Workshop.
Half of me was excited beyond comprehension (to the degree that I couldn't really react, and still haven't), and the other half just thought, "how on earth am I going to physically cope with this?"... Thankfully though, I'd have lots of support from Adam, the time difference was very kind to us East-Australians, we'd have comfortable hotel rooms, and we would be well looked-after by staff. I also knew that my happiness would help keep me going, and the inevitable desperate exhaustion would eventually wear off (if not be quite forgotten)!
And so, one month after that first bit of happy communication, we embarked upon this once-in-a-lifetime adventure, and our first international flight! It only takes 3-4 hours to fly to most cities in New Zealand from Melbourne, so I only got through one movie before we were ready to touch down.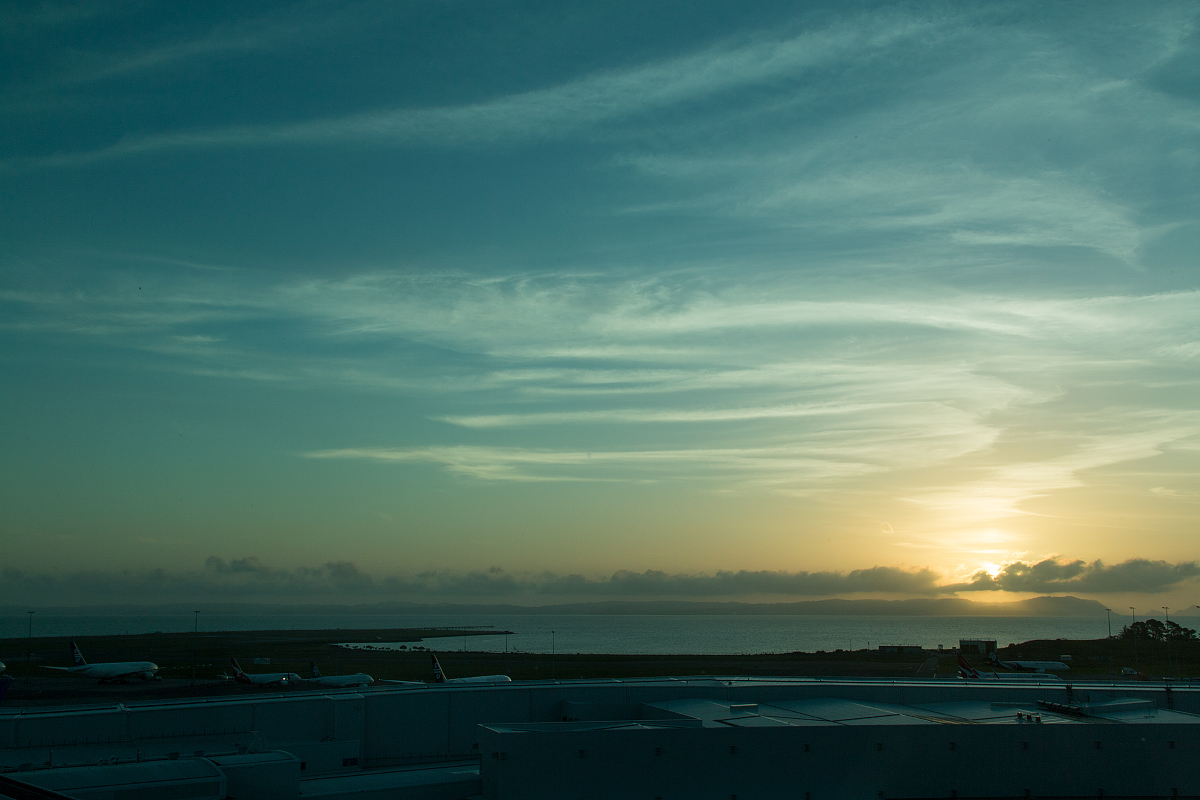 Sunset over Auckland airport from our  hotel window
Unsure of whether there would be some form of welcoming committee or "AMY AND ADAM / HOBBIT FAN CONTEST" sign, we loitered around the terminal for a little while… Nothing happened so we just made our way over to the hotel at Auckland airport, where we were directed to a boardroom and happily found some of the Contest crew, as well as another Australian winner. It turned out the staff were just given the wrong arrival time for us, and if we had arrived several hours earlier there really would have been a warm welcome and so forth. 😛 In any case, we were too late to join in the evening activities for the winners who had already arrived (the rest would be there by the morning), but were happy to just settle in and attempt to rest up for the coming week! We carefully read over our complete trip itinerary, wondering when exactly there would be time for sleep in the tightly packed schedule, and decided that rest would simply have to happen once we were back home!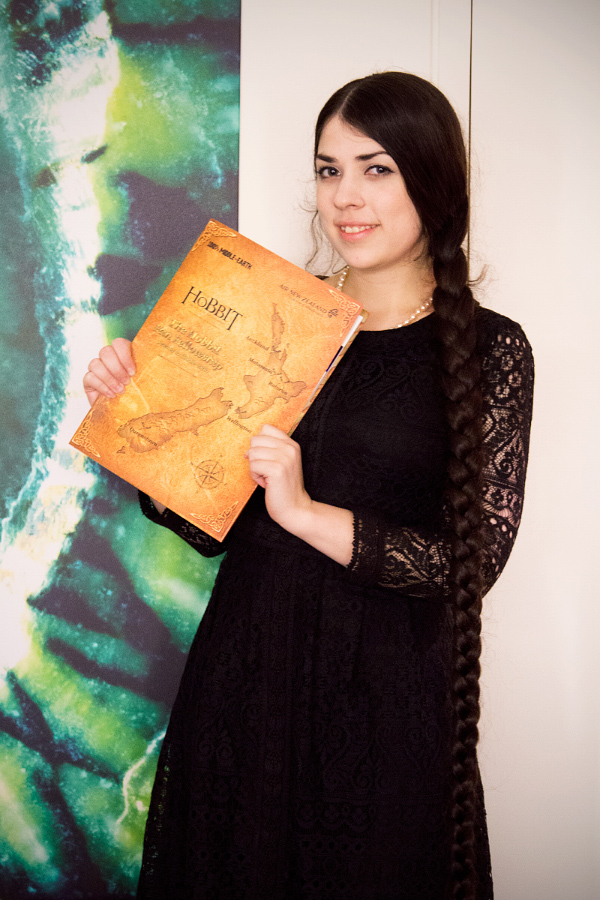 With my complete trip itinerary
To read about the rest of our adventure you can check back over the next few weeks, follow me on bloglovin', or copy this link to your RSS feed-reader of choice.