I entered a Hobbit competition recently, which provided an excuse to finally get back into some elf gear! This post is mainly about the construction of this Arwen costume, for anyone curious!
I submitted a video entry to this competition (hoping to win a trip to Wellington) and anxiously checked my email over and over on the drawing day, but evidently didn't win. However, they actually emailed today to award me a runner-up "Weta consolation prize" which made me so happy! I'd completely given up hope, but now I'm beside myself wondering what I might receive!

It was sort of corny, but it was a sung entry using my collection as a background. One day I'll post about all my cherished Middle-earth books and collectibles!
Anyway, while still made and dressed up we took a few shots, finishing just as the wind began to blow (sending my hair flying) and the rain began to pour.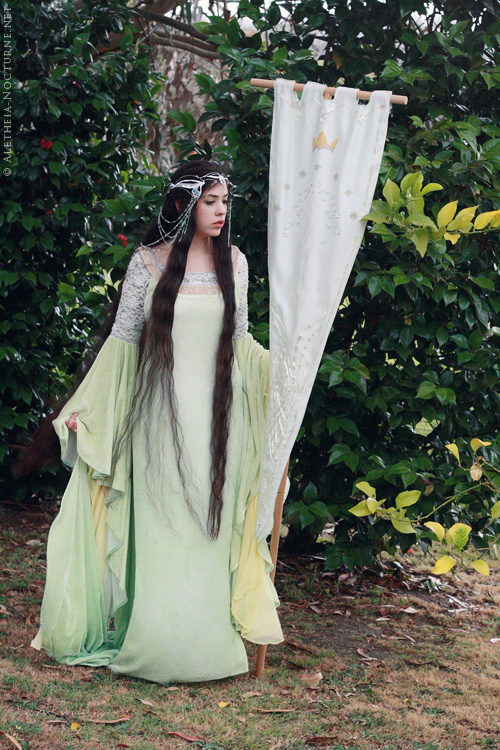 About 8 years ago I created Arwen's coronation ensemble. My mother and I hand-dyed 6 metres of silk velvet (in a large trash can – brand new) and 3 metres of silk crinkle chiffon to a hue that was quite accurate (I have the official fabric swatch to prove it!), and enlisted the help of a dressmaker friend to put it together. The layering of the sleeves gives the impression that there are two different-coloured velvets, but it's just the yellow underneath. The sleeves have a sort of added circle part that I'm considering having removed, the neckline could've been a little lower, and an invisible zip at the back would've been better for being able to easily get in and out of the dress, but I still love it. It is in two parts; the underdress has the sleeves attached. It was difficult to find a similar brocade so I ended up choosing a pretty patchwork fabric and overlaying it with lace, then heavily beading it.
The banner was created from a slightly heavy pale mint fabric, one I was originally going to use for the underdress (though I settled on a comfortable light polycotton [I think] for flexibility and to keep cooler). We were working to a deadline at this point and just painted and appliquéd the banner's heraldry and knotwork. The pole is just a length of dowel I bought, but I got my dad to chop it up into three sections and place rods inside so it could be easily dismantled to fit in a suitcase.
I made the crown (guided heavily by this beautiful tutorial) from sheet aluminium (covered with sterling silver spray) and wire, a heap of Araldite, and finished with strands of hanging beads. The coloured detail is horribly messy and I just used nail polish (which Jasmine Watson, the original designer, also used, though to much greater effect than mine)!
I haven't had many other appropriate occasions to dress up lately but I tried out a new co-ord with my old Bodyline dress. I never liked the halter and because of this was tempted to part with it, but I've been wearing the straps pinned to the back instead and, though it's on the busy side and not entirely my style, I think I can make it work now; it's actually really good on hot days too! I would swap the colour of the stockings and shoes for next time though.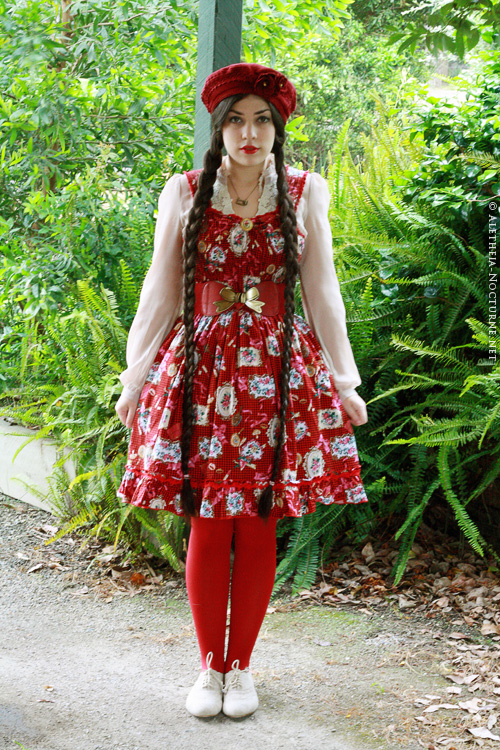 And lastly, a dignified pose the cat was partial to one recent warm day: