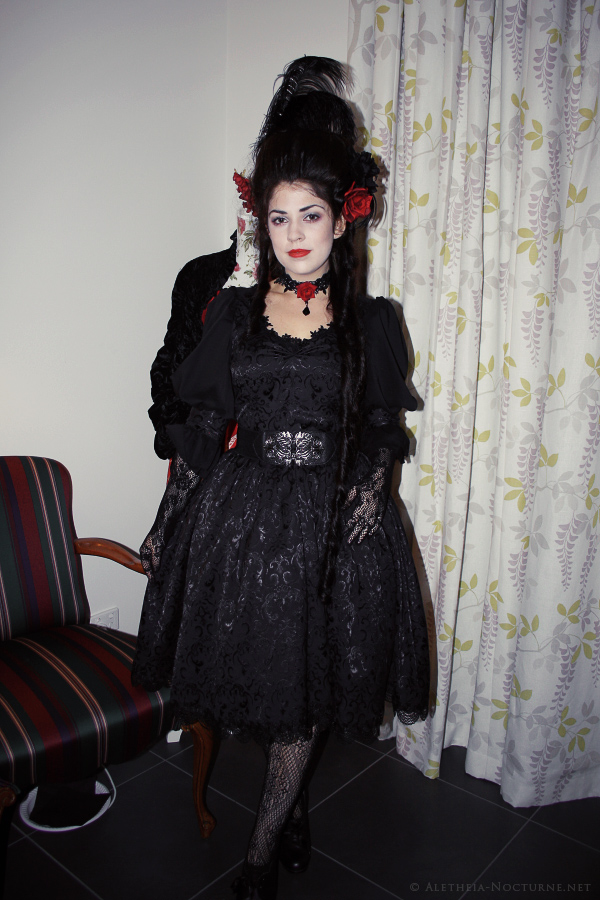 This month, some of my friends threw a vampire-themed birthday party. 😀 I wore the "Lady in Black" dress from Surface Spell – the rest of the pieces are off-brand or eBay finds. Some of Surface Spell's pieces can be a little costumey but are very reasonably priced and comfortable, and if authenticity isn't a priority then they suit frilly or fancy events just fine. I raised the sleeves of the dress a little (they sat too low and wide for my figure), and gathered the neckline to be more flattering on my bust.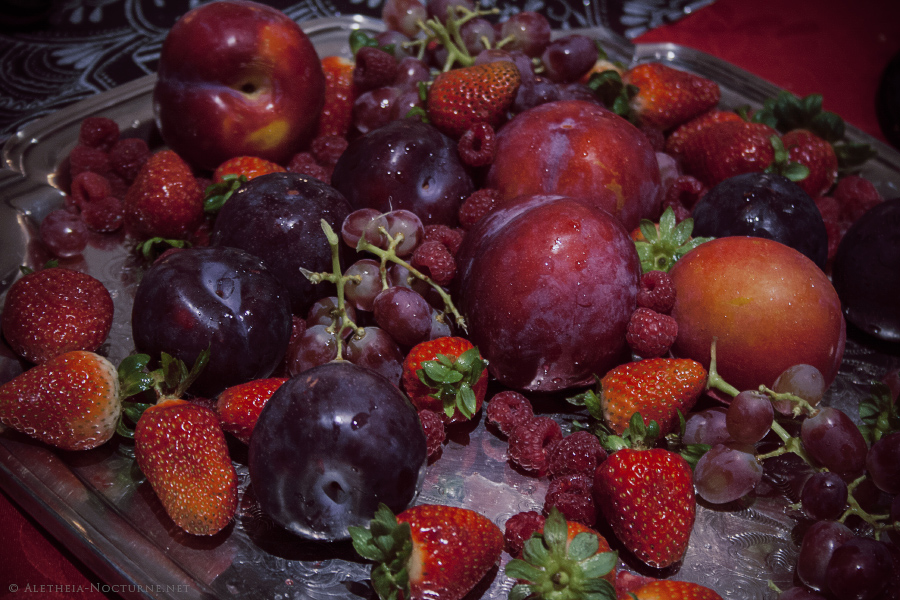 There was lots of red food (we brought a decadent fruit platter)! Almost everyone wore black and red but I only took a handful of pictures, so this post is going to focus a little on how I did my hair instead!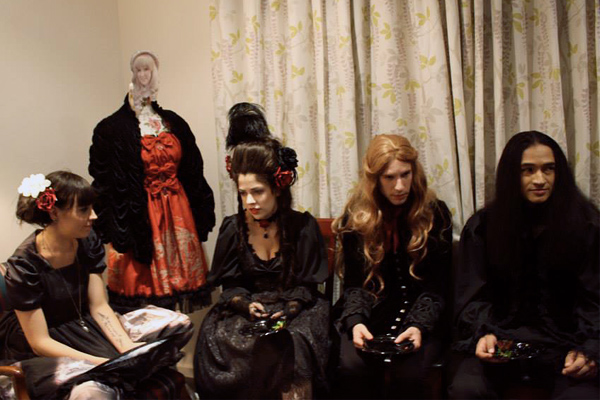 The coven – photo by xylia-x
So the exciting part (for me, anyway…) was that I feel like I reached a personal hair achievement that night by creating my neatest and lightest "pouf" yet. 🙂 Well, I'm sure it could still be neater and more interesting, but I'm no hairdresser. My hair is nearly 4.5 feet long so this process is probably a lot easier for someone with less, but here's how I did it:
I ragged my hair in two sections the night before so there would be more volume, and so the ends would stay curled without needing any other tools.
The next day (after an extremely uncomfortable night :P) I separated the two sections into four and brushed them out so the curls weren't as tight. (This part took me ages because the tightness and amount of hair kept re-tangling every time the brush even went near it.) I want to develop some other technique but I think I'm just going to have to buy or create some hairpieces to add as curls in future.
I brought roughly how much hair would be needed at the front to the front of my face (so you can't see through it) and pinned a large hair donut onto my head. Keep the donut a little further forward than you think you need it because they tend to creep backward.
I combed those sections up over the donut, pinning throughout, sometimes going back and forth because of the length. I left a few sections down to be sort of decorative, and then pinned some flowers and ostrich feathers in, which gives it the illusion of more height.
Thanks for reading!