When I entered the Hobbit Fan Fellowship Contest, I knew if I won that we would each need a special outfit for the premiere! On the night I read my acceptance email, I announced the news to my best friend Lowana by saying, "So I think I need 2 elf outfits, stat…" She caught on, reacted appropriately, and then plans were immediately set in motion. We quickly decided that Adam and I wouldn't be cosplaying any existing characters or trying to authentically recreate a movie costume in the 3 or so short weeks between then and the trip – we would just be our "own" characters, and adopt the sort of garb we think our Elven "alter egos" would wear in Middle-earth.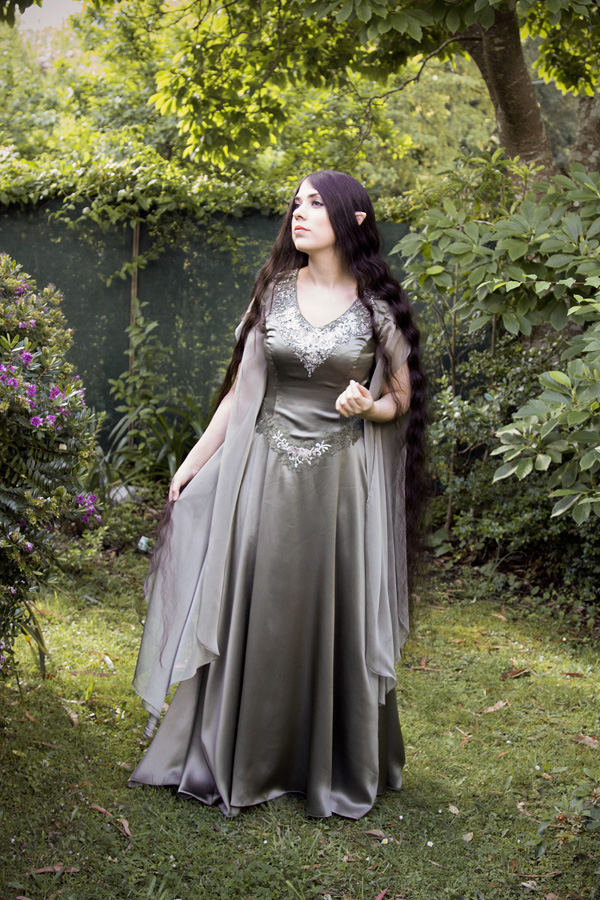 The making of our costumes (or "dream outfits") would be entrusted to Vanyanis, and Lyris Design, close friends with whom we have worked many times in the past. There wasn't time to commission these from one or the other exclusively, so we needed both talented ladies and they both made time for us, knowing how monumental the occasion was (particularly for me)! <3
On a pretty spring day we dressed up for our contribution to this video, and took some happy snaps afterwards. But before I share the rest, I'm going to get into some of the making-of details!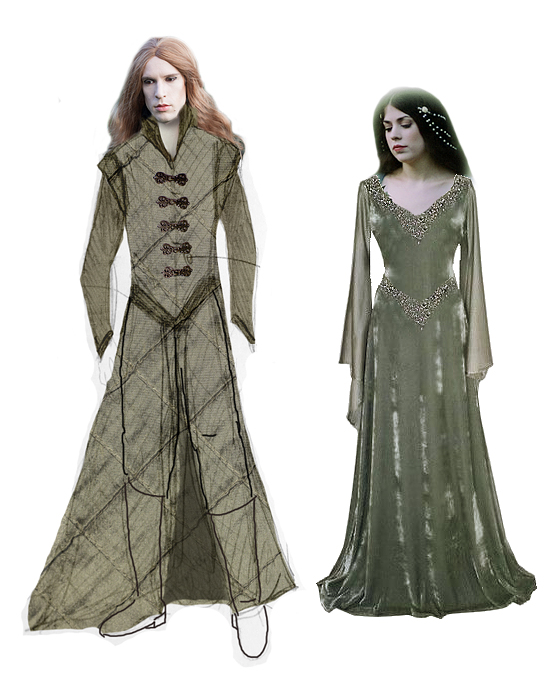 I photoshopped some rough ideas for the shape and colours we thought would flatter us. The coat was based on the shape of some of Thranduil's costumes, but I had the idea to have some caps over the sleeves (sort of inspired by the similar cut of Boromir's leather surcoat) to give the impression that the costume had two layers. We needed it to have only one layer because of comfort, luggage space, time constraints, and to ensure easy movement. I quickly ordered some pewter Nordic clasps from an Etsy seller, too, hoping they'd arrive in time. There would also be a belt made from the contrasting fabric – it's currently only tied around the waist but perhaps one day we'll find a way of securing it more neatly.
The dress was a totally random Pinterest find (I don't know where else to attribute it to) which I recoloured slightly and duplicated the neckline of. I wanted it to be a V-neck but not come low enough to show cleavage – I actually have a sort-of large cup size and didn't want to draw attention to it or deal with feeling exposed. 😛 I also felt that the original image made the dress look like velvet, but I knew the chances of finding silk velvet in such a particular colour on one fabric-shopping trip were … low. But keep reading to see our fabric choices! I think the final product looking so close to the sketches (but so much better!) is a testament to the skill of our dressmakers.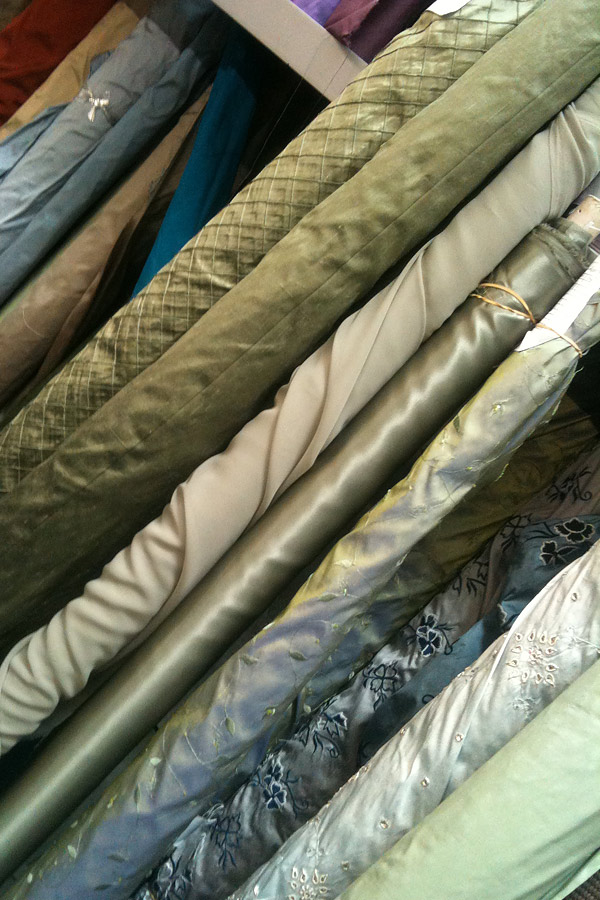 Once we had instructions and approximate metreages from our dressmakers, we planned a shopping day and spent a few hours of drooling at The House of Franke, Stuart, perhaps the most decadent fabric shop in Melbourne. We narrowed it down to the 5 rolls in the middle, which were all silk.
It wasn't going to be possible to find the perfect brocade in time, so for the neckline and waist decoration I chose the French lace above (left). Though the embroidered & beaded silk (right) was absolutely gorgeous, there was no need for it in this particular project! Maybe next time…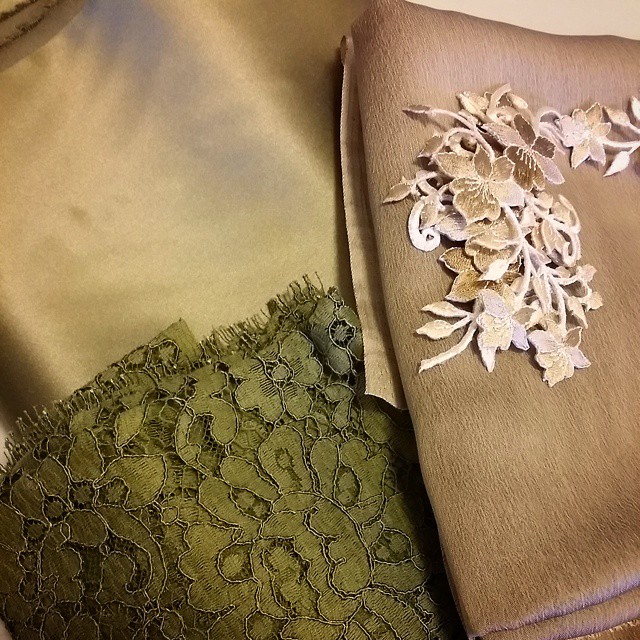 For my dress's main fabric, I settled on a pale moss green silk satin which has a sheen to die for, and pools softly and beautifully. I love it so much!!! For the sleeves I decided to budget a little better by just going with a polyester chiffon instead of a crinkle silk or georgette, and I actually preferred the weightier quality of the polyester anyway. It's hard to describe the colour because of its transparency, but "grey-green" works! The little embroidered floral motifs were a random find – I thought they might be useful for a bit of texture in the embellishment if they were arranged in a certain way.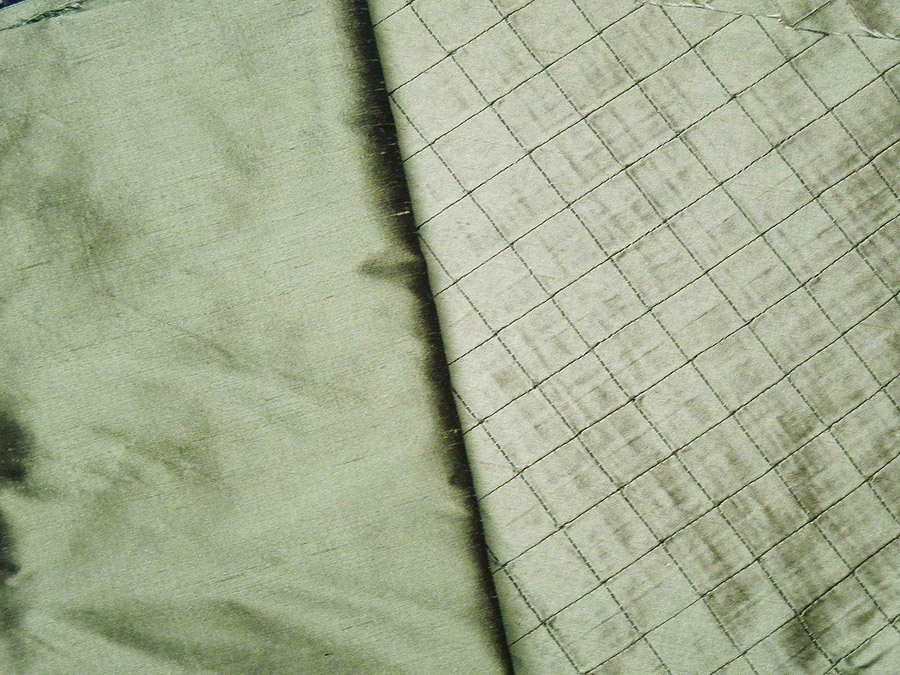 Adam chose a beautiful green silk dupion, and a slightly paler quilted silk dupion.
Now, armed with our measurements, materials and concept ideas, our dressmakers began their task! They both draft patterns from scratch for each client, to ensure the perfect fit.
A cheap satin was used for my mockup – I'm sure this pattern will get used again, black looked cool too!
L: A small train at the back of my dress helps make a bit of a statement. R: Adam tries on his calico mockup. 
With some small adjustments, work on the final garments could begin:
Impeccable seams and rolled hems
Inserting the zip, and trying on the almost-finished dress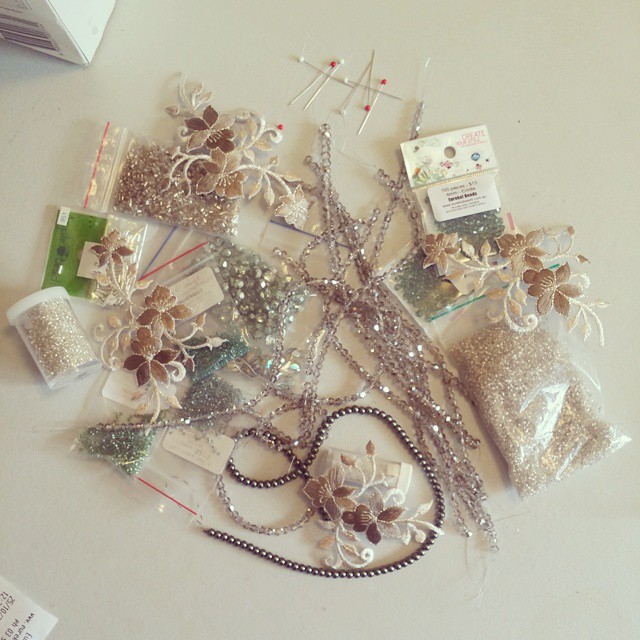 Time to bead!
After the lace was attached, a fiddly job best left to Lowana, it would be my task (and pride) to decorate it all ornately with beads. I raided my stash and also took a trip to Eureka Beads (physically going there ensured I had them in time and could get the right sizes). I think I forgot to bring fabric samples along, so haven't ended up using most of the swarovski beads yet because they were the wrong green, but I've made good use of all the glass beads and swarovski pearls.
Attaching the lace after carefully arranging it in a semi-symmetrical way.
Attaching the embroidered pieces, and dumping some beads down to test the look 😛
Half the neckline is complete, and I've added a statement teardrop crystal.
A close-up of the neckline – watch in HD!
There wasn't time before the trip to fully complete the beading, which is a time-consuming process, but I got the important part (front neckline) done to my own satisfaction.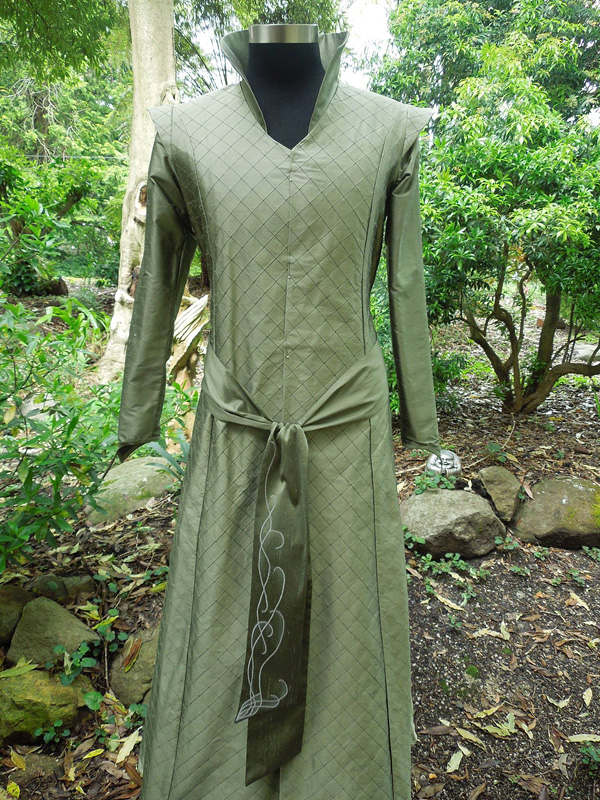 Adam's finished coat, minus clasps.
A hair & makeup test for Adam – I think he looks like one of the sons of Fëanor!
I've already covered how we wore these to the advance screening with Peter Jackson, so all that remains is to share some "worn" pictures, taken in our front garden. The beading of the waist isn't complete for these photos, and my embellishment has the fabric to sit a little askew, but it doesn't bother me particularly – we can work out how to avoid this issue in future too… because I'm dreaming of a dark blue ensemble next!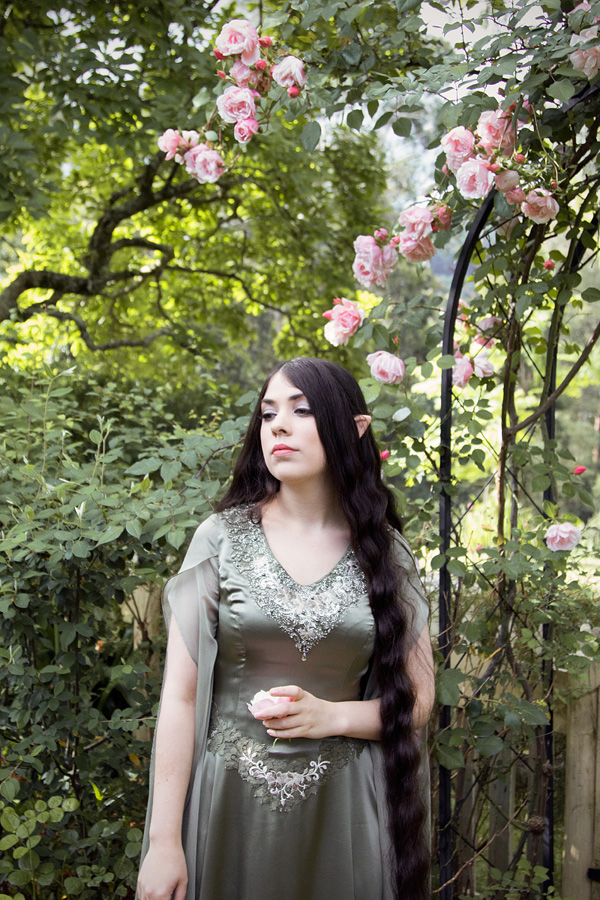 My dearest Juliette of Somnolent Images was inspired to create a digital artwork from this photo, removing the unattractive gate and turning me into an Elven huntress. Thank you!!!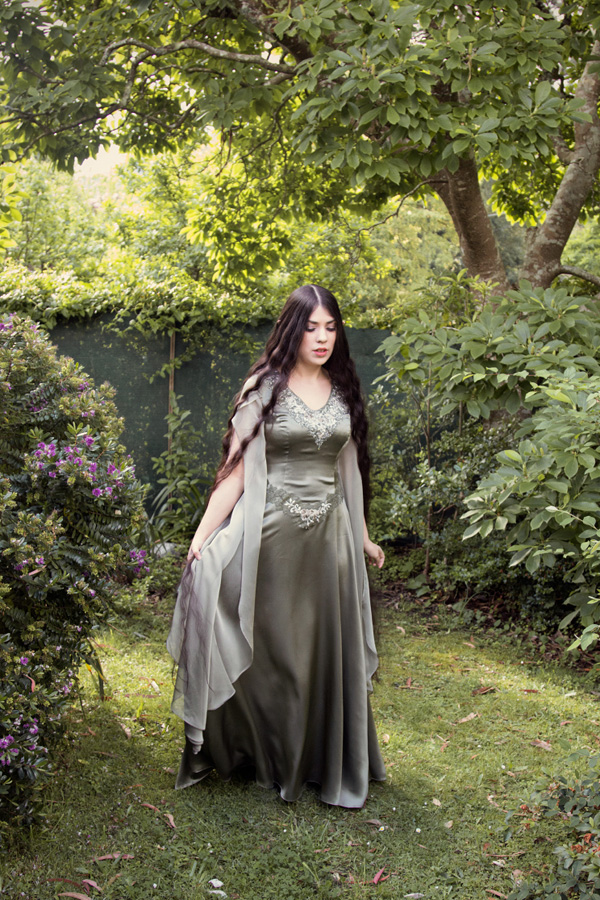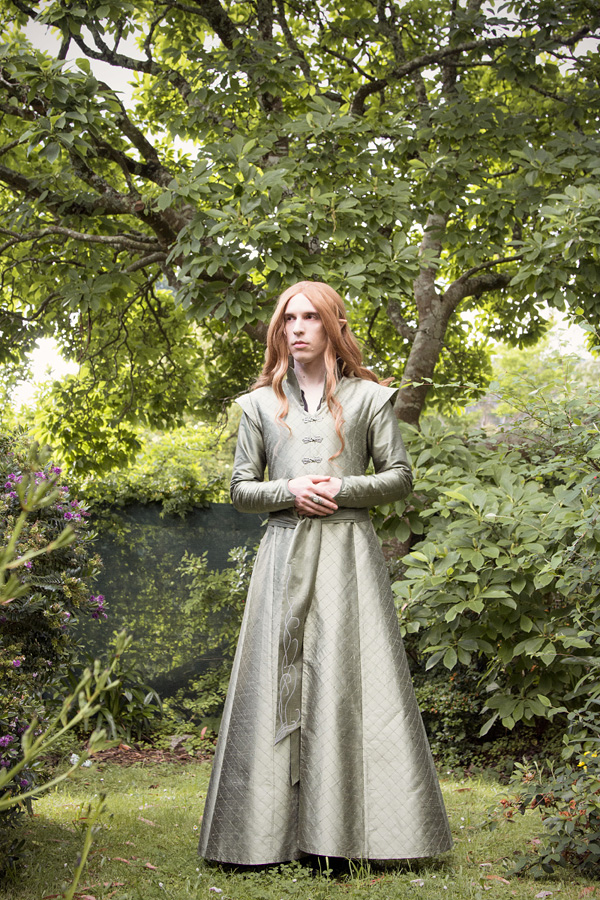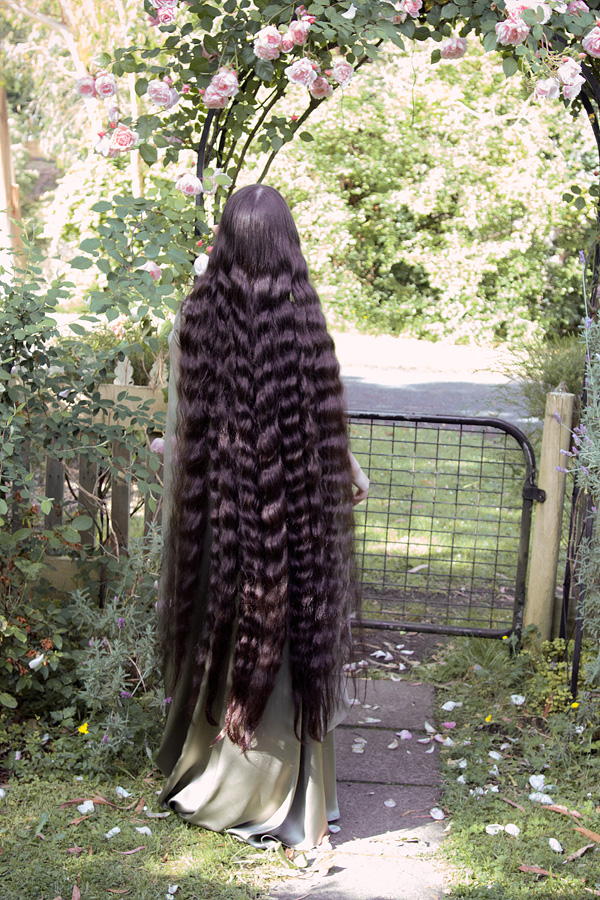 My hair actually really needed a wash (sshhh) and a trim, but this is what it usually looks like once unplaited.
Finally, I was also lucky enough to secure two tickets to the Melbourne premiere of The Battle of the Five Armies, so we also wore the costumes to that event. We were given free drinks, popcorn, icecream, limited edition 3D glasses, and had a photo taken on the way in, which I never saw a copy of. 😛 I don't think anyone from the films attended – it seemed to be mostly film industry folk and a smattering of fans who won tickets, as well as a few Australian celebrities.
Thank you so much Lowana and Carly for prioritising us in such a short timeframe, making these special outfits, and helping our dreams come true!