A truckload of Melbourne lolitas enjoyed celebrating One Day in Paradise's 3rd birthday. I wore my new Innocent World dress (and the colour brown) for the first time and was quite pleased with the result. As such, I found myself buying two more brown and cream classic dresses this month, which I put my birthday money towards. They happened to be in my top 5 "dream dresses" list, so while I'm very excited about them (you know what it's like anxiously waiting every day to see if the courier pulls up in your driveway…) I'm going to save them for a special event. Samantha put up a nice post on the event here!
Please hover over for photo credits.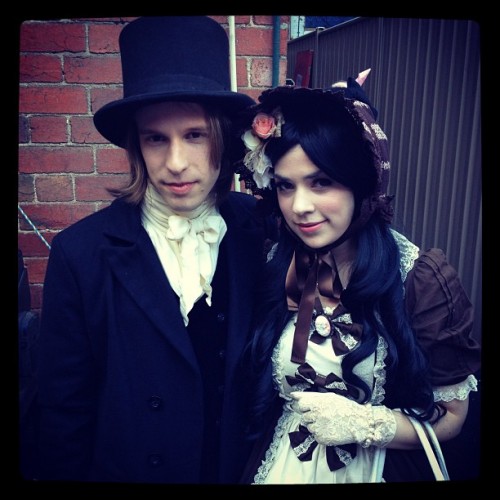 Me with Alice (Violet lurking behind), and Adam with our dear friend Aeryn (suave Jorge lurking behind).
Adam and Jorge get in touch with their feminine side – the latter having just won a headbow!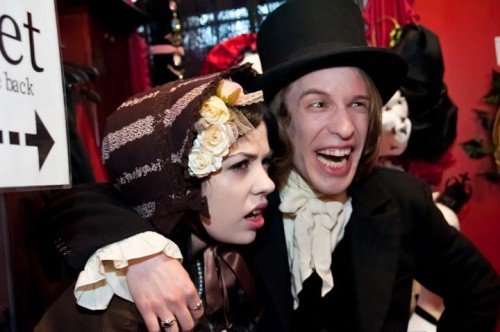 The routine silly photo…
I met a really cute lolita with a fairy-floss coloured wig, caught up with friends and acquaintances, bought a few accessories, and later on 6 of us went out for dinner nearby.
And now on to my purchases!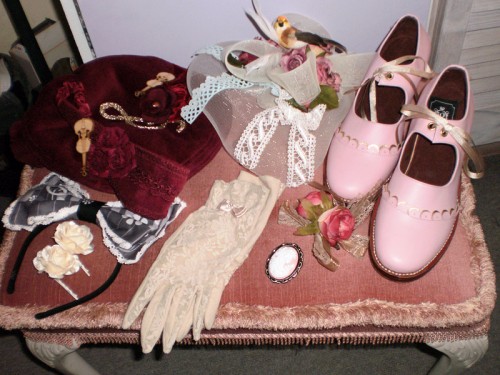 I got the violin beret and headband in burgundy by Infanta, R-Series headpiece and shoes (unfortunately they are too big), a Bodyline music headbow and pink flower clip, cream flower hairpins from Diva, gloves from ODIP, and a cameo brooch by Victoria's Kingdom.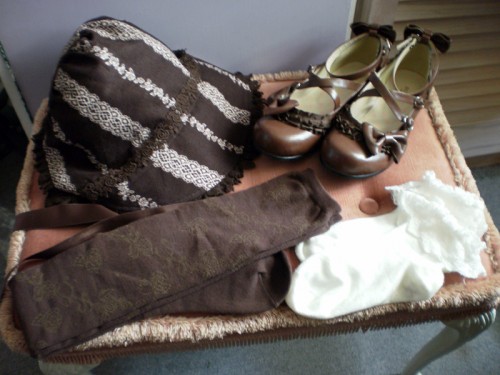 A few months ago I bought this Alice and the Pirates bonnet but until now didn't have anything it remotely matched. I also got some Bodyline shoes (very happy with them!) and ankle socks (can't wait to get some more for summer), and Metamorphose over-the-knee socks.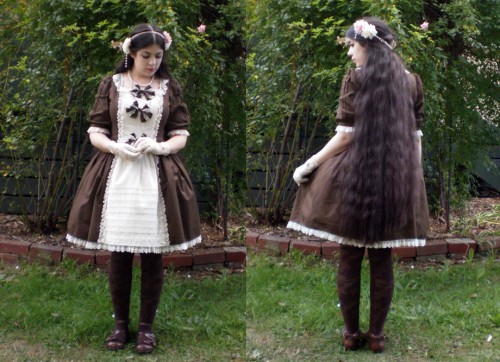 I think the socks end up looking a bit muddy in these pics and I don't know about the hair accessory, but I think I like the overall effect. People ask why I don't wear my hair out in lolita, but having it out for one day comes at the price of major discomfort in the form of relentless tangles. The impracticality of having hair blowing about, getting stuck in things, and caught on people as they walk by means I just prefer it plaited, because it's the only way I don't get as many tangles and the weight of it is balanced.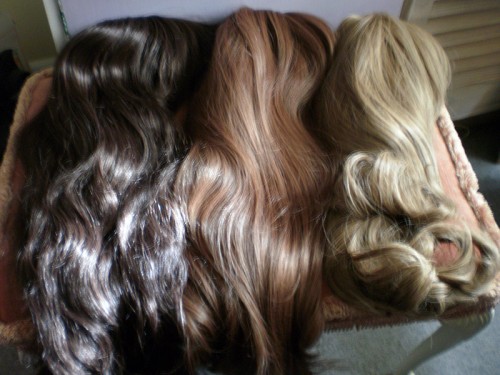 At last, some more wigs! Before this I only had two black wigs that were almost identical. The first is a random eBay find (I took a chance on quality and made a low bid) and the others are from Bodyline. For the price of each I am impressed with the quality. The Bodyline wigs are thick and soft and I'd definitely get more. I'm looking forward to getting the blonde-ish one to work with my big black eyebrows, hahah!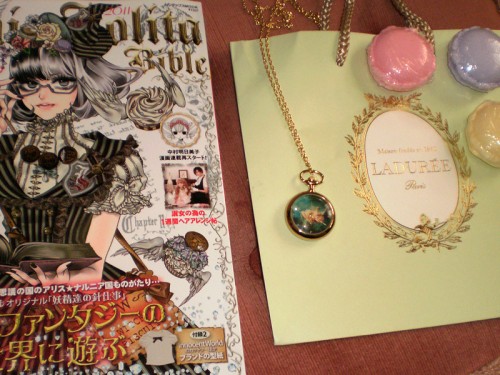 Today I found two parcels on the doorstep (hooray!), the current Gothic & Lolita Bible, and presents from Julija!!! On her recent trip to France she got me a Fragonard timepiece necklace, macaron soaps, and a Ladurée paper bag. >:D I LOVE THEM! Imagine the necklace with one of Juliette et Justine's fine art dresses!
Speaking of dresses, over the last few months I have collected the following:
This coat is by Excentrique (reviewed and bought from this seller). It's a touch on the big side for me and not a winter coat, but good for adding that final bit of decadence on an overcast day.
On the right is Innocent World's Classical Square One-Piece (details here). I dream of owning the standing collar version in a few different colours, but in the meantime this version sufficed for the current warmer weather.
Left is the Rococo underbust jumperskirt from R-series. I ordered a size too big but a few darts brought it in enough. This dress would probably look better on someone with a smaller bust, but I still love it. It's darker in real life than the stock pictures and the fabric has a sort of sparkle to it. It could be paired with long or short-sleeved blouses and cutsews.
The second lovely summery dress was from Yolanda, and though I knew it wouldn't fit I ordered one anyway because it was the only size still available. We are going to use the waist ties to put some panels in which should mean I can get it over my shoulders! The fabric has a nice floral print but is a little rough/cheap, and has no give or stretch to it. The underskirt part is nice with a subtle vertical stripe. I didn't realise until later that it's basically a Mary Magdalene Antoinette replica, because in the stock photos the dress appeared to hang a bit differently on a slim model. Regardless, I'd be very reluctant to part with it.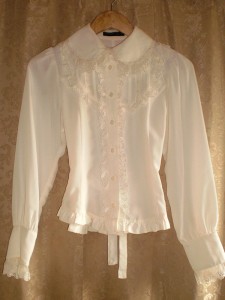 Above is the Innocent World Rose Petal blouse, which is amazingly soft, like the ultimate classic lolita blouse! I want to try wearing it with the Rococo underbust.
These are both from Surface Spell. The dress is one I traded for with a friend, and the blouse, though a bit too big, is really beautiful. I had put off purchasing it for too long so by this time only this peachy pink was still available. This is suitable for a larger bust because it's not fitted or tight, and a ribbon brings the waist in as desired. The ribbon wasn't very nice and the little loop on the side came off after one wear, but all the little details made this irresistible. I wore them together at a lolita baking meetup. Samantha covers the day here with some lovely photos.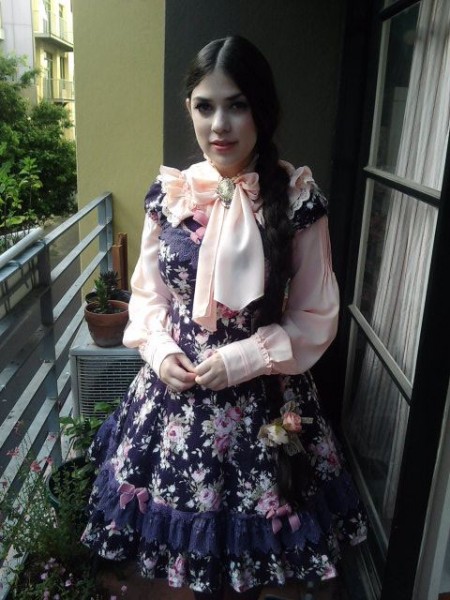 A few weeks before that we also went to a pirate and sailor-themed lolita meet!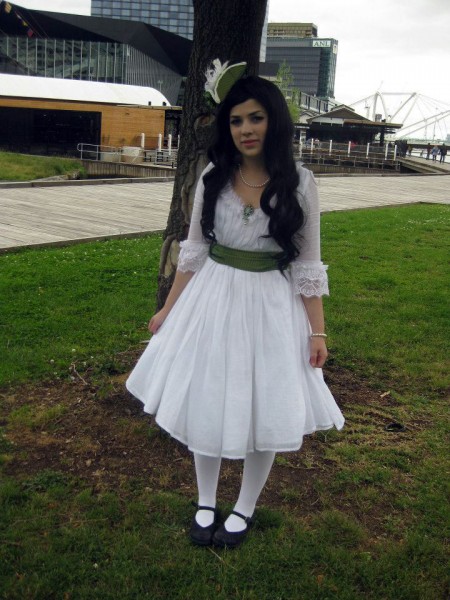 I paired my little chemise a la reine with green this time. I quite like this look, though it's on the simple side and my shoes are a bit shabby.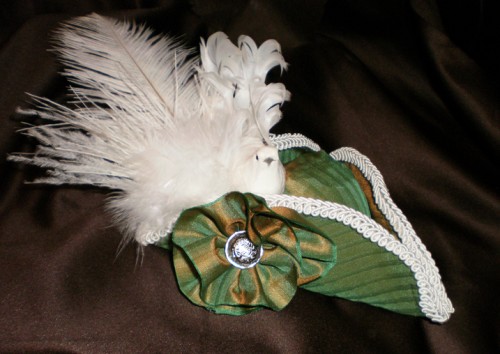 I made a mini tricorne out of leftover fabric I still had from the sash. It's decorated with a rosette, a silver button, some little ostrich plumes, and a sweet dove. I affixed a comb to the underside.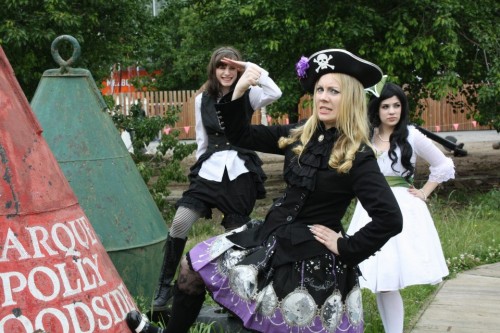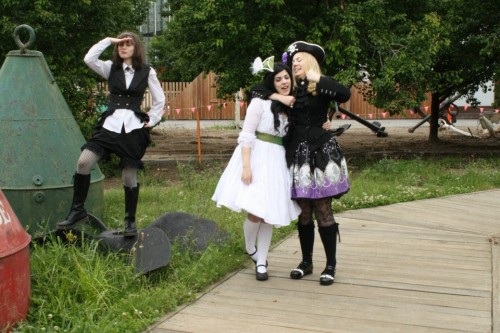 Jessica gets me into a headlock and I'm about to be pummelled while Ashleigh, rocking boystyle, keeps a lookout.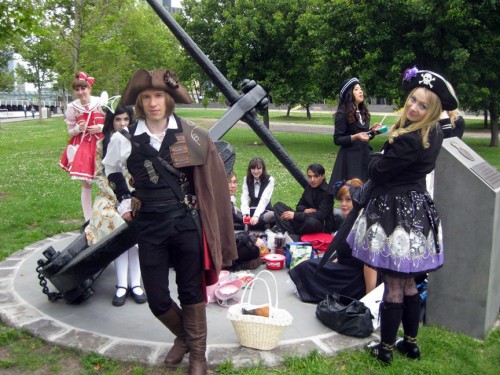 Our matriarch 😛 Selina, and pirate-treasure Kavya in Chess Chocolate!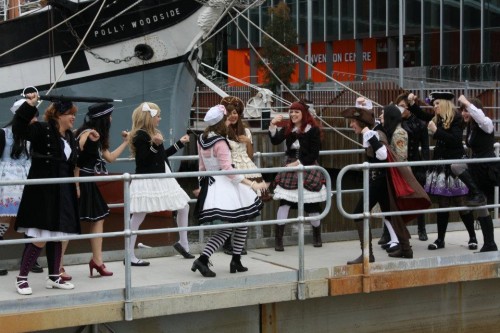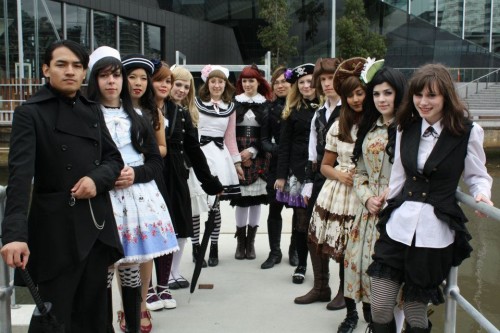 I also made Adam a large brown tricorne (bit rough, but a first try :P) which matched his Ezio cloak suede perfectly (he was dying to wear it)! We all took snacks and picnicked by the Maritime Museum. It happened to be Cup Day so we didn't get so many funny looks for once. We enjoyed a few drinks afterwards and then lounged about chatting for a while in an indoor herb garden.
 Well, that sums up my show-and-tell for now! I'm enjoying putting outfits together and having little adventures with new friends! I'll be getting back to some food and gaming and design posts after this lolita spam.