We finally got to check out the Monet's Garden exhibition at the NGV recently. This post is mostly made up of mobile phone pics (and quality versions of all this art are easily Googled), but I hope they convey some of the beauty of the experience!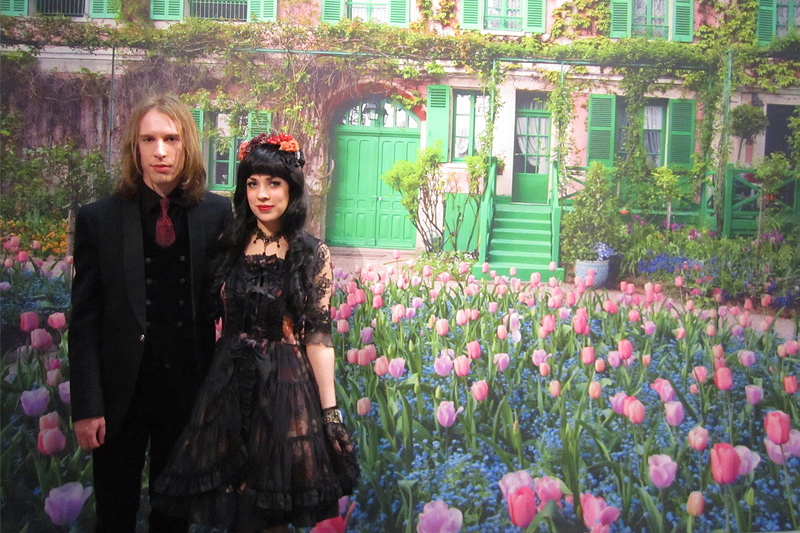 I wore Bodyline JSK P314 (found in the punk section) with a bolero, and flowers in my hair to match the colours in the dress. For anyone curious, I thought it was an interesting Bodyline piece, but I think the art underneath the chiffon deserves to be seen sometimes so I pinned up the center of the overskirt that day. I bought a size M and despite being smaller than its maximum listed measurements it was reasonably roomy. The front lacing is a little old-school and would've suited the back better; I used it to get the dress fitting me more closely but found that if I laced it tighter then it started defining my bust in a weird way, which felt out of place in lolita.
I'll update this post with information about the print if I ever find out what it's even about, but it's fairly clear in detail. There are no real focal points, just random chains and straps (!?) with flowers reminiscent of those featured in baroque paintings. The main fabric is not overly shiny but is actually like a one-sided stretch satin (cotton back and stretches in one direction). The interesting combination of colours may limit the types of coords this suits but I was happy with mine. I am not absolutely crazy about the dress, but it only set me back about AU$40 at the time. The dress is ¥3,999 – if your exchange rate is abominable you can change the currency in-site and checkout without changing it to the USD (this is the "Bodyline currency trick"). In my case the AUD was great a few months ago, and even though value against the JPY has gone down since then it's still better than the static USD prices the Bodyline sets.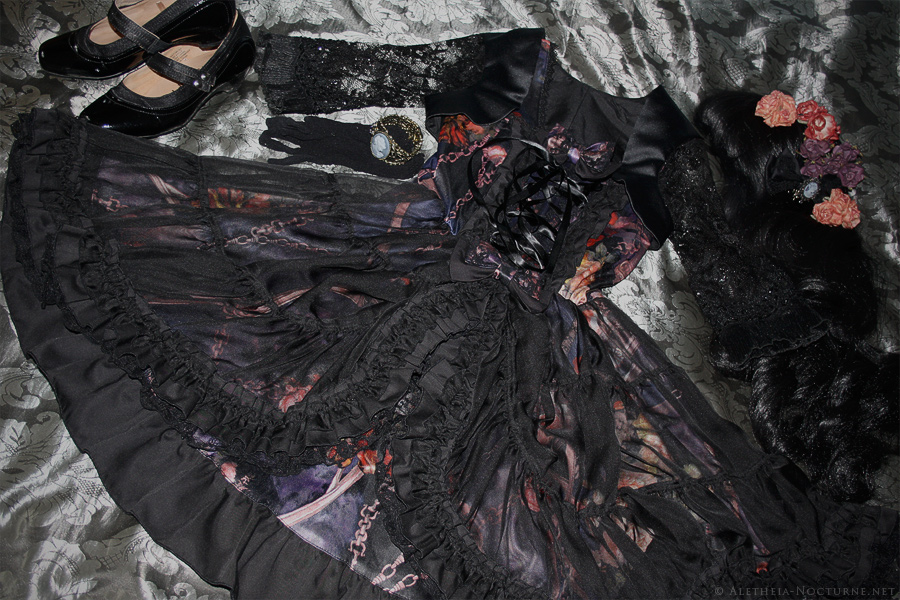 JSK: Bodyline | Bolero: Vanyanis (commission) | Wig: GLW | Shoes: Rivers | Bracelet: Vanyanis
The gloves and choker were also from my friend's Vanyanis store, but they are currently out of stock.
The second photo below picked up weird white linty-looking fibres but, though probably a result of the printed stretch fabric, these aren't actually visible in real life.
But back to the subject…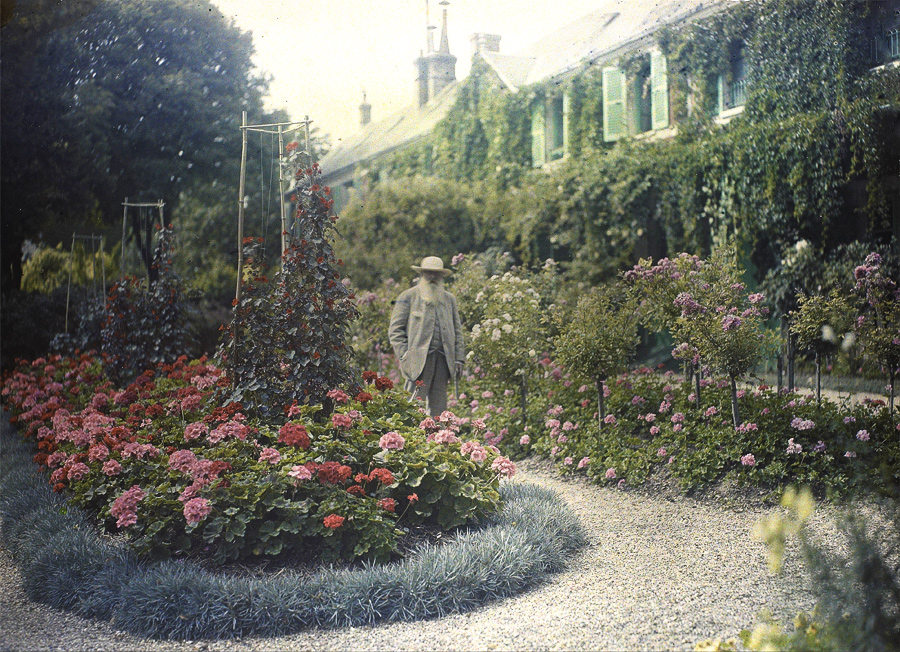 The exhibition, mostly dedicated to Monet's beautiful gardens at Giverny, featured about 65 pieces, divided into several main rooms, each covering a particular theme and offering a glimpse into his life and the evolution of his works.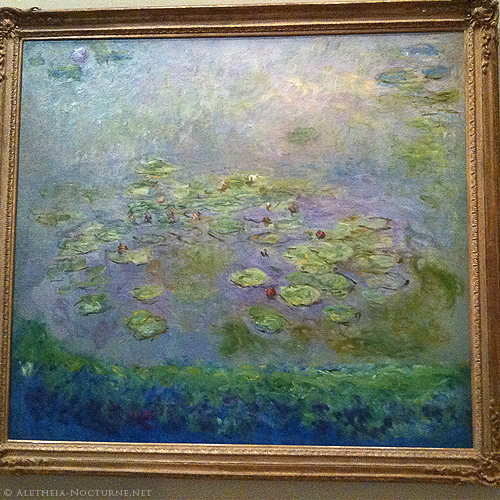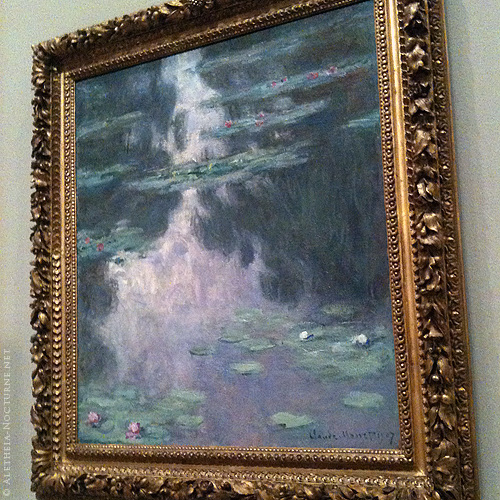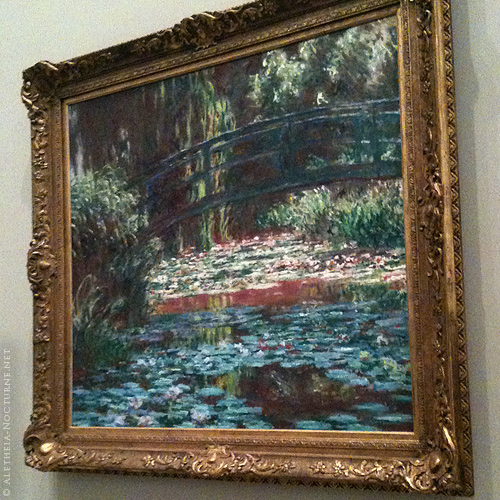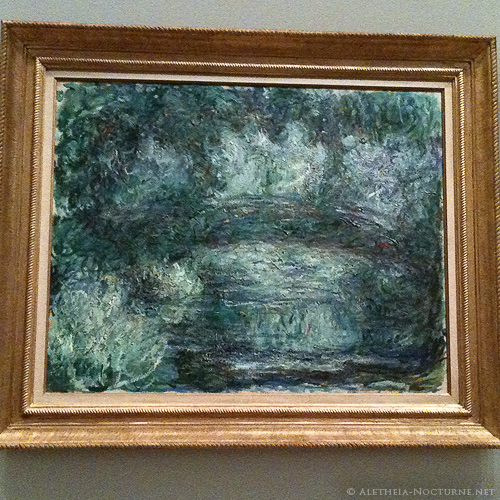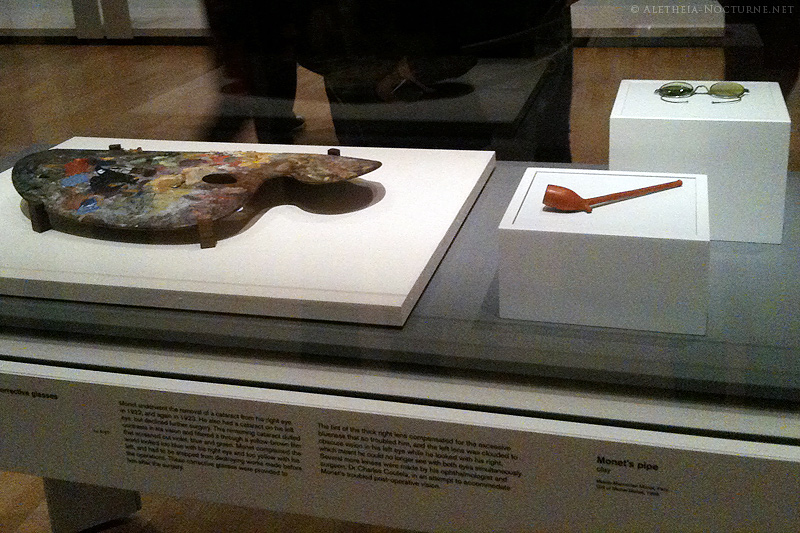 Palette, pipe and glasses belonging to Monet
Though it's harder to appreciate this sort of thing with so many people milling around, I'm glad I went; however, after this section I ended up spending longer upstairs in the 17th & 18th-century art section of the gallery (all free, and free of crowds), where I finally got up close and personal with one of my favourite paintings, which just happens to be in the National Gallery of my city!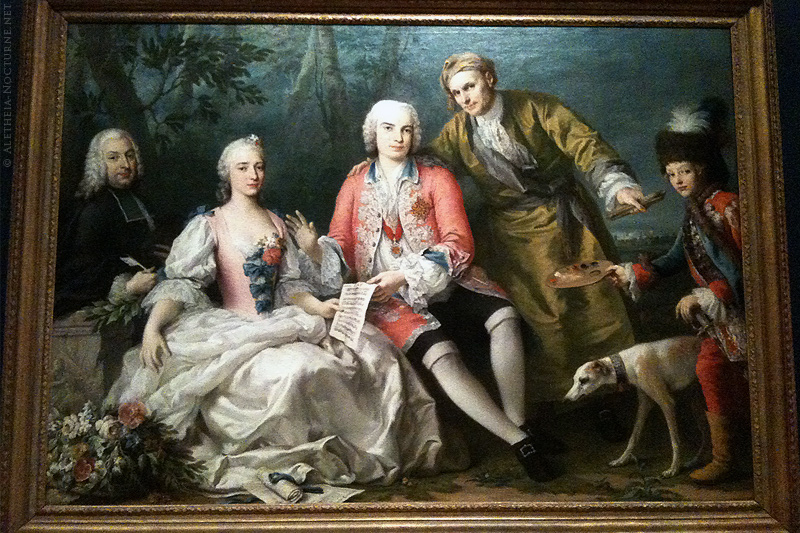 Il cantante Farinelli con amici (The Singer Farinelli and Friends) – Jacopo Amigoni
Metastasio, Teresa Castellini, Farinelli, Amigoni, Farinelli's dog, & Farinelli's page boy

I absolutely devour anything to do with the castrati, especially Farinelli, who is one of the most famous singers in the history of opera. Not only was he one of those rare boys who went on to become the equivalent of a superstar 250 years ago, he was also a lovely person, evinced by this interesting bit of commentary in a book I have:
 "Unpretentious and modest, courteous, respectful of others, he displayed generosity, altrusim and a sense of honour which were out of place in the theatrical world of his time. He was loyal to his impresarios, elegantly gracious towards his partners on the stage; he did not squander the considerable sums he earned, but lived quietly in order to preserve his voice and avoided romantic adventures.

All this was nothing beside his vocal prowess, the real reason for his overall triumph. Farinelli was classified as a 'sopranist;, but his voice ranged over nearly three octaves and was totally at ease in the contralto register. Like many castrati he preferred the medium range, for it allowed him to emphasize the mellow quality and warmth of his voice, to express more fully the deepest emotions, tenderness and controlled passion. At the start of his career he had been principally a bravura singer, a specialist in the technique of ornamentation that was taught in Naples. Later his faculty for expressing to perfection passion and languor, vivacity and frivolity, had earned him praise from the most obstinate detractors of the castrati." (The World of the Castrati, p. 202)
Details (from wiki) – The score is "Vi conosco amate stelle" from Metastasio's Zenobia in a musical setting by Gaetano Latilla (1711–1788)
There were so many beautiful and enormous paintings to stare long and reverently at… but they are better seen in person, so here are a few small pieces I snapped: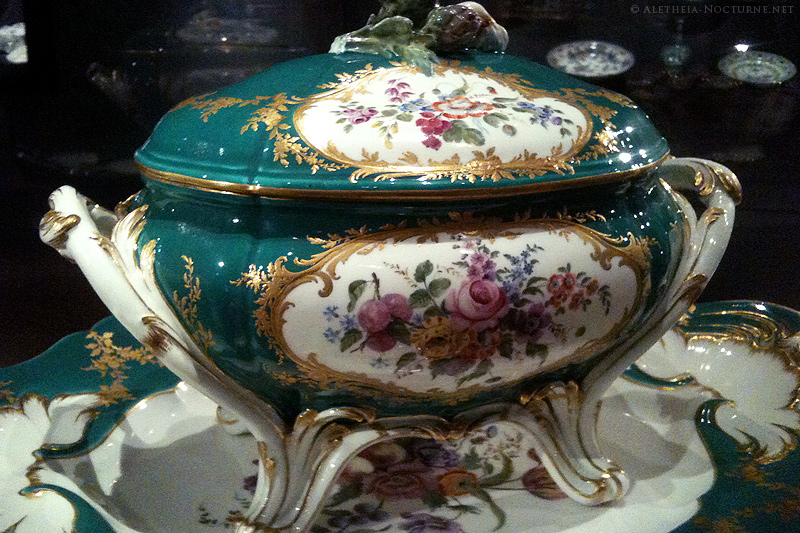 Tureen and stand, 1760
The Enjoyable Lesson and The Mysterious Basket (detail) by Boucher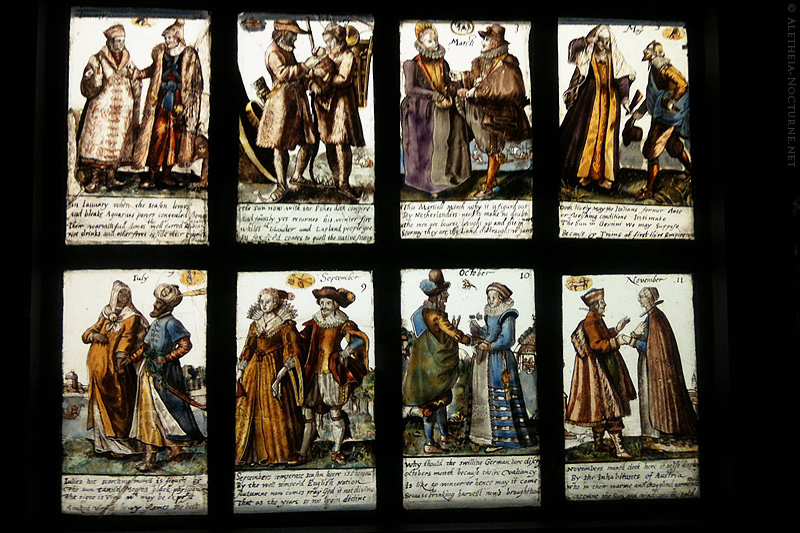 This was a post I nearly didn't bother with, so I hope I managed to make it interesting!