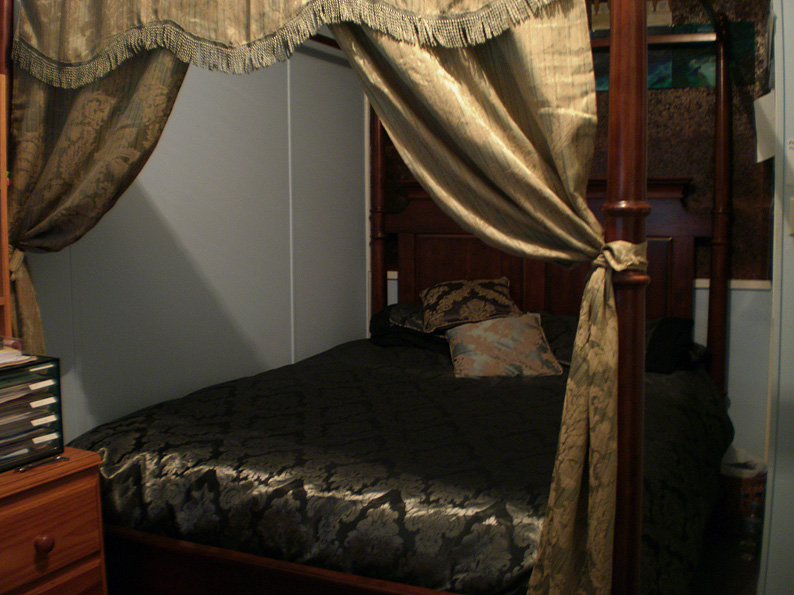 Yay! Today we picked up our 'new' bed frame. Once we had it all re-assembled I threw some nice bedding back on it. It's a little imposing (in a good way) and has been telling us things like, "I OWN this room" and "you MUST sleep in me". It's just really great to have a frame at last – any excuse for a four-poster! The damask I bought a few months ago may come in most handy for the curtains, since it's really too thick for clothing. All we're really lacking in household goods now is a washing machine and a living room set (comfort foremost). We don't have a television but don't plan on getting one until we start to crave a round of Mario Kart 64 or something. All we need is the house to furnish all this with!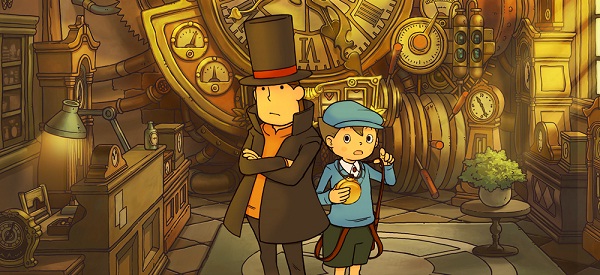 Next on the list of fun things is the newest adventure in the charming Professor Layton series for DS. If you have a DS and haven't yet played these games, they're essential! I loved the first two games and Professor Layton and the Unwound Future is also rather absorbing. And the website for Diabolical Box is designed well! I have a big crush on Hershel, and the whole thing is just so quaintly steampunk. Oh, and there are puzzles, many fun little puzzles… that's the whole point of the game, really. It isn't a dashing gentleman and his lovely voice, no, it's brain strainers that quash your ego a bit every time you lose some picarats from guessing instead of thinking.
Onward. Yesterday my gentle-fellow and our special friends had an awfully good time picnicking by the river and then playing cricket in the pouring rain. We stopped after it got particularly heavy (part of Australia is being hit heavily with bad floods at the moment) and then headed home, completely drenched. I baked zucchini and cheese muffins and we all ate them and watched The Book of Eli. We're now very sore from what almost counted as "sport", and I'm about to settle down for bed. My grandmother was unwell for a while and on top of a horrid bronchial bout has been receiving treatment almost every single day for a nasty spider bite. She doesn't remember being bitten or know how it came to be, but one person or another in the family has had to ferry her to the doctor's daily to have it tended to. It's definitely improving, and thankfully wasn't a particularly agonising or disabling bite! There has been a lot more going on with my grandmother and her husband, which has taken up my mind and time lately (I do like having something to do though, and like spending time with her), but I think that those issues will settle soon.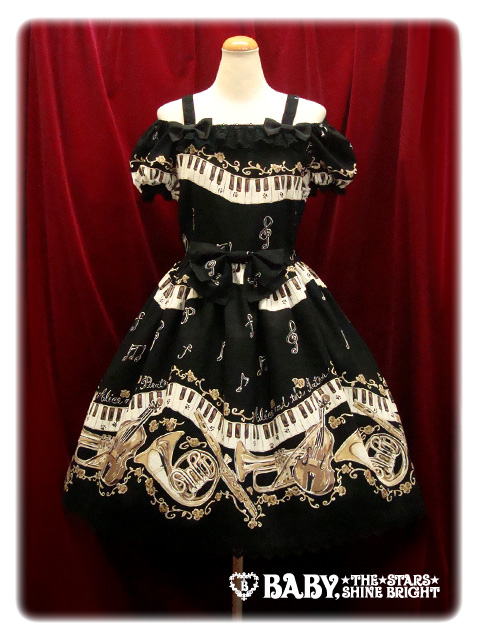 And finally, I managed to get a reserve on a BTSSB dress, Dance of the Black Cats, in this exact style and colour! I paid for it today and am very excited. I can't wait for it to arrive, and for an opportunity to wear it! I shall wear it to the next piano recital. Speaking of piano, every time I go to practise, I find myself avoiding every piece and obsessively returning (though who out of any that know the 48 preludes and fugues would blame me?) to Bach's C# minor fugue (BWV 849). Yesterday I had great fun analysing it and circling every instance of the subject and two counter-subjects, and it's just such a delight to see the music "revealed" through these expositions, answers, and episodes! There is something very satisfying, wholesome, and focusing about studying, playing, and listening to counterpoint.