I'm finally able to share with you some images from a photo shoot last year with my dear friend Juliette of Somnolent Images. Juliette does such special work and it's been a privilege to be part of her creative visions.
So, during our visit to Cloudehill, I wore my silver Vanyanis robe à la française, and pretended to be a girl in an 18th century garden after receiving a love letter, waiting for a rendezvous with my beloved.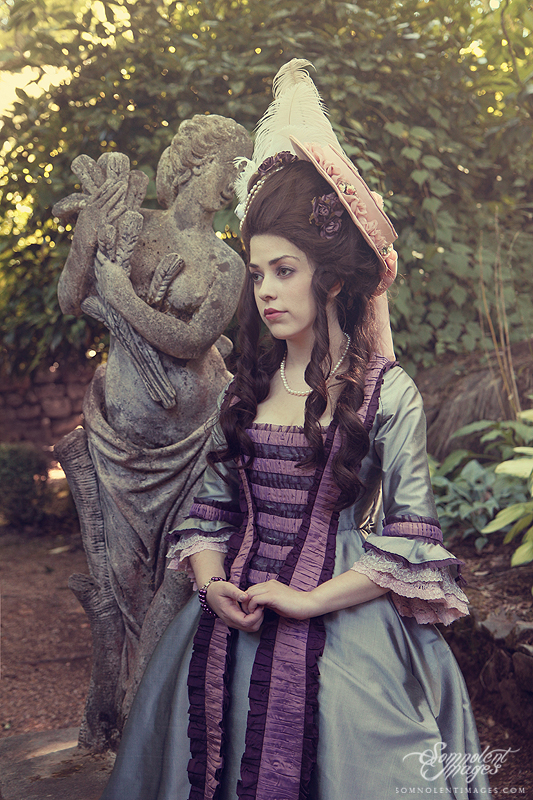 Clothing: Vanyanis | Hat: vysanthe | Shoes: me | Hair & makeup: me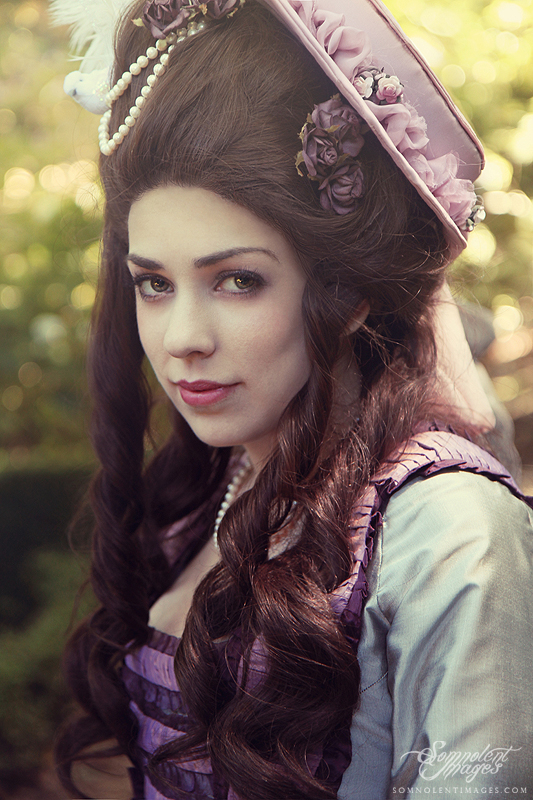 For the shoot, I used a curly lace-front wig which is styled over a hidden "rat" (hair piece) for volume.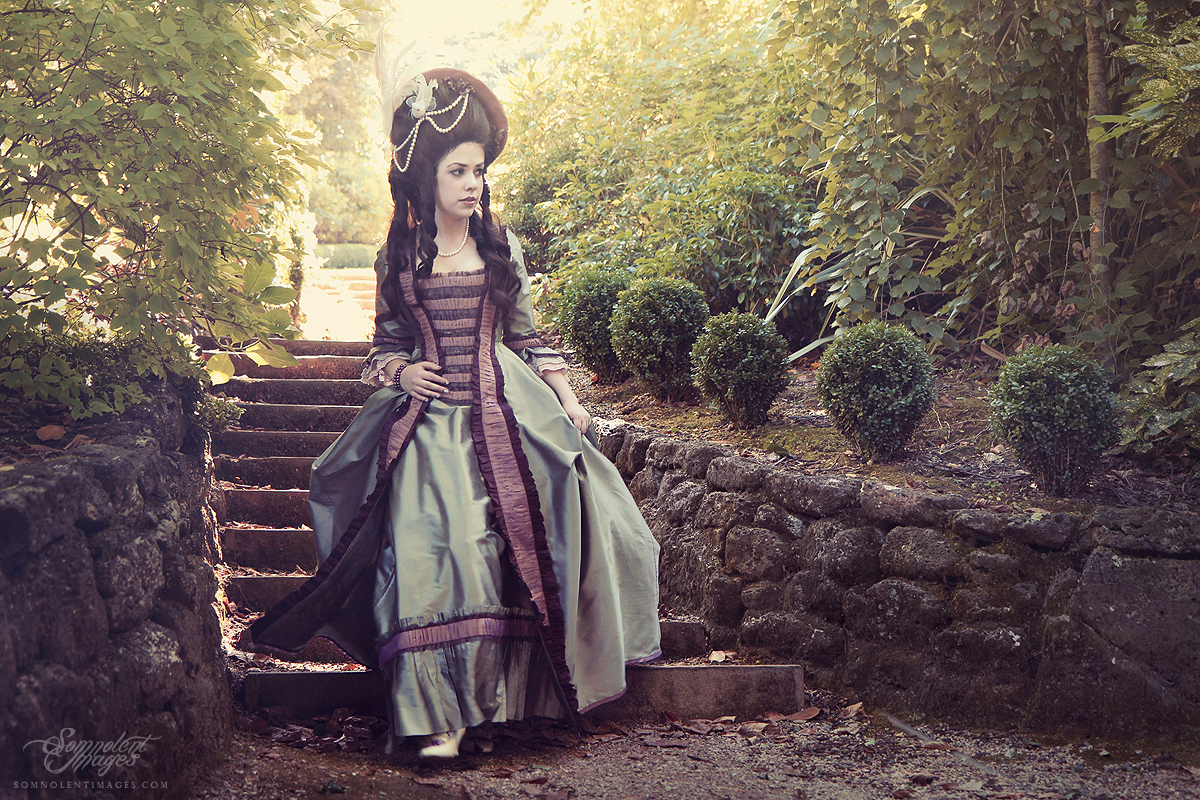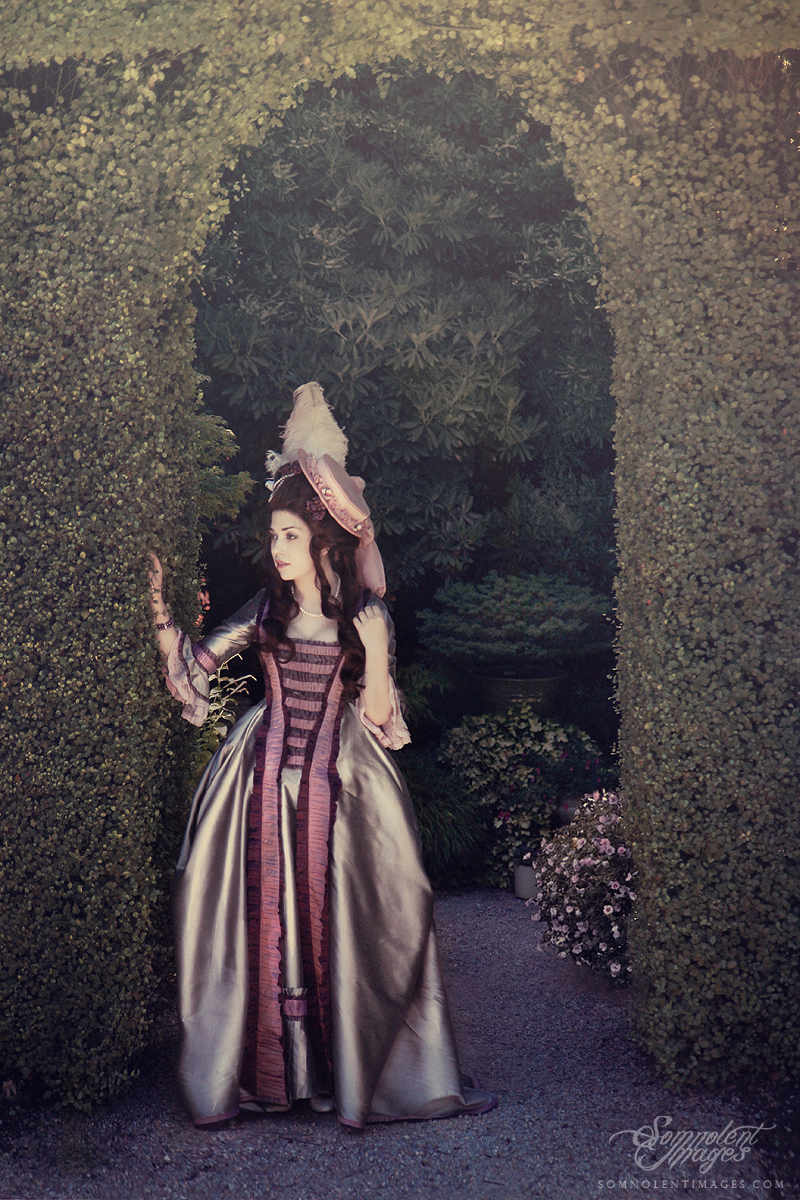 The gown is typically worn over a structured pannier but I couldn't drive in it, so left it out.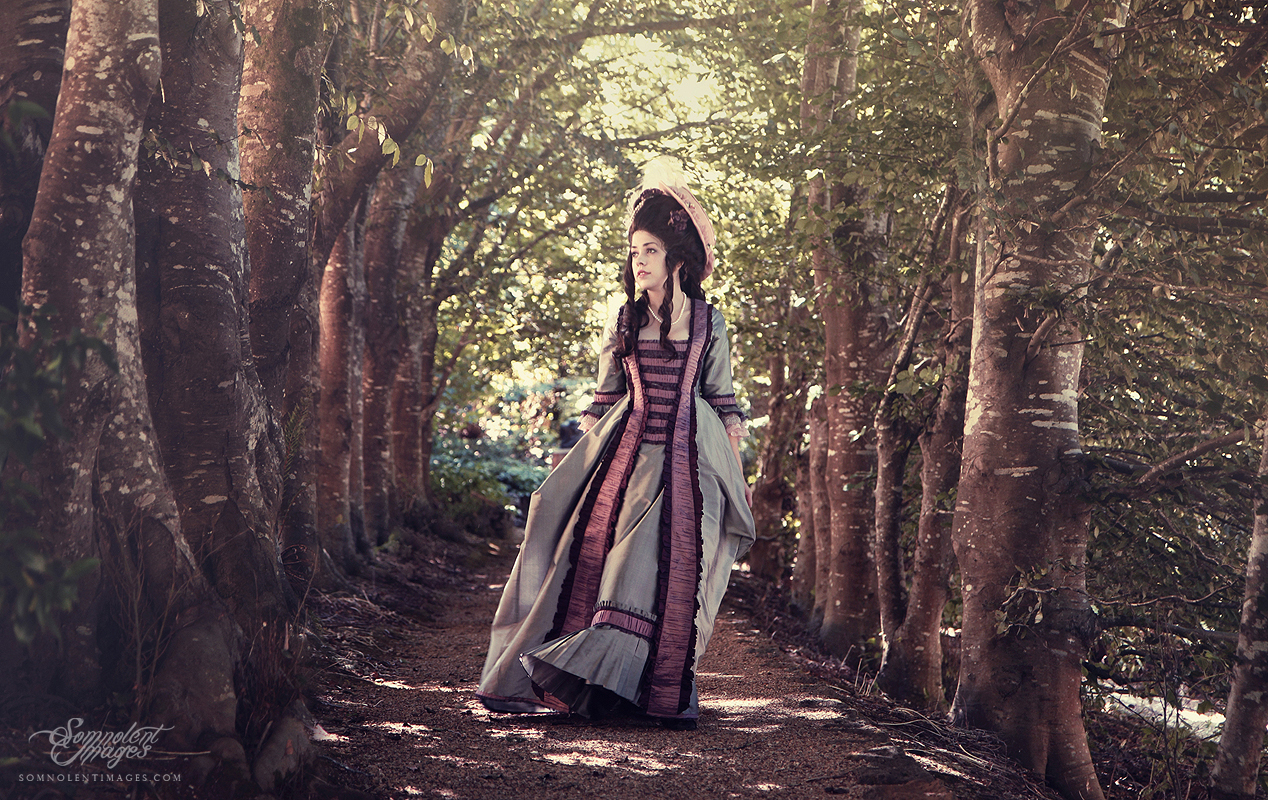 Now for a little about the garments themselves! You can skip the text if you already know about historical garment construction. 🙂
Behind the Scenes – Deconstructing an outfit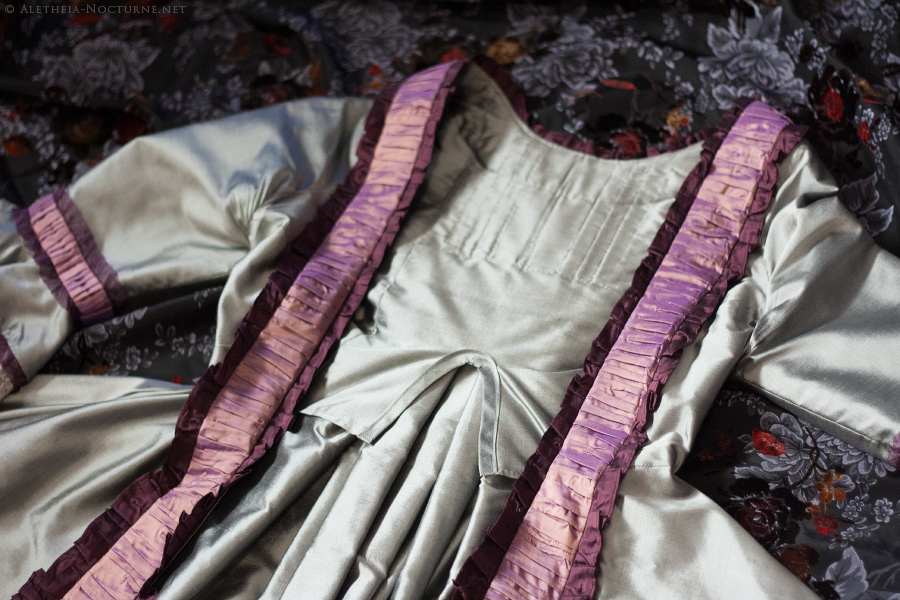 There are typically at least 6 pieces in a robe à la française ensemble! The above photo shows the lining of the main part of the dress, often called a mantua. Underneath this open-fronted gown is worn a skirt (or petticoat) in a matching or complementary fabric. Under this could be worn a plainer set of skirts which were staple undergarments. They were worn to add structure and shape, but also very much for warmth – we would now rely on pants for this, but at this point in time a woman in a European climate just had to rely on stockings and layers of skirts!
Under everything else you would wear a shift (or chemise) which you could sweat into and which meant that your stays weren't worn directly against the skin. Women did not usually wear any sort of "crotched" underwear – it was not an era of particularly good hygiene practise, but despite the popular idea that people did not bathe, most people did regularly clean themselves – it was just usually done with a basin of water rather than submerged.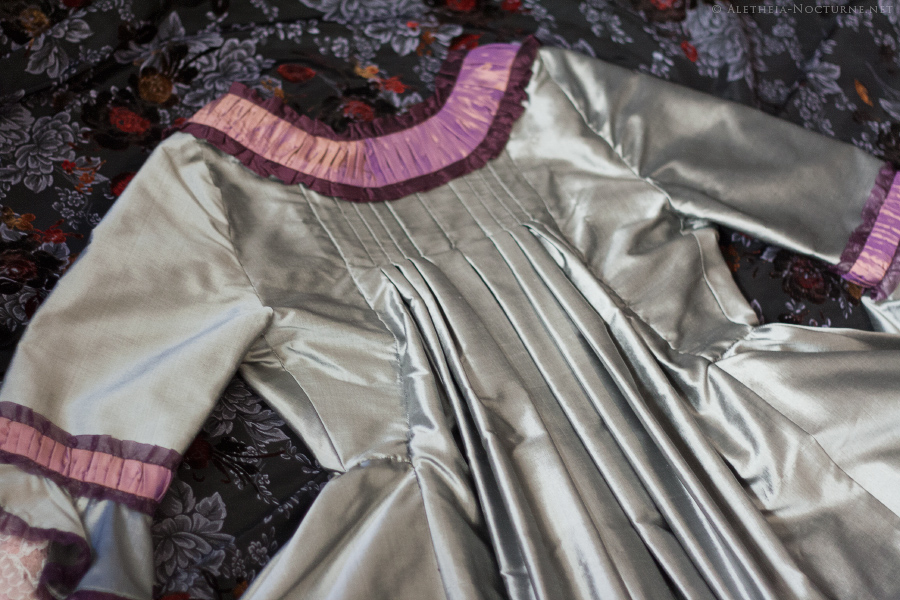 The sacque-back, a style popular in court dresses through most of the 18th century. Pleats hang down and connect to the main part of the skirt.
Some shoes I decorated to match.
L: Ruffles | R: Stomacher detail. These are put on almost last, and pinned to the stays and robe once the wearer is dressed.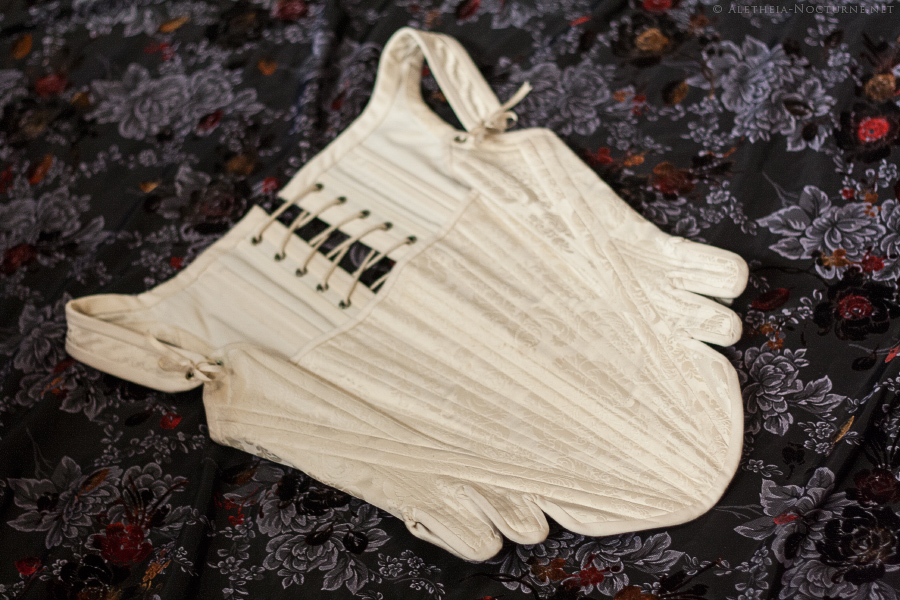 Stays – they don't call it a foundation garment for nothing!
It isn't possible to wear the dress without stays, because the dress was designed to fit corseted measurements, which alter the shape of your torso. These are steel-boned, and the tabs at the bottom are basically essential for distributing the weight of the garments correctly, helping the stays not dig in as much at the hips, and providing an anchor for all the skirts which would otherwise slide off the waist! These particular stays are made from a beautiful silk brocade – however, this pair cannot be spiral laced (an authentic practice) because of the grommet placement.
Stays and pannier detail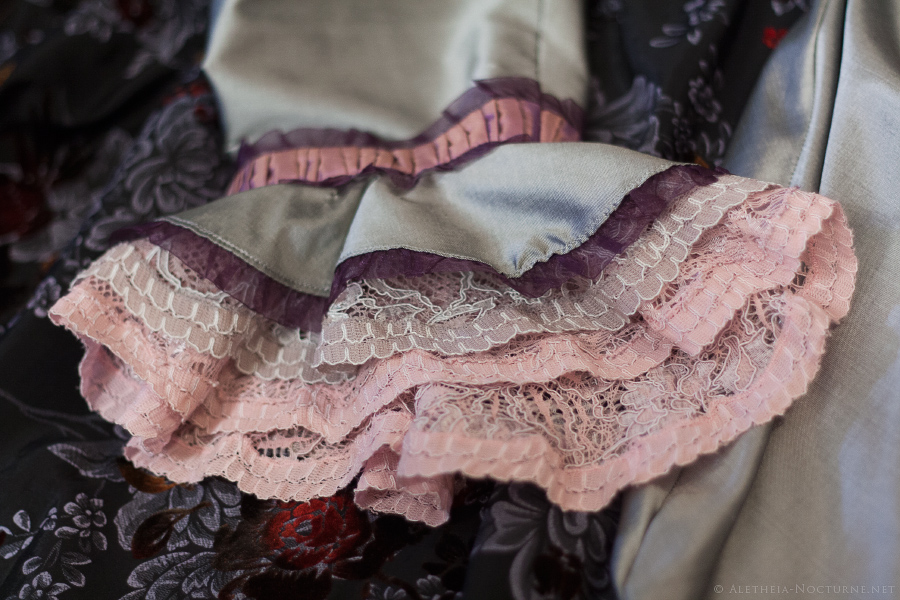 3 layers of sleeves to die for – one of silk and two of French lace. This is possibly my favourite part of the garment!
Thanks for reading!