Greetings! This month I have tried to forgo wigs in my lolita coords and practise using my own hair. It's a little more work in some cases but saves me from the downsides of wig-wearing: the tight feeling from so much hair inside, itchiness, heat in summer etc…
Outfit for Liza's birthday
OP: Dance of the Black Cats, Alice and the Pirates | Socks: Innocent World
This is quite a sweet dress in shape but I wanted to make it feel more "mature" this time. I really love the jacket I picked up a while ago, but when I checked back in the shop for the awesome purple one, I was too late! I've also decided it's not all that good a fit on my bust anyway. :/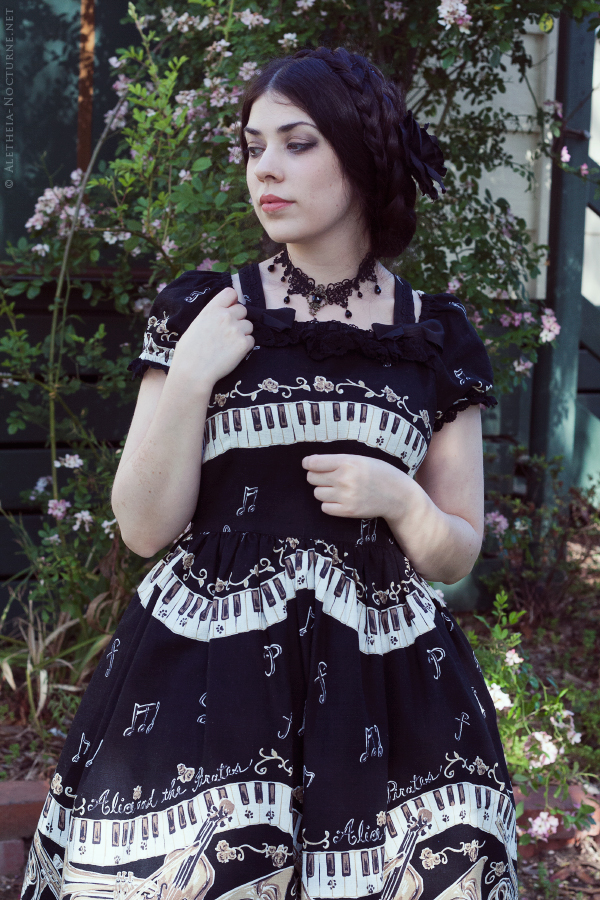 Outfit for the Halloween Picnic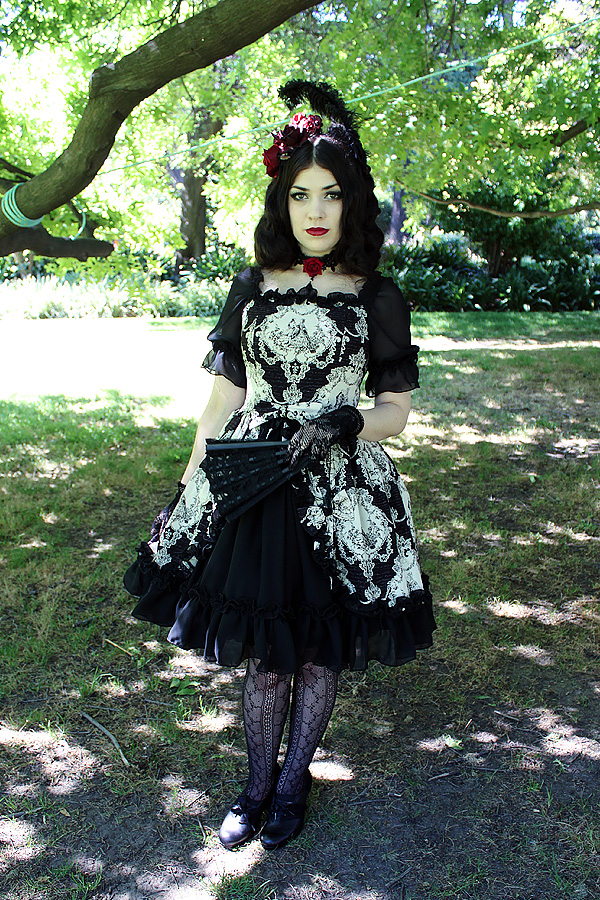 I received this Lady Sloth dress recently and wore it to an annual lolita Halloween meetup. It's my first Lady Sloth piece and I have mostly favourable thoughts about the ordering process, craftsmanship and quality. The dress looked so tiny when it arrived but this was just because it was made to my exact measurements, which were used perfectly. The bodice is lightly boned which helped keep it looking neat. I did ask and pay for elbow-length sleeves but it seems this was overlooked. I've pulled them down as far as they will go for the photo, but they tend to constantly ride up higher. I also paid for (and received) an extra bow, though the shape was nothing amazing. It came with a headbow and two small bows on pins. You can just see where I've pinned them on the edge of the skirt.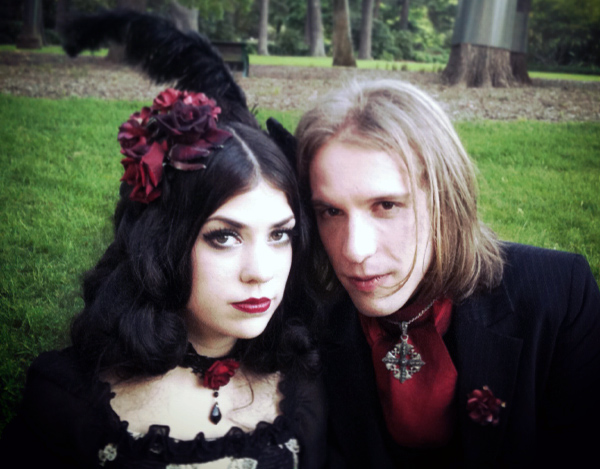 To get my hair up like this I curled it in rags overnight and then brought the hair up to the length I wanted showing, pinned it, then coiled the rest at the back. I was very happy with it (it was a warm day and it felt very comfortable) but something about it leaves me looking wide in the chin/jaw when this is not really the case in real life. 😛
Outfit for a Cloudehill stroll
Top: Innocent World | Skirt: Bodyline
For this day spent with a visiting friend I wore two seldom-used pieces in my wardrobe, so I felt quite excited laying them out the night before! My hair is coiled up similar to the first outfit, but it sits a little further back.
Outfit for the Lavender Farm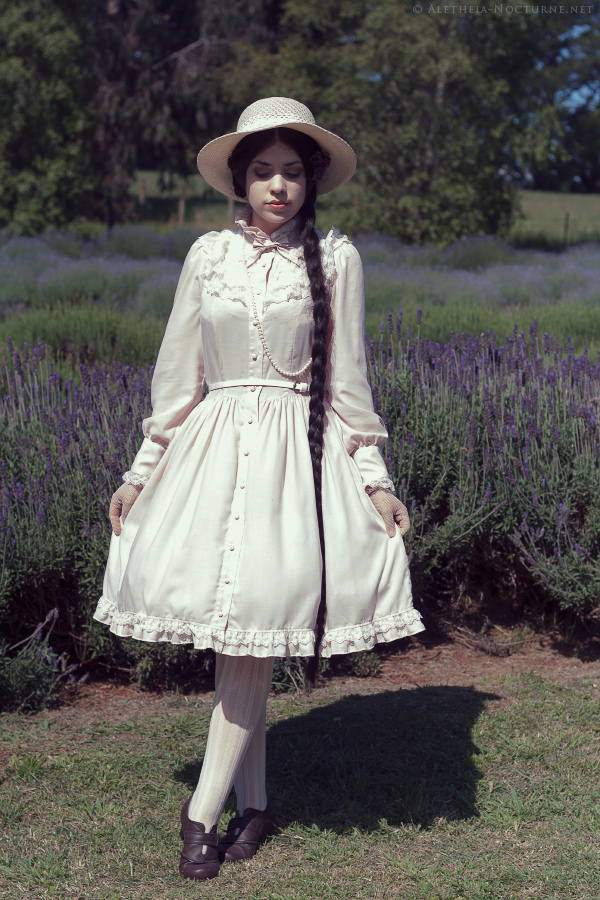 OP: Innocent World
A few days later we popped into the local lavender farm's open day, though we arrived too late to really take advantage of it all… oops.
I wore one large plait with a smaller one coiled on top of my head to balance the weight of it – it also helped it look a little less plain with the hat off.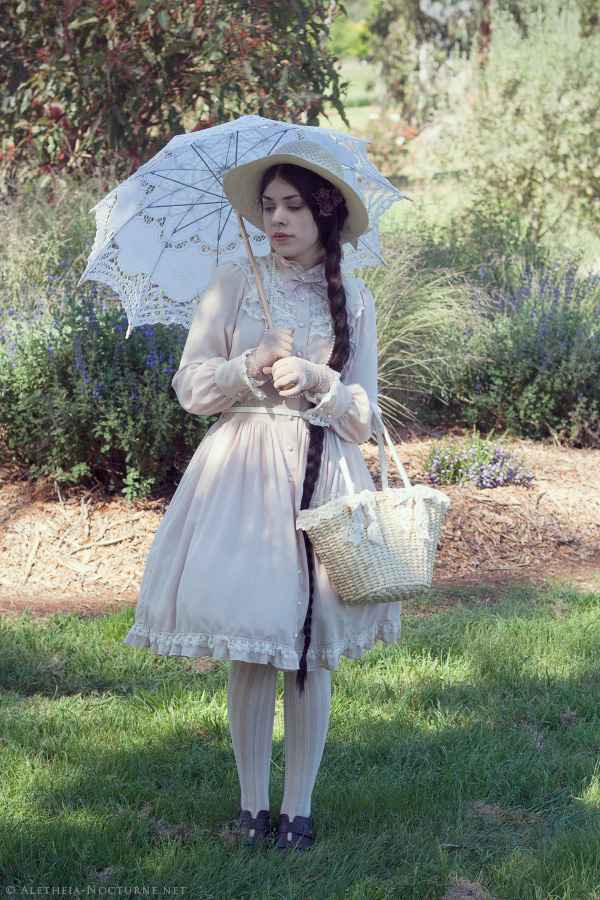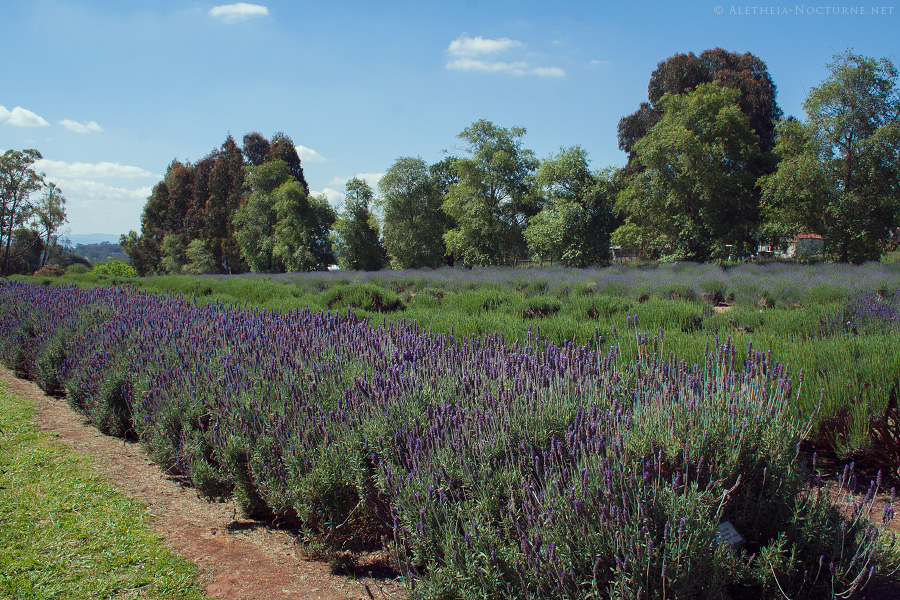 Thanks for visiting!