December 9 marked my quarter-century birthday, but instead of moping around grumpy about ageing and how the years are flying by (they do regardless of how busy you are, it seems), I had a nice time doing as I pleased. I dressed up, putting a summery spin on my favourite little Metamorphose dress, and we headed out in the topsy-turvy weather. We stopped at several farms to pick up fresh berries and flowers and then arrived at my choice eatery of the day, Cafe de Beaumarchais. Honestly, if I lived in Sassafras I think I'd pop in there every afternoon to get slowly chubby(er) on a late lunch, a sweet treat and a pot of tea. This time I chose the Mediterranean flan and shared a pistachio & orange slice with Adam.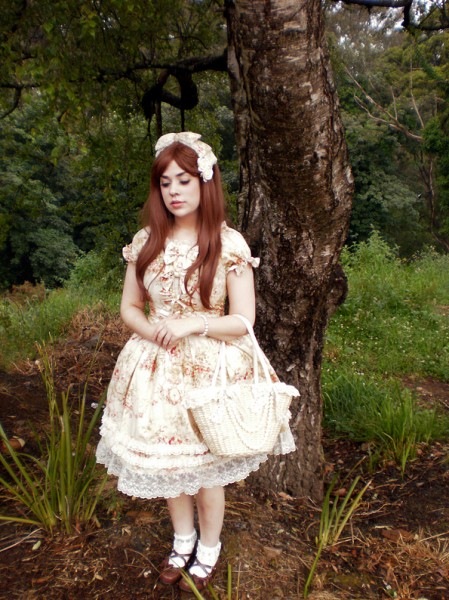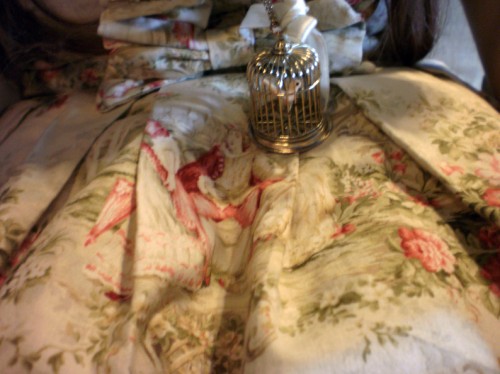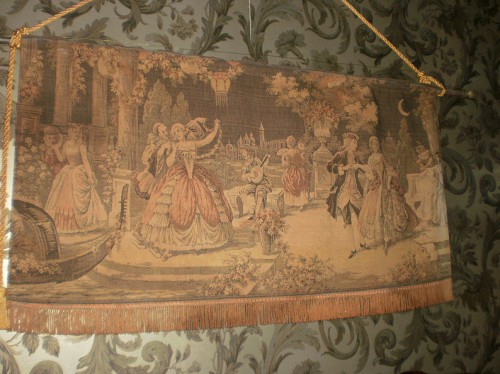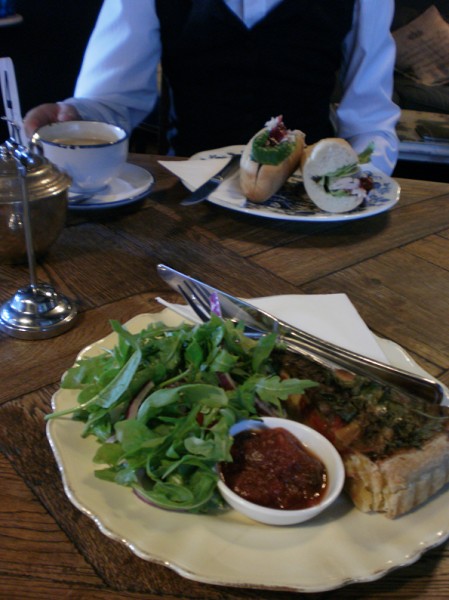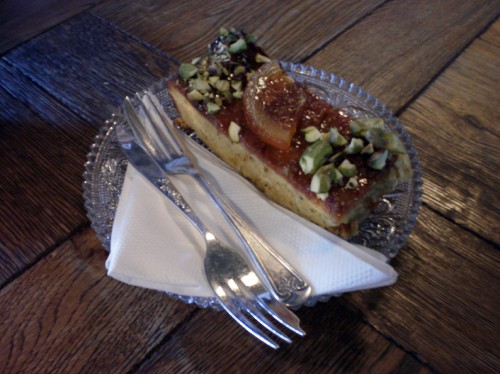 This year I received a bag and bonnet set from my dad (I think the bonnet is lovely but it definitely wasn't made for my head and sits far too tall), a tea book and some Monet prints from my mum, a notepad and a few dozen homemade macarons and friands from my little sister, a nice bottle of moscato from Alice, and bath bombs in the shape of macarons from Krystal! My brother gave me a voucher I used to put a deposit on the Diablo III collector's edition!!! I also put money I received towards one of my dream lolita dresses, Mary Magdalene's Elmeria in chocolate.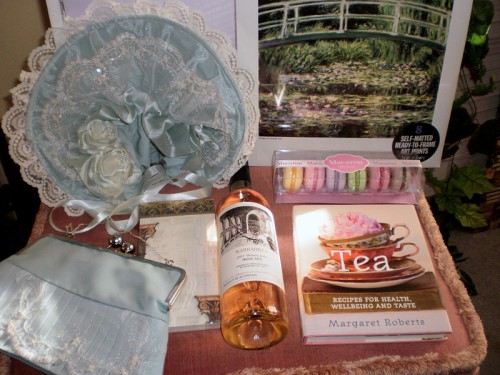 I was sent over fifty lovely messages which completely amazed me, I could barely keep up with them! The following day was unpleasantly warm so my party plans, in which I envisioned a lawn party in perfect weather, instead shifted indoors. We decided to erect the gazebo INSIDE – it only just fit – which meant I could put up some hangings for a fun and cozy atmosphere, a cubby-cum-opium den. Though I didn't really manage to get any "good" photos I had a great time loung- well, bustling about with food and drinks, hanging out with family, close friends, and some awesome new friends.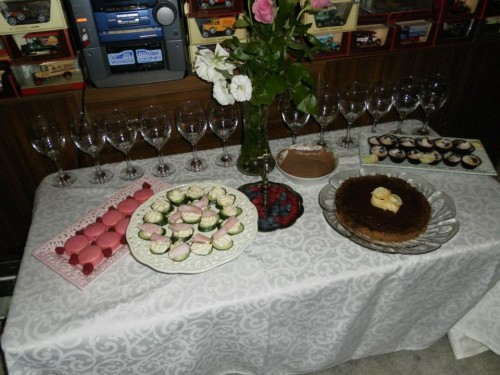 My mouth's watering just looking at this. My sister's mini berry friands are to die for!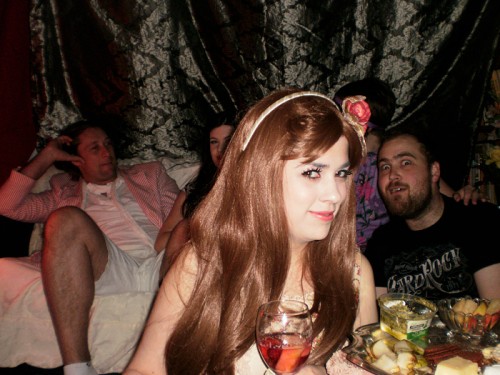 I look like a sleaze :S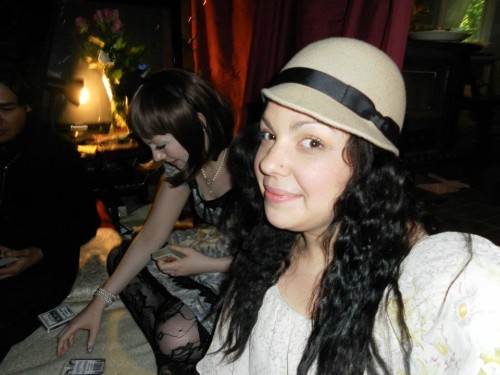 Regaled as per usual with the life of Nelson.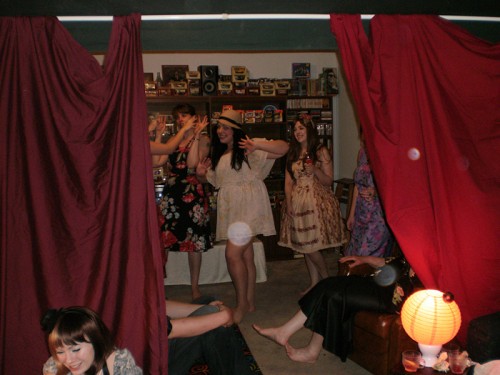 Three sisters dancing!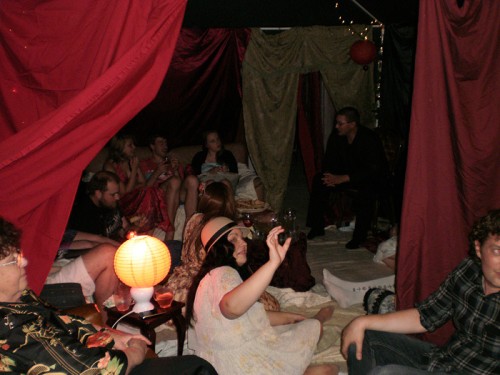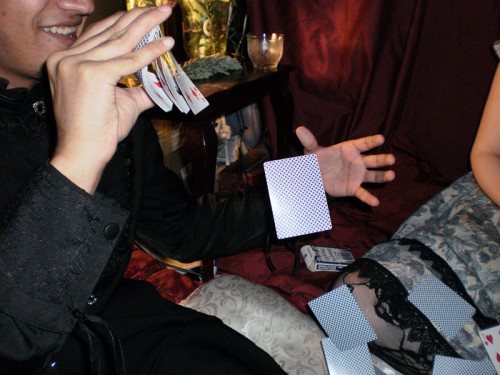 Jorge shows us how to spray a deck of Bin Wang…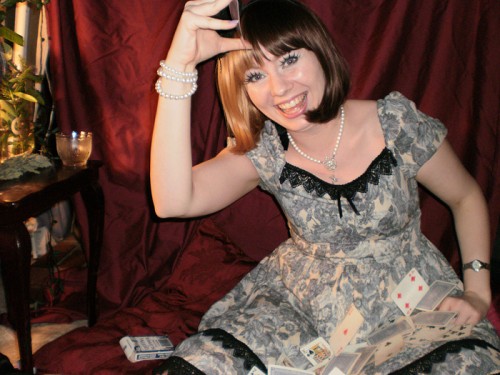 …and Jess follows suit. (sorry)
The next day was just spent groaning, as all my muscles protested to having actually been used, and having a MarioKart 64 marathon. I dropped some family home and then tried out a new local Thai restaurant with Adam. We were very pleased with the food and vowed to keep returning. Minus one hitch where part of our order wasn't taken (we're a bit on the quiet side, I think), the staff were very sweet and it was a lovely dining experience to top off what ended up as a 3-day birthday celebration!