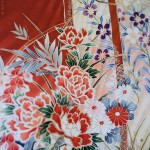 I was recently invited to a tea party hosted by a good friend of mine – she served us an array of treats, including lots of green tea-flavoured things, home-made mochi and lots of different teas. I thought I'd document the day a little!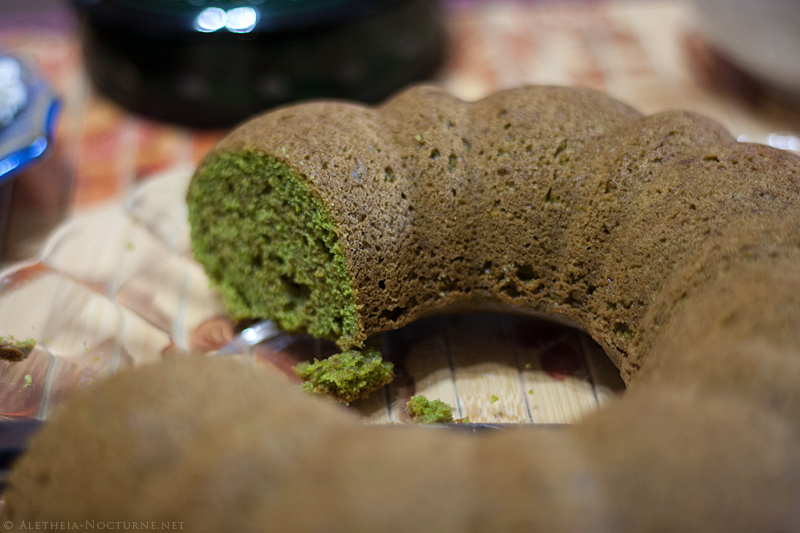 Green tea bundt cake
Kimono detail and table spread.
Beautiful dining area and kimono detail.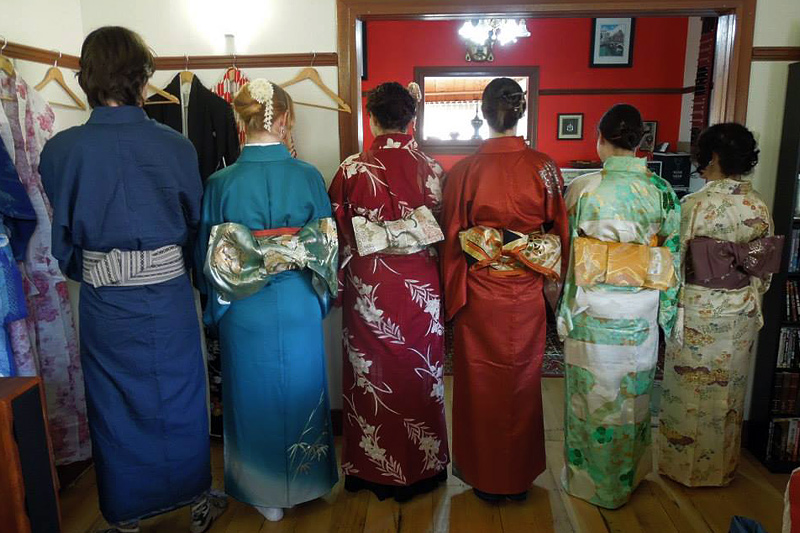 All Carly's lovely kimonos being "modelled" by guests.
My outfit for the day … and my best friend's head.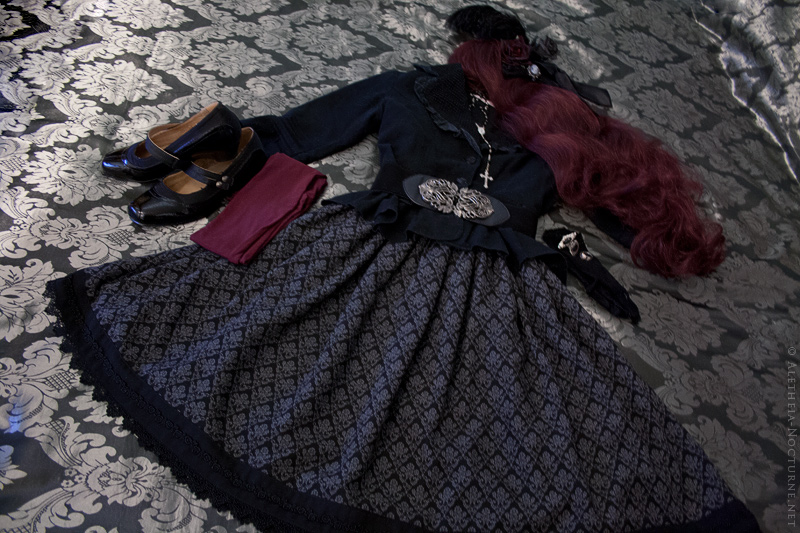 OP: Innocent World | Wig: Bodyline | Shoes: Rivers | Tights: Forever New | Belt: eBay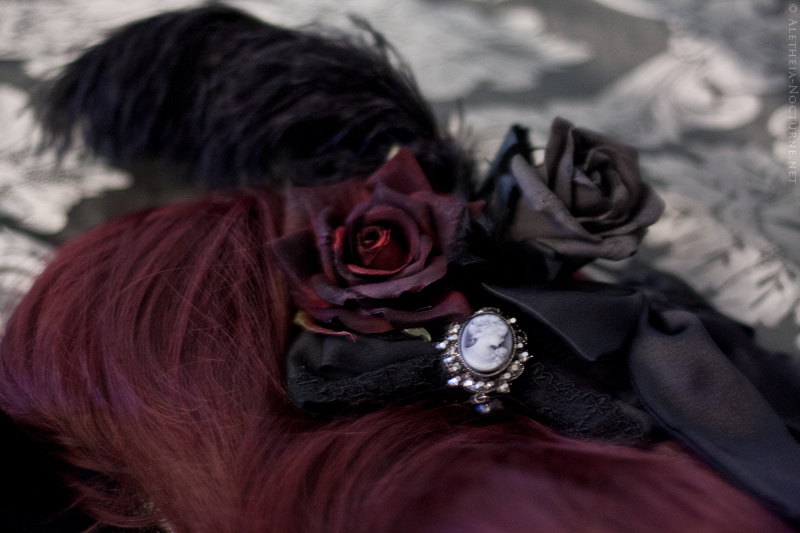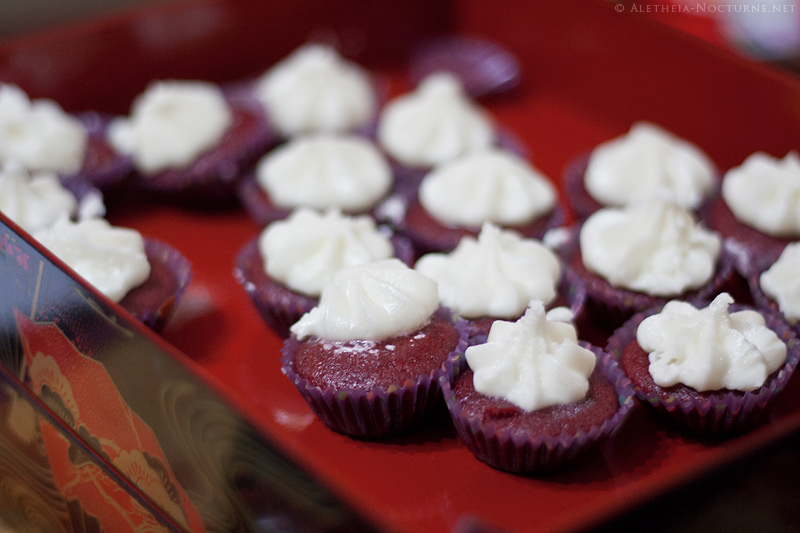 Chai-flavoured cupcakes. Verdict: amazing!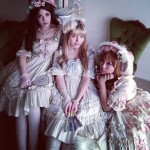 I had a really awesome time with my friends Julija, Goldie and Elliot in Sydney recently. My main purpose for travelling (other than wanting to spend time with my friends) was to visit Carey Beebe's Harpsichord workshop. He is Australia's foremost harpsichord maker and has had vast experience building and maintaining early keyboard instruments. It had been a goal of mine for the last few years to see his workshop and try out all the instruments, in the hopes of one day purchasing a kit to build my own. Carey himself is overseas currently but another harpsichordist welcomed us in and let us enjoy playing them for a while. There will probably be more posts in future regarding this project and what I eventually decide to do, but so far each step of this little journey has been quite exciting!
This is the double Flemish and detail of its soundboard decoration – ultimately the model I would love to have!
Julija playing the double (she sounds amazing, whereas I am yet to develop any sort of proper h'chord technique!) and an original spinet. I loved the quality of the spinet and pianoforte in the showroom.
Playing another spinet, and twinning with Julija. <3
A few days later the three of us ladies had an impromptu sort of shoot in our Antoinette dresses – these are just Instagram previews (not mine)!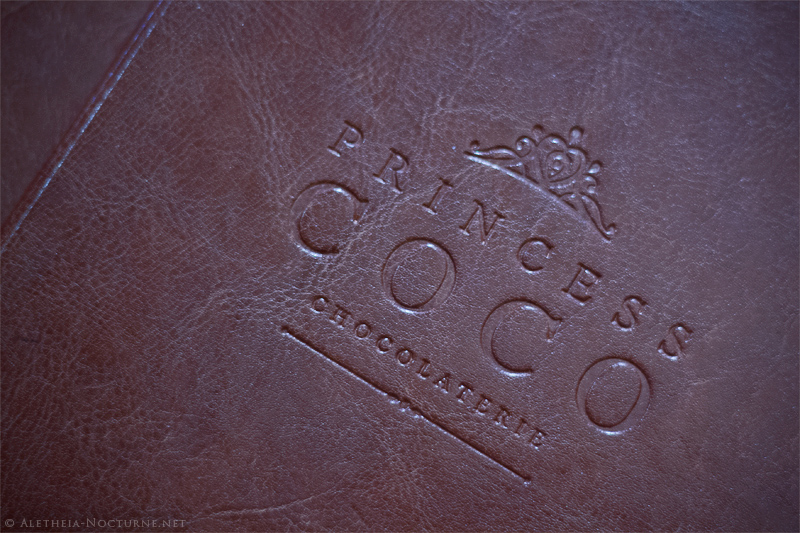 Our next destination was Princess Coco chocolaterie for dessert.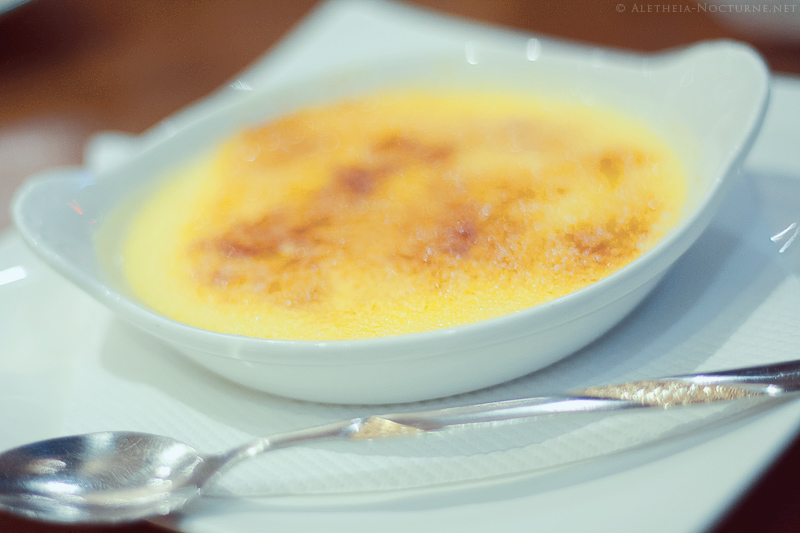 I had a crème brûlée, very enjoyable. Wish I could go back every week for a different treat!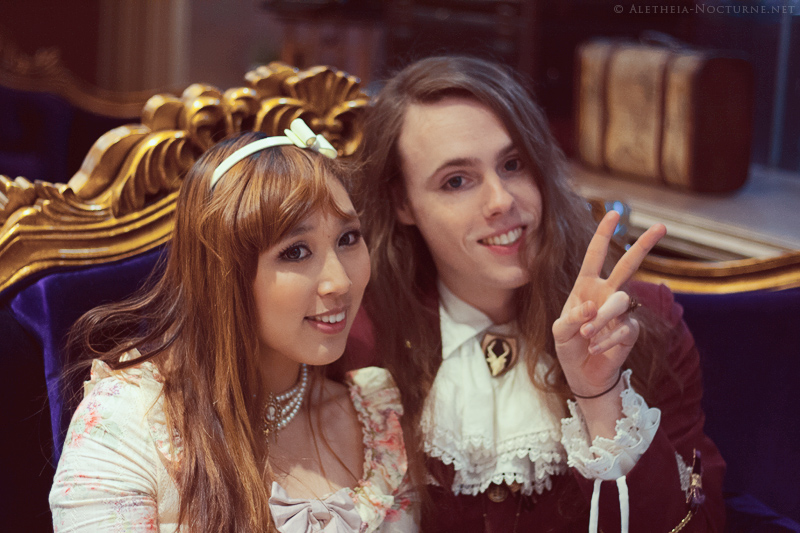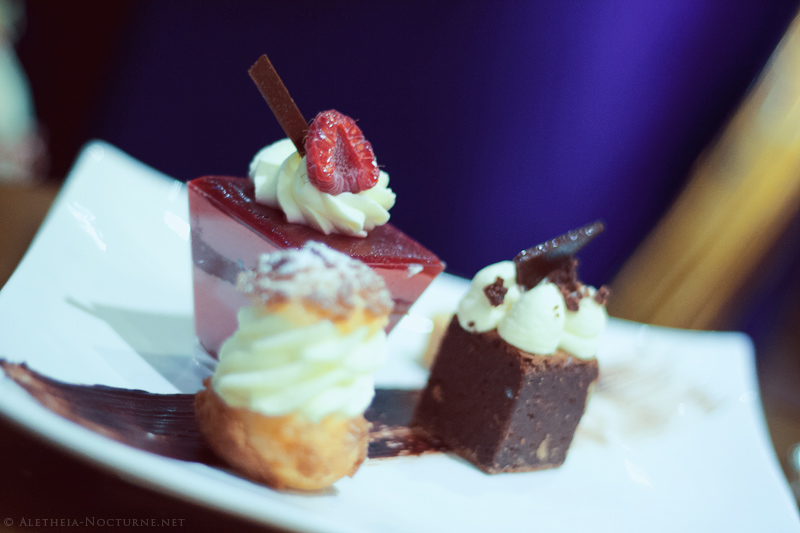 Petit fours
Julija & I… then my visit to Ladurée. Macaron pictures aplenty!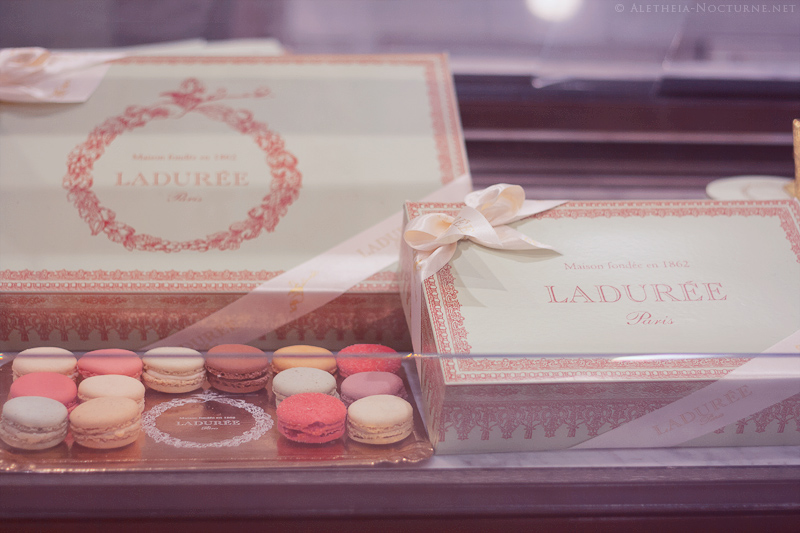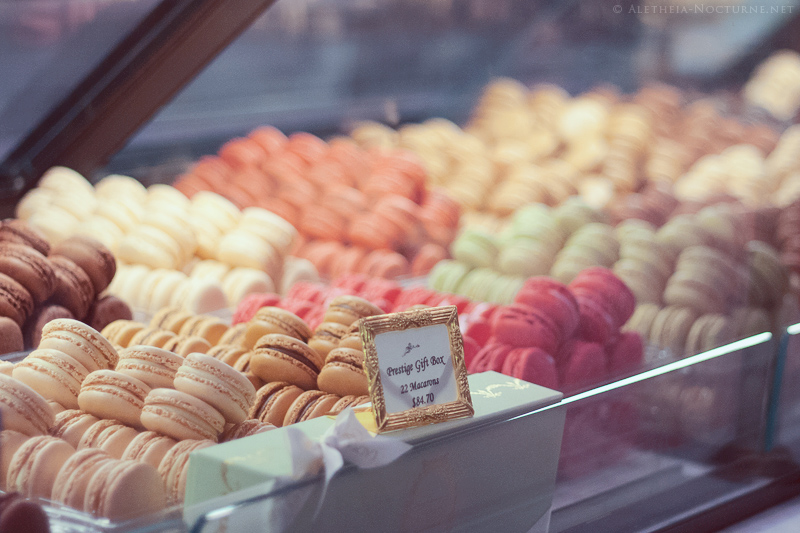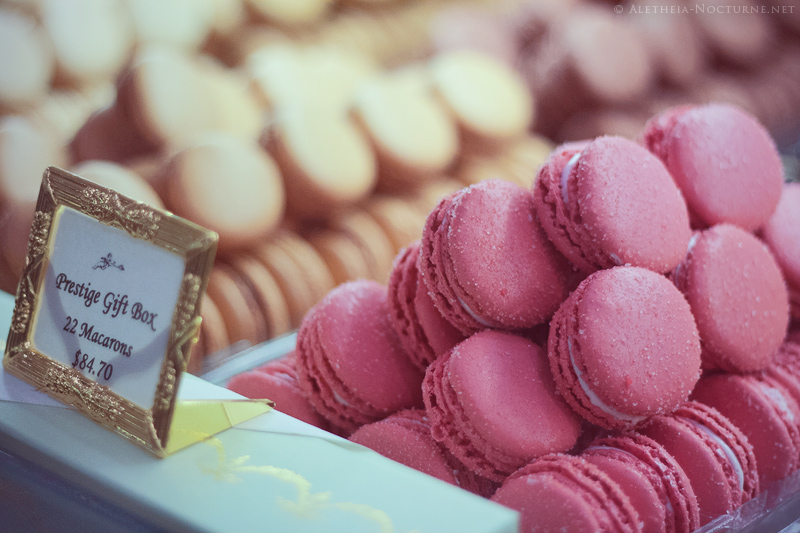 To be honest, I have personally enjoyed macarons from other places more, and the box I bought didn't make it home in great condition. Perhaps it was just this particular franchise though…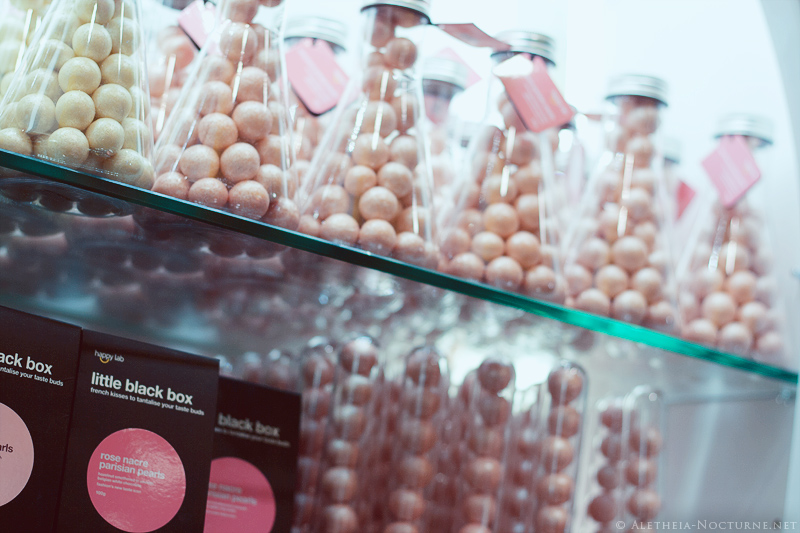 Pearl candy-coated nuts etc. at Happy Lab. I only just noticed the test tube and flask-shaped packaging!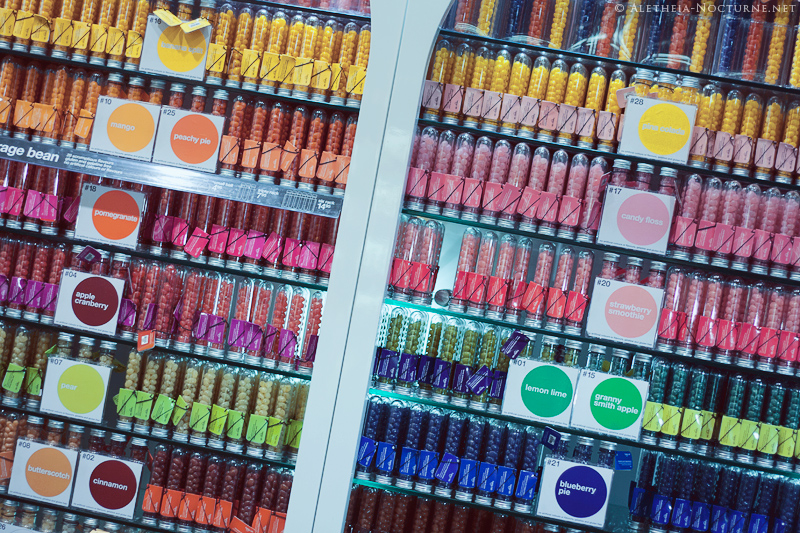 On my last day shopping I wore Goldie's pink Versailles Rose (excuse the weird face).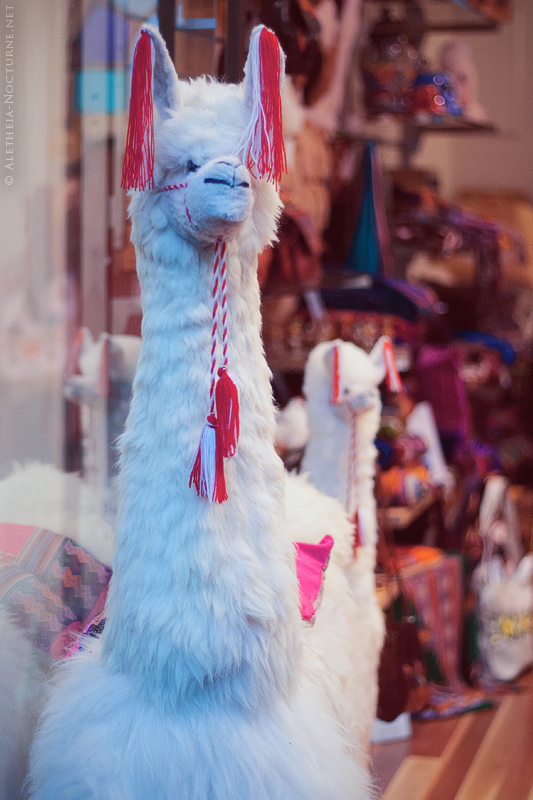 A random awesome huge toy llama at The Latin Store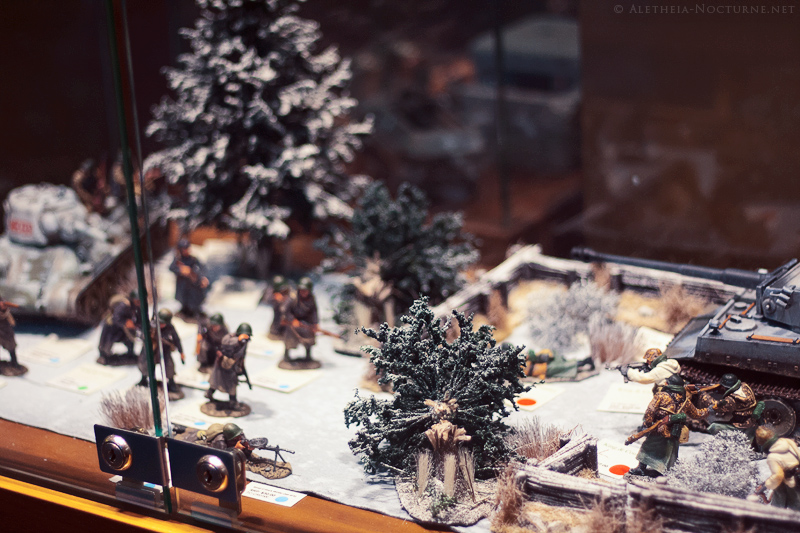 Military miniatures at Peter Nathan Toy Soldiers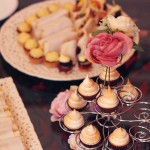 March has been quite a busy month!  It started with our anniversary, but we both caught whatever bug has been going around lately so it was a low-key affair.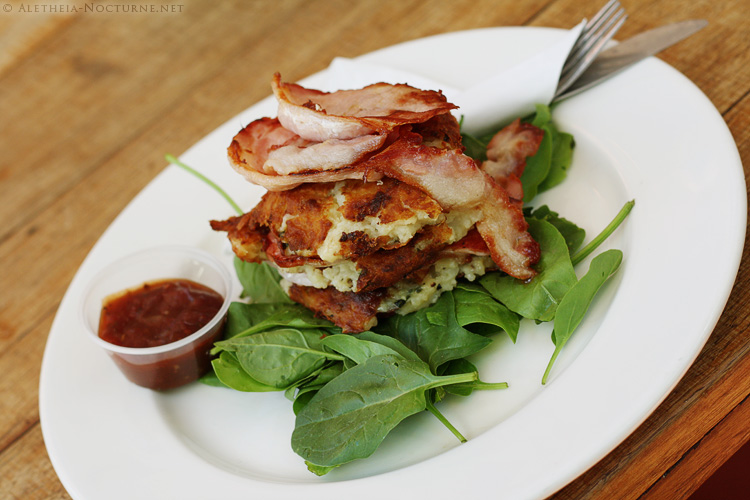 Enjoyed a tasty lunch of homemade hash browns…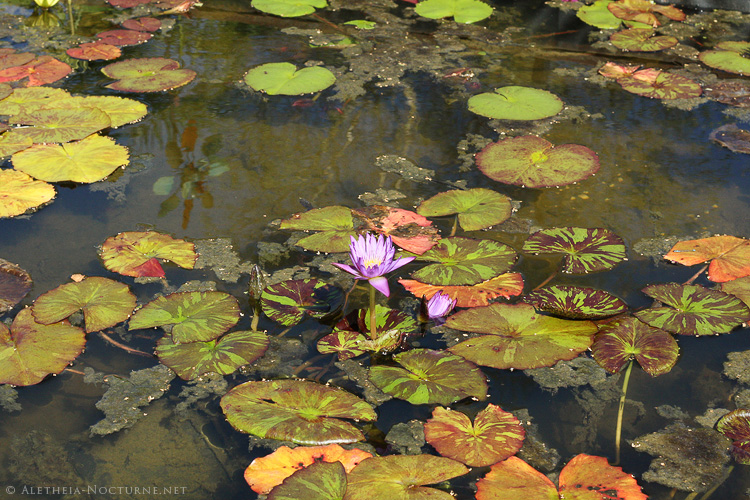 … and took a short wander around some lotus gardens. We felt it was too expensive (and hot) to venture much further though.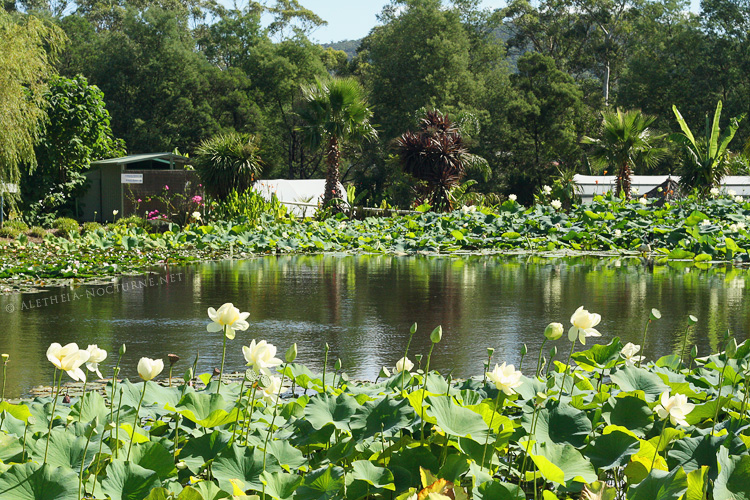 Large lilypads!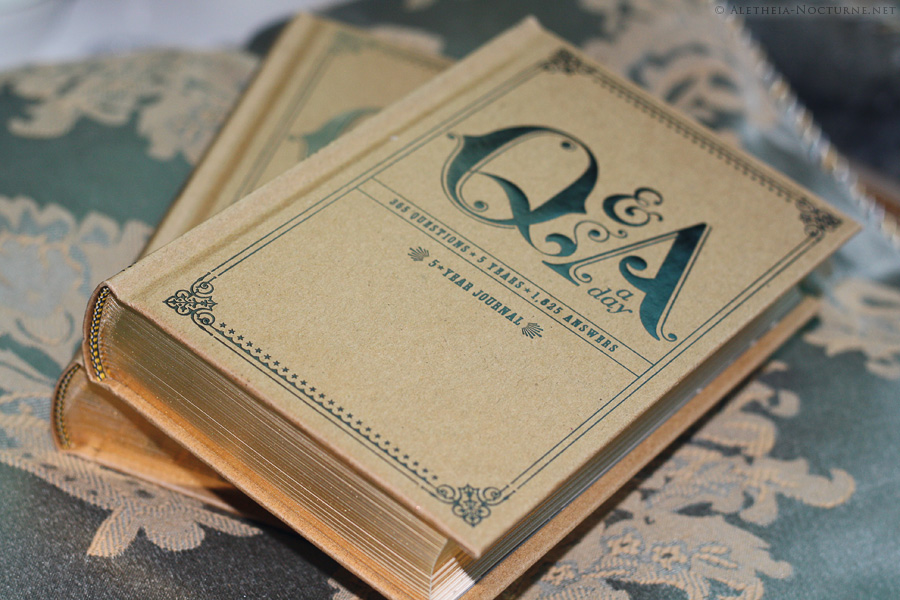 Our gift to one another was a copy each of the "Q & A – 5-Year Journal". We read this review of it and couldn't resist!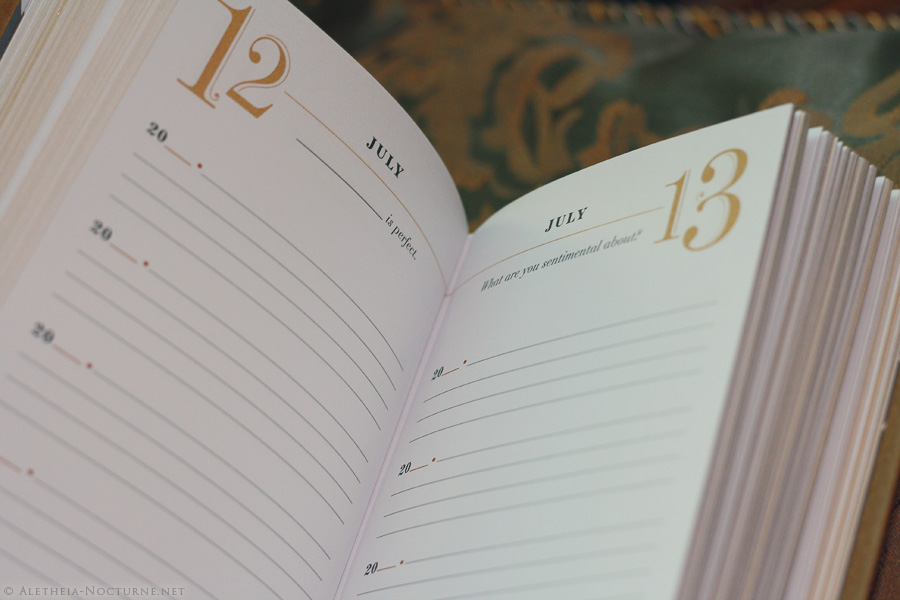 You can start at any time of any year, and each page/question is designed to be answered in a sentence or short paragraph, which is quite manageable to do just before bed.
The next day I had a historical-themed photo shoot with my dear friend Julija. Proper photos will come another time, for now I just have some Instagrams.

For the occasion, I added some simple decoration to some op shop shoes I'd never worn (but bought ages ago for with this purpose in mind), and wore my Vanyanis robe à la française. I had a bit of fun attempting to do the dressing, pinning, makeup and hair on my own for the first time, and then driving around in it all, but from what I have seen so far, Julija captured some lovely moments.
The following day I attended a little gathering to farewell a friend in the Lolita community here. It was hard to feel sad with so much sugar and general silliness, but I took a few shots to show the high tea we enjoyed that day. It was a home-delivered package – I found a few of the savouries a little unappetising but the sweets were lovely, and their macarons (I think from Lux Bite) consistently good but so strongly-coloured that I could taste food dye. Everything was presented nicely by Clara our host, with plenty of tea!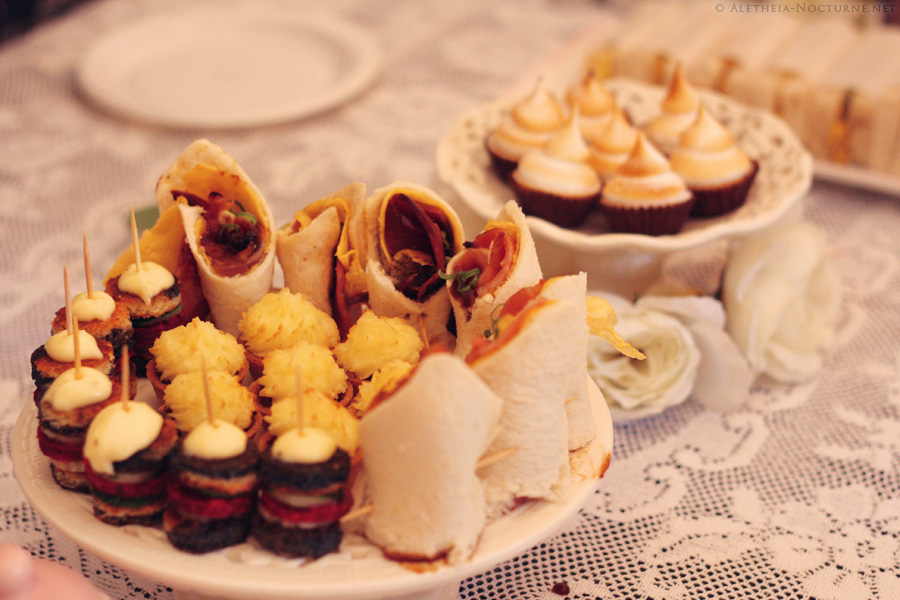 Julianne (my Asian Galadriel), and Sam whom we will miss!
I sort of liked my outfit that day but unfortunately didn't get a picture I was happy with, >< so these unflattering/grumpy looking ones will have to do.
Finally, I finished the 4th off by serving up a dessert of Brunetti's treats and tea for myself and Adam.

It was memorable enough to er, document.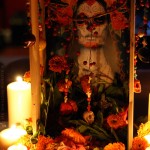 I think last weekend counted as my first Halloween party! A friend Clara held a party with a bit of a Día de los Muertos theme. I only took a few pictures, but she'd set up an awesome little altar, and there were some fun costumes that night!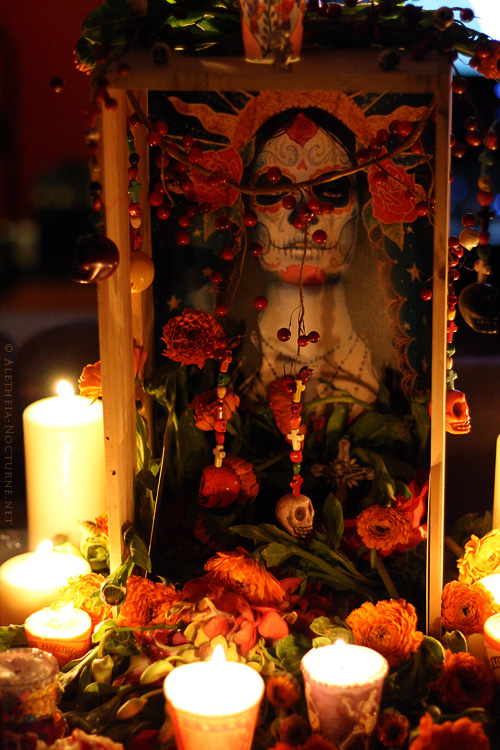 I came as an 18th-century vampire, but I took my vampfangs out almost straight away because it was too hard to eat or smile with them in! The gown (a bit loose on me, whoops!) belongs to my friend (she will feature in an upcoming post!) and is incredibly thick and heavy (53 pleats in the skirt), made of a textured web-like wool which creates a moth-eaten look.
Liza at confession, and my sister Kimmy entertaining us as Dragrid.
Laura's awesome makeup.
Adam as Rorschach and Julianne giving me a death stare.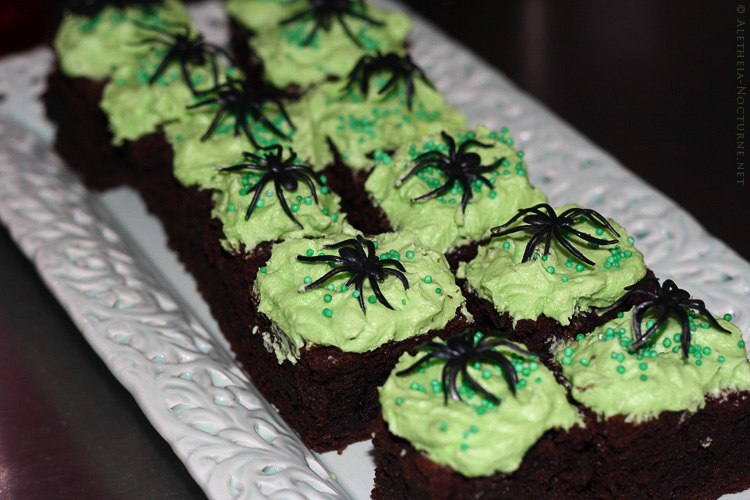 I baked these evil little brownies…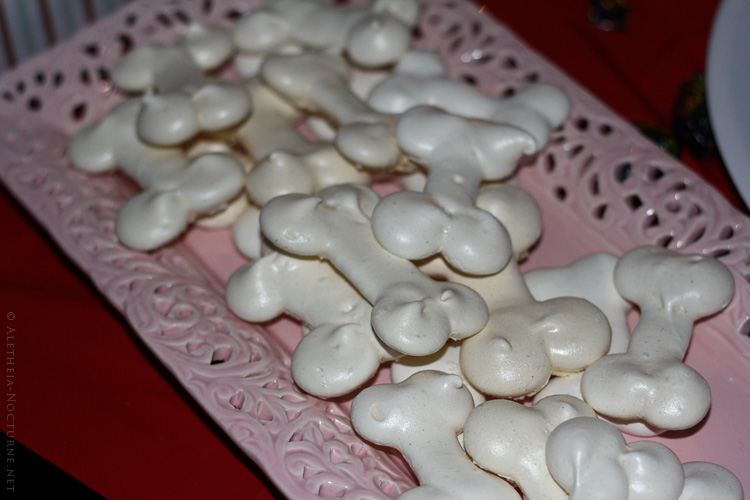 … and my sister made bone meringues.
What did you get up to for this holiday?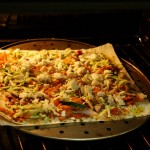 Whether you need a quick warming lunch, a way to use up some leftovers, something savoury for a gathering, or just need to add a new staple to your cooking repertoire, it's hard to resist a homemade pizza. There's also no reason pizza can't be something enjoyed regularly if you keep an open mind.
They can easily be vegetarian, gluten-free, carb-friendly, and you (hopefully) won't feel as weighed down as by the oily, sloppy mass you can expect from the takeaway shop. However, don't be afraid of healthy fats – just avoid anything heavily processed.
My combo today:
Flat bread/wraps
Goat cheese or ricotta
Half a grated carrot & zucchini
Sliced onion
Pizza sauce*
Pinches of flaky salt if your cheese isn't already salty enough
The other point of this "pizza" is to disguise a few bland-but-nutritious foods with other great flavours. Grab a vegetable you like and a vegetable you're not so keen on raw and sprinkle a generous amount on the base. I used Mountain Bread (I use it for salad wraps all summer but they're great toasted as bases or for dipping) but usually need two pieces or it's a bit thin. Spread a bit of mayonnaise (or your favourite dip) in between the slices so they don't separate as easily. Pesto, dips (i.e. olive, sundried tomato), home-made tomato pastes, or even some refried beans are better options to most *pizza sauces from the shops.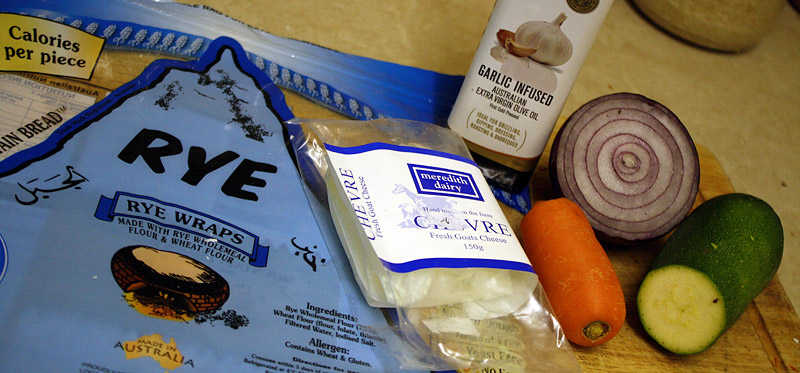 I tend to layer the ingredients so that whatever needs the most cooking is on top.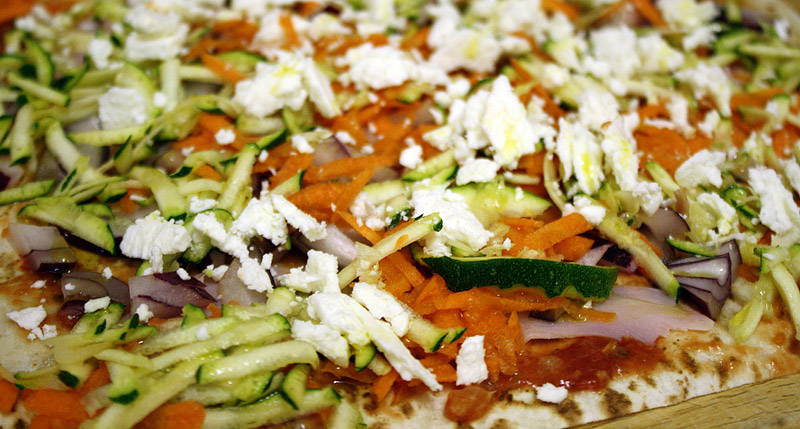 To prevent the base from burning too much I drizzle olive oil around the edges. I also do it because I could almost drink the stuff… You should probably brush it over the base but you can be lazy and save a few dishes.
Bake for about 15 mins on 180-200°C until crispy, but before it gets all charred (unless you have a woodfired pizza oven, mmm).
 Then slice up and eat the whole thing, or serve in small pieces at a party.
If you don't find it filling enough I would suggest upping the quantity of vegetables or adding something with protein like a lean meat, tofu, or even some beans (refried or just kidney beans/chickpeas)!
 Here's another delicious combination you could try:
Greek/Australian feta
Grated beetroot, or pumpkin (grated or softened by pre-cooking)
Good handful of rocket
Toasted walnuts
Optional: Roast chicken (tear it up)
or:
Tuna (canned, but avoid the mushy stuff)
Cannelini beans
Spinach leaves
Camembert or brie (the melting is divine)
Toasted pine nuts
Fresh parsley or herb of choice to finish
or:
Smoked salmon
Red Onion
Asparagus
Creme fraiche, sour cream, or cream cheese (mixed through with a little lemon juice and dill or other herbs) spread over the base
Capers or olives
Artichoke
Fresh dill and cracked pepper to finish
and something a bit different:
Shaved fennel
Caramelised onion
Baby capers
Roast garlic
Fresh continental parsley
Drizzled olive oil, lemon juice
Fennel fronds and cracked pepper to finish
What are your favourite homemade topping inventions? Would you try these?